Lori Ballen, the owner of this website, benefits from purchases made through her affiliate links.
There are many Las Vegas Neighborhoods to explore before you buy a house. North Las Vegas and Henderson are cities on their own and might also be viable options. You'll find some on this list as well.
This article describes the Las Vegas Neighborhoods and provides guides to help you choose which might be best for you and yours. Best is what YOU determine it to be and nobody else. These are not listed in any particular ranked order, but rather by niche, area, affordability and so forth.
LV Neighborhood Map
With the 641,676 living in the city of Las Vegas as of 2017, you can imagine that there are many neighborhoods to choose from.
Use the map to view the exact location of each neighborhood as you explore. Use the + symbol in the bottom right-hand corner to zoom in a bit to see neighborhoods appear.
Master Planned Communities
A master-planned community is a large area where a developer has divided parcels of land that have been pre-determined for a specific builder, price range, type of home, or commercial zoning.
Generally, these are large areas with a variety of home builders and neighborhoods and have a similar look and feel throughout. Master Planned Communities offer special events, shopping, dining and more, almost like a small city.
The master plans in Las Vegas all have specific rules and restrictions regarding painting homes, landscape, signage, pets and so forth. Many of the master-planned communities have a master Home Owners Association.
Keep in mind that each neighborhood has its own policies, may have it's own HOA, features, and price ranges. These communities can have inexpensive condos, apartments, and then luxury homes as well.
In Vegas, we have several man-made lake communities, 55+ communities and golf communities that would all be part of its own master-planned community or a larger community.
Click on any of the homes for sale listed below to access a map of the area.
Summerlin [West Side of Town]
Summerlin is a Master Planned Community inside the city of Las Vegas spanning 22,500 Acres near the Red Rock Canyon National Conservation Area. Summerlin has more than 150 Parks and more than 150 Miles of Trails.
There are around 100,000 residents in Summerlin with 40,000 + homes inside 18+ villages (still building).
The Howard Hughes Corporation has said that Summerlin should reach its completion of building by 2030, with an expected 200,000 residents and 80,000 residential living spaces including condos, townhomes, and houses.
Summerlin is so large, it had 3 primary areas:
Summerlin North
Summerlin West
Summerlin South
Summerlin Parks
Summerlin is well known for its neighborhoods within the master-planned communities that offer both small and large neighborhood parks. There are more than 150 in fact, many nestled behind the gates of a small neighborhood (or what we call: a subdivision).
?Learn More about Summerlin
Mountains Edge [Southwest Las Vegas]
The Mountain's Edge community in 89178, in Southwest Las Vegas, consistently earns its place among the nation's top ten selling communities.
Focus Property Group, the developers of the Mountain's Edge community, believes in their responsibility to plan and protect the desert's natural resources.
Mountains Edge is one of the larger neighborhoods and consists of many parks, schools, restaurants, grocery stores and anything else you would find in a master-planned community.
Mountains Edge is a popular choice in the Las Vegas Valley.

Southern Highlands [South]
Southern Highlands is an exclusive master-planned community nestled in the majestic foothills of Las Vegas. It's just west of I-15 and about 15 minutes from the Las Vegas Strip. It surrounds the acclaimed Southern Highlands Golf Club. People who live in Southern Highlands have access to gorgeous parks and trails as well as vast outdoor space, public and private schools, local events, world-class golf, shopping, and dining. Southern Highlands neighborhoods are close to McCarran International Airport.
Southern Highlands Community Map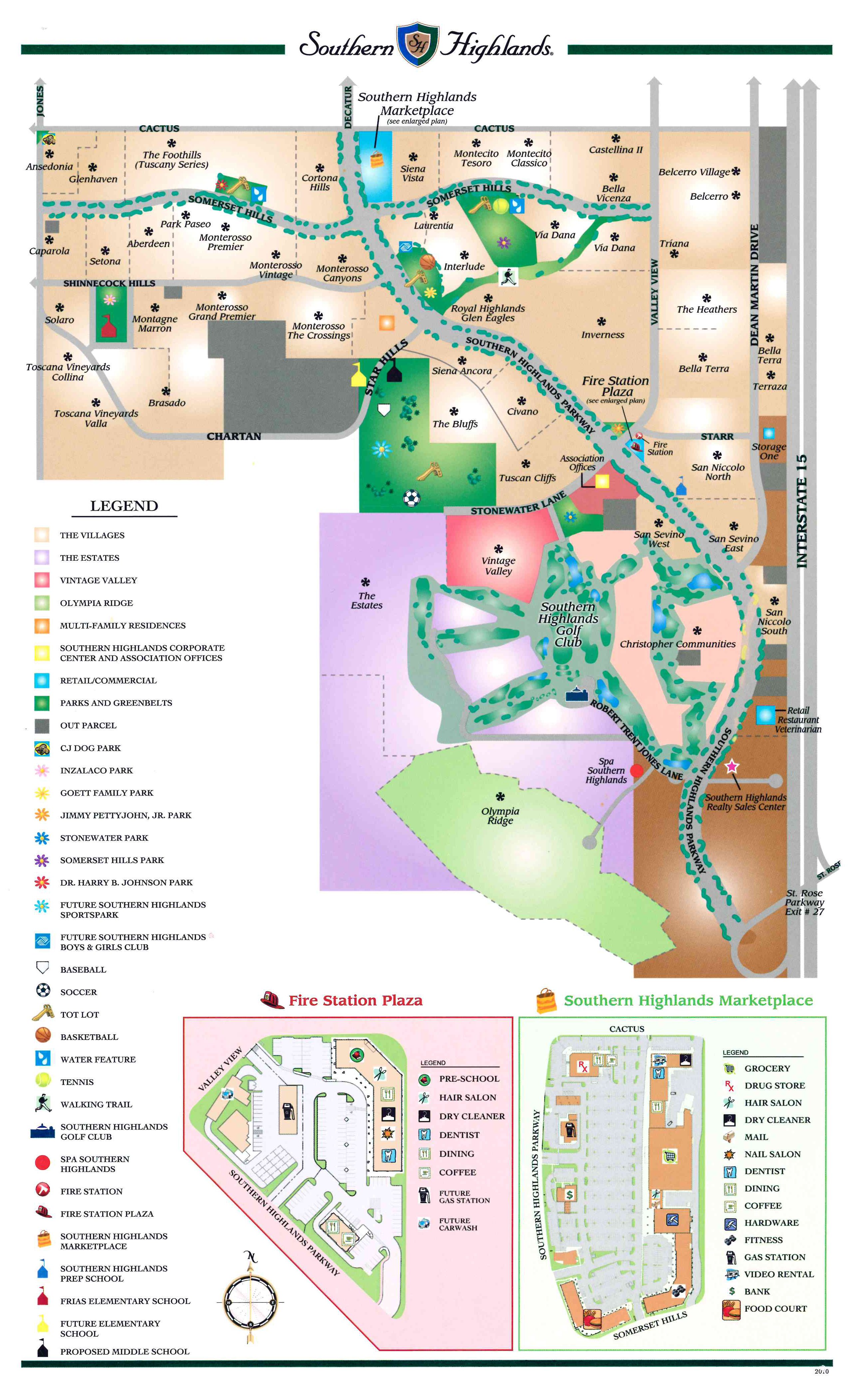 The Lakes [Southwest]
The Lakes is a master-planned community in the West Sahara area. It's located to the east of Summerlin and the west of the Las Vegas strip. It is in Las Vegas Zip Code 89117. The Lakes has easy access to the 215 Beltway, The Summerlin Parkway and the Desert Inn Arterial. The Lakes is a short distance from Red Rock Canyon.
Centennial Hills [Northwest]
Centennial Hills is located far north of the strip and yet still offers a surprisingly beautiful view of the city because of its higher elevation. Out here is original horse territory and you will still find roads for horses and land built with horse specifically in mind. Also, no matter what your budget is, there is a home out here for you.
Skye Canyon [Northwest]
Skye Canyon is a Master Planned community in northwest Las Vegas not far from Mount Charleston. It is in the 89166 zip code. Skye Canyon is expected to have 9000 homes built within the next few years.
This is a 1700 acre project with commercial and gaming projects planned. Be sure to take your real estate agent with you when you browse new construction.
Inspirada [Henderson]
Inspirada is an active and growing master-planned community nestled inside one of America's most desirable small cities: Henderson, Nevada. The homebuilders here are kb home, Century Communities, Pardee Homes and Toll Brothers.
Providence [Northwest]
Recently ranked one of the top 15 selling master-planned communities in the United States, as reported by John Burns Real Estate Consultants and RCLCO, Providence provides work, life and play in the Northwest side of the Las Vegas Valley in the Las Vegas Zip Code 89166.
Desert Shores [Northwest]
Desert Shores is a private community that consists of 27 individual communities, each of which with its own uniqueness. The area is full of greenery, has four beautiful lakes, recreation areas, and several of the developments are gated.
Cadence [Henderson]
Located in Henderson, NV just west of Lake Mead is the Cadence community. Cadence's convenient location allows easy access to shopping, great restaurants, and good schools.
Canyon Gate [Southwest]
Located just minutes from McCarran International Airport, Canyon Gate Country Club is a guard-gated, private community with a private golf course. Located on the southwest side of Las Vegas, it is located at the intersection of Sahara and Durango. Built in 1990, Canyon Gate is in Las Vegas, NV 89117.
Rhodes Ranch [Southwest]
Rhodes Ranch is a Southwest Las Vegas neighborhood that started selling in 1998 and has recent new builds as well. This popular golf community has single-story and two-story homes from 3 bedrooms to 6 bedrooms. It is part of an HOA.
Residents of Rhodes Ranch enjoy basketball courts, a clubhouse, community golf, a community pool and spa, country club, playgrounds, handball/racquetball courts, jogging trails, a rec room, tennis courts, water features, and security.
Peccole Ranch
There is a total of 22 distinct neighborhoods in the Peccole Ranch community area. Families can choose one of the ten gated neighborhoods if they desire that extra sense of safety, privacy, and tranquility.
Homes are mostly built in the quintessential suburban American style, with medium-pitched roofs and prominent garages. Roofs are mostly tiled using either concrete or clay. A variety of trees and plants add a natural vibrancy to the driveways in this area, and the ubiquitous palm trees give a real sense of the exotic.
Eldorado [North Las Vegas]
Eldorado is a "master-planned community" in the North Las Vegas area, featuring breathtaking mountain views. It is a well-established, family-centered community 25 miles from the Las Vegas Strip and the McCarran International Airport.
It is situated close enough to drive in easily to N. Las Vegas, but far enough removed to offer a respite from the "big city" area. You'll find the Eldorado community in North Las Vegas, NV 89031.
---
55+ Neighborhoods
Sun City Summerlin
Siena
Sun City Aliante (North Las Vegas)
Rancho Las Brisas
Sun City Anthem (Henderson)
Trilogy in Summerlin
Promenade at The Meadows
Quail Estates West (Condos)
Regency at Summerlin
Golf Communities
Red Rock Country Club
Siena (55+)
Sun City Summerlin (55+)
Sun City Anthem (55+)
Sun City Aliante (55+)
Rhodes Ranch
Southern Highlands
The Ridges (Summerlin)
Tournament Hills at TPC (Summerlin)
Sun City MacDonald Ranch (55+)
The Richest Neighborhoods
This list is actually based on the neighborhoods with the highest-priced homes at the time of creating this article.
Tournament Hills [Summerlin]
Spanish Trail Country Club [Southwest]
The Ridges [Summerlin]
Ascaya [Henderson]
Southern Highlands Country Club [Southwest]
Queensridge
Best Horse Communities
Pet Park Neighborhoods
There are some great pet parks in Las Vegas. There's a map below where you can browse pet parks. The neighborhoods listed below specifically mention pet parks as a neighborhood feature in the MLS.
Whitney Ranch [Henderson]
Skye Canyon [Northwest]
The Ridges
The Willows
Sun City Summerlin
Sun City Aliante
Summerlin West
Summerlin South
Summerlin West
Spring Mountain Ranch
Southern Highlands
Silverstone Ranch
Siena
View All Homes for sale in neighborhoods with Pet Parks nearby