Lake Las Vegas life offers a community where the tranquility of water, serenity of a breathtaking location, and beautiful new homes elevate your lifestyle.
Lake Las Vegas Home Prices 2021 (Sales)
The following market report shows the median sales price for a single-family home here.
| Property Subtype | Sale Price, Median |
| --- | --- |
| Single Family Residential | $810,000 |
| Townhouse | $450,000 |
| Condominium | $399,000 |
Lake Las Vegas Homes For Sale
Lake Las Vegas Community
This neighborhood is located in Henderson, Nevada 89011 and consists of an artificial lake and the 3,500+ acres around the lake.
The area includes three resorts including the Aston MonteLago Village Resort, the Westin Lake Las Vegas Resort, and the Hilton Lake Las Vegas.
The dam that creates the lake is 18 stories high, 4,800 feet in length and 716 feet wide at its base. It contains roughly the same amount of dirt as Hoover Dam does concrete and was completed in 1991.
The Las Vegas Wash passes under the lake and dam in pipes that require maintenance every 10 years or so.
Life here offers a community where the tranquility of water, serenity of a breathtaking location, and beautiful new homes elevate your lifestyle. Lake activities, championship golf, and dining outdoors are all part of a normal day. The facilities are certainly designed to give you the best time of your life.
The lake at offers kayaking, standup paddleboarding, yacht cruises, and more. Chill out on a sunny day with a ride on a Duffy Boat, or experience the excitement of a flyboard or jetpack.
If competition is more your style, team up with the Las Vegas Rowing Club or the Las Vegas Dragon Boat Club!
The Lake Las Vegas Sports Club is home of the UNLV Sports Science Center.
This is a location for collaboration for research, education, and guest presentations from leading fitness industry professionals and internationally recognized science-based exercise, physiology, and kinesiology experts.
Club members have access to state-of-the-art equipment, as well as health and fitness assessments.
Club members also have the opportunity to participate in a variety of fitness and lifestyle clubs including tennis, pickleball, walking, cycling, running, triathlon and watercolor and book clubs.
Details and memberships available to residents only.
Lori Ballen Realtor®
Lori Ballen is a licensed real estate agent with Keller Williams Realty. She has a real estate team that serves Las Vegas, Henderson, and North Las Vegas. Contact Lori Ballen and team at 702-604-7739.
Waterfront Real Estate
Reflection Bay golf club is a 320-acre man-made lake set as the centerpiece of the community. Built in 1998, Reflection Bay golf club was designed by 18 times Major winner Jack Nicklaus.
The course is designated as a prestigious Jack Nicklaus Signature Design and was host to the Wendy's 3Tour Challenge from 1998 to 2007, showcasing the talents of such champions as Bubba Watson, Fred Couples, John Daly, and Phil Mickelson.
The stunning 32,000-square-foot clubhouse in Lake Las Vegas features a full golf shop, as well as casual and fine dining.
The Reflection Bay facilities provide the perfect setting for VIP golf groups, corporate outings, celebrations, and weddings. In addition to world-class golf and dining facilities,
Reflection Bay offers some truly unique lifestyle experiences including a private white sand beach, paddle boarding, and access to the La Contessa yacht.
Reflection Bay also features a unique concert experience when the floating stage turns the Reflection Bay beach into a venue like no other.
Restaurants offer diverse menu selections that make dining at MonteLago Village a unique experience to savor the pleasure of living in the community. If you prefer cooking yourself, Seasons Grocery is stocked with everything from fresh fruit to gourmet snacks and fine wine. Homeowners and visitors alike will be thrilled to have this neighborhood-style grocery store.
Montelago Village
Monte Lago Village is a Mediterranean village with cobblestone streets, specialty shops and boutiques, waterfront cafes and restaurants, with plazas and luxury residential condominiums terraced into the hillside.
White beaches, nearly a mile of lakeside walkways, and harbor-side boat docks create a European atmosphere reminiscent of old Italy.
South Shore Country Club
The private South Shore Country Club is in the guard-gated South Shore community in Lake Las Vegas with its own Yacht and Beach Club offering gourmet dining, a glass-walled fitness center and a swimming pool overlooking the marina and private sandy beach that is available to South Shore residents and guests.
The golf course is manicured to perfection and offers spectacular vistas from all 18 holes.
North Shore
The NorthShore community is built into the rolling hillside of Lava Rock Foothills. NorthShore offers some of the most breathtaking vantages you will see in the city.
NorthShore offers a new standard of living, Hilltop, Vantage, and Golf Course Living at its finest.
Cash purchases are required for almost all the condo communities here but there are exceptions. With the average home price at $1,182,589, you can be sure that you'll be surrounded by only the best of the best when it comes to neighbors.
Lake Las Vegas Resort is one of the most beautiful settings within, and yet a world away from, Las Vegas, Nevada.
With its five- and four-diamond hotels, luxury residences, and village vacation rentals, all residents and guests have the luxury of setting their own pace.
Things to Do
Gondola Rides
Cruise
Boating
Fishing
Dining
Gambling
Spa
Shopping
Golf
Watch a Boat Race
Attend a Concert
FAQ's
Can you Fish at Lake Las Vegas?
Yes. Here's a quick summary of the rules:
You are required to have a fishing permit in your possession or member/guest ID
You can fish with one rod that must be closely attended.
Nobody can: Snag, Spearfish, Jug, Take by hand, net or use explosives or firearms.
The following fish must be released: Largemouth bass, Rainbow Trout, Catfish, and Panfish or risk a citation.
Those fishing can only use artificial lures.
No chumming.
Record: species type, length, and weight if available and return to the Village Marina, LLVMA Office, Security Community Patrol, or hotel concierge desk at the end of each fishing day.
Can you Swim?
Yes, you can swim when permitted. Rules must be followed.
Is it a Man-Made Lake?
Lake Las Vegas is a man-made lake. It is a 320-acre body of water. It took 8 years to fill the canyon and it is the largest man-made lake in Nevada featuring 10 miles of shoreline featuring hotels, dining, and things to do!
What Kind of Fish are In Lake Las Vegas?
You'll find Rainbow Trout, Channel Catfish, Striped Bass, Crappie, Bluegill, Big Mouth Bass (see the catch and release fishing rules)
How Deep is the Lake?
145 feet deep. It is 1,400 feet above sea level.
What is the Zipcode?
Henderson, NV. 89011
Is there a public beach?
Most of the Lake Las Vegas beaches are for the residents. You'll find some beach area at the hotels such as Westin. It is advised that you contact them first to inquire about your visit. (702) 567-6000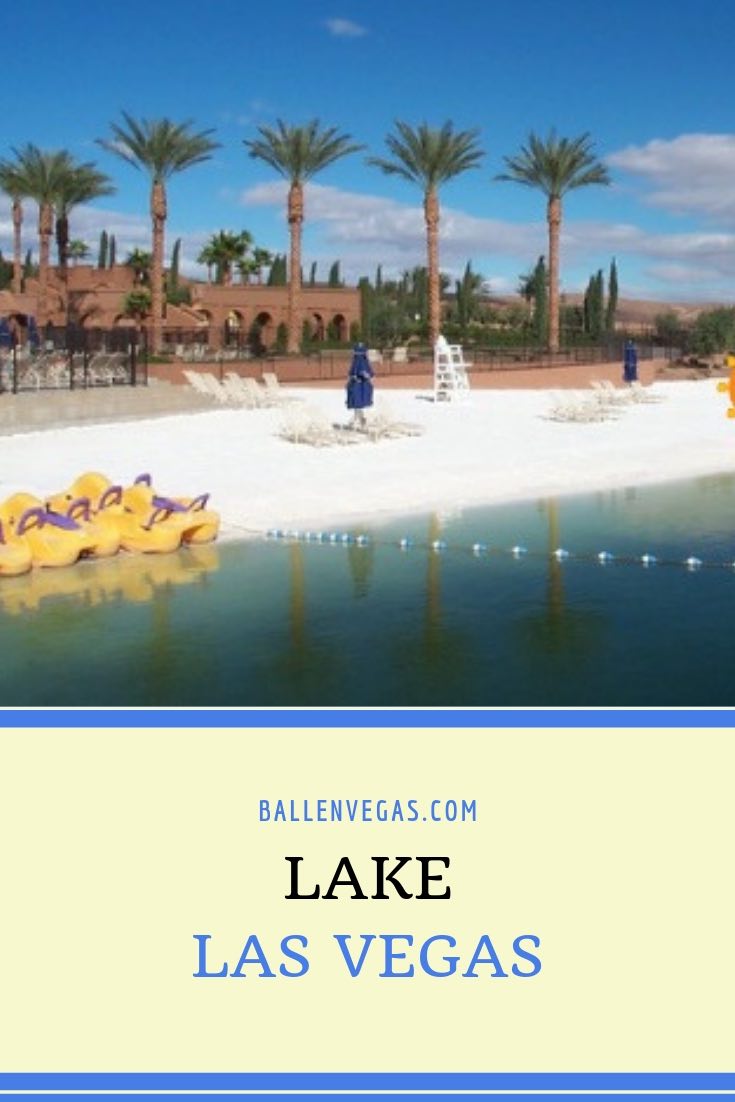 Things To Do in Las Vegas