Here's a Las Vegas Strip Map, Las Vegas Casino Map, Monorail Map and everything you need to know.
The Las Vegas Strip is only 4.2 miles in length. "The Strip", as it's more commonly known, isn't actually in the city of Las Vegas, Nevada.
It's located in the unincorporated towns of Winchester and Paradise and is located just south of the Las Vegas city limits.
Las Vegas Strip Map with Hotels
Even though the Las Vegas Strip in the United States is relatively small, it's internationally well-known. It boasts fifteen of the world's twenty-five largest hotels (by room count). From 2017 to 2018, the 89109 real estate market appreciated by 23.5%.
Here you can find some of the world's largest casinos, hotels, and resort properties. The lights from The Strip can be seen for miles around, and it is actually considered to be a scenic route at night.
The Strip has evolved into one of the world's most popular destinations for tourists due to entertainment, casinos, hotels and restaurants. It's a large draw for those wanting to live there with its residential high-rises. The first casino was built on The Strip in 1931, and has been constantly evolving ever since.
Be sure the check out the Best Pools in Las Vegas!
Traffic and Transportation
As you can imagine, The Strip is a hustling, bustling place. In order to alleviate some of the obvious traffic problems, and to also make easier for guests to get onto The Strip, there are several modes of transportation available.
Even the modes of transportation can be hectic and confusing. There are monorails that travel only between certain casinos, but other monorails that travel the majority of The Strip itself.
Double-decker buses serve as transit to and from The Strip from downtown Las Vegas.
The buses stop near every casino on their routes.
There are select buses [Deuce Bus] that stop at hotels and shopping attractions. You will also find trams that offer a free ride, trams that only travel on one side town, or between certain casinos.
You'll also find taxi services, but they are only allowed to stop at designated spots, or at hotel entrances. It's best when utilizing the taxis to inquire about what destinations they are allowed to stop at.
Then there are the shuttles.
The shuttles range in running time from 15 minutes to every 60 minutes. There are shuttles that run every thirty minutes down The Strip.
Here again, it depends on which casino you want to visit, which hotel you're staying at, and what side of town everything is on. In order to use some of the shuttles, you must have a room key from certain affiliated casinos.
Here's information on Uber and Lyft
Pedestrian Traffic on The Strip
As expected, pedestrian traffic is just as busy as the roadways. Some casinos have outdoor shows, which causes quite the crowd gathering.
The busiest times on the sidewalks are in the early morning and evenings. Weekend nights are especially busy.
Because of the high volume of pedestrian traffic, some sidewalks are extra wide. Footbridges have been installed to help lessen the congestion at busy intersections.
Some of the footbridges are designed to match the theme of nearby resorts and casinos.
Some people want to know: How do we get Married in Las Vegas?
Strip Attractions
Over the years, The Las Vegas Strip has become more family-friendly. The numerous light and fountain shows located outside of the casinos are eye-catching and entertaining for the whole family.
You can also find Chocolate Factories, botanical gardens, aquariums, and a number of museums that will be sure to interest your younger family members.
There are plenty of wildlife habitats along and near the strip, too.
Many of the casinos have live, daily performances held outside for all to enjoy. For example, at the Circus Circus casino, you'll find the world's largest permanent circus.
Shows start daily at 11 AM.
If you stop by the Excalibur Casino, you'll find medieval performers at the Court Jester's Stage.
There's a vast variety of music everywhere you go on The Strip. Some performances are outside for all to enjoy, while others are in club settings that are adult-oriented.
Music ranges from jazz to country, so you're sure to find something you and your family will like.
Las Vegas, Nevada, has truly become a family vacation land for both the United States and abroad. There's a little something for everyone – both inside and out of the city limits.
Las Vegas Strip Tours
FAQS
Drinking in Public is, Well, Mostly Okay
Larry Hadfield, Las Vegas Metro Police Spokesman, recently stated that the police have no issues with people drinking out in the open, so long as they uphold the few rules that are set in place.
To be a little bit clearer with this issue, the strip and downtown do not necessarily share the same rules. The Strip is not officially part of the larger city of Las Vegas. Rather, it mainly stretches across the unincorporated towns of Winchester and Paradise, Nevada.
Technically, the casinos, the hotels, and any other property along the strip are subject to the laws of Clark County, Nevada, which are slightly different from those of the city of Las Vegas property.
Containers Don't Share Equal Rights
Containers are not treated equally under the law. If you buy any liquor in a closed container, you are barred by the law to drink it on the property or within 1000 feet of the liquor store.
However, if you buy the liquor in an open container, you can freely drink it in public. As at 2014, the glass container is now treated differently. It was declared illegal to carry glass container of drinks (alcohol and non-alcoholic drinks alike) on the Strip.
Along Fremont Street, both aluminum cans and glass containers are illegal.
It is Illegal to Drink in Most Vehicles
Last but not least, always remember that an open container of alcohol is not permitted in a car if you are the one driving, taking a taxi or any other form of public transportation.
This means that you should not take an open container of alcohol or consume liquor at the passage seat of Uber, Lyft, or any other ride-sharing company car.
The law does not permit you to carry your rum and code with you and ride on the Deuce or other city's bus routes.
Also, and oddly enough, you are prohibited from drinking in a parking lot. Fortunately, charted transportation is an exception to this law.
The law clearly stipulates that; open containers are perfectly fine only if you are using a service like Las Vegas Party Bus or Limo. These two have special licenses for this activity.
While having fun along the Strip sidewalk, be sure to adhere to the said rules. Las Vegas Boulevard incredibly wide security camera coverage and strong police presence.
And they are always ready to do their job. If you act disorderly, become a public nuisance, or break any other law, you will be cited or arrested for the offenses.
Bottom line: As long as you are 21 and above, you have bought your liquor in a restaurant, bar, or at any of the casinos on Freemont Street, and it is packed in a plastic container, you are free to carry and drink alcohol while walking along the Fremont Street.
What is the Oldest Casino on The Strip (Still Standing)?
Las Vegas is constantly reinventing itself, so do people visiting the town. No one wants the same thing that their parents, grandparents, and great grandparents wanted when they visited Las Vegas.
The casino owners know this, and they keep evolving to meet new demands and tastes of those visiting today.
The new Las Vegas is not the same as ancient Vegas. New people with different cultures and ways of doing things keep coming leading to constant changes and modification of the casinos.
However, there is always a strong love for the past. Unfortunately, we have said goodbye several old casinos such as the grand RIVERA.
Not all great casinos that will be impounded and get erased from the landscape like famous Rivera.
Some like Monte Carlo has plans to undergo a major renovation to upgrade to Park MGM and NoMad Las Vegas. Notably, not all casinos will give way for the expansion of the Las Vegas Convention Center or have a complete makeover.
Here's a highlight of the oldest casinos on the Vegas Strip that are there to stay.
There are several casinos that have been around for a very long time— even before the 60s. A good number of casinos around downtown Las Vegas started their operations in the early years. The Golden Gate is the oldest casino that still stands to date.
It was built in early 1906. Other prominent older casinos that are still operating in the Strip are the El Cortez (1941). Followed by the Golden Nugget (1946), Binion's Gambling Hall & Hotel came fourth and was built in 1951. The Fremont Hotel & Casino was later built in 1956.
The famous El Cortez Hotel and Casino is arguably the longest and continuously-running casino in "The Strip." This hotel and casino are located off the strip in Fremont East Entertainment District surrounded by the historic downtown.
El Cortez first opened its doors to both the local and the visitors on the corner of 6th and Fremont Street back in 1941.
Its early years was so successful that it attracted the attention of Meyer Lansky and Benjamin Siegel.
The two businessmen bought the casino, and in 1963, the sold the property to Jackie Vaughn.
El Cortez prides in providing an ultimate Las Vegas experience. It offers first-class amenities and treatment with an array of suites and rooms to fits all its visitors. In 2018, El Cortez was voted the best Downtown hotel and Casino.
The Flamingo is among the oldest casino on the Vegas Strip. It started its operations in 1946, but it has since undergone many changes.
Tropicana was built before Rivera. It was opened in 1957, and it has ever since undergone several ownership changes in the past decades. Every new owner has tried to reinvent the casino while maintaining the south beach feel.
Caesars Palace is an iconic casino-resort that recently celebrated its 50th anniversary. It is currently a much larger property than it was two decades ago.
It was opened in 1966 as a mid-sized casino, but it is currently having five hotel towers, gland pool complex, a mega-mall, massive nightclub, a huge casino floor, just to mention a few.
Caesars Palace has come a long way over the decades, and it shows no indications of ever slowing down.
Circus Circus is a family-friendly casino located at the north end of the Las Vegas Strip. It opened in 1968, and it has not undergone a lot of changes as compared to the rest.
The Circus theme with descant of rides and attraction is a perfect option for people visiting Las Vegas Strip with their children. It has, for many years, be a home for many families and bargain hunters looking for a pocket-friendly hotel room on the Vegas Strip.
Sahara Hotel and Casino was opened on 7th of October 1952. This property is located on the Las Vegas Strip in Winchester and was initially owned by Stockbridge Rael Estate. Sahara features 1600 rooms with approximately 85000 square foot casino gaming space.
If you are driving, there are 3 routes that you can take; The first route is a 14 minutes (8 miles) drive via 1-15 N, or the 6.2 miles (17 miles) drive via 1-15 N and the E Charleston Boulevard, and lastly the 8.8 miles (18 minutes) drive via 1-15 N and the W Sahara Avenue.
If you are planning to walk, there are also three routes that you can take. The first on is a 1 hour and 45 minutes' walk (5.3 miles) via S Las Vegas Boulevard.
Remember to carry a light sweater or jacket with you (in the winter) and wear very comfortable shoes. In the summer, carry bottled water!
Start walking west for approximately 0.1 miles along the WW Flamingo road towards S Las Vegas Boulevard. Then turn right, walk for about 10 feet and turn right again. Walk for another 0.3 miles and head east. Then take the left turn towards S Las Vegas Blvd and after about 2 miles, onto S Las Vegas Boulevard, you will pass the Denny's on your left. Walk for another 1. 9 miles and take the right turn onto E Charleston Blvd. Walk another 89 ft. And turn left towards S 16th Street. Continue walking until you reach E Carson Ave. Follow this street and turn left after 423 ft. Towards S 17th street. In less than 118 ft. You will turn left towards Fremont St.
The other two alternative routes are a 1 hour 55 minutes' walk (95.8 miles) via Sammy Davis Jr drive and a 1 hour and 58 minutes' walk (6 miles) via Burnham Avenue.
How Much does it cost to ride the monorail in Las Vegas?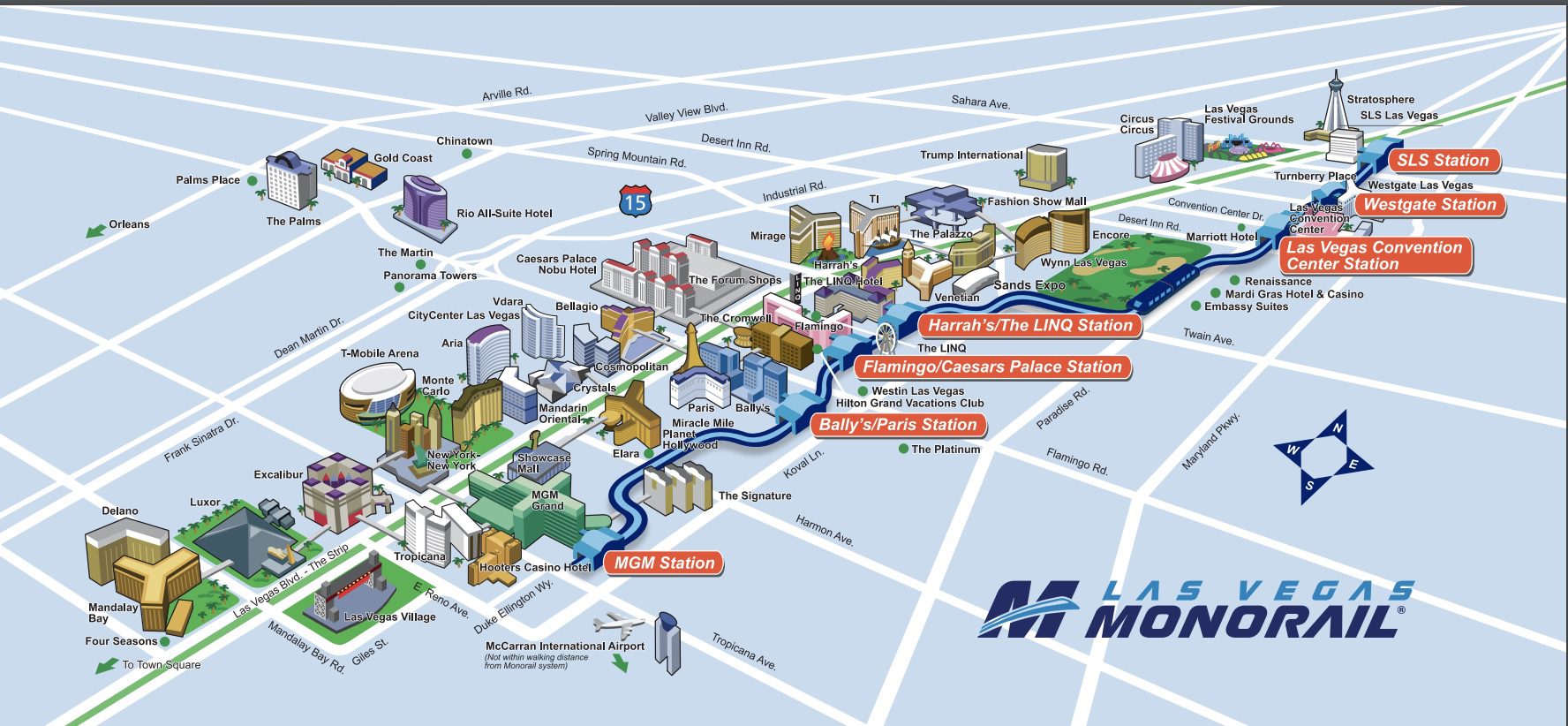 The futuristic Las Vegas monorail started operating in late December 2004. The monorail has seven stations that connect the major Strip resorts. It is a 3.9-mile Z-shaped route that stops at the MGM Grand (South Strip), Bally's/ Paris (Center Strip), Caesars Palace – Flamingo, Las Vegas Convention Center, Harrah's – LINQ (North Strip), the SLS, and the Westgate.
The new trains operate along the route every to 10 minutes 7 days a week starting from 7 a.m. local time until 2 a.m. They extend the closing time for an extra hour on Fridays and the weekends and runs until midnight on Mondays.
The Monorail is by far the best and safest means to travel up and down the Las Vegas Strip. While manages the entire run in 4-8 minutes. The "Deuce" bus can sometimes take up to an hour to make an entire run due to many stopovers and traffic. However, you should consider taking the Deuce strip bus if you are planning to go downtown. The monorail is yet to go downtown.
The high-tech monorail consists of nine air-conditioned and well-maintained trains of four cars. Each runs on a single rail and seats 72 passengers with ample space for an additional 152 standing riders.
Its top speed is 50 miles per hour and cruises behind hotels parallel to the east Las Vegas Strip corridor.
There are 3 types of tickets offered by the monorail services; A single ride ticket goes for just $5, where else a full day unlimited ride fare costs $12, a three-day ride costs $22, a four day goes for $ 36, a five day for $43, a seven day for $56, and children under 5 ride for free.
Tickets can either be purchased online or at the Ticket Vending Machine (TVM) located inside all the seven monorail stations. Ticket Vending Machines accepts all major credit cards as well as cash. Take note that the unlimited three-day ticket expires exactly after 72 hours of the first use during normal operating hours.
Where do you Park On the Las Vegas Strip?
Las Vegas is known to have the biggest and the most parking garages in the United States. Unfortunately, some parking comes at a price. But there are still many free Vegas parking along the strip.
For any motorist who has ever struggled to find a parking slot around the streets of major cities like Chicago, New York, etc.— and that is everyone, by the way.
Parking in Las Vegas feels like a carefully wrapped godsend gift. Parking in Las Vegas is amazing and abundant; it makes you feel like a special gift from the saint who watches over motorists.
Many hotels, Casinos, liquor stores, shopping centers and attractions on the strip provide at least self-parking garages. Even downtown have huge parking garages scattered across the region. However, it is now becoming a common thing to pay for parking.
Security is paramount; there is always a security officer manning the entrance. More often than not, you will be asked to roll down your window, face the camera, show your ID, or open your trunk. This usually happens, and during busy weekends, you may be forced to wait on the queue before you can be allowed to drive in.
Which Hotels Offer Free Parking on the Strip?
If it has been since you were last in Vegas, you may not know that some Strip resorts now charge for parking. Common places such as MGM Grand among others started charging people for both self and valet parking early last summer. Luckily, you can still find some free parking garages along the Strip. That is if you know where to look.
Below is a list of a few places where you can park your vehicle free of charge. At least at the time of this blog post.
Circus Circus
Self-parking is absolutely free in Circus but expect to pay for valet services. You will pay $10 for four hours and $15 for parking for the whole day (24 hours).
Other hotels and casinos with free parking include;
The Venetian
Tropicana
Casino Royale/ Best Western
The Palazzo
Planet Hollywood
Treasure Island
Stratosphere
SLS Las Vegas
The Jockey Club and the Travelodge found along the strip have a free parking garage but no casino.
Which Hotels Does the Tram Stop at in Las Vegas?
While monorail runs along the east Las Vegas Strip corridor, three other trams operate on the west side of the Las Vegas Strip. The difference between monorails and trams is that, while monorail charges for their services, trams are absolutely free.
The Mirage Hotel to Treasure Island Hotel tram
The Mirage-Treasure Island tram runs for about every 10 to 15 minutes from 7 am to 2 am every day but until 3 am on Fridays and Saturdays. The ride lasts for about 2 to 4 minutes. The tram stops in a distinctly shaded with a misting system, which is situated a minute to the left of the Mirage Hotel's front entrance.
At the Treasure Island, the stop is at the rear of the hotel (walking through the main door and walk towards the main corridor to the other side of the Treasure Island). Passengers wait for the tram indoors in a corridor built next to the entrance of the hotel's parking garage. The ones waiting for the ride have to stay behind the automatic doors. These doors open as soon as the tram arrives.
However, it is always appropriate to allow every in the tram to embark first before going through the automatic gates. The waiting "bay," as well as the train, is equipped with TV screens that mostly play ads that promote Treasure Island and Mirage shows, events, and attractions.
The track is set to run along the strip, and the ride is extremely smooth. It passes through naturally beautiful palm trees and vegetation. The tram provides a nice and wide aerial view of the Treasure Island pool located on the west side. The seating arrangement is just like that of the bus-style but with long benches and ample room for standing passengers.
The Bellagio Hotel to City Center to Monte Carlo Hotel tram
This tram links the center and the South Strip. It runs every day from 9 am to 1 am, but extends it runs to 3 am on Fridays and Saturdays. And the ride normally lasts for approximately two minutes to six minutes. The tram arrives at the stations about every 15 minutes.
The Bellagio Hotel station of monorail Las Vegas is accessible via a hallway in the Bellagio Spar Tower next to the sidewalk that heads to Vdara. Stairs and elevators are available to take you up the station. However, the stairs are built form outside and do not have an overhead shade to protect you from the outside weather.
Visitors at the Vdara can access the tram by taking a walk along the sidewalk to the Bellagio Spa Tower entrance. Once they get there, the rest of the route is marked with signage.
The tram stops at the Crystal where the waiting area is outside but with a well-built shelter. From this stop, passengers can take the stairs into the mall. It is next to the "Street of Dreams" shops around Monte Carlo. This place is known for superb dining and nightlife, and it's near the Aria Hotel.
The Excalibur Hotel to Luxor Hotel to Mandalay Bay Hotel tram
This tram runs approximately every 10 minutes from 7 am until 2 am, but operates until 3 am on Fridays and Saturdays from the stations located in front of these two hotels. The tram runs non-stop between Mandalay Bay Hotel and The Excalibur but stops at all other three hotels northbound.
The route on the Las Vegas varies depending on what hotel you will start at. If you board from Excalibur main station, the tram will ferry you directly for about three minutes to Mandalay Bay. If you start at Mandalay Bay Hotel, you will take a 7 minutes trip with the first stop at Luxor and the next one at Excalibur.
All waiting areas are indoors or well sheltered except the Luxor's. However, some short walks are required to make the loop (taking stairs or elevators to access the tram station). Fortunately, all enclosed area is well maintained and air-conditioned.
How Far is the Welcome to Las Vegas Sign from the Strip?
"Welcome to Fabulous Las Vegas" Sign is one of most popular sight in Las Vegas. Unlike other famous attractions and magnificent fountain show along the Strip, this famous sign is not located in a conspicuous or in "the middle of the action" place.
Technically speaking, this iconic Las Vegas sign is located along the Strip; however, it is isolated, and at a safe distance from everything else you will experience in Las Vegas. In 2013, the sign was officially added to the Nevada State Register of Historic Places.
This iconic sign was designed by Betty Willis and was as a gift this beautiful city.
The welcome to Las Vegas sign is situated approximately one mile southeast of Mandalay Bay. The sign is easiest to access when driving a vehicle. The only challenge with driving to the sign is getting access to the parking area. You have to drive south on Las Vegas Boulevard.
When driving, it will take 7 minutes to drive 3.4 miles via 1-15 S, 11 minutes to drive 2.3 miles via S Vegas Blvd, and 17 minutes' drive of 3.3 miles via Frank Sinatra drive, and Las Vegas Boulevard.
You can also opt to take a walk to this magnificent sign via three routes. The first one is via S Las Vegas Boulevard, which will take 53 miles to cover 2.5 miles. The second route is via Audrie street and S Las Vegas Boulevard, which will take you 59 minutes to cover the 2.8 miles. The third route will be via Frank Sinatra drive, which will take you approximately one hour to cover 3.2 miles.
Can You Walk to the Rio from the Las Vegas Strip?
Although it is situated on the other side of Interstate 15, which is a mile away from the bustling action of the strip, the Rio is within a reasonable walking distance. A couple of years ago, there was a free shuttle that used to operate from the Rio to the strip. However, the service was discontinued. The distance is 1.4 km (9/10 of a mile) and would take a person 18 to 21 minutes range walk.
Where is the Linq from The Las Vegas Strip?
The LINQ is located somewhere between the LINQ Hotel & Casino and Flamingo Las Vegas. The LINQ Promenade is a very famous dining, entertainment district that features a 550 feet observation wheel right at the epicenter of the strip.
How Long Would It Take to walk the entire Las Vegas Strip?
If the activities that motivated you to visit Las Vegas are limited to the Strip, then talking the walk along the strip is ideal. It would take you 45 minutes to 1 hour to cover the 4.2 miles' length of the Las Vegas Strip.
The place is pedestrian friendly, furnished with footbridges at all major intersections. Besides, both sides the strip is lined with restaurants, shaded walkways beneath major properties, shops, casinos, hotels, and lots of beautiful sceneries and attractions.
What Is There to Do On the Las Vegas Strip?
Go shopping to the best malls in America.
Visit the famous Mob Museum and the Neon Museum
Enjoy the best coffee in the world in Paris
Get rejuvenated at the adrenaline pumping
Things to do in Las Vegas during the day
Take a day-trip to the great Grand Canyon
Enjoy a lunchtime buffet one of the best restaurants in the world
Enjoy in a matinee performance.
What Should I Wear On the Las Vegas Strip?
As far as shoes are concerned, you definitely need something comfortable to wear as you will be doing much walking. You will want to walk in comfortable scandals or waking shoes.
Is There a Shuttle from the Las Vegas Strip to the Airport?
You can move from the strip to the airport using various commercial shuttles available in the area. However, you should note that hotels and resorts do not own private shuttles. This is because the law prohibits them from providing private shuttles. Luckily, airport shuttles are considered to be the cheapest among the available commercial shuttles. Besides, they provide door-to-door services, which makes it convenient for any traveler.
While in Las Vegas Strip, you should avoid the following:
Buying bottled water while walking in the street
Tipping hotel or casino employees
Get in waters of the Bellagio Fountains
Ladies should not wear high heels while walking in the streets of Las Vegas Strip
While in the casino, avoid bending your cards during the game
Improper dressing is prohibited while visiting the casinos
Can I Get an Uber or Lyft from the Strip?
It is easier to get an Uber or a Lyft ride from Las Vegas strip Nevada by simply opening an app and request for a car, and this is way much cheaper than ordering for a taxi.
Can I Hire a Tour Guide to See the Las Vegas strip?
There are local guides all over Las Vegas Strip who can help you navigate through the 3-mile long strip.
What Shows are there on the Las Vegas Strip?
Las Vegas Strip is best known for its entertainment culture. Different shows are ranging from the adult shows such as the Crazy Girls, Little Miss Nasty among others.
Is There a Curfew in Las Vegas?
There are curfew hours for all those who are below the age of 18 and are not accompanied by a parent or a legal guardian. The curfews from Sunday to Thursday starts at 10 p.m. to 5 a.m. curfews from Friday, Saturday, legal holidays and during the summer vacation starts from midnight to 5 a.m.
What Age Do You Need to be in Las Vegas to Drink?
If you have to drink alcohol and even gamble while in Las Vegas Strip, you ought to be at least 21 years of age and above. You have to show a government-issued identification card as a way to prove your age.
What Age Do You Need to Be in Las Vegas to Gamble?
The minimum age to check in any hotel, make reservations or gambles is 21 years. Those below 21 years are referred to as minors, and they are not allowed to slot machines or even table games.
Is It Illegal to Feed the Homeless in Las Vegas?
Las Vegas made it illegal to feed the homeless in the parks and also have put limits for the distribution of charitable meals in the parks.
Where is the T-Mobile Arena?
T-mobile Arena is at 3780 South Las Vegas Blvd at Las Vegas Blvd and Tropicana near Park MGM and the Excalibur. [See Map]