Lori Ballen, the owner of this website, benefits from purchases made through her affiliate links.
Imagine an open-air shopping experience like no other, nestled in the heart of downtown Las Vegas. Imagine a place where repurposed shipping containers house boutique shops, unique dining options, and exciting entertainment venues. That place is Container Park Las Vegas! Keep reading to discover all the wonders this one-of-a-kind destination has to offer, from the iconic fire-breathing praying mantis to the immersive Dome experience.
Short Summary
Explore the vibrant Downtown Container Park in Las Vegas for unique shopping, dining, and live entertainment!
Marvel at the iconic fire-breathing praying mantis and enjoy interactive games under The Dome.
Contribute to the Love Lock Art Installation & experience family fun at The Treehouse Playground, all while supporting local businesses!
The Unique Concept of Container Park
Downtown Container Park, located in downtown Las Vegas, is a refreshing change from traditional shopping malls. Opened in 2013 as part of the Downtown Project, this innovative open-air shopping center is constructed from repurposed shipping containers, creating a unique shopping experience that you won't find anywhere else.
Home to boutique retail shops, diverse restaurants, and lively entertainment venues, Container Park promises an unforgettable visit for locals and tourists alike. With its eco-friendly design, vibrant atmosphere, and convenient location on Fremont Street, Container Park has quickly become a must-visit destination in downtown Las Vegas.
The Iconic Fire-Breathing Praying Mantis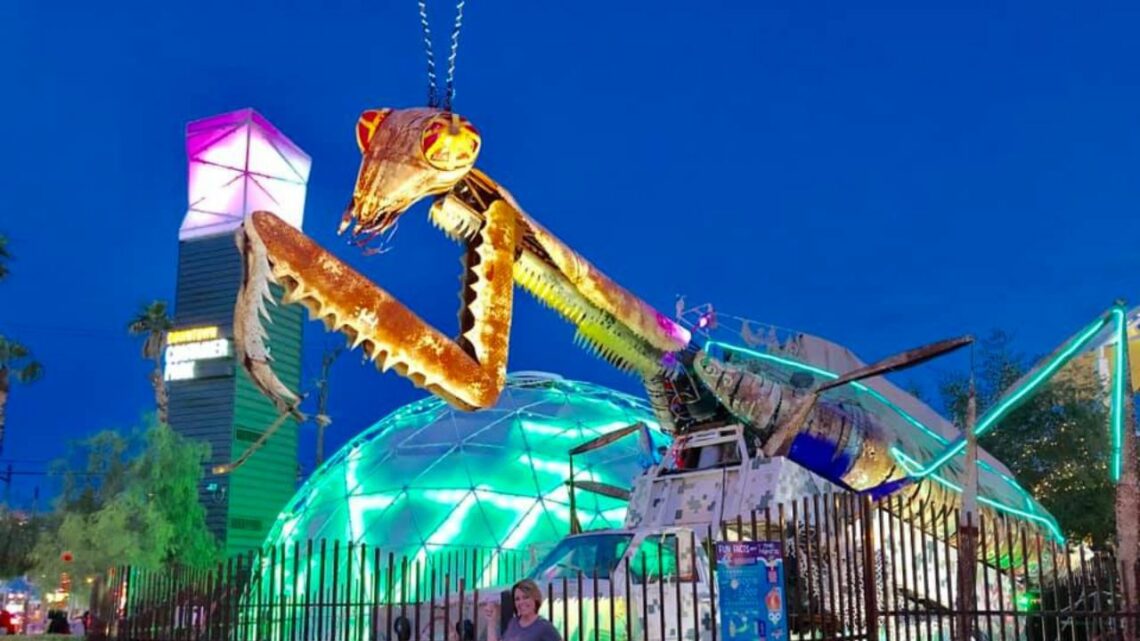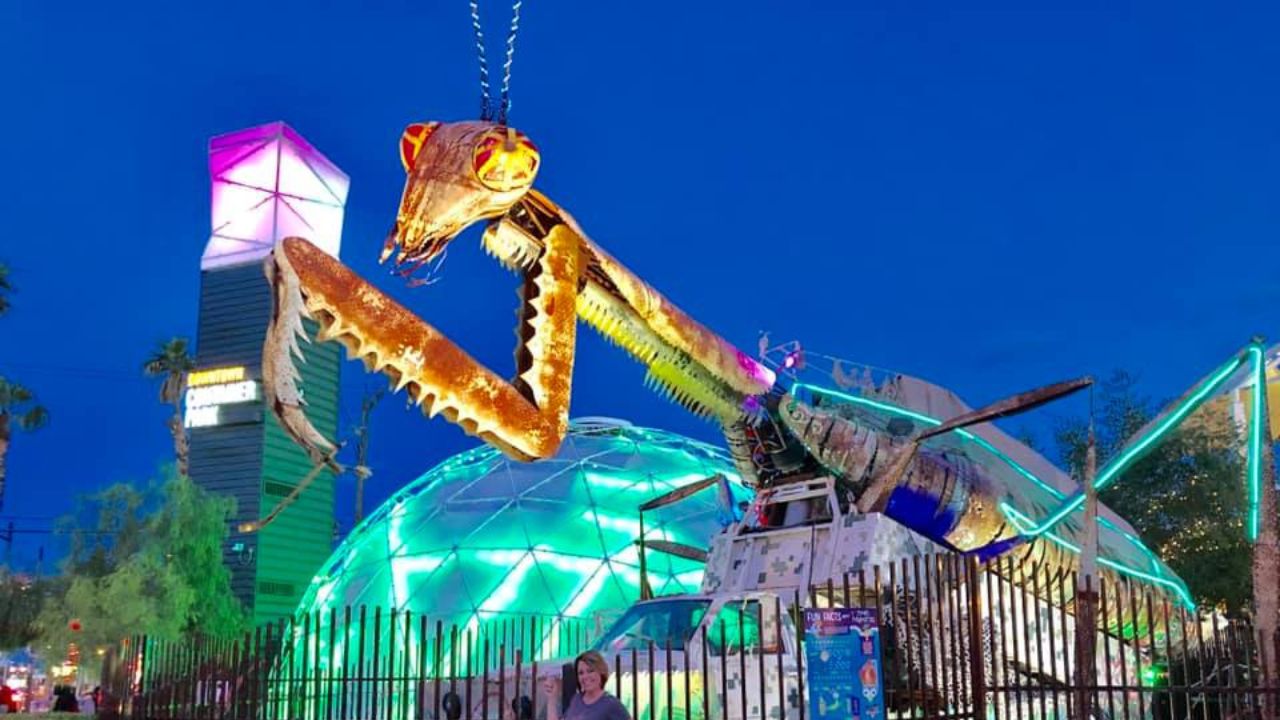 As you approach Container Park, you'll be greeted by the mesmerizing fire-breathing praying mantis sculpture. Standing 40 feet tall and 55 feet long, this incredible metal artwork is a sight to behold.
The praying mantis comes to life every night at sundown with a drum circle celebration called the "Call to the Mantis." Its fire-shooting antennae synchronize to music, creating a jaw-dropping spectacle. Trust us, you won't want to miss this one-of-a-kind attraction!
Entertainment Under The Dome
Venture inside Container Park and discover The Dome, an immersive entertainment venue located next to the praying mantis. Here, you'll find a captivating blend of movies, interactive games, and planetarium-like shows that will transport you to other worlds, all within an art box-like atmosphere.
The Dome's state-of-the-art technology provides a truly unique experience for visitors of all ages. Whether you're a movie buff, a gamer, or just looking for a fun and innovative way to spend an evening, The Dome has something for everyone.
Don't miss this unforgettable experience during your visit to Container Park!
Love Lock Art Installation
As you explore Container Park, you'll come across the heart-shaped Love Lock sculpture created by local artist Nova May for the Life is Beautiful festival. This interactive art piece invites visitors to attach locks with personal messages, creating a unique community art piece that's always growing and evolving.
After the original sculpture was stolen, an empty heart was promptly replaced, and visitors eagerly filled it with new locks, bringing the art piece back to life. The Love Lock sculpture is a testament to the resilient spirit and creativity of the Las Vegas community.
Boutique Retail Shops in Container Park
At the heart of Container Park lies an eclectic mix of 38 boutique retail shops, offering everything from hand-crafted jewelry to locally made organic products, including the delicious Las Vegas kettle corn. These unique container park stores showcase the best of Las Vegas' creativity and craftsmanship, providing a truly unique shopping experience. And for those seeking a fun and eco-friendly way to explore the city, Trikke Las Vegas rentals are also available nearby.
Container Park's boutique shops cater to a wide range of tastes and preferences from coffee shops to fine arts stores. Some of the unique items you can find include:
Handcrafted jewelry
Local artwork
Vintage clothing
Specialty teas and coffees
Artisanal chocolates
You're sure to find something special to take home as a souvenir or gift for a loved one.
And the best part? Your purchases at Container Park support local businesses and artisans, helping to foster a vibrant and thriving community in downtown Las Vegas. So go ahead and shop to your heart's content, knowing that you're contributing to the local economy.
Dining Options at Container Park
Feeling hungry? Container Park boasts a diverse range of dining options, including:
Alchemical
Bin 702
Bucket Lis
Downtown T
Frat Haus
Mob Pie
No.1 Boba
You can also check out the nearby Downtown Terrace for more dining choices.
If you're in the mood for something more familiar, you'll also find nearby restaurants like Big Ern's BBQ, The Perch, and ZAI Restaurant & Bar. With so many options to choose from, your taste buds are in for a treat at Container Park!
After a delicious meal, why not relax with a drink at one of Container Park's bars or lounges? Whether you prefer craft cocktails, locally brewed beers, or a glass of fine wine, there's a perfect spot for you to unwind and enjoy the lively atmosphere.
Family Fun at The Treehouse Playground
Container Park is a family-friendly destination with the Treehouse Playground, a fun and safe play area for children. Kids can enjoy the NEOS play system while parents relax on the grassed area nearby.
The Tree House Playground offers the following features:
Free admission for children
Several tables around the play area for dining
A fun and safe environment for kids to enjoy in our interactive playground
The perfect spot for family fun during your visit to Container Park!
Live Entertainment and Events
Container Park comes alive with live entertainment and events, providing a vibrant atmosphere for visitors to enjoy. From live bands and parades to holiday activities, there's always something happening at this bustling hub. To stay up-to-date with the latest events at Container Park, check out their website for a complete list of upcoming happenings.
Whether you're a music enthusiast, art lover, or just looking for a fun night out, Container Park has something for everyone. Don't forget to snap some photos and share your Container Park experience on social media. With so much to see and do, Container Park is a must-visit destination for anyone seeking an unforgettable time in downtown Las Vegas.
Visiting Container Park: Practical Information
Container Park is located at 707 Fremont Street in downtown Las Vegas, making it easily accessible for both locals and tourists. While there isn't parking directly on-site, there are several parking lots in the area, including:
Container Park Lot
Downtowner Lot
Llama Lot
Place on 7th Lot
Parking your car in Las Vegas just became easier with the availability of ParkMe, the official Las Vegas parking app. Visitors now have the option to reserve their on site parking spot through this app.
There's no entrance fee to visit Container Park, so you can explore its unique offerings without breaking the bank. Keep in mind that:
Kids are welcome during the day
After 9 pm, visitors must be 21 and over
Juveniles under the age of 18 are not allowed in alone. They must have a legal guardian present.
If you prefer public transportation, the Deuce bus operates along Las Vegas Blvd. with several convenient stops around the Fremont Street Experience. With so many ways to get to Container Park, there's no excuse not to visit this extraordinary destination!
Summary
In conclusion, Container Park is a one-of-a-kind destination that offers a unique shopping, dining, and entertainment experience in downtown Las Vegas. From the iconic fire-breathing praying mantis and immersive Dome experience to the boutique retail shops and diverse dining options, there's something for everyone to enjoy at Container Park.
Don't miss the opportunity to explore this incredible open-air shopping center and support the local Las Vegas community. Whether you're a Las Vegas native or just visiting the city, Container Park is waiting to welcome you with open arms and unforgettable memories.
Frequently Asked Questions
Do you have to pay to get into container park?
No entrance fee is charged to Downtown Container Park! You can explore the Treehouse, Playground, Pixel Room and stage area for free – just make sure to check if there's a fee during special events.
However, there are plenty of other activities to enjoy at the park. You can shop at the unique stores and grab a bite to eat.
Does Container Park have parking?
Unfortunately, there is no on-site parking at Downtown Container Park. However, individuals with disabilities may use the 10 minute loading zone in front of the complex for pick-up and drop-off.
Unfortunately, extreme weather conditions can restrict access to the Treehouse slide.
When was Container Park in Las Vegas built?
Container Park in Las Vegas was built in November 2013, with construction beginning in 2012 and the grand opening including a ribbon cutting ceremony with Las Vegas Mayor, Carolyn G. Goodman.
The mall includes 43 shipping containers and 41 cubes.
What is Container Park?
Experience the vibrant atmosphere of Las Vegas's Container Park, a unique open-air shopping center featuring repurposed shipping containers housing boutique shops, delicious restaurants, and entertaining venues!
The shopping center is made up of over 40 stores, restaurants, and entertainment venues, all housed in colorful shipping containers. You can find everything from clothing and jewelry to art and home decor. There are also plenty of delicious restaurants to choose from, offering a variety of dishes.
What types of entertainment can be found at The Dome?
The Dome at Container Park is a spectacular venue for entertainment, with exciting movies, interactive games, and mesmerizing planetarium-like shows!
It offers a unique experience that can't be found anywhere else. The Dome is equipped with state-of-the-art technology, providing an immersive experience for all ages. The Dome also features a variety of interactive games.