Lori Ballen, the owner of this website, benefits from purchases made through her affiliate links.
The Lakes is a master-planned community in the West Sahara area. It's located to the east of Summerlin and the west of the Las Vegas strip. It is in the Las Vegas Zip Code 89117. The Lakes has easy access to the 215 Beltway, The Summerlin Parkway and the Desert Inn Arterial. The Lakes is circled by Lake East Drive and Crystal Water Way. The Lakes is a short distance from Red Rock Canyon.
The Lakes had its groundbreaking in November of 1984. The developers included Ken Sullivan, Marty Collins, Russ Dorn, and Al Collins. The original planning of the community included two lakes.
The Lakes is built around a man-made lake called Lake Sahara. This crystal blue lake covers 30-acres. The Lakes is divided into seven unique villages. Each village has a gated entrance. Villages in The Lakes include Oriental, Cape Cod and Ranch style homes. Neighborhoods have single-family homes, condominiums, luxury estates, and custom homes. The Lakes even has a castle. Homes are 1,500 – 12,000 square feet in size.
The Lakes is a true oasis in the middle of a desert. With its sparkling water that allows for boating, it's a refreshing addition to the heat of the desert. The Lakes has amazing mountain views and views of the Las Vegas strip. Imagine a leisurely boat ride with a mountain backdrop, and you've imagined just one of the advantages of living in The Lakes community. Another advantage is the opportunity to have a private dock and shoreline just feet from your back patio. Have a desire to do some early morning fishing? Just walk down to your private pier and enjoy!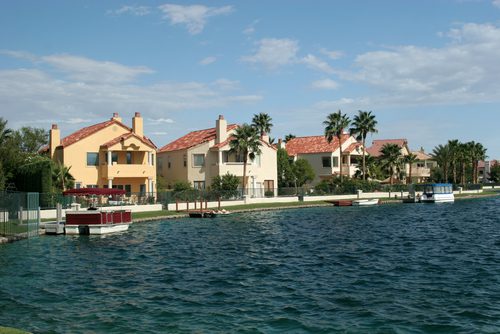 Residents can take their personal boat to Town Center for a bit of dinner and shopping. Why jump in the car when you can enjoy a few minutes of bliss on your way to getting your laundry cleaned and picking up a few groceries?
With nearly 15 miles of trails for biking, walking and jogging, this is the perfect place for those who enjoy spending time outdoors. There are parks with amazing views and picnic areas for spending time with family and friends. Enjoy the scenic views and beautiful landscaping as you walk your pet or take a morning walk.
The Lakes has an active homeowners' association, The Lakes Association. The association is comprised of homeowners and has a board of directors. The association is responsible for maintaining the lake, regulating common areas, and protecting the beauty and integrity of the community. They also take care of community security, entrances, streets, lighting, and landscaping.
The Lakes is located in the Clark County School District. The Schools zoned for this community are: Ober Elementary, Fertitta Middle school, and Bonanza High School.
More Las Vegas Neighborhoods.