Lori Ballen, the owner of this website, benefits from purchases made through her affiliate links.
One thing that is not typically associated with Las Vegas to outsiders is arts and culture. But that's only because people aren't looking hard enough. Las Vegas has a growing, important art scene. And that art scene is, appropriately enough, anchored by the Las Vegas Arts District.
About the Arts District
Las Vegas is associated with showmanship and pizzazz, glitz, and glamour. It's a place where booze flows freely, worries disappear and people are not only allowed but encouraged, to indulge in their deepest impulses and desires.
The Las Vegas Arts District is, of course, a bastion for all kinds of art, with an abundance of galleries, studios and museums where people can take in everything from paintings to sculptures to theatrical performances.
But it's more than that.
The Las Vegas Arts District gives people a glimpse of the real Las Vegas — where the glitz and glamour is replaced by people living their day to day lives, meeting at hip restaurants and bars, participating in community events, and taking in the entertainment.
It's a real, quirky neighborhood that embodies the freewheeling spirit of Nevada.
When gambling and magic shows have lost their luster and you're looking for more substantive activities, the arts district is the best place to go for something a little more down to earth yet deeply satisfying.
Check out this guide to the Las Vegas Arts District for help finding the best galleries, the coolest bars, and the most mouthwatering restaurants.
Let's dive deeper.

Las Vegas Arts District Location
The Las Vegas Arts District isn't difficult to find — it is located just south of downtown Las Vegas, Nevada. It was created in 1998 as an 18-block zone where artists could flourish and showcase their art. The district is also known as the "18b," a reference to the original size of the district, which comprised 18 blocks of downtown, though it has since grown beyond those original 18 blocks.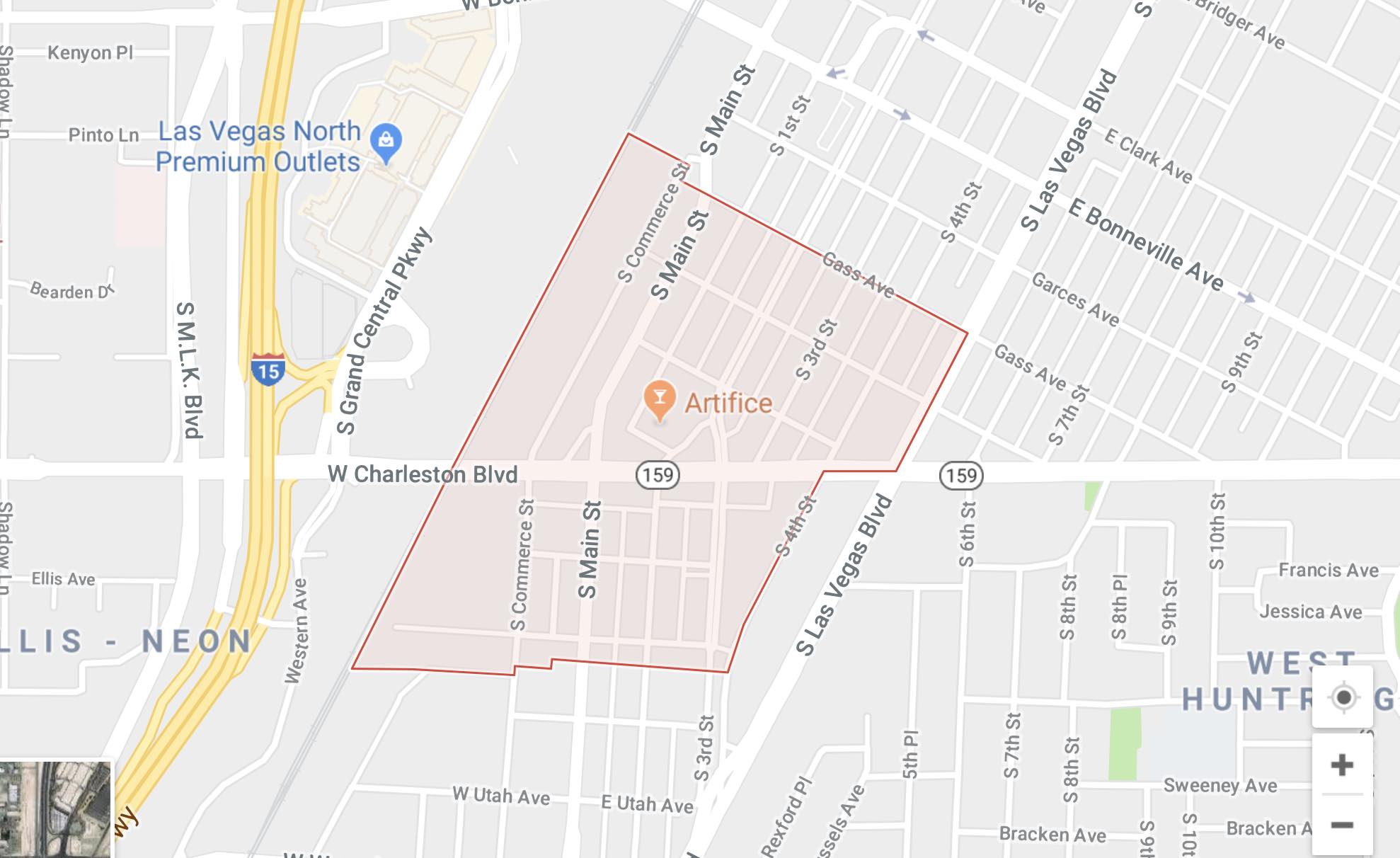 The district's rough boundaries are Commerce Street, Hoover Avenue, Fourth Street, Las Vegas Boulevard and Colorado Avenue, and it's situated roughly between the Fremont East Entertainment district and the Stratosphere Resort. Here's the Google Map.
But according to the website for the registered 501(c)4 nonprofit neighborhood association that manages the district, the physical boundaries don't even begin to describe what the Las Vegas Arts District is really all about.
"For everyone who lives, works or visits here, 18b is a shared vision, for which no boundaries apply," they state.
History of Las Vegas Arts District and 18b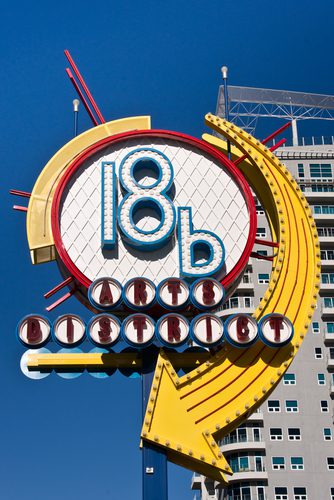 The area that makes up the Las Vegas Arts District has a fascinating history, as the beginnings of what would eventually become the district got its start in the late 1940s.
According to LasVegasNevada.gov, it was the construction of a railroad underpass on Charleston Boulevard in 1949 that resulted in specialized housewares and home construction retail district along Main Street and centered on Charleston Boulevard, the area that would eventually become the arts district.
"Buildings in the district generally adhere to the design characteristics of contemporary commercial architecture with projecting canopies, angled shop fronts, raised canopies and an assortment of modern materials that denote their connection to post World War II design," the website states.
But the area eventually became rundown. The city grew, as did the suburbs, and the advent of "mega-malls" forced the dilapidated retail district out of the minds of Las Vegas residents and visitors as they traveled out of the city to take care of their shopping needs.
But that has changed with the arts districts' revitalization and rebirth; it has become an oasis for art lovers, and anyone interested in the finer points of Las Vegas culture.
This cultural rebirth is described on the art districts' website as being marked by "a cultural explosion of new galleries, funky antique shops and boutiques, restaurants and cafés, eclectic living spaces, luxury high-rise condominiums, and an adjacent major furniture mart," all of which has given the neighborhood "a new – and surprisingly sophisticated – life."
The arts district isn't as flashy as the Vegas strip, but that can be a good thing. As the website, VegasSolo.com states, "The neighborhood is very understated compared to the Strip and Fremont Street–which is not a bad thing.
It's a real, locals neighborhood of businesses," going on to say that it's "a funky, bohemian neighborhood full of creative entrepreneurs and artists doing interesting things."
First Friday Art Walk and Preview Thursday
Every month, an event known as the First Friday Art Walk is held in the Las Vegas Arts District. The event draws as many as 30,000 visitors on the first Friday of each month.
In addition to encouraging visitors to patronize the existing businesses and restaurants in the arts district, a number of food and beverage vendors, as well as artists and people selling crafts, flock to the event.
People are also able to enjoy performers playing music or engaged in visual performances.
The First Friday event has become popular — so popular, in fact, that there are now "Preview Thursdays," held the day before First Friday, that gives people a chance to check out the local art galleries without the extreme crowds one would need to contend with the next day.
Though the Las Vegas Arts District is a focal point of the First Friday event, it actually comprises most of downtown Las Vegas. First Friday events also take place in the Fremont Entertainment District and at the Smith Center, a performing arts venue.
The beauty of the arts district is that its location makes it easy to travel to nearby neighborhoods to fully participate in all that First Friday has to offer.
The event is put on by the First Friday Foundation, and you can find more information on the foundation and their monthly event at https://ffflv.org.
Parking and Getting Around
If you don't mind taking public transportation, you can park in the City Hall parking garage located at Stewart Avenue and Las Vegas Boulevard.
The parking garage has plenty of free parking and is close to transit stops that can take you to the arts district.
You'll also find a large, free parking behind the Arts Factory, located at 107 E. Charleston Boulevard. There are other parking lots scattered throughout the district, but most of them require you to pay a fee to park there.
Of course, ride-sharing services such as Uber and Lyft are options in the city as well; if you're willing to pay a little extra, the convenience may be worth the cost — and of course, if you're planning to imbibe, calling a driver can help you avoid a DUI.
Art Venues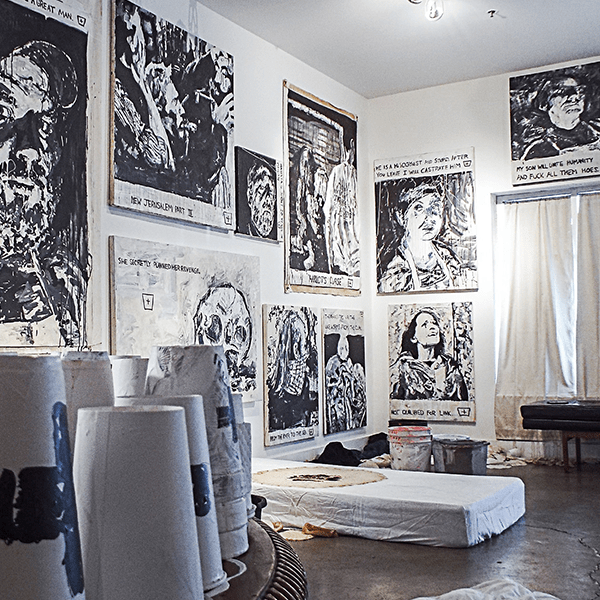 It should come as no surprise that a part of Las Vegas that is designated the "arts district" is practically brimming with art galleries and studios. If you're an art lover or just a casual art observer, you'll find that you've definitely come to the right place.
Here are some of the arts district's best art venues for you to check out:
Art Square, 1025 S First Street
You'll find art galleries located inside Art Square, which is actually made up of three remodeled 1950s-era buildings. More than a dozen tenants reside within those buildings, all of them offering something art-related or creative. This is also the home of the Art Square Theater and Cockroach Theatre. http://artsquarelv.comnull
The Arts Factory, 107 E. Charleston Boulevard
Located in a former warehouse, the Arts Factory now houses a variety of studios showcasing the creative efforts of local artists, including a main, common gallery, in addition to music performances, theatrical performances, and poetry readings. http://www.theartsfactory.com
17 Moons Art Studio, 107 E. Charleston Boulevard, Suite 107
17 Moons Art Studio is all about recycling, reusing and re-purposing. Yes, this studio makes art out of recycled items, using a combination of "collage, sculpture, and assemblage," according to the studio's website. http://www.17moons.com
Wonderland Gallery, 107 E. Charleston Boulevard, No. 110
The Wonderland Gallery features artwork with a whimsical aesthetic, offering the perfect outing for art-lovers looking for a temporary escape from reality. https://wonderlandgallery.com
Bars and Nightlife
What's Las Vegas without throwing back a few drinks? Yes, if you're in the arts district, it may have been creative forces that initially attracted you to the area.
But remember, you're still in the city of sin, so why not live a little? If you're the drinking type, you won't be disappointed by the Las Vegas Arts District, as it has no shortage of places to throw back a couple drinks.
Here are some of the best watering holes you'll find in the area.
Velveteen Rabbit, 1218 S. Main Street
If you're a craft beer connoisseur, you can't go wrong with the Velveteen Rabbit. The cocktail menu at the Velveteen Rabbit changes seasonally, and features "fresh produce and house-made ingredients." There's a rotating selection of 12 beers on tap and between 18 and 20 bottled beers available. http://velveteenrabbitlv.com
Artifice, 1025 S. First Street.
Attached to Art Square, Artifice is a trendy nightspot that features local bands. In addition to a live performance area, the venue also boasts not one, but two lounges. http://www.artificebar.com
Rebar, 1225 S. Main Street
Rebar brands itself as, "the only bar where everything's for sale!" It is, in essence, a combination bar and antique store, where the decor is actually made up of antiques that patrons can purchase. If you're feeling thirsty and love antiquing, Rebar is a must-see Las Vegas destination. http://rebarlv.com
Frankie's Tiki Room, 1712 W. Charleston Boulevard
Frankie's Tiki Room is the quintessential tiki bar, offering a one of a kind experience for ordering exotic drinks in a tropical-style establishment. http://www.frankiestikiroom.com
Restaurants and Dining
If you find yourself getting peckish, you won't go hungry in the Las Vegas Arts District, which is home to a variety of different restaurants sure to satisfy anyone's particular palette.
With some of the most creative and stylish kitchens around, you're sure to find something to not only satisfy your hunger but delight your taste buds.
Here are some of the best arts district restaurants to tickle your tongue.
Mingo Kitchen and Lounge, 1017 S. First Street, No. 180
Located inside Art Square, Mingo Kitchen and Lounge describes itself on its website as a "decadent & sexy lounge" that combines "an inventive & risqué menu." With a description like that, who wouldn't want to check out Mingo? http://eatmixmingo.com

Lola's Louisiana Kitchen, 241 W. Charleston Boulevard, Suite 101
Located in the former Holsum Bread Bakery, Lola's Louisiana Kitchen offers authentic Cajun food. http://www.lolaslasvegas.com/

Gambler's Cafe, 800 S. Main Street
Inspired by Las Vegas's history of gambling, this cafe offers a variety of scrumptious options but is most well-known for its sub sandwiches.
Tacos Huevos, 107 E. Charleston Boulevard, No. 150
For those hankering for Mexican food, you can't go wrong with Tacos Huevos. This isn't your typical Mexican joint, however. On its website, the restaurant boasts that it lives by the idea that "subtle infusions in Mexican food can have a profound impact."
Fresh ingredients are always on the menu, and unlike many Mexican restaurants, Tacos Huevos embraces early-morning meals — it serves breakfast, in addition to the typical lunch and dinner. http://www.tacoshuevos.com
Live theatre
The Las Vegas Arts District isn't just home to some of the best graphic art in Las Vegas. It's also home to many venues for live theater performances. If you're in the mood to catch some of the raw energy that comes from the longstanding art form of live performance theater, you'll want to check out one of the following venues.
Cockroach Theatre, 1025 S. First Street. The Cockroach Theatre held its first performance in 2002, and became a 501(c)3 nonprofit organization as it put on performances in found spaces across Las Vegas, which helped it adopt its style:
"Performing in found spaces, junkyards, parks, warehouses, showrooms, taught us to be resourceful and we adapted the plays we wanted to produce into any space that would suit the story being told," the theatre states on its website, noting that the name "Cockroach" became a metaphor for, "survival, resilience, and turning resource constraint into an opportunity to create exciting, visceral theatre."
After 2011, the theatre gained a permanent space within the Art Square Theatre at Art Square, where the Cockroach Theatre is located to this day. http://www.cockroachtheatre.com
Majestic Repertory Theatre, 1217 S. Main Street. Formed in 2016, the Majestic Repertory Theatre is located within the ALIOS arts space. The theatre focuses on "the American canon, old and new, and gives emphasis on giving young theatre artists an opportunity to build their skills," according to the theatre's website. www.majesticrepertory.com
Things to Do in Vegas
True to its name, the Las Vegas Arts District is filled with enough arts and culture to satisfy even the most ardent art aficionados. But there's so much more to this growing arts district than good art and good food.
The Las Vegas Arts District is home to just about any kind of business you could think of. So check out the following list, where you can get familiar with just some of the many fun and exciting businesses to check out in the area.
Antiques. There are a variety of antique establishments in the Las Vegas Arts District, many of them including an edgy Las Vegas flair to them. They include Rebar; Las Vegas Oddities and Antiquities; Main Street Mercantile; and Main Street Peddlers Antiques.
Cannabis establishments. In Nevada, you can purchase legal cannabis (that's marijuana, weed or pot, if you're not familiar with the more formal term). Nevada was one of a couple states to legalize recreational marijuana sales in 2016, although the state had legalized medical marijuana 16 years earlier.
A variety of cannabis stores now operate in the arts district, including Acres Cannabis; Blackjack Collective; Essence Cannabis Dispensary; New Amsterdam Naturals; Las Vegas Releaf; Blum; Thrive Cannabis Marketplace; and Canopi.
Museums. The Las Vegas Arts District is home to a host of museums … and not just art or historical museums (although it has those, too). There are many museums with a variety of fun twists.
Museums in the arts district include: Zak Bagans Haunted Museum; Metropolitan Gallery/Art Museum Las Vegas; Casa De Shenandoah; National Atomic Testing Museum; Burlesque Hall of Fame; Old Las Vegas Mormon Fort State Historic Park; Springs Preserve; Marjorie Barrick Museum of Art; Clark County Museum; Discovery Children's Museum; Nevada State Museum; The Mob Museum; Las Vegas Natural History Museum; LV Healing Garden; the Neon Museum; and Harry Mohney's Erotic Heritage Museum Las Vegas.
Boutiques. You'll find a variety of intimate boutiques located within the Las Vegas Arts District, including Inside Style; 1 Stop DJ Shop; Glam Factory Vintage; Buffalo Exchange; and the Atomic Style Lounge.
Hands-On Activities. If you like to get your hands dirty, so to speak, with lots of hands-on activities, there's plenty for you to find in the Las Vegas Arts District. Such activities include Photo Bang Bang; Clay Arts Vegas; City of the World Gallery; and Havi's Studio of the Soul.