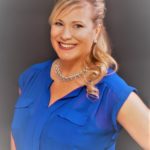 Krista Porter, originally from Spokane, Washington, has been a resident of Las Vegas for more than 12 years. She was drawn to the city by its warm weather and all the hidden local treasures and things to do for residents as well as tourists. North Las Vegas is where Krista found herself at home.
Krista, serving southern and northern Nevada, chose the real estate industry for the ability to be self-employed, which then empowers her to offer customer service second to none.
She also loves being a real estate agent because she enjoys getting to know people on a personal level while helping them achieve their goals. Krista thrives on the opportunity to be a part of people's life stories and being able to work with families in reaching their dreams of homeownership.
With a background in the legal field, Krista brings a unique skill set to her service regarding contracts and actively protecting her clients throughout the transaction. Her specialty in the real estate industry is residential properties, specifically new construction, including custom homes.
Krista has a fascination with human behavior and anthropology, feeding her love of learning. When not working, she enjoys reading, relaxing by the pool, and learning to play the piano. She also loves cards, board games, and experimenting with new foods.