Lori Ballen, the owner of this website, benefits from purchases made through her affiliate links.
If you are a Sushi lover, you'll love these choices in Las Vegas. From the Strip to Summerlin, from all You Can Eat Sushi to Sushi on a budget, We've got you covered.
Best Sushi on the Las Vegas Strip
Mizumi
Mizumi's approach to Japanese cuisine is innovative as it offers a wide variety of dining experiences: a teppanyaki room, a robatayai bar, and ocean-fresh sashimi and sushi.
The Forbes Travel Guide Four-Star Award-winning restaurant is located at Wynn and overlooks private Japanese gardens encircled by a tranquil koi pond that features an iridescent waterfall rising 90 feet.
Relish the quaint view and chic approach to the appetizing theatrics of the teppan room presentations of teppanyaki.
Sake Rok Las Vegas
This restaurant is situated in The Park, opposite the T-Mobile Arena. Spanning over 13,000 sq. ft., Sake Rok features a mezzanine that looks out over the sushi bar, dining room and 1st-floor bar all with a total seating of 200.
Open for a late-night bar/lounge, dinner and lunch, this flamboyant hotspot offers guests a thrill that includes delectable sushi, private sake label, and Japanese cuisine.
Best All You Can Eat Sushi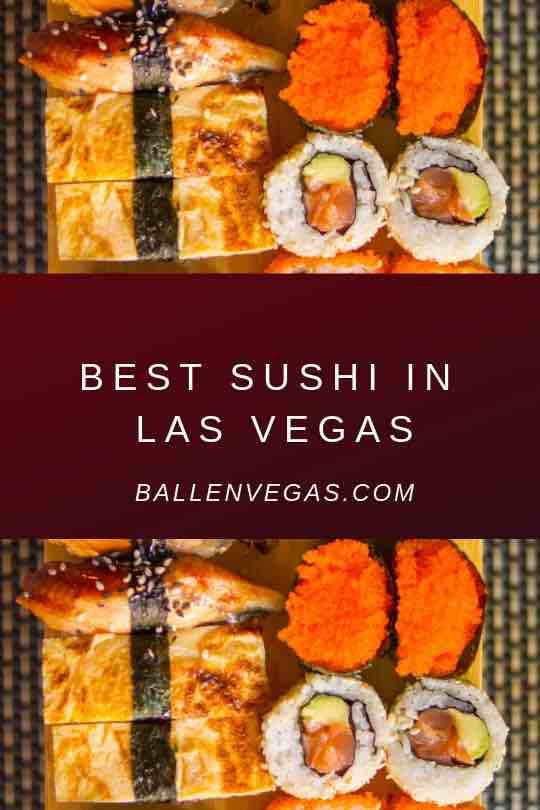 Yama Sushi
Located off the Strip a mile east, Yama Sushi is a little known Japanese restaurant that is easy to miss if you're not paying attention.
This hometown establishment has an extensive array of tasty sushi and rolls among other delights that are sure to exceed your expectations. It's one of the best bets if you're in search of a casual Japanese experience.
It offers specialties such as the chef's specialty rolls, the best sushi buffet, and an all you can eat sashimi salad.
https://www.groupon.com/biz/las-vegas/yama-sushi
Umiya Sushi
Umiya's genius culinary minds offer one of the most marvelous dining experiences on the sushi avenue of Las Vegas.
This restaurant is among the valley's original venues for all you can eat sushi. Over the years, Umiya continues to serve top-tier sushi to its guests.
For that reason, it has cultivated the reputation of offering the finest in sushi and other seafood. Whether you prefer à la carte or all-you-can-eat, your dinner or lunch at Umiya will, without doubt, be pleasurable.
Jjanga Steak and Sushi
---
Best Sushi off the Strip
Sushi Roku
This restaurant brings fresh fish from unsullied waters worldwide together with an artistry that only a master sushi chef can offer. The result is a superior, classic sushi dish tinged the inspiration from California.
The establishment also innovates a variety of modern sushi that integrates diverse, contemporary ingredients such as olive oil from Europe and jalapeños from Latin America into its culinary arts.
The Japanese cuisine experience at Sushi Roku bridges the present and past as it demonstrates a zeal to boldly experiment new ideas without completely neglecting respected traditions.
KUMI Japanese Restaurant + Bar by Chef Akira Back
Kumi restaurant and bar encases spirits in Japanese jewel cases. It uses these spirits to serve specialty cocktails prepared by expert mixologists from The Light's Group.
The dining experiences include a sushi bar, three dining rooms, a bar, and a DJ booth, all of which present a unique, traditional Japanese ambiance that guests find exciting.
---
Soho Sushi Burrito
SAHARA LOCATION : 2600 W. Sahara Ave., Suite 115 Las Vegas, NV 89102
Sushi in Las Vegas Open Late
SUSHISAMBA
Only here can you find a matchless blend of Peruvian, Brazilian and Japanese cuisine and culture.
At SUSHISAMBA, vibrant seviches and robust moquecas find a place at the tables beside tender sashimi and modest miso soup.
In addition to these traditional delicacies, this joint also offers more innovative fare, such as anticuchos, tuna tataki, and sawagani.
Merging history and imagination, SUSHISAMBA delivers a truly rare experience.
---
Kabuto-edomae sushi
This brazen gem from Takashi Segawa, the local Japanese tycoon who also owns Sushi Mon, Goyemon and Monta, attests to his remarkable attention to detail.
From the wooden fish-cooling boxes to the 3-year-old imported artisan shoyu to the citrus aroma from the Japanese cypress sushi bar, Kabuto-edomae sushi is not your typical sushi joint.
Kabuto's chef prepares two late-night dishes: the $48 nigiri course and the $80 omakase course. Also available are a la carte Nigiri and some beverage options. And that concludes the establishment's minimalist menu.
Affordable Sushi
Sapporo Revolving Sushi
While sushi has been around for millennia, conveyor belt sushi is not older than a century.
It's a convenient way to savor your preferred nigari and other Japanese cuisine in tiny, tasty servings. The concept's popularity spread throughout the world, including the US.
Even though California-style all-you-can-eat (AYCE) sushi had been popular in Las Vegas, Sapporo Revolving Sushi was the first restaurant to offer affordable revolving sushi in the valley.
Food is delivered by a robot and each table has an ipad.
Vanessa says that the Popcorn Lobster sushi Rolls are her favorite!
Sushi Takashi
Sushi Takashi combines classic Japanese cuisine and traditional, artistic sushi rolls. Diners can delight in these dishes with a limitless combination of rolls, drinks, sashimi, nigari, desserts and appetizers. C
hef Takashi has more than three decades of experience in a variety of settings, including well-known casino restaurants in Las Vegas. Here, both your palate and stomach are catered to.
Oyshi Sushi
Being among the first sushi places to offer AYCE sushi, Oyshi is a best Sushi in Las Vegas restaurant among sushi lovers.
Even as guests enjoy the "all you can eat" experience, the quality of the sushi is still top-grade. As a guest, every order allows you to taste the dedication and passion of Oyshi chefs.
Thanks to the amazing atmosphere, incredible service and quality best sushi buffet menu, residents of W Sahara Ave also get the share in the success of Oyshi Sushi.
---
Sushi Kaya
This modern yet laidback sushi restaurant is conveniently situated a few minutes away from the Strip.
Sushi Kaya is at the center of Las Vegas. Skilled sushi chefs at the joint prepare guests' sushi with fresh fish that arrived that morning.
Moreover, Sushi Kaya offers Korean entrees and appetizers in case you're in search of an inimitable cultural experience.
Whether you're looking for a delectably prepared dinner or a quick lunch, your cravings will find satisfaction at Sushi Roku.
---
RA Sushi Bar Restaurant
Creative cocktails, an energetic crowd, vibrant music and the best sushi outside Japan are among the main things that set apart the RA Sushi Bar Restaurant.
This downtown venue offers superior sushi and takes pride in its fantastic Japanese inspired cuisine and signature rolls. Regardless of your order, it comes with a large side of Anything Can Happen.
---
Bocho Sushi
Along the corner of Carson Avenue and Sixth Street is a delicious adventure: Bocho Sushi.
Unlike your regular sushi place, Bocho is a classic Japanese restaurant that offers a downstairs sushi bar that holds 18 seats and a standard upstairs sushi bar.
If you're in search of a memorable dining experience, you can be sure that you'll find top quality at Bocho.
Sushi Burritos
JaBurritos
Spring Valley & Linq Promenade
Coupons for Las Vegas Sushi
Osaka Summerlin
Kobe Sushi Bar
Bocho Sushi
Marssa Steak & Sushi
Bonsai Japanese Steak & Sushi
Sushi88
New China Cuisine
Swish Japanese Hot Pot
The Lakes Country Club
KOI Restaurant
Planet Hollywood
Las Vegas Restaurants