Lori Ballen, the owner of this website, benefits from purchases made through her affiliate links.
Las Vegas is a city full of surprises and it has always had an affinity for food. The following list offers a number of great options where you can dine with the best views in Las Vegas so that you can enjoy your meal and have fun! Here are some great alternatives to choose from.
The Eiffel Tower Restaurant
Adorned with a 160 feet replica of the Eiffel tower, this restaurant offers one of the best panoramic views in Las Vegas. The foundations of the structure are linked to Paris' original Eiffel tower and it's built using over 250 tons of steel.
The restaurant itself overlooks the Bellagio Fountains so you can watch as they explode to music every fifteen minutes while you dine. For an unforgettable experience, you should try some of their most popular dishes like Lobster Thermidor along with other seafood options and delicious steak, as well as crepes that are sure to please everybody's taste buds.
The view from the top is breathtaking, especially at night. The Eiffel Tower restaurant offers one of the best dining experiences in Las Vegas where you can relax and enjoy a scrumptious meal.
Eiffel Tower Viewing Experience Coupon
Top of The World (Stratosphere)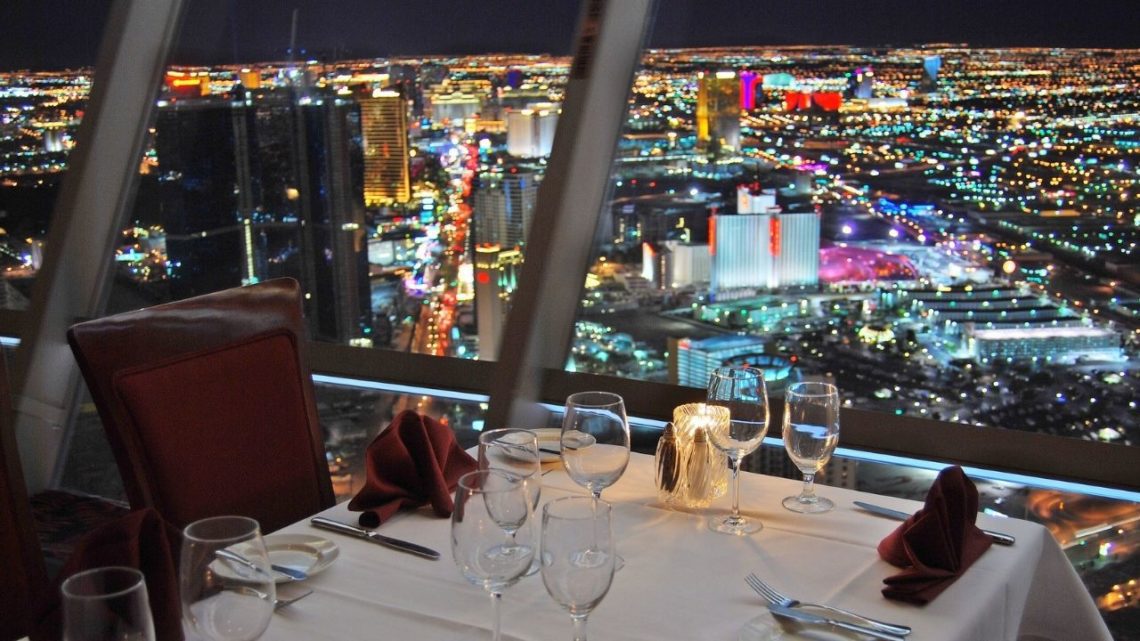 Another great restaurant with breathtaking views of Las Vegas is Top of The World. Located at the peak of this famous tower, it's an excellent place to enjoy a delicious meal while soaking in the view from a whopping 1,149 feet above the ground! You can choose from some mouth-watering dishes like steak and seafood!
Lavo Italian Restaurant (Palazzo)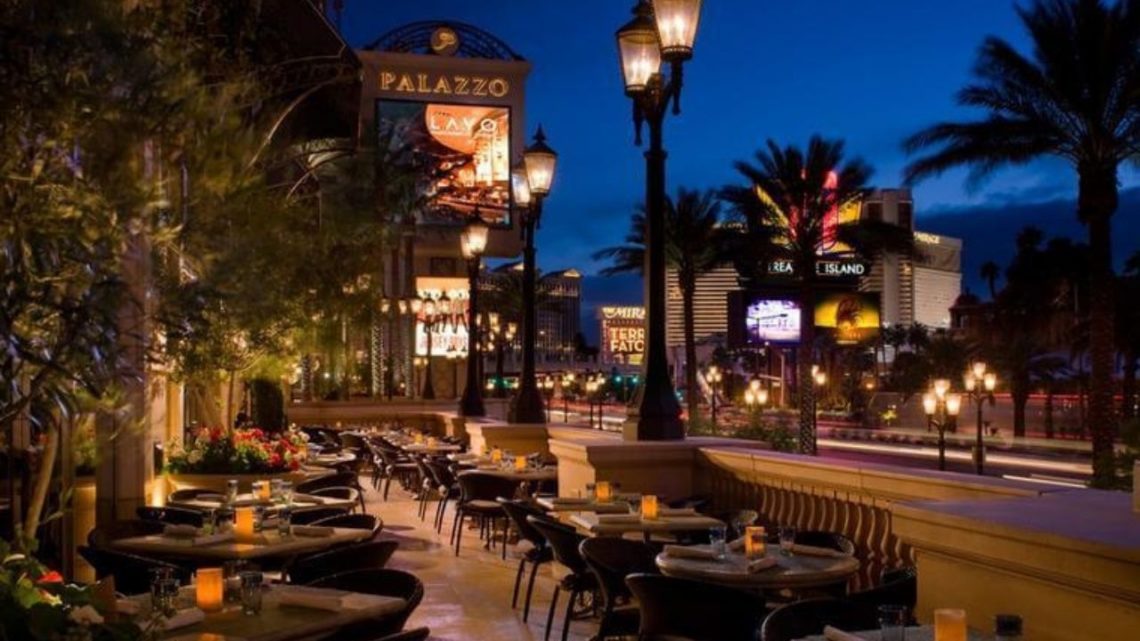 Lavo Italian Restaurant and Nightclub is a favorite among visitors who enjoy excellent food served in an elegant setting. Step out onto the terrace to experience unmatched views of the Las Vegas Strip.
Bouchon Bistro (Venetian)
This fabulous French eatery is your best bet for a truly memorable dining experience. Enjoy some delicious lamb shanks while taking in views of the alfresco area. You can choose from delectable bread, pastries, cheeses, and salads!
American Restaurant on the Lake
America on Lake Jacqueline in Desert Shores has a tranquil view, with early American cuisine. It's influenced by chef Stephen Blandino's mixed European influence.
Lakeside at The Wynn
Located on the lake in front of The Wynn casino, Lakeside is an excellent choice for visitors who want to enjoy a meal while dining overlooking Lake Las Vegas. It's easy to see why this eatery is one of the most popular places with spectacular views in Las Vegas!
Mon Ami Gabi (Paris Hotel)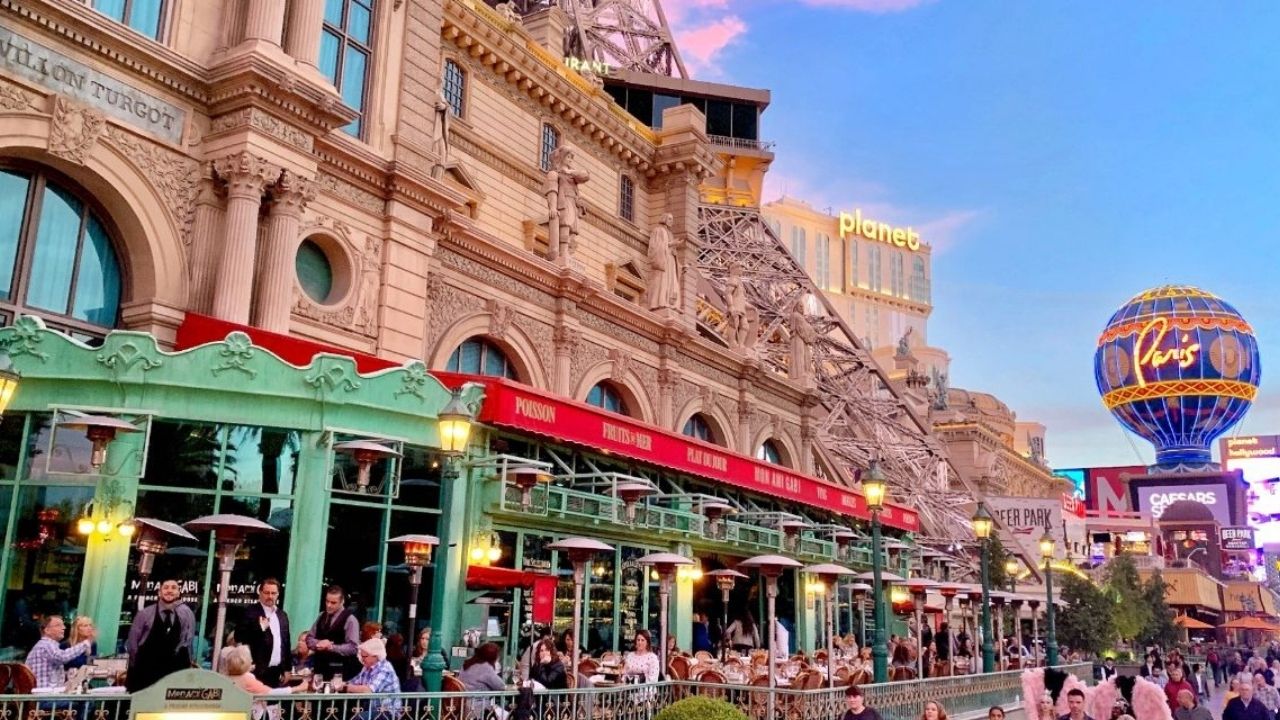 Located within Paris Casino, Mon Ami Gabi offers a great way to relax and enjoy scrumptious food and drinks while you take in fabulous views of The Strip below. You can choose from dishes like chicken breast, steak frites, escargot, and more!
Mizumi At The Wynn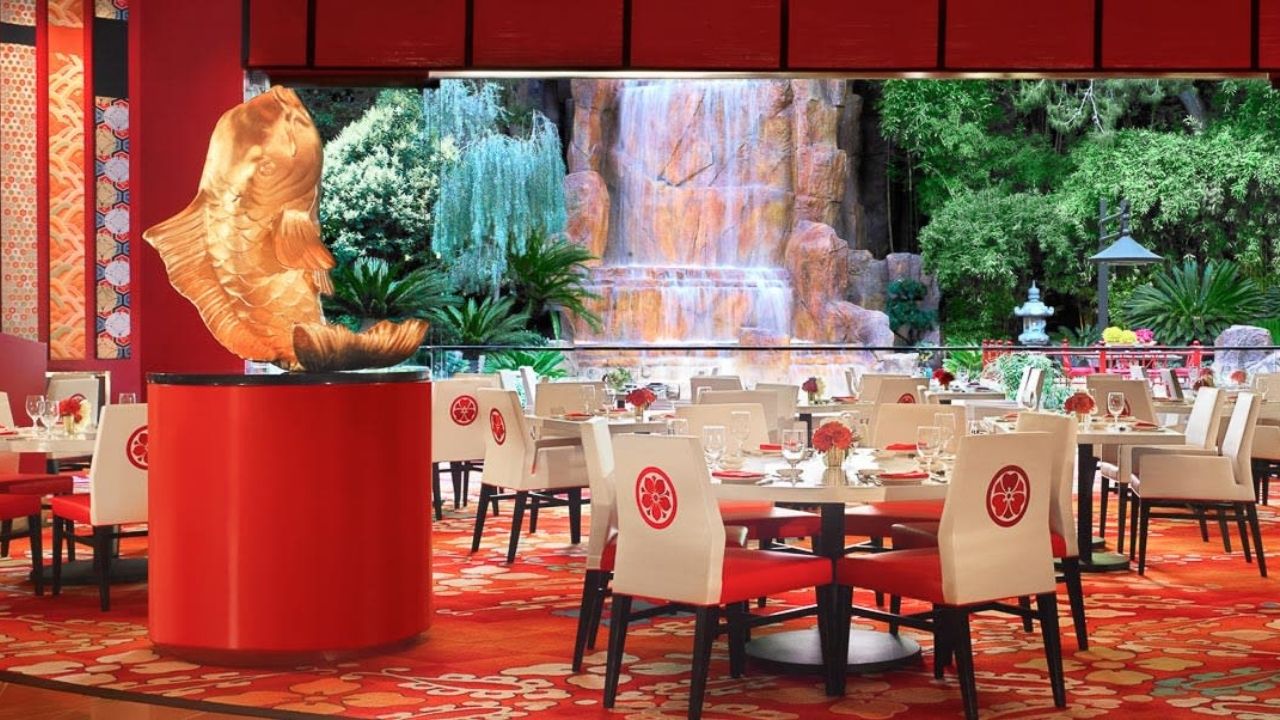 Mizumi at The Wynn offers a Japanese-influenced dining experience combined with some of the best views in Las Vegas. Located on top of the 39th floor, it's a popular choice for visitors who want to enjoy an unforgettable dining experience while taking in the breathtaking surroundings below!
Giada At The Cromwell
Located on the second floor, Giada at The Cromwell is a favorite for great views of The Strip and Downtown Las Vegas. It offers dishes like a grilled flat iron steak over farro pasta, as well as mixed greens served with pomegranate vinaigrette dressing.
The Capital Grille (Trump International)
The Capital Grille is situated in the Trump Hotel in Las Vegas. It features a wood-burning fireplace and breathtaking views. Chef Michael Mina has designed an extensive menu with items such as roasted duckling, dry-aged filet mignon steak, seafood pierogies with truffled crème Fraiche, pan-roasted sea scallops as well as a number of other dishes!
Oscars Steakhouse
Oscars Steakhouse in Las Vegas is one of the finest restaurants if you want to be treated like a celebrity! The menu offers items like braised short ribs, filet mignon sandwiches, and pan-roasted king crab legs. It's situated on the second floor of The Palazzo Casino and Resort, giving its diners an incredible view of Downtown Las Vegas as well as the Strip itself!
Marche Bacchus ( Desert Shores)
Marche Bacchus is a favorite among visitors who want to savor delicious dishes in an elegant setting with impeccable service. Choose from dishes like elk and wagyu short rib-eye steaks! It's truly a dining experience you'll never forget and one of the best places for views in Las Vegas!
SW Steakhouse at The Wynn
Located inside Wynn, SW Steakhouse offers a decadent menu. It includes items like grilled long bone dry-aged strip loin with citrus herb butter and roasted fingerling potatoes!
Costa di Mare (Wynn)
For fresh, authentic Italian coastal cuisine, prepared with seafood flown in from Italy every day, visit Chef Mark LoRusso's restaurant, Costa di Mare. This Forbes Travel Guide Four-Star Award-winning restaurant offers a variety of dishes which include dishes such as Venetian soft-shell moleche salted red shrimp from Naples and sea urchin from Sicily. For either the modern ambiance of the dining room or for dining along the romantic lagoon outside, this is one you won't want to miss!
Buddy V's Ristorante (Venetian)
Located on the first floor of The Palazzo in Las Vegas, Buddy V's Ristorante features a variety of Italian dishes and seafood. A must-try is the Sicilian Seafood Tower which consists of oysters, crab claws, clams, mussels, and shrimp topped with sundried tomatoes! Other popular items include baked ziti prepared with housemade three cheese ricotta as well as breaded and fried calamari tossed with hot cherry peppers!
Restaurant Guy Savoy (Caesars)
Located at Caesars Palace, Restaurant Guy Savoy specializes in traditional French cuisine. Specialties include "Le Court Bouillon" of Maine lobster and Alaskan king crab over organic rice as well as an array of sweet and savory crepes!
Skybar (Waldorf Astoria)
At the Skybar, you'll be treated to magnificent views of both The Strip and Downtown Las Vegas on one side while the majesty of Red Rock Canyon unfolds in all its glory when you turn to your other side!
Picasso (Bellagio)
This elegant French restaurant at Bellagio offers contemporary French cuisine as well as a unique setting. Some of the appetizer dishes you can enjoy here include escargots with garlic and parsley butter, warm spinach salad served with warm bacon dressing, and pate en croute made with rabbit liver!