Lori Ballen, the owner of this website, benefits from purchases made through her affiliate links.
There's nothing quite like the perfect pizza, but what makes the best pizza is a matter of opinion. So, we asked Las Vegas residents where they go when they want delicious pizza.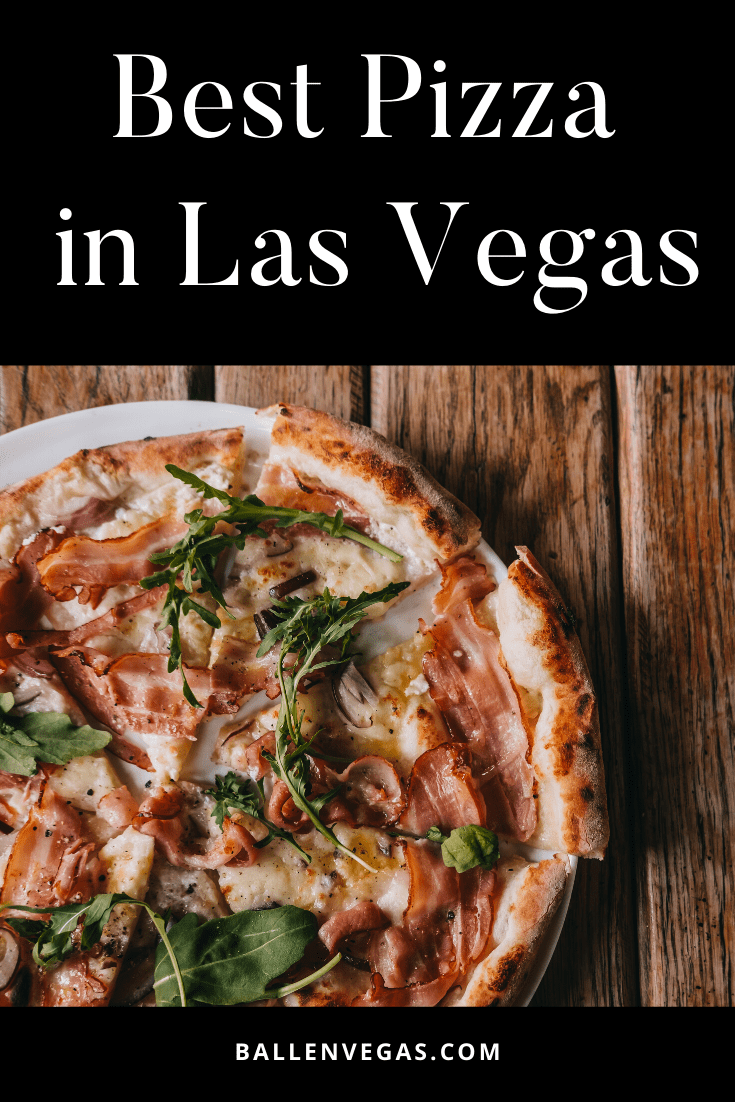 Types of Pizza
We think you'll have a marvelous time exploring these pizza restaurants in search of your perfect pizza!
Before you go running off on your pizza adventure, let's take a look at the different types of pizzas.
The Neapolitan Pizza
The Neopolitan is often considered the original pizza that was brought to this country by Italian immigrants.
The dough is made with a special wheat flour that makes the crust crunchy and thin. Unlike many other pizzas, this pizza doesn't pile on the toppings. The addition of minimal toppings is done to keep the crust crisp.
Typical toppings include tomato sauce, mozzarella cheese, and basil.
Check out Settebellos!
---
Chicago Deep Dish Pizza
Chicago Deep Dish Pizza is thick with toppings and has a medium crust thickness. This pizza requires additional cooking time because of the thickness.
The fun thing about this pizza is that the cheese is usually placed on the bottom and the other toppings added on top of the cheese. The sauce is placed on the top layer. This is one pizza you might want to grab a knife and fork to eat.
Check out Giordanos!
---
Sicilian Pizza
Sicilian Pizza is normally made in a rectangular shape. The crust is thick, and the pizza is a great choice for a crowd because it's often large.
It's popular to top a Sicilian pizza with a stronger cheese than one would normally see on a pizza. Alternately, some Sicilian pizzas are topped without the use of cheese.
Check out the California Pizza Kitchen!
---
California Style Pizza
California Style Pizza is known for the out of the ordinary toppings. If you're interested in toppings that include things like pate, duck, BBQ chicken, broccoli, or salmon… this is the pizza for you!
Dessert and breakfast pizzas are considered California styled.
---
New York Style Pizza is made to be folded in half, which makes it easier to eat for people on the go. Because it's made to be folded, the toppings aren't piled on like some pizzas. The crust is typically thin and crisp.
While there are several other pizza types, they are variations of one of the above-styled pizzas with a change in toppings or crust design.
Where are the best pizza places near me?
Below you'll find a list of recommended pizza restaurants in Las Vegas, Downtown, and the Summerlin area.
Spago At The Forum Shops
---
Metro Pizza
Metro Pizza offers menu items that include Garlic Romano Fries, Pasta Salad, Subs, Calzones, and Pizza.
Pizza options include stuffed pizzas and traditional pizzas. They also have a selection of specialty pizzas such as The Flying Piggie, Miano, New Haven, and Seafood Fra Diavolo.
They offer lunch specials, and they do have a dessert menu. Beverages include coffee, soft drinks, shakes, malts, beer, and wine.
Locations: 1395 East Tropicana Avenue, 4001 South Decatur Blvd., 4178 Koval Lane, and 6720 Sky Pointe Drive.
Settebello
Settebello has a variety of pizza and antipasti options on their menu. Pizzas include Marinara (no cheese), Margherita, Diavola, Bianca, and Emilia.
Antipasti options include Focaccia, Caprese, Insalata, Rucola, and Misto. If you're looking for a pizza cooked Napoli style, this is the place for you.
They are located at 9350 W. Sahara Ave. #170 in Las Vegas, NV. This address is in the 89117 zip code area. They can be reached by phone at 702-901-4877.
Dom Demarco
Dom Demarco has a plentiful menu with appetizers, salads, sides, pasta, sliders, entrees, and burgers.
They offer New York Style pizza and Sicilian Style pizza. Specialty pizzas include the Big Apple, Pesto, Clam Pizza, White Truffle, and Broccoli Rabe.
They have vegan cheese and truffle oil as pizza topping options. They have a dessert menu, and they serve beer and wine.
They are located at 9785 W. Charleston Blvd. in Las Vegas, NV. This address is in the 89117 zip code area. They can be reached by phone at 702-570-7000.
Secret Pizza
Secret Pizza is an adventure to find. Located on the 3rd floor Cosmopolitan Hotel, it doesn't have a flashy sign to alert you to its location. We've heard they have some of the best pizza in Las Vegas. Are you adventurous enough to go find out?
They are located at 3708 S. Las Vegas Blvd. in Las Vegas, NV. This address is in the 89109 zip code area. They can be reached by phone at 702-698-7860.
Slice of Vegas
Slice of Vegas is located in The Shoppes at Mandalay Place, the mall between the Luxor and Mandalay Bay.
Slice of Vegas serves NY Style pizza with a thin, chewy crust, fresh pastas, unique salads and a variety of Sandwiches.
Five50 Pizza Bar at Aria
Grimaldi's Pizza at Palazzo
800 Degrees at Monte Carlo
See Homes for Sale in Las Vegas
Best in Las Vegas