Lori Ballen, the owner of this website, benefits from purchases made through her affiliate links.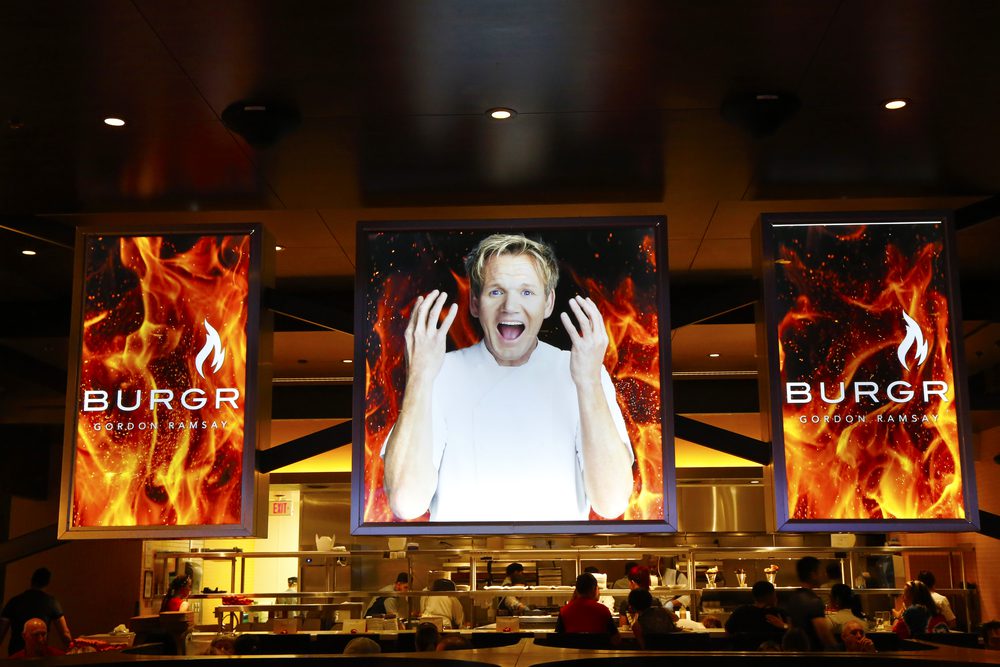 Las Vegas is a hot destination for a variety of reasons including delicious food options, a variety of entertainment, and lots of gambling. The place just got a lot hotter, though, since Gordon Ramsay has brought Hell's Kitchen Restaurant in Caesars Palace.
On January 26th Gordon Ramsey the Multi- Michelin starred celebrity chef and restaurateur was joined by Season 17 Hell's Kitchen All Star finalists, and prominent personalities in the sports and entertainment world as he opened the doors to the inaugural Gordon Ramsay's Hell's Kitchen restaurant at Caesars Palace in Las Vegas.
This experiential Hell's kitchen-themed restaurant that seats more than 300 is designed to give diners an immersive destination experience of the Hell's kitchen studio set. The world class restaurant is strategically located outside Caesar's Palace at the junction of Las Vegas Boulevard and Flamingo Road. The signature fiery pitchfork adorns the entrance, and once inside you are welcomed by a life-size video screen of Ramsay.
The 800- square foot themed restaurant consists of a showcase kitchen, two dining rooms, an interior bar and retail space. The floor to ceiling windows will give you a magnificent view of the Las Vegas Strip.
It is the first of its kind and tastefully designed by Jeffrey Beers International. Akin to the show the fiery and bustling kitchen framed with mosaic tiles is the heart of this restaurant and avails a spectacular view to all diners in the restaurant.
The cooks adorn the signature Hell's Kitchens red and blue uniforms and work in an action-packed atmosphere just like in the hit reality show that airs in more than 130 countries. Already it has 25, 000 reservations booked all the way to June. You can make a reservation at Caesars Palace site.
The restaurant is open from 11 am to 10 pm.
Inside the restaurant is seating for approximately 300 people. There is an indoor space for seating as well as a Strip-adjacent patio. Not only is there be a dinner and bar menu available but there isl also be a daily themed brunch for those who do not want to wait until dinner to enjoy the food.
Some of the dishes featured on the infamous show are on the menu. Prices are listed below but could change at any moment as the restaurant decides to do so.
The Menu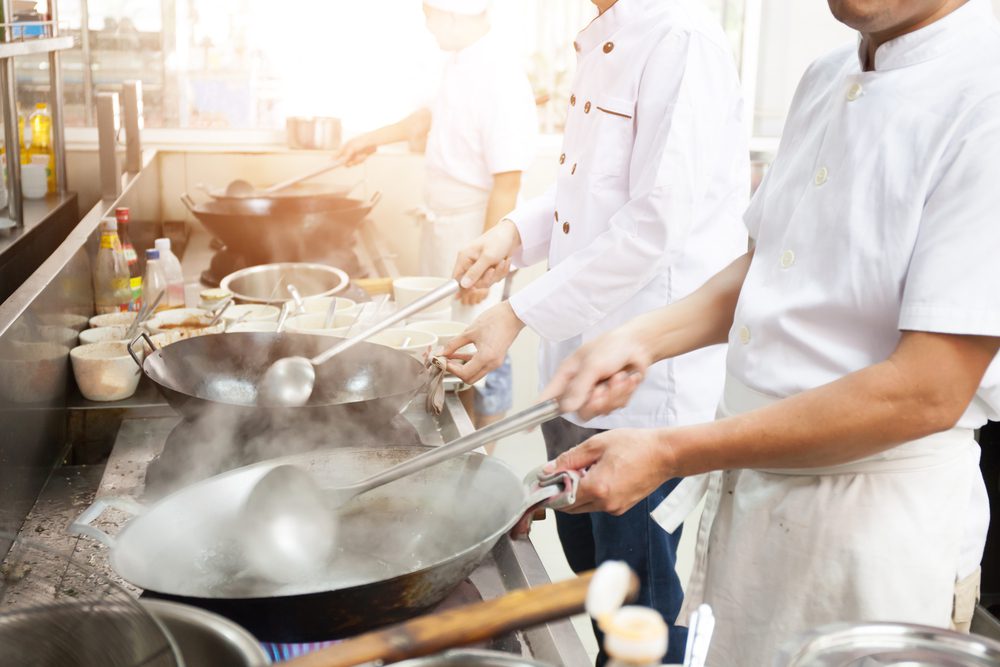 Appetizers
Wagyu Meatballs
Polenta Croutons, slow-roasted tomato sauce, Parmesan cheese, basil – $18
Pan-Seared Scallops
pickled Granny Smith Apples, braised bacon lardons, celery root – $19
Scampi Prawn Flambe
garlic white wine sauce, butter – $24
Lobster Risotto
lobster tail poached in butter, butternut squash, sage – $24
Seared Foie Gras
spiced carrot cake, candied pecans, golden raisins – $25
Tuna Tartare
soy-chili vinaigrette, pickled Fresno chilies, cilantro-$19
Entrees
Beef Wellington
glazed root vegetables, potato puree, red wine demi-glace – $49
Braised Short Rib
beef jus, baby vegetables, creamy polenta – $34
Herb- Crusted Rack of Lamb
harissa lamb jus, vadouvan carrots, bloomsdale spinach – $39
Crispy Skin Salmon
citrus herb beurre blanc, shaved fennel salad, beluga lentils- $32
Broiled Alaskan Cod
patatas bravas, spicy olive tapenade- $30
Brick-Pressed Chicken
chicken jus, sweet potato hash, lacinato kale -$29
Sides ($9)
Potato Gratin
parmesan cheese, fresh herbs
Baked Macaroni and Cheese
crispy prosciutto, smoked Gouda
Roasted Cauliflower
chili- lime gremolata, mint
Brussels Sprouts
pickled fresno peppers, cilantro
Wild Mushrooms
shallot white wine glaze
Potato Puree
crème fraiche, chives
Chilled Seafood
Oysters on the Half Shell
chef's daily selection, gin cocktail sauce, HK mignonette – full dozen $31, half dozen $21
HK Grand Shellfish Tower
oysters, clams, lobster, gulf shrimp, Jonah crab claws, king crab legs – $49
From the Grill
Prime 30-Day Dry Aged Porterhouse For Two
béarnaise, two side dishes – $125
Filet Mignon
roasted tomatoes on vine, béarnaise – $47
Dry- Aged NY Strip glazed wild mushrooms, red wine demi-glace, shishito peppers – $49
HK Signature Pre- Fixe Menu, $69 ($120 with wine pairing)
First Course
Caesar Salad
Parmesan cheese frico, garlic croutons, lemon zest
Pan-Seared Scallops
braised bacon lardons, celery root, Granny Smith apples
Main Course
Beef Wellington
glazed root vegetables, potato puree, red wine demi-glace
Dessert
Sticky Tofee Pudding
Speculoos ice cream
Specialty Cocktails
Meet your maker 14
maker's mark bourbon, domaine de canton, strawberry, apple, mint, cinnamon
Notes from Gordon 14
Plymouth dry gin, lemongrass, green tea, lemon, peach, message from Gordon
The Pitchfork 14
bulleit bourbon, fonseca 10 year tawny, gifffard pamplemousse, egg white, lemon
Classic Cocktails
Negroni 14
Plymouth dry gin, martelletti vermouth, campari)
Old fashioned 15
buffalo trace bourbon, angostura bitters, orange bitters, brown sugar syrup)
Roman spritz 14
la marca prosecco, carpano antica, aperol, lemon twist, rosemary sprig, olives
People Also Ask:
Where's can I get the best Sushi in Vegas?
and
Where are the best neighborhoods in Las Vegas for Resale Value?