Lori Ballen, the owner of this website, benefits from purchases made through her affiliate links.
Many visitors to Las Vegas enjoy a day trip to see the beautiful Grand Canyon. It takes about 5-6 hours to drive to South Rim and only 2-3 hours to reach West Rim. You can go it alone or enjoy one of the tour companies listed below.
1 Day Grand Canyon From Las Vegas Bus Tours
A word on helicopter tours of the Grand Canyon

Not only are helicopter tours expensive, and the amount of time you get to spend over the canyon is relatively limited.

Those 45 or 55-minute rides you're sold are usually the total time in the air – not necessarily the time over the canyon.

A much better option and better way to explore if you only have one day to spend at the Grand Canyon, and a way more unique experience, is to take a hike below the rim…

https://indianajo.com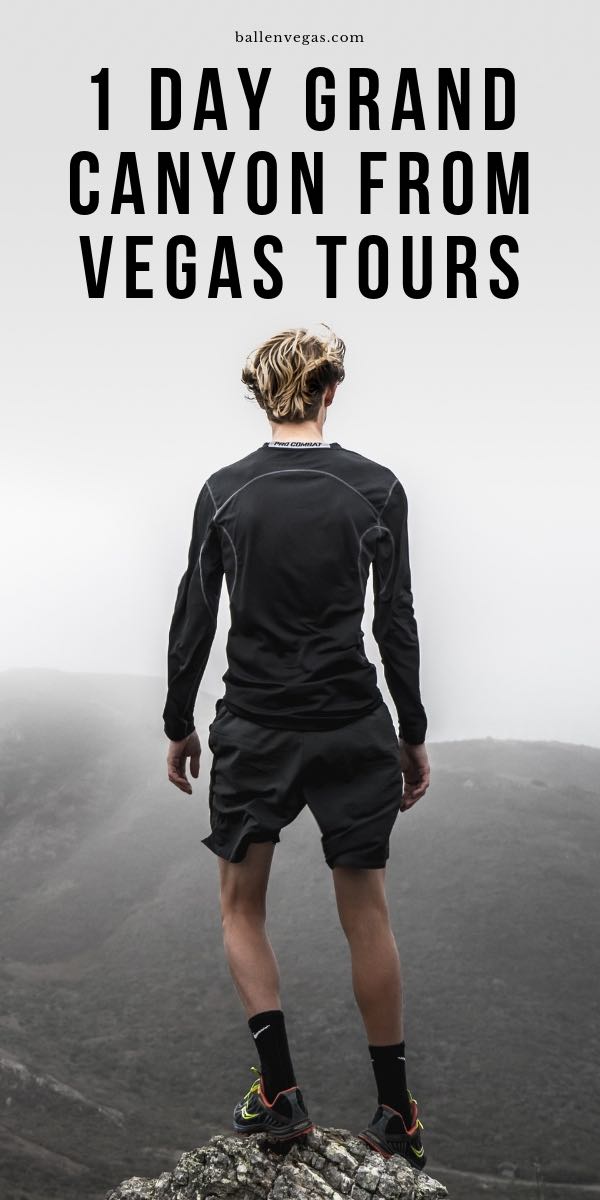 Purchase Grand Canyon Guides and Maps
Frequently Asked Questions
When is the Best Time to Visit The Grand Canyon?
The best months to visit Grand Canyon are often said to be: March, April, May, September, October, November
Is There a Fee to Visit Grand Canyon?
As of Spring, 2019 Prices are $35.00 will get one car and all its passengers into the park.

Single admission is $20.00. A Motorcycle Permit is $30.00 with its passengers. 15 years and under are free.

An annual pass is $70.00 valid 12 months from the date it was purchased and includes unlimited visits, the vehicle, and all passengers.

You can prepare by getting your Grand Canyon National Park passes online. If you are with a tour company, check with them first as your passes may be included.
What are The Best Views of Grand Canyon?

While the following views are numbered, each will have their own preferences on which is "best".

South Rim
1. Hopi Point
2. Mojave Point
3. Powell Point
4. Yavapai Point
5. Desert View
6. Shoshone Point

North Rim
1. Bright Angel Point
2. Cape Royal
3. Point Imperial
4. Cape Final
5. Toroweap
Is There WiFi at Grand Canyon?
Yes. There is WiFi at Grand Canyon. If you are on the South Rim, visit Canyon Village Market Deli from 8 am to 6 PM.

The Yavapai Lodge also offers free WiFi in the lounge area. You may pick up something in the park, but it will be sporadic.

On the North Rim, you'll find free WiFi at the Camper General Store near the entrance.
What Should I Wear To The Grand Canyon?
You'll be facing triple digits in the summer.

Wear breathable light colored clothes. Long tan or khaki breathable shorts. Here's an idea for the men who like pockets.

Women can opt for moisture wicking hiking shorts with UV protection.

UV protection will be important during the summer and you can find short sleeve shirts (Women) with pockets in tan or khaki as well (men). Nylon is also a good choice.

Even in the winter, you may find you need protection from the sun and a great hat makes the hike more comfortable.

If you have really good, comfortable running shoes, those might be fine. If you prefer a hiking shoe with more grip, those are a nice choice too. You may want to break them in before your trip.

While it's rarely freezing in Grand Canyon, temperatures can drop to the mid-'30s. If you are visiting in the winter, you'll want a great pair of cargo pants (men) (women). You might also consider a windproof jacket.

Don't forget the lightweight backpack and bring a lot of water and sunscreen. Even on a cloudy day, you can get burned.
How Deep is The Grand Canyon?
The Grand Canyon is 1 mile deep (1.6 km).
How Long Does It Take To Go From One Side Of The Canyon To The Other?
To drive from the South Rim to the North Rim takes about 5 hours and is 215 miles.
Which Part of Grand Canyon is Closest to Las Vegas?
The West Rim is the closest and can be reached within a day. It's not actually inside the Grand Canyon National Park.the Park is made up of the South Rim and North Rim. Plan to stay a night or two if you want to experience the North and South Rim.
What are Grand Canyon National Park Operating Hours?
The South Rim is actually open 24 hours per day, 365 days of the year.
Where Can I Stay The Night at Grand Canyon?
There is great lodging at the South Rim. You can book reservations online. You can also reserve camping spots at Mather Campground on the South Rim online for any time you like.

South Rim Hotels
– Bright Angel Lodge
– Phantom Ranch
– Kachina Lodge
– Thunderbird Lodge
– Maswik Lodge
– Yavapai Lodge

Tusayan Hotels (1.5 Miles from South Rim)
– Best Western Grand Canyon Squire
– The Grand Hotel [Groupon]
– Canyon Plaza Resort
– Holiday Inn Express
– Red Feather Lodge
– Seven Mile Lodge

North Rim Hotels (At or Near)
– Grand Canyon Lodge
– Jacob Lake Inn
– Kaibob Lodge
– Bar 10 Ranch
How is Parking at Grand Canyon
It can be congested during the busy times, especially on the South Rim during the summer. It could be ideal to park your car and use the shuttle bus to get around the Canyon if you are not with a day tour.
What are The Best Things To Do at Grand Canyon?
– Hiking
– River Rafting
– Helicopter Tour
– Mule Rides
– Camping
Things To Do in Las Vegas