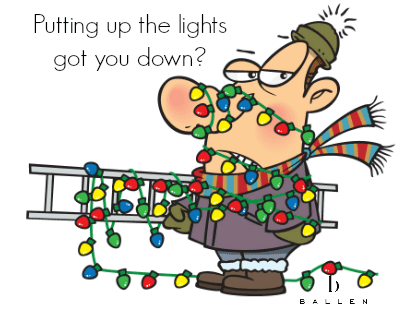 The holiday season is here, and you don't want to be left behind in the celebrations. Christmas is best celebrated big, bold and bright. This is made possible through the installation of fascinating Christmas lights. Here are some of the best choices for Christmas light installation in Las Vegas.
1. Lighting Las Vegas
Location: 10305 Burwood St., Las Vegas, NV 89178
Contact: 702-589-1477
Having an experience of over 5 years in this line of business, Lighting Las Vegas promises to take the hassle of having a beautifully decorated home from you this holiday. They offer unique lighting display creations at your home or business in a friendly and affordable manner.
2. We Hang Christmas Lights
Location: 301211 Avenida De Las Banderas, Suite 200, Rancho Margarita, CA 92688.
Contact: info@wehangchristmaslights.com
WHCL offers light installations for both large and small residences. For them, no job is too big or too small to handle. They deal with roofline, landscape, interior and even tree lighting displays to turn your home into a festive winter wonderland. Their team of technicians is made up of experts in Christmas light installation that will provide you with fascinating decoration ideas or turn your existing ideas into reality. When you visit their website, you can get an estimation on cost based on your needs.
3. Courtney Lights
Location: 969 Whitney Mesa Dr., Henderson, NV 89104
Contact: 702-996-6849
Courtney Lights has been adding colorful lights to people's lives, homes and commercial properties in Las Vegas for over 16 years. They pride themselves in great experience, expertise, and modern equipment to create magnificent Christmas light displays. They serve Las Vegas and surrounding cities. The installation service is available in a variety of specialized packages that suit different budgets, home sizes and lighting display designs. They deal with various property types including: private residences, homeowner associations, commerical properties, and small businesses. Call them today, or visit their website.
4. Bright Nights Holiday lights
Location: 1930 Village Ctr Cir., Las Vegas, NV 89134
Contact: 702-460-7045
Bright Nights Holiday lights have been in operation since 2006. They specialize in the designing and installation of holiday lighting; especially Christmas lighting and décor. They offer free estimates and warranties for the installation work. If you wish to use your own lights, they should be fully functioning and in good repair. They serve the Las Vegas and Henderson area. Get more information on their website.
5. Blue and Green Services
Location: 1611 W. Brooks Ave., North Las Vegas, NV 89032
Contact: 702-479-2800
Blue and Green Services have been in business for over 20 years now operating in all Clark County and the Las Vegas Valley including Henderson. They provide designs, delivery, installation and removal of holiday lights and decorations. Additionally, they offer Christmas and holiday lighting rentals. Their services include providing lights and accessories to design a light display, servicing of the lights, removal of the lights, and storage of the lights and other accessories. Give them a call, or visit their website.
Interested in buying or selling a home in Las Vegas or Henderson? Give us a call at 800-805-8354.
Click on the price or feature of the Real Estate You would like to see. You'll be taken to a page of MLS listings just as you requested. When you see something you like, Call 1-800-805-8354.