Lori Ballen, the owner of this website, benefits from purchases made through her affiliate links.
The Stratosphere Hotel in 2000 Las Vegas Blvd. South is home to The Crafted Buffet. The Stratosphere tower is the tallest in Vegas. Diners enjoy an incredible sensibility, looking upon sweeping views from the top of the tower which overlooks the entire Las Vegas valley.
The Dining Room
The dining room is fairly decent sized, arranged like any other restaurant dining room. The buffet stations are arranged in small groupings to the side of the dining room, with the usual groupings of hot and cold foods, drink station and dessert station. No chef presides over the buffet.
The Player's Card
Before we get to the food, diners should know about the Stratosphere's Player's Card. You sign up for the card for free. It's a discount card with five levels of play: true (where every player starts out,) loyal, solid, legit, and epic.
At the true level of play, the discount is ten percent. At the epic level of play, the discount is 25 percent. Now that you understand the discount card, ready to hear about the food?
The Food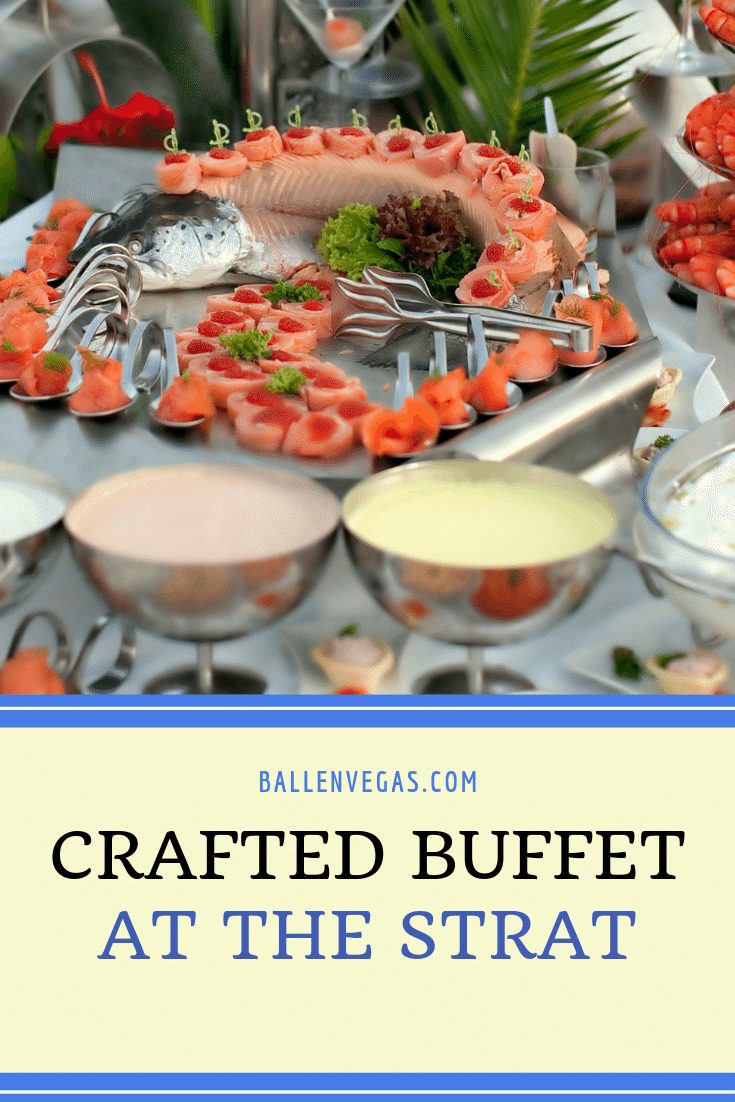 There are three buffets at the Crafted Buffet: brunch, Weekend Champagne Brunch, and dinner buffets.
Brunch includes the usual breakfast foods such as a custom omelet station, biscuits and gravy, hash browns, pancakes, French toast, scrambled eggs, a selection of breakfast meats, and eggs Benedict.
What most brunches don't offer that the Crafted does is corned beef hash, crepes, chorizo scrambled eggs, as well as doughnuts.
The weekend brunch offers mimosas or champagne (of course) along with cold crab legs.
The dinner buffet is immense. The salad station offers the usual salad toppings and dressings. The deli station is packed with deli meats and cheeses. The star of the show, though, is the seven-nights-a-week NY steak and peel and eat shrimp.
Other dinner dishes include fried chicken, Mexican, Asian, Southern, a baked potato station, carved meats station, vegetables, seafood, and dessert stations. Drinks are separate.
The Conclusion
Brunch is open Monday to Friday from seven am to four pm. Weekends it's open seven am to four pm. Dinner is seven days, from four pm to ten pm. The Crafted Buffet is rated $$$$.