We all know how insane Parking can be at the Summerlin Parade! Downtown Summerlin is offering SHUTTLE RIDES from the Lawn and Back! See you in Summerlin!!!
Fabulous! Downtown Summerlin is offering Shuttle rides to the Summerlin Parade on July 4th. We all know how insane parking can be!!! I'll be there with bells on! FREE
SHUTTLE DETAILS:
PICK UP: Beginning at 7 a.m. at The Lawn at Downtown Summerlin
PARADE START TIME: 9 a.m. along Hills Center Drive
DROP OFF: Trails Village Shopping Center
RETURN: Beginning 10 a.m. to Downtown Summerlin
Las Vegas is well known for its party antics, glitter, glitz, and out-of-this-world entertainment. However, when it comes to celebrating the country's birthday, Las Vegas is turning down the heat and going poolside for barbecues and concerts. Furthermore, because Independence Day falls on a Tuesday this year, many celebrations aren't on the fourth of July, but around it. Nonetheless, that doesn't mean Vegas has become a party pooper on America's B-Day. Instead, the city has discovered newer, safer ways to enjoy the holiday.
Click here to get your coupon for FREE 4th of July sparklers!
This venue has two reasons to celebrate – it's the country's birthday and it's the resort's anniversary. So, to get the party started, the Plaza Hotel will feature a pool nights event with live entertainment paying homage to the 80s, and an all you can eat all American buffet. The fireworks at the Plaza are scheduled for July 1st at 7 p.m. The kicker is that you've got to be 21 or older to play the Plaza way for Independence Day celebrations.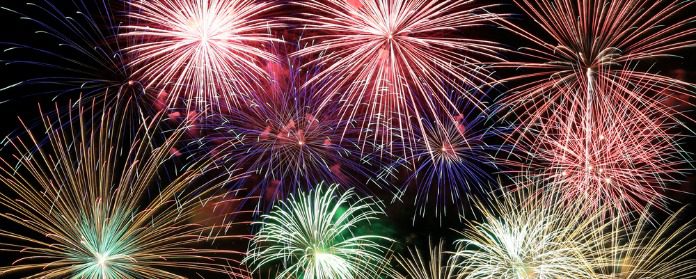 Although the Vegas strip is always lit up with color, the only on-strip resort showcasing a fireworks display this year is Caesar's Palace. The Caesar's Palace fireworks display is scheduled for about 9:00 p.m. on Sunday, July 2, 2017 and is expected to last around 13-14 minutes.  And if you think you can sneak a peek by visiting a venue with a view, think again! Las Vegas hotels and casinos known for the spectacular views of the Vegas valley are cashing in this 4th of July by charging in excess of $200 for seats to watch the fireworks display.
Fireworks is taken to an entirely different level via lights, sound, and technological eye-candy. Rather than setting flame to fireworks, Freemont Street Experience offers a digital fireworks display on July 4th. At 8 p.m. catch American Freedom 3, at 9 p.m., watch Green Day – Revolution Vegas. At 10 p.m. enjoy Imagine Dragons – Home in Vegas, with additional performances through about one a.m.
What better way to enjoy an all-American holiday than with a baseball game and fireworks display? It just so happens that the 51's will be playing against the Chihuahuas on Tuesday, July 4th at 7 p.m. with a fireworks extravaganza planned post-game.
It may be off the strip, but that doesn't mean the event will be any less spectacular! Gates open at 1 p.m. on Tuesday, July 4th. Grab a blanky, pack a picnic, and head outdoors for some fun and fireworks. Activities include water hamster balls, bungee, electric animal rides, Ferris wheel, bounce houses, sand art, face painting, Henna tattoos, recycled water wall, bubble project, corn hole, hula hoops, and, of course, the highly anticipated fireworks display at 9 p.m.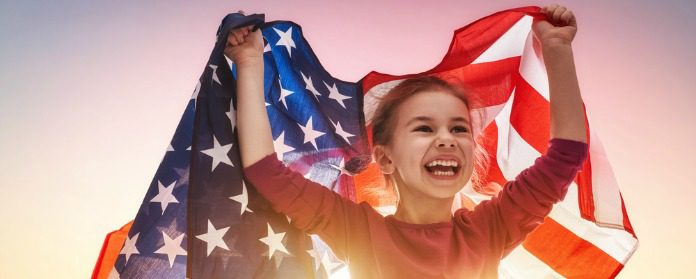 Stations Casinos continue their tradition of hosting firework displays on both ends of town via Green Valley Ranch Resort in Henderson and Red Rock Casino Resort and Spa in Summerlin. Events at both locations begin at 9 pm. on Tuesday, July 4th and last approximately 9 minutes.
Sunday July 2nd is when the Independence Day Celebrations take place at Lake Las Vegas. Partake in a Fireworks cruise, fireworks paddle, and LLV annual Independence Day Celebration.
👫 Where to Buy Fireworks in Las Vegas
There is no shortage of places to purchase your fireworks in Las Vegas. Nearly every supermarket and convenience store has a fireworks booth in the parking lot. But why just buy fireworks when you could buy from a place that has benefits? For example, the Team Kenzie Fireworks Fundraiser helps support the fight against childhood cancer.  Celebrate your patriotism for the birth of our country and share your compassion to support the research and resources that can save the life of a child battling cancer.  Pick up your fireworks at the Team Kenzie Fireworks Fundraiser located in the Smith's shopping center, next to the Rebel, at 9350 W. Flamingo Road in Las Vegas, Nevada 89147. For more information about the Team Kenzie Fireworks Fundraiser, call 702-497-4434. Don't forget to click the red button below for your FREE sparklers coupon!
Click here to get your coupon for FREE 4th of July sparklers!
🔥 Tips for Independence Day Safety
Independence Day, while celebrating the birth of a nation, has been dubbed one of the deadliest holidays of the year. And the risks aren't all in the fireworks. Car crashes, accidental drowning, and fireworks contribute to 41,200 injuries and 385 deaths over fourth of July weekend each year according to a report from the National Safety Council.
Use fireworks responsibly. Read the instructions, take the necessary precautions, and be a part of the solution, not a part of the problem. Don't drink and drive, and know that alcohol and fireworks can be a deadly combination. Use fireworks outdoors only and away from buildings and structures that could catch fire. Have buckets of water or a hose on hand to extinguish fireworks after burning. Do not light fireworks near congested areas or areas with high traffic.
🐶 Pet Safety During July 4th Celebrations 🐱
What's fun and exciting for us may be terrifying to our pets. Don't take your pet to a fireworks display. Sensitive pets should be kept in a safe interior room where you can buffer the noise as much as possible. Make sure your pets are wearing tags if they escape in a fear-induced frenzy.
Fourth of July is an opportunity for Americans to celebrate patriotism and honor the birth of our country. There are safe places throughout the holiday weekend where Las Vegas locals and visitors can take part in traditional and digital fireworks displays, pool parties, and barbecues. If you're buying fireworks to light yourself, consider purchasing from a booth that supports a worthy cause, such as the Team Kenzie Fireworks Fundraiser. Always put safety above celebration to avoid accidents, injury, and fatalities caused by improper use of or lack of respect for the dangers of fireworks. Be conscious of your pets and protect them as much as you can by keeping them safe, secure, away from danger, and properly tagged in case they flee in fear.
🎂 Happy Birthday, America!
🏡 See Homes for Sale in Las Vegas