Finding ice and snow in the heat of the Las Vegas Desert can be difficult – unless you visit The Cosmopolitan of Las Vegas. Conveniently located on the Las Vegas Strip in Paradise, Nevada, The Cosmopolitan, or "The Cosmo" has anything that a visitor could want – including an ice rink! If you're dreaming of snow this winter, or if you are looking for a fun family activity, there's nothing like gliding around, listening to a mix of holiday favorites and dance hits.
Click to See Just Listed Homes with a Map!
The luxury resort and casino is one of the newest on the exciting Las Vegas Strip, located just south of the Bellagio. The complex consists of two connected towers, the Chelsa Tower and the Boulevard Tower. The ice rink is located at the Boulevard Tower pool and opens seasonally. For those visiting Las Vegas for a glitz and glamour winter Holiday, or for residents who just want a White Christmas, the Cosmo's Ice Rink is an ideal place to bring the family.
Soaring high above vivid Las Vegas, the Cosmopolitan Ice Rink overlooks the Strip, giving skaters a breathtaking view of the city while they swirl gracefully underneath the faux snow. The pool completely transforms into a Winter Wonderland village, with over 4200 square feet of real ice, small snow drifts, and even a fire pit for roasting S'Mores.
Skaters can enjoy tasty seasonal beverages in a real park-like atmosphere. Delicious libations include handcrafted Egg Nog, delicious Bourbon Apple martinis, and a coconut-mint spiked hot chocolate. Non-alcoholic options include warm milk infused with sweet frosted flake cereal and honey Apple Cider. All that skating works up an appetite, so the Cosmopolitan Resort kitchens have cooked up a number of winter seasonal treats. Comforting Grilled Cheese sandwiches and tomato soup go perfectly with a shareable hot chocolate thermos.
A plate of cheeseburger sliders, made from real Angus ground beef, are delicious or enjoy a large half-pound burger if you don't wish to share. Piping hot Churros, dusted lightly with cinnamon and sugar, are perfect warm up a chilly skater, and of course the perennial bonfire favorite, roasted marshmallow S'Mores.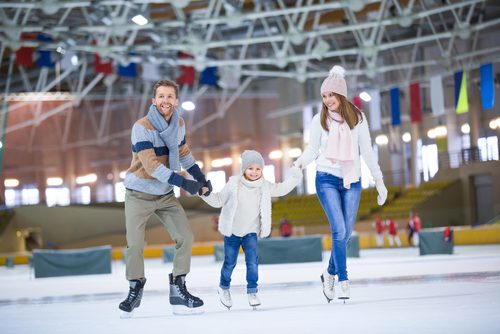 The Ice Rink at the Cosmopolitan was named one of the Ten Best Ice Rinks in North American by USA Today, and the pink-tinged magical wonderland lives up to its title. Light snow showers and fanciful bubbles fall periodically throughout the open skate sessions, and full-day passes are available.
With admission starting at just $10 for local guests, the only limitation on skating is how long you can last in the chilly frost.
Glide around the rink from Mid-November through early January from 3:00 pm until midnight every day. Las Vegas locals and hotel guests receive a discount on admission Tuesday, Wednesday, and Thursday, with accompanying ID. Guests from other hotels pay $20 for an all-day pass, and all prices rise to $20 from Friday through Monday.
Ice skate rentals are included in the price of admission, although food and beverages are sold ala-carte. Tiny tots can skate with plastic molded skate assistants – small pushable sleds to help them hold their balance or ride in if they get tired.
The Ice Rink at the Cosmopolitan loves parties! If you plan to come with a group, the resort has fire pit reservations available. These are ideal to warm up in between laps, with table space as well as comfortable seating. You can relax in the oversized Adirondack chairs and watch your friends dance and twirl, sipping a hot buttered rum or a toasty marshmallow martini.
Theme nights at the Cosmo are some of the most popular for the Ice Rink. Snag your crush and come on Monday night "Date Skate" – don't forget a stop under the Mistletoe! Holiday movies play in the background on the hotel's 65-foot high digital marquee. Wear your favorite Ugly Sweater and have a dance party on Wednesdays, when tunes are spun by one of the fabulous live DJs that Las Vegas is famous for.
Spotlights and disco balls give the Ice Rink the best dance vibe of any Vegas nightclub. "Throwback Thursdays" play exclusively dance hits from the 70s, 80s, and 90s – perfect for skaters of all ages. Dress up, dress down, but definitely visit to get down!
Please note that every skater will be required to sign a waiver.
Posts not found