Lori Ballen, the owner of this website, benefits from purchases made through her affiliate links.
The futuristic Las Vegas monorail started operating in late December 2004. The monorail has seven stations that connect the major Strip resorts. It is a 3.9-mile Z-shaped route that stops at the MGM Grand (South Strip), Bally's/ Paris (Center Strip), Caesars Palace – Flamingo, Las Vegas Convention Center, Harrah's – LINQ (North Strip), the SLS, and the Westgate.
Train Times and Hours
The new trains operate along the route every to 4-8 minutes 7 days a week starting at 7 AM.
Monday: 7 am – 12 midnight
Tuesday: 7 am – 2 am
Wednesday: 7 am – 2 am
Thursday: 7 am – 2 am
Friday: 7 am – 3 am
Saturday: 7 am – 3 am
Sunday: 7 am – 3 am
About The Monorail
The Monorail is by far the best and safest means to travel up and down the Las Vegas Strip. While manages the entire run in 4-8 minutes.
The "Deuce" bus can sometimes take up to an hour to make an entire run due to many stopovers and traffic.
However, you should consider taking the Deuce strip bus if you are planning to go downtown. The monorail is yet to go downtown.
The high-tech monorail consists of nine air-conditioned and well-maintained trains of four cars. Each runs on a single rail and seats 72 passengers with ample space for an additional 152 standing riders.
Its top speed is 50 miles per hour and cruises behind hotels parallel to the east Las Vegas Strip corridor.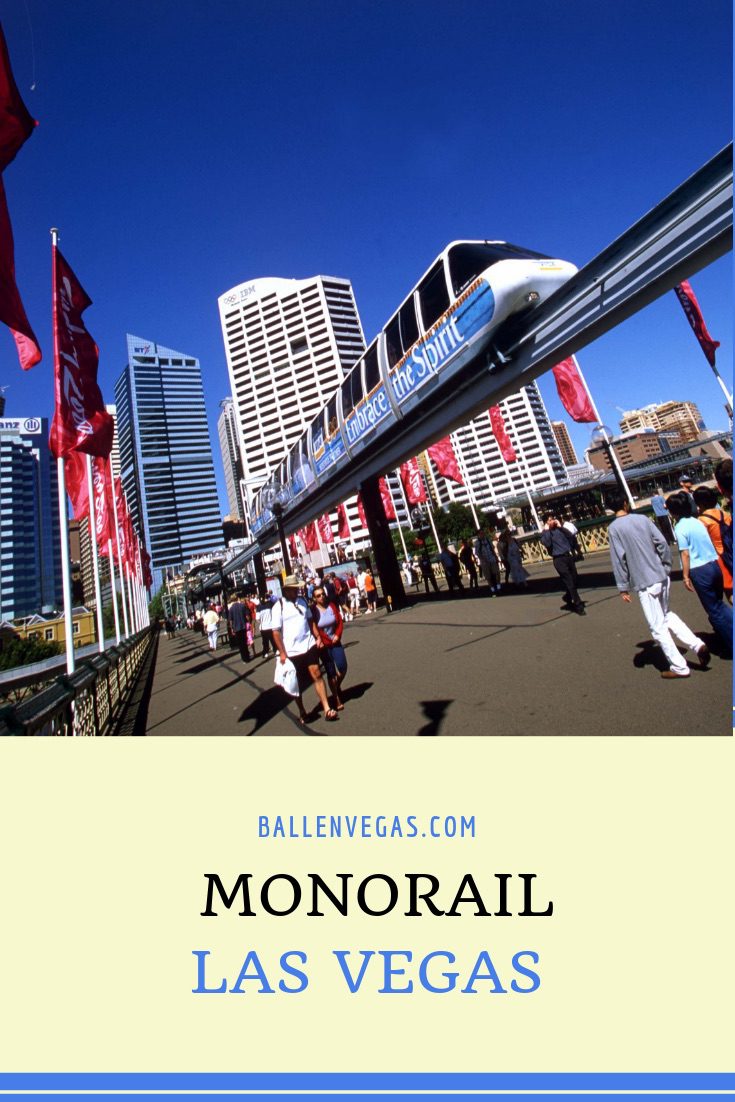 Monorail Tickets
There are 3 types of tickets offered by the monorail services; A single ride ticket goes for just $5, where else a full day unlimited ride fare costs $12, a three-day ride costs $22, a four day goes for $ 36, a five day for $43, a seven day for $56, and children under 5 ride for free.
Tickets can either be purchased online or at the Ticket Vending Machine (TVM) located inside all the seven monorail stations. Ticket Vending Machines accepts all major credit cards as well as cash. Take note that the unlimited three-day ticket expires exactly after 72 hours of the first use during normal operating hours.
If you have an eTicket, it can be scanned right at the monorail fare gates. There is a QR code on the ticket that will be scanned. You can tap it at any of the entrance gates on your way onto the Las Vegas monorail.
If you prefer, you can trade your eTicket for a paper ticket at any of the customer service ticket offices from 10am to 6pm. You won't be able to redeem an eTicket at a ticket vending machine.
You are welcome to print your eTicket at home and scan at one of the monorail fare gates.
Las Vegas Monorail tickets are valid or 1 year after the date they are issued (or printed). This date is printed on the back of the ticket.
Unlimited Day Passes are valid for unlimited rides during the dates listed. They begin from the first day you use a ticket and are valid for consecutive days following.
Google Pay is welcomed!
Can Children Ride the Monorail?
Yes. Children are welcome to ride the Las Vegas Monorail. Kids 5 and Under the age of 5 are free. A paid adult must carry the child through the fair gates. Strollers are fine. The stations all offer accessible elevators.
Monorail Stations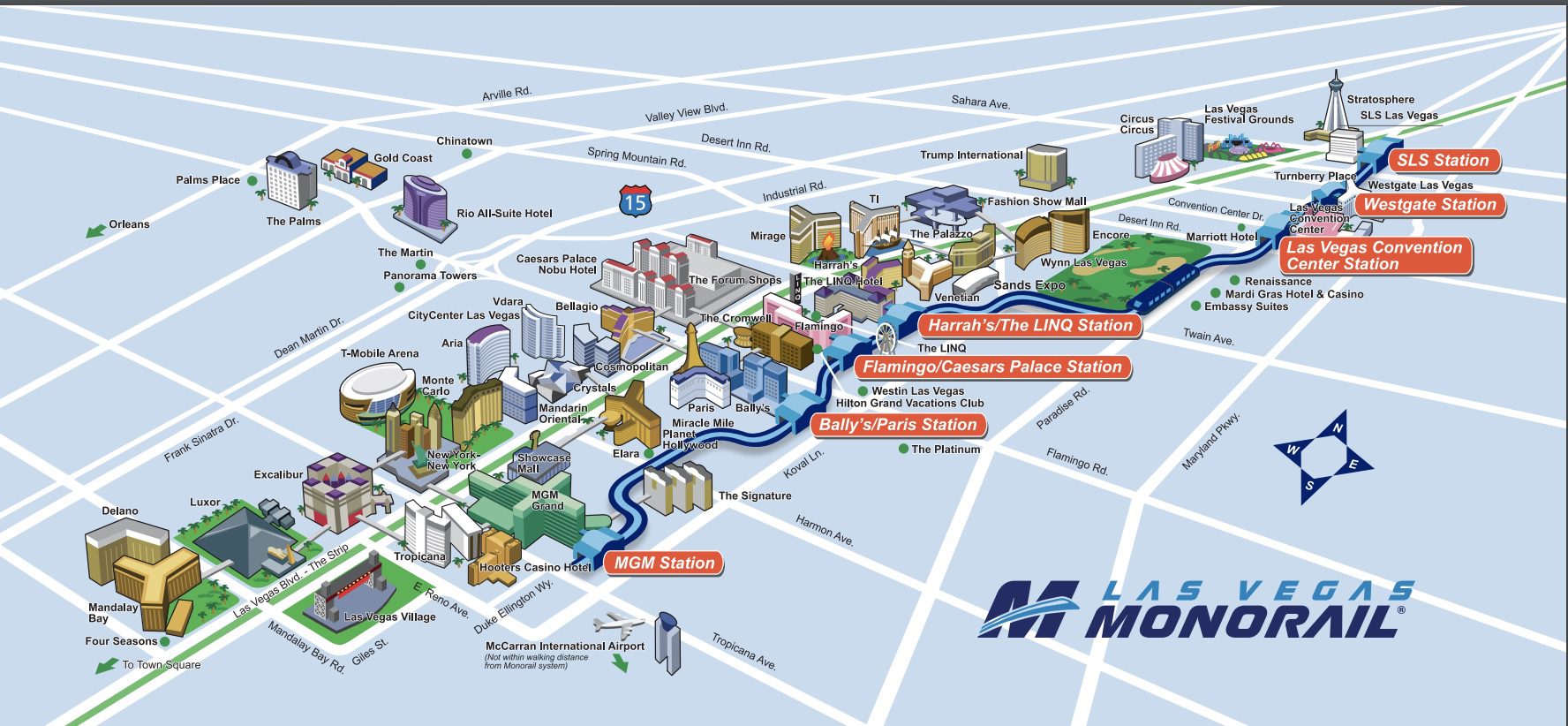 SLS Station
Westgate Station
Convention Center Station
Harrah's & The LINQ Station
Flamingo & Caesars Palace Station
Bally's & Paris Station
MGM Grand Station
Shuttles To The Monorail or Nearby
? Pick up an UBER using this coupon from Groupon!
Sam's Town [Ages 21 and up. The shuttle drops off and Picks up and Delivers to Harrahs]
Orleans and Gold Coast [shuttle leaves the High Roller every 30-45 minutes from 9 am to 12:30 am.]
M Resort [ Shuttle leaves the Tropicana at 12:30 pm, 2:30 pm, 6:30 pm, 10:30 pm and 11:30 pm.]
Palace Station [Shuttle leaves the Fashion Show Mall in front of Forever 21 at 10:15 am, 11:45 am, 1:45 pm, 3:15 pm, 4:45 pm, 6:15 pm, 8:15 pm, 9:45 pm and 11:15 pm.
Green Valley Ranch [shuttle leaves the Mandalay Bay in the Tour & Travel Lobby on the bottom level from 12:30 pm, 2:30 pm, 4:30 pm and to 8:30 pm.
South Point [Shuttle leaves the t Excalibur and CityCenter/Aria at the tour bus lobby & T.I. Cost is $8.50 per person cash and times vary]
Things to Do in Las Vegas
FAQS
How Do I get to the Monorail from Fremont street?
Take the SDX to Downtown from the SLS Monorail Station up til midnight. You can also walk over to the Las Vegas Strip and get on the double-decker Duece which runs 24 hours each day.