Lori Ballen, the owner of this website, benefits from purchases made through her affiliate links.
When those Las Vegas temperatures rise, we all run for the pools, water parks, and splash pads. Here' a list of Las Vegas Water Parks and Splash Pads.
Wet N Wild Water Park
Wet N Wild Las Vegas is a top water park in Summerlin featuring 25 + slides and attractions splashing over 20 acres. You'll find water slides like that Tornado, the zero gravity ride, and the Tight Turning Rattler in addition to lazy rivers and kids slides and water play areas.
Cowabunga Bay Water Park
Cowabunga Bay Water Park in Nevada attracts thousands of people at any given time, drawing kids and adults from all over. Like any vacation, a bit of planning will ensure a positive experience. And if you are local, be sure to grab the Groupon too!
Faiss Aquatic Center
The aquatic center includes 25 yards by 25 meters indoors pool with ten lanes in both directions as well as and ten start platforms. The main pool features a nine-foot-deep area for scuba lessons. There is also a therapy pool for swimming lessons, water aerobics, and physical therapy.
The pool is open to the public from Monday to Saturday and stays closed on Sundays. The pool area is enclosed with overhead doors, which gives the pool an outdoors touch when opened. Thus, the pool has outdoors feel but still sheltered from the sun and even rain. In a nutshell, the aquatic center is designed to offer families maximum enjoyment throughout the year.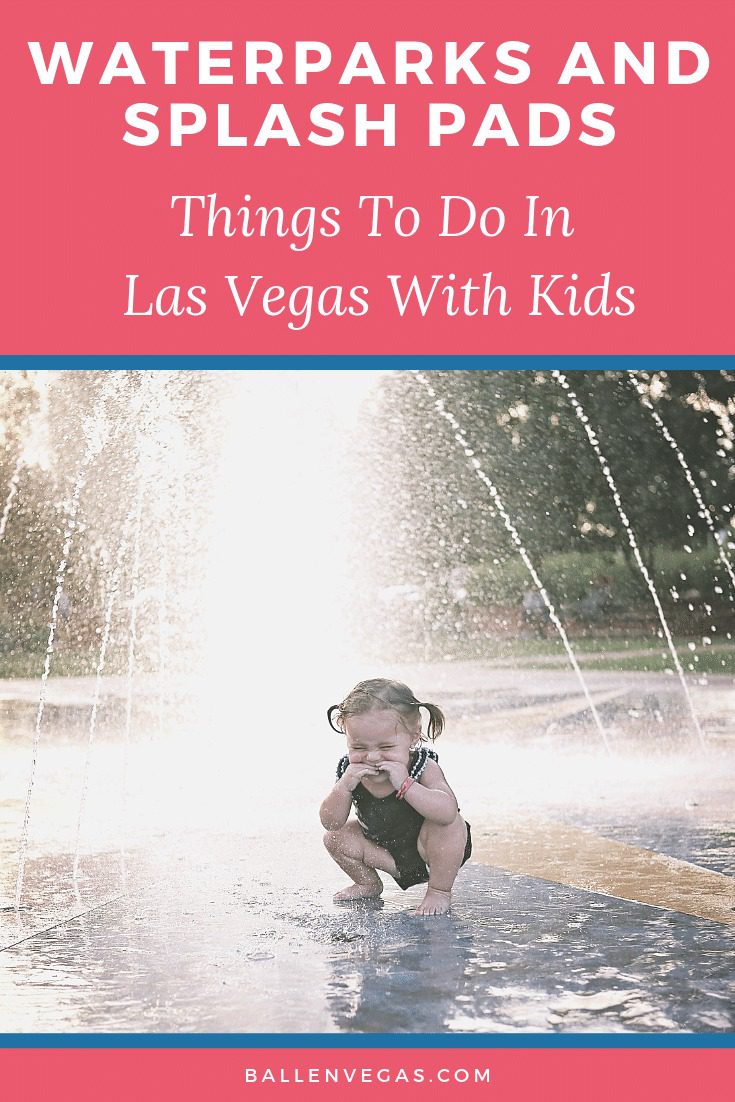 Lake Las Vegas Aqua Park
Lake Las Vegas Water Sports and Aqua Park is an amusement park that offers water lay areas suitable for leisure and vacation. The predominant feature that strikes out from the first sight are runways and other structures erected on water.
Garside Pool and Water Play
While not technically a water park or splash pad, Garside has water features, slides, and pools that are very popular in Las Vegas as you can see on the video below.
Splash Pads
Alexander Villas Park – 3620 Lincoln Rd, Las Vegas, NV 89115
Aliante Nature Discovery Park -2627 Nature Park Dr, North Las Vegas, NV 89084
All-American Park – 1551 S. Buffalo Drive. 89117
Angel Park – Angel Park Trail, Las Vegas, NV 89145
Bill Briare Family Park – 650 N. Tenaya Way 89128
Bob Baskin Park – 2801 Oakey Blvd 89102
Bruce Trent Park – 8851 Vegas Dr, Las Vegas, NV 89128
Centennial Hills Park – 7101 N Buffalo Dr, Las Vegas, NV 89131
Circus Circus Splash Zone – Hotel Guests Only
Douglas A. Selby Park – 1293 N. Sandhill Road.
Duck Creek Park – 8650 Pollock Dr, Las Vegas, NV 89123
Estelle Neal Park – 6075 Rebecca Road.
Exploration Peak Park – 9700 S Buffalo Dr, Las Vegas, NV 89178
Gary Dexter Park – 800 Upland Blvd.
Gilcrease Brothers Park – 10045 Gilcrease Ave, Las Vegas, NV 89149
Justice Myron E. Leavitt and Jaycee Community Park – 2100 E. St. Louis Ave.
Kianga Isoke Palacio Park at Doolittle Complex – 951 W. Lake Mead Blvd.
Knickerbocker Park – 10695 Dorrell Lane 89149
Lorenzi Park – 3343 W Washington Ave, Las Vegas, NV 89107
Nicholas E. Flores Jr. Park – 4133 Allen Ln, North Las Vegas, NV 89032
Paseos Park – 12122 Desert Moon Rd, Las Vegas, NV 89138
Patriot Community Park – 4050 Thom Blvd.
Polly Gonzalez Memorial Park – 5425 Corbett St.
Rainbow Family Park – 7151 W. Oakey Blvd.
Raptor Play Park in Thunderbird Family Sports Complex – 6105 N. Durango Drive.
Red Ridge Park – 7027 S. El Capitan Way Las Vegas, NV 89148
Rotary Park – 901 Hinson St.
South Tour Park – 1022 Park Vista Dr, Las Vegas, NV 89138
Spring Valley Community Park – 7600 West Flamingo, Las Vegas, NV 89147
Sunny Springs Park – 7620 Golden Talon Ave. 89131
Sunset Park – 2601 East Sunset Road, Las Vegas, NV 89120
Stupak Park – 300 W. Boston Ave.
Teton Trails – 7850 N. Bradley Ave.
Tropical Breeze Park – 1505 E Tropical Pkwy, North Las Vegas, NV 89081
West Charleston Lions/Essex Park – 600 Essex Drive.
Winding Trails Park – 7250 N Fort Apache Rd, Las Vegas, NV 89149
Things To Do In Las Vegas With Kids
Let Us Know
Inform us of Splash Pads or Water Parks We Missed. Add your Comments or Reviews of a splash pad using the form below.