Lori Ballen, the owner of this website, benefits from purchases made through her affiliate links.
Homeowners across the country are powering up light displays that show off their creativity and love of the holiday season. If you live in Las Vegas or plan to visit soon, here is a list of the best Christmas light displays in Las Vegas and Henderson to visit during the holiday season.
Notice the tables at the bottom providing lists by area as well as zip code.
Featured Homes
2975 Maverick St, Las Vegas, 89108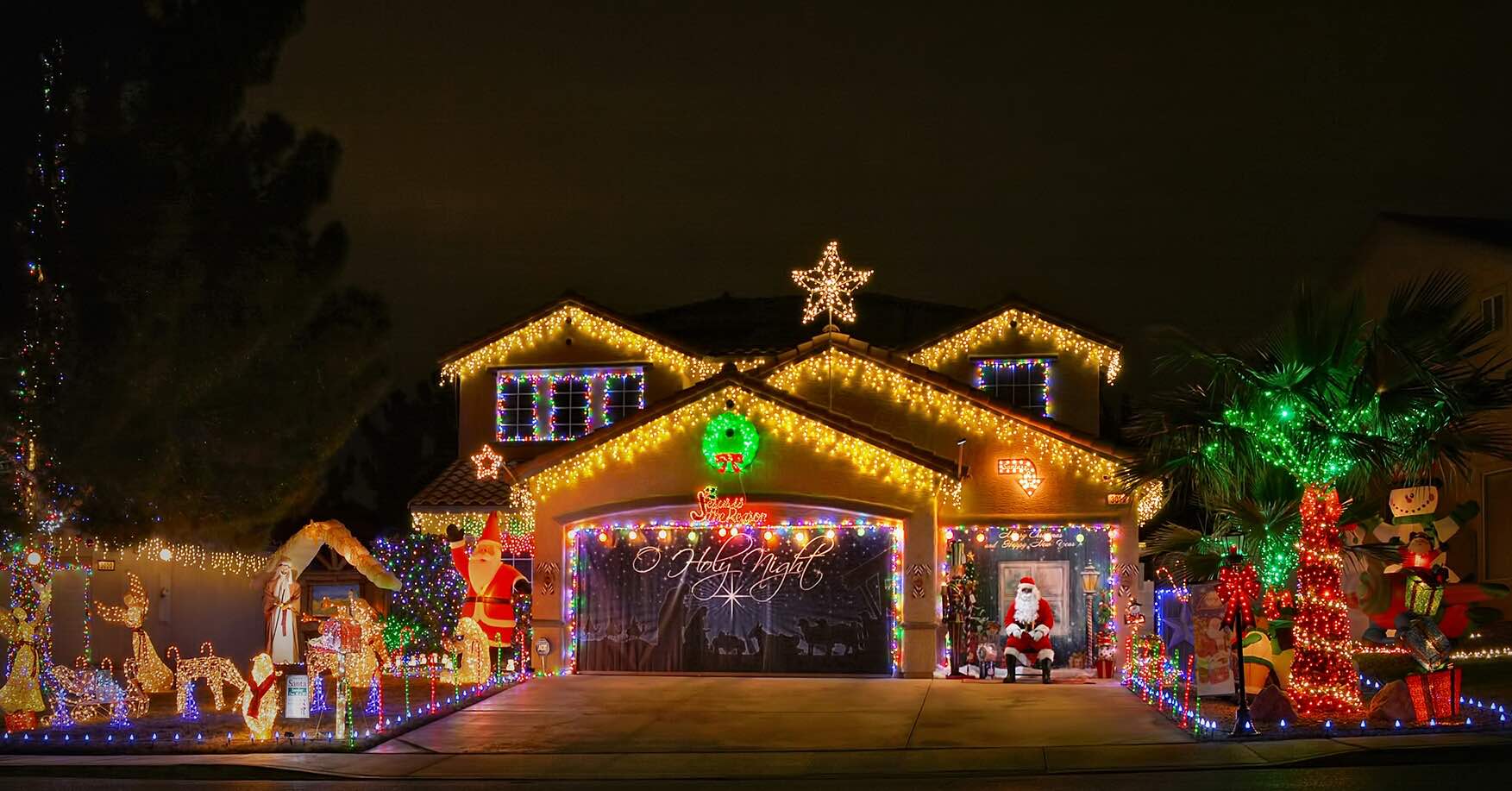 This is list is repeated each year with new additions added. We take away houses that are not active once we are alerted by the homeowner or people touring the area. We do not have dates as to when the homes are lit up each year, so we trust the Vegas locals to report in. (see form at the bottom of the page).
PLEASE use the form below to add or remove a home.
5219 Masters Ave 89142
10th year for the winter Holiday Forest light show at 5219 Masters Ave Las Vegas 89142. Every year new forest friends appear to drink from the blue river and visit with Santa. All the lights are set to music so roll down the windows and enjoy. 5-10pm daily.
8313 Clear Falls St 89085
Show consists of 19 songs, mostly classic Christmas, that run for just under an hour and repeat every hour. The main attraction of the show is the 4,800 light garage door covering pixel board.
Golden Knights Christmas House – Bollons Island St.
Go Knights Go! GG Misa has designed a Holiday Knights light show on his house. It runs every 30 minutes between 5 and 10 PM and plays "All I Want for Christmas Is You" by Mariah Carey and "Le Castle Vania," from the "John Wick.", the Movie.
---
Homelight Street
They are famous for their holiday lighting displays on Halloween and Christmas. In fact, they add to their collection each year to make it even bigger and better than the year before. The music used is mostly Trans Siberian Orchestra, but they do use other tunes that inspire them.
---
Carol Lark Court, Las Vegas, NV 89074
For years, Mark and Lynda Newman have been using their home to create astonishing animated Christmas light displays, referred to as Light-O-Rama. They use more than 12,000 lights and have a virtual Santa in an upstairs window. Tune in to the Christmas music on 101.1 FM that is a wonderful addition to the festivities.
1054 Desert Olive Ct., Henderson, NV 89002
A burgeoning local hotspot since 2009, this home in Henderson is among the most popular in Las Vegas. Coordinated lights, custom imagery, and rock-inspired Christmas tunes await this year's visitors. Check out this year's 15-minute long show online before seeing it in person.
8408 Hirsch Mountain Dr. Las Vegas, NV 89131
Features over 10,000 lights all synchronized to music which can be heard on FM 99.9 from your car radio. Runs from Dec. 1 – Jan 1 Sunset to 10:00 pm every day. There is over 45 minutes of lights and music
---
Spruce Hill Court, 89148, Las Vegas, Nevada
This street has a huge display. It has about 5 houses featured all synchronized to music you can listen to in your car.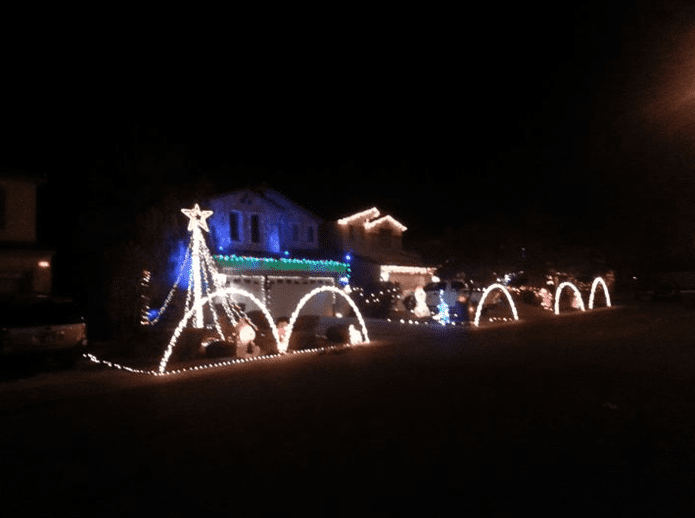 ---
Wavering Pine Drive, Las Vegas NV 89143
Becoming a favorite stop for Las Vegas residents touring the city's Christmas lights, this home features 2the lasted cartoon characters, a kid favorite.
---
Christmas Mountain Village – 4601 Gonzales Drive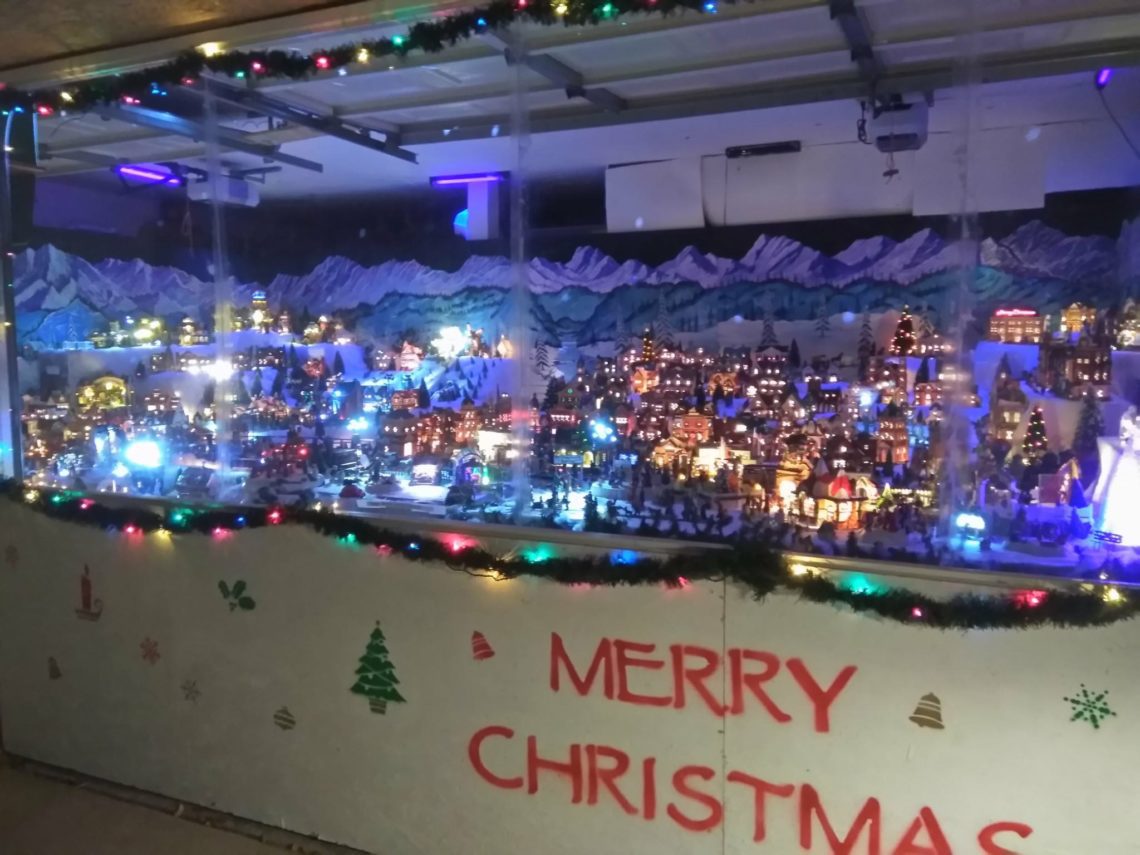 Home Owner Added:
Welcome to Christmas Mountain Village, nestled quietly in the beautiful Christmas Mountains. We hope you enjoy the merriment of the people of this magical, mystical village as they enjoy this special time of year. The Display will be open daily December 1-31 from 5:00 pm-9:00 pm.
Please walk up the driveway as this is set up in the 3-car garage.
---
Quiver Point in Green Valley near Valle Verde and 215.
Located in Henderson, just minutes from Las Vegas, this Home's Christmas light display is expertly paired with impactful holiday music and entertains visitors with dancing lights.
---
La Cienega between Warm Springs and Windmill
Visitors to La Cienega are sure to leave, well, happier than when they arrived. LED and traditional Christmas lights evoke cheer and the holiday spirit in all who attend.
---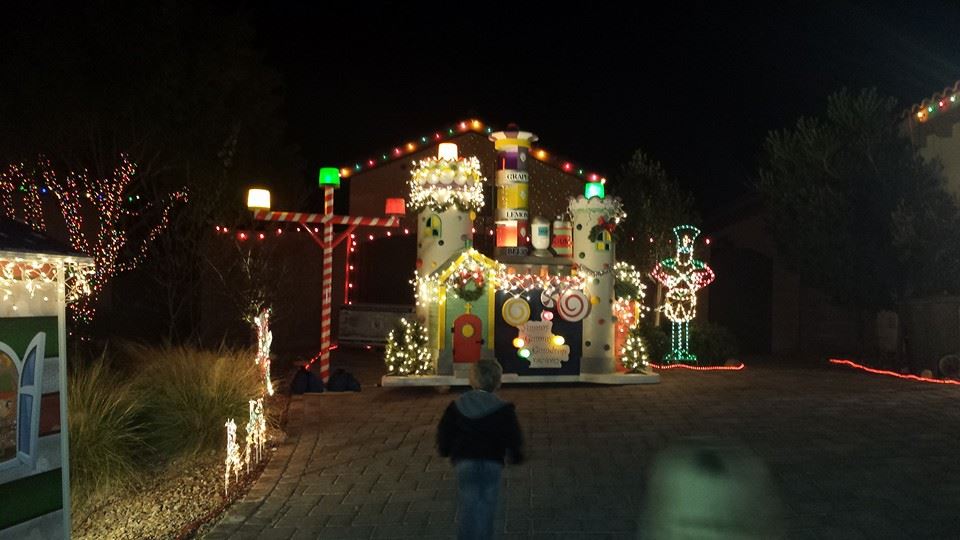 ---
Conterra Park Ave, North Las Vegas, NV 89081
A minimalistic, but classical, residential light display, a home on Conterra Park Ave is frequently visited by locals during the holiday season for its twinkling light show. This year, the homeowners intend to attract more visitors as the season progresses.
Rancho Circle
One of the best neighborhoods this year for lights is Rancho Circle Next to University Medical Center
742 Triple Crown St., Henderson, NV 89015
Nearly 10,000 LED lights are set to synchronize with powerful music, all controlled through various channels, to create an energetic and visually interesting display of Christmas lights. Rejuvenate your holiday spirit by visiting this year's Christmas light show in Henderson.
Houston Drive, Las Vegas, Nevada 89104
For a completely awesome holiday experience, don't miss Twisted Vegas located on Houston Drive. Voted among the best Christmas light displays in the area, the property has become a staple of local light show tours. Inflatable decorations, animated figures, and thousands of lights are masterfully coordinated to provide guests with an unforgettable show.
With so many light shows to choose from, which will you visit first?
**Information not guaranteed. The list is compiled by local contributions. Please use to form to suggest yours or let us know if a house is not participating in the festivities this year.
3018 Scenic Valley Way, Henderson NV 89052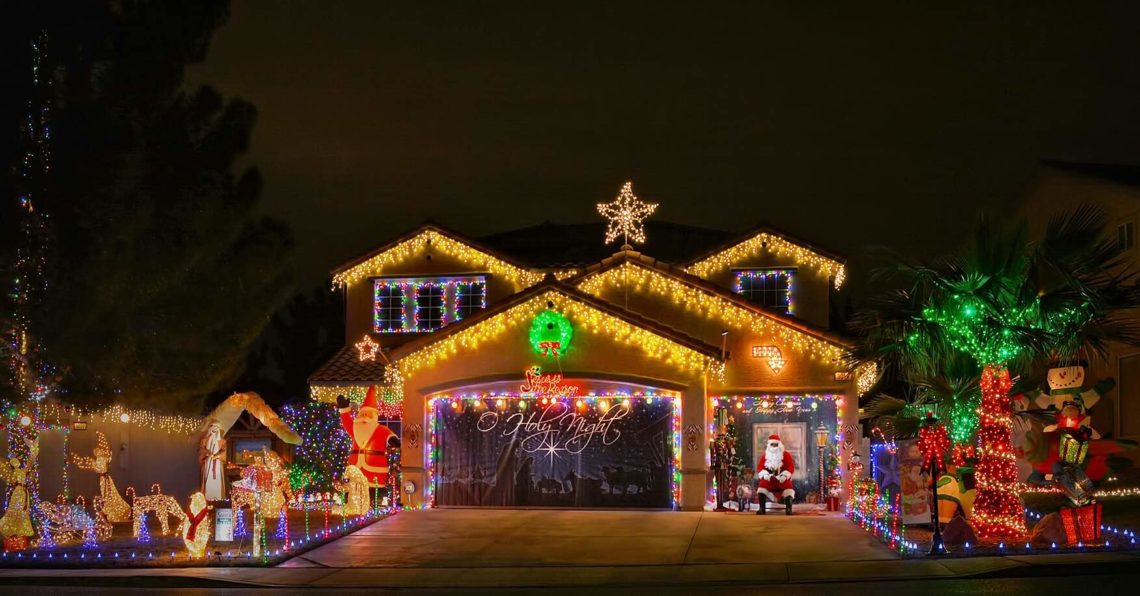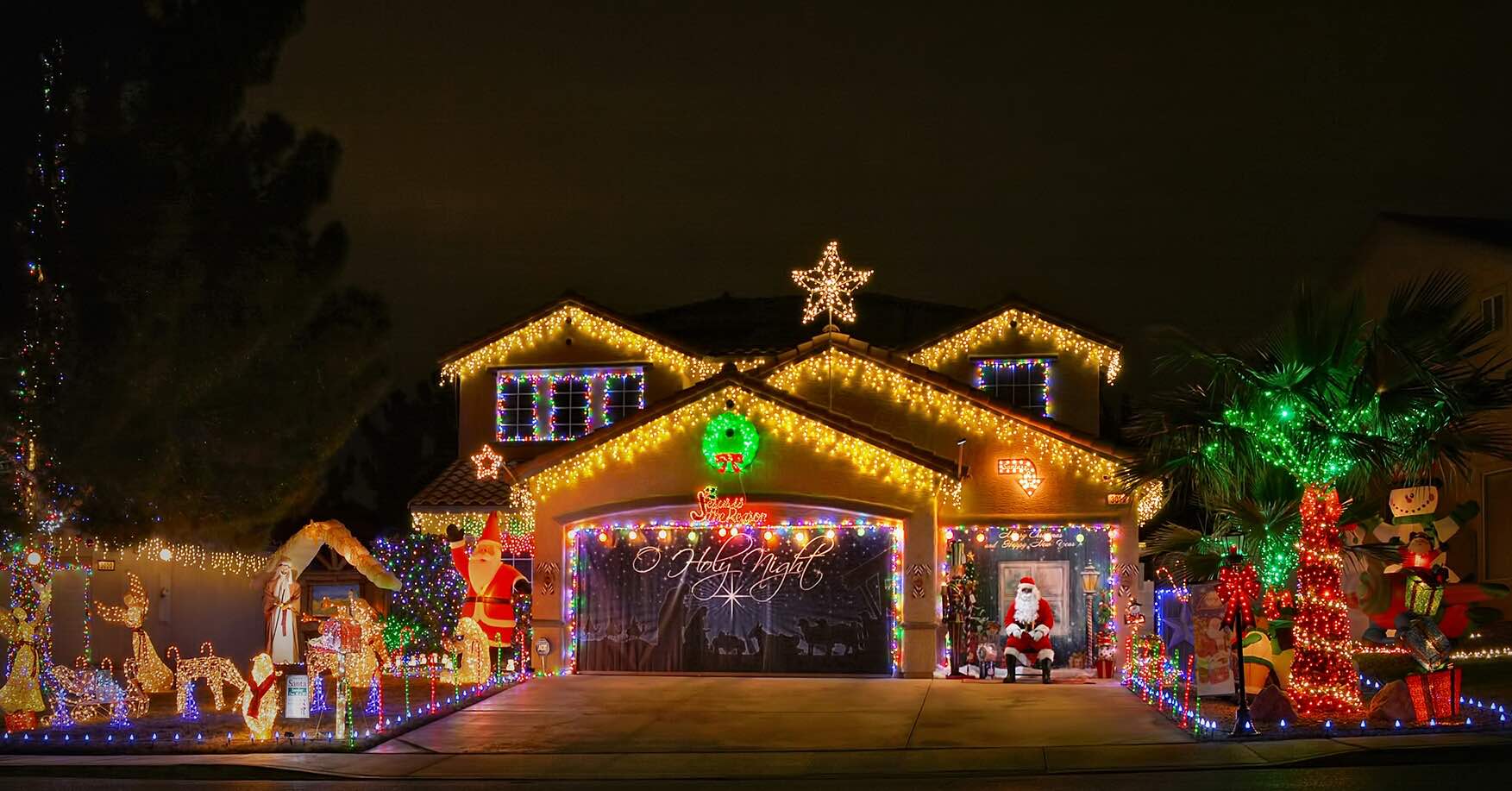 The homeowners requested to be included and want you to know that they are offering Hot Cocoa and Christmas Cookies on the 15th and 22nd, 2019 of December when Santa comes to visit!
Masters Community 7 Hills
The masters community in 7hills, directly across from Elise L. Wolff Elementary school, has about eight incredible homes. One with a live Santa!! No, gate enter the community. Make a left at the first stop sign. Then. The st. Curves right. Make your first right, and you will see almost an entire street of lights! Located at the center of our community! Fantastic!
2410 High Vista Drive Henderson
Highland Street in Henderson
There are 2 absolutely amazingly beautiful homes on Highland Street in Henderson off of Pacific between Van Wagenen and horizon.
---
862 Teal Avenue 89123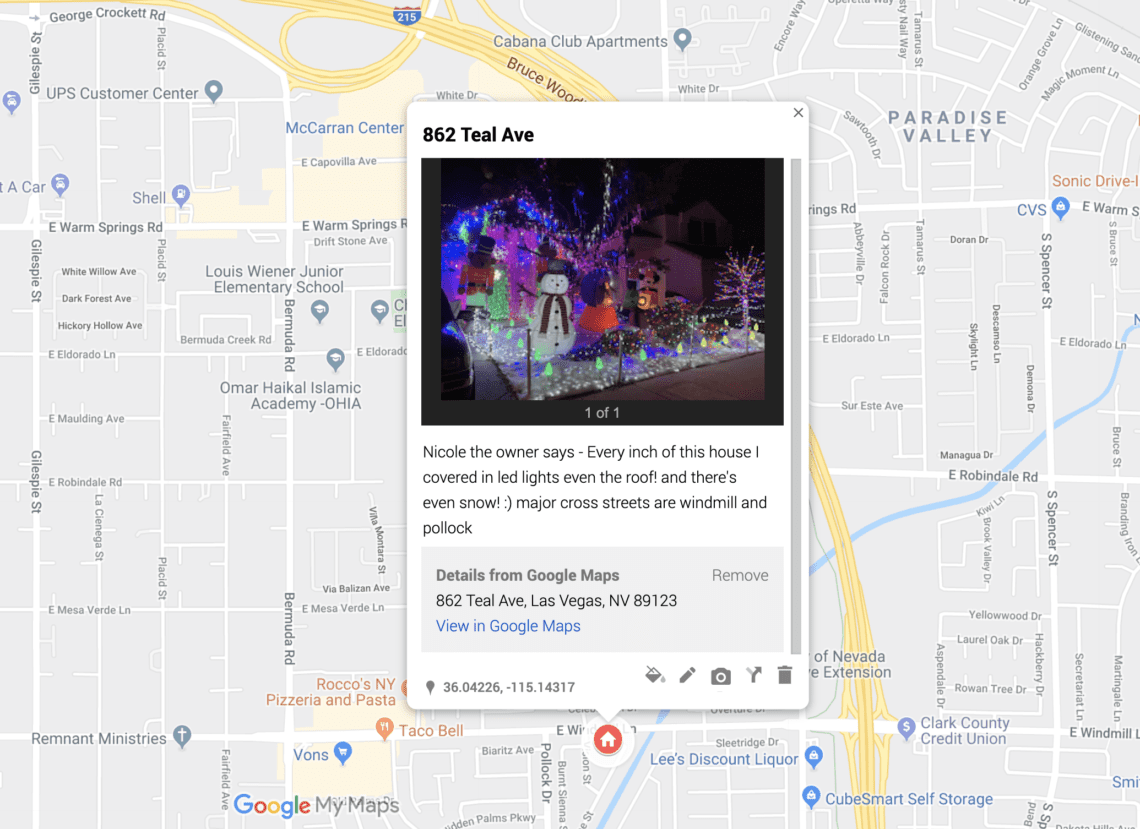 The owner Nicole says
Every inch of this house I covered in led lights even the roof! and there's even snow! 🙂 major cross streets are windmill and pollock
---
Vincelli Avenue [24 Homes on 1/4 Mile Street]
Vincelli Avenue, North Las Vegas, 89031 to the list. All 24 homes on the 1/4 mile street have holiday lights. 60-70% are full yard displays.
Lori Ballen Team provides Real Estate Services in Las Vegas, Henderson, North Las Vegas, and Reno Nevada. 702-604-7739
East Las Vegas
| Address | Zip Code |
| --- | --- |
| Rawhide Street | 89119 |
| 1759 Colt Place | 89119 |
| 1854 Roxbury Lane | 89119 |
| 2441 East Vegas Valley Drive | 89121 |
| 6564 E Marco Vista Ave | 89142 |
| 802 N. Christy | 89110 |
Northwest Lights List
Amherst Ln Las Vegas, NV 89107
Maverick St, Las Vegas, 89108
West. Cheyenne, Las Vegas, NV 89108
W Hollywood Park Ave Las Vegas, NV 89129
Rehoboth Bay, Las Vegas, NV 89129
N Perfect Lure St, Las Vegas, NV 89129
Fannine Way Las Vegas, NV 89130
8794 Cypresswood ave 89134
Home Light St. Las Vegas NV 89139
Lark Meadow Ave Las Vegas, NV 89131
7317 Tealwood Street, Las Vegas, NV
7201 Hawk Haven Street, Las Vegas, NV
Dunshee Vista Avenue, Las Vegas, NV
White Grass Ave Las Vegas, NV 89131
Eagle Crest Street, Las Vegas, NV 89131
7204 Eaglegate Street, Las Vegas, NV 89131
Forest Ivy St Las Vegas, NV 89131
8113 Orchard Glen, Las Vegas, NV 89131
7704 Meadowrobin Ave Las Vegas, NV 89131
7317 Tealwood St Las Vegas, NV 89131
4601 Gonzales Drive Las Vegas, NV 89130
7416 Via Rimini St Las Vegas, NV 89131
6625 N Pioneer Way Las Vegas, NV 89131
7201 Hawk Haven St Las Vegas, NV 89131
Silver Mallard Ave Las Vegas, NV 89131
7204 Eaglegate St Las Vegas, NV 89131
9040 White Eyes Ave Las Vegas, NV 89143
7865 Lovely Pine Pl Las Vegas, NV 89143
North Las Vegas Neighborhood Lights
Taylor Ave North Las Vegas, NV 89030
N Arthur St North Las Vegas, NV 89030
1133 Moorpoint Dr N Las Vegas, NV 89031
2121 Armandale Drive, North Las Vegas, NV 89031
4865 N. Goldfield, North Las Vegas, 89031
Giant Pine Ave North Las Vegas, NV 89031
Charger Ave North Las Vegas, NV 89031
5540 Jose Leon, North las Vegas, 89031
Vincelli Street, North Las Vegas 89031
4032 Solar System Street, North Las Vegas, 89032
3004 Gannon Ridge, North Las Vegas, 89081
6728 Arrow Hill St. North Las Vegas, NV 89084
8113 Orchard Glen, Las Vegas, NV 89131
Southwest Neighborhood Lights
| Address | Zip Code |
| --- | --- |
| Flowerdale Court | 89103 |
| Meadow Brook Lane | 89103 |
| Surfline Drive | 89117 |
| Darby Ave | 89117 |
| 2640 S. Buffalo | 89117 |
| 7959 Home Light St | 89139 |
| 4088 Mita Way | 89141 |
| Costa verde Street | 89146 |
| 9232 W Viking Rd | 89147 |
| 8996 Vista Pines St | 89178 |
| 9962 S Silver Cliff St | 89178 |
Henderson List of Holiday Homes
730 Bollons Island St, Henderson, NV 89002
1054 Desert Olive Ct., Henderson, NV 89002
Maple Shade Street 89002
Sierra View Court 89002
Silver Reef Court, Henderson, NV 89002
Greenway Road, Henderson, NV 89002
Bollons Island Street, Henderson, NV 89002
Via Del Tramonto Street, Henderson, NV 89011
Fallsburg way, Henderson 89012
Fairway Road, Henderson 89012
Tanglewood Drive Henderson, 89012
Muirfield Avenue, Henderson, NV
Point Mallard Drive, Henderson 89012
Antelope Valley, Henderson 89012
Towering Mesa Avenue, Henderson, NV 89012
Decaro Ct Henderson, NV 89014
High Vista Drive, Henderson, NV 89014
Rising Star Drive, Henderson, NV
Monarch Pass Drive, Henderson, NV 89014
2438 high vista circle, Henderson, NV 89014
West Highland Drive, Henderson, NV 89014
Viewpoint Drive, Henderson, NV
Blue Lantern Drive, Henderson, NV 89015
Fairway Road 89015
Bench Reef Place, Henderson, NV 89052
Rye Beach Lane, Henderson, NV 89052
Sandy Hook Terrace, Henderson, NV
Barnegat Bay St, Henderson, NV 89052
Black Fox Canyon Road, Henderson, NV 89052
Asbury Park Street, Henderson, NV 89052
Templeton Drive, Henderson, NV 89074
Via Terra st Henderson NV 89074
Wolverton Avenue, Henderson, NV
Boulder City Holiday Lights
Pinto Road, Boulder City, NV 89005
5th Street, Boulder City, NV 89005
1200 Avenue I, Boulder City, NV 89005
7th Street, Boulder City, NV 89005
1296 Lynwood Street, Boulder City, NV 89005
Summerlin
651 Hayborn Meadows St Las Vegas, NV 89138