Lori Ballen, the owner of this website, benefits from purchases made through her affiliate links.
Caesars Palace offers a top-notch buffet in a 25,000 square foot opulent dining room that is serving 500+ delicious dishes daily, with menu items ranging from red-velvet pancakes to croissan'wichs. Yum!
The Bacchanal buffet at Ceasars promises to be an experience to remember.
Caesars Buffet Cost
Ebates offers 2% cash back when you reserve your tickets on Caesars website. [Sign up for Ebates here]. Be sure to check Groupon and compare savings and cash back.
You can pay extra for a VIP experience or express pass for the line
Weekday rates are lower than the weekend. Prices start at $39.95 per person and are up to $69.99 through the website or at the door. [as of April 2019]
Prices and Meal times are subject to change for holidays
All You Can Drink: Draft Beer, House Wine, Mimosas $15
VIP Package: $98 [Be sure to check the Groupons!]
About The Bacchanal Buffet
Voted Best Buffet in Las Vegas by "USA Today" multiple times as well as the New York Post (number 1 buffet in the country).
The dining room has themed- sections including air, water, and a wood-themed section.
Dining room seats 600.
Attire is Casual
Open for Breakfast, Lunch, and Dinner from 7:30 Am to 10:30 PM except when closed for private events. [check here]
The Menu
15 Daily Chef's Specials
Hundred's of items including small plate selections
Mini specialty salads
Breakfast Bowls
Truffled Deviled Eggs
Lump Crab Avocado Toast
Red Velvet Pancakes
Green applewood smoked wagyu
Seafood laksa
Dessert Crepes, Made to order
Freshly squeezed juices
Asian Station with Sushi, Stir Fry, and Dim Sum
Crab Legs (after 3 PM on weeknights, all day on weekends)
Southern Style Barbecue Station
All You Can Drink: Draft Beer, House Wine, Mimosas [extra fee]
For private dining or groups of 14 + call 866-733-5827 or use the inquiry form.
VIP Reservation Package
Dedicated Reservation Time
All-You-Care-To-Drink package
VIP Seafood Tower
Full Access Buffet
Food Tours and Discounts
Summary
The BACCHANAL BUFFET is a top rated, "Best of" Buffet that offers hundred's of items in a 25,000 square foot, 600 seat dining room.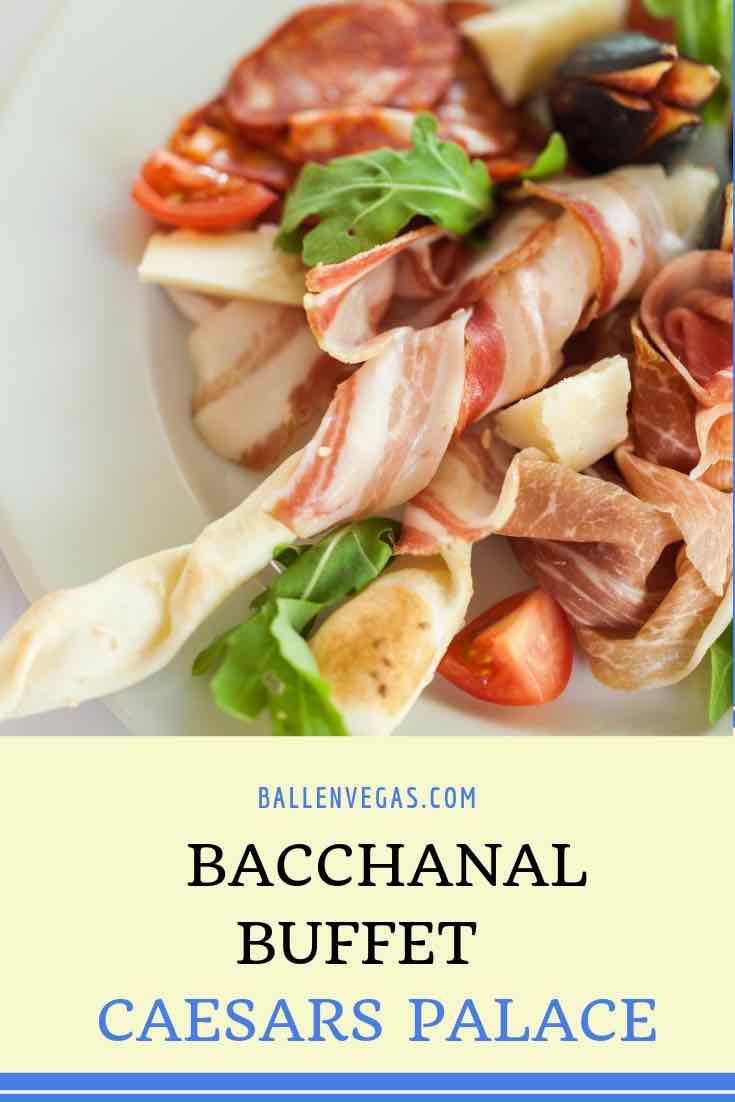 Menu stations include Asian, bbq, breakfast, specialty salads, dessert including build your own crepes and so much more. Daily chef's specialties and small plate options available.
Prices range from $39.95 to $99.95 depending on the day, meal, and package. Express line passes can be purchased as well as all you care to drink packages.
Homes For Sale Near Caesars Palace