Lori Ballen, the owner of this website, benefits from purchases made through her affiliate links.
Are you having trouble finding something fun for the entire family to enjoy together? Then, you should come to check out Las Vegas Mini Gran Prix Family Fun Center and be ready to race, ride, slide and eat!
The adventure is waiting, just a short drive conveniently off of US 95 and Rainbow Boulevard in the Northwest. There's so much to do for the entire family.
So come enjoy the home of the best birthday parties, group events, date nights and family fun times in Las Vegas.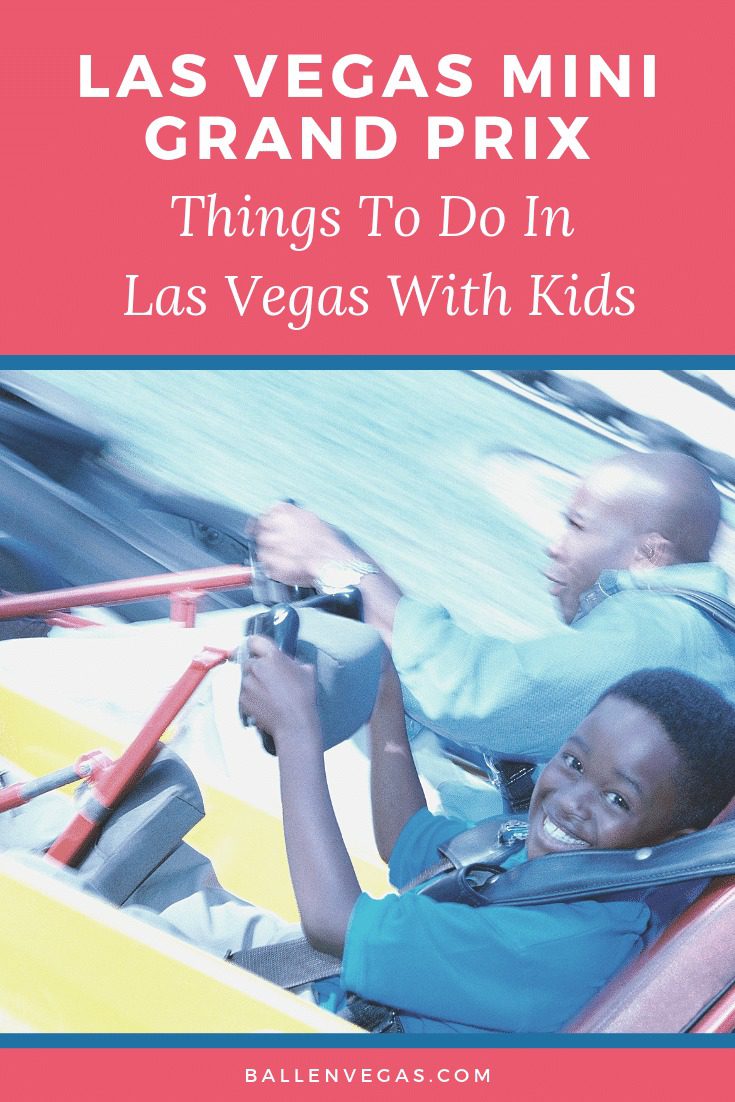 Arcade
This is a great place to take your family to experience moments filled with priceless memories of laughter, smiles, and fun. Parents, are you looking for a cool spot to hang out with your kids? Las Vegas Mini Gran Prix has everything in an arcade experience anyone could enjoy.
They have the classics, like skeeball and air hockey. To the newest and coolest, of high def arcade games that seek to thrill the senses. Oh, and don't forget about the rewarding ticket games and awesome prize center. Furthermore, with so many games to choose from this arcade appeals to all ages.
Tanked
Las Vegas Mini Gran Prix is such a cool place they have actually had the distinct honor of being featured on Animal Planet's "Tanked." Their newest addition "Lost City of Atlantis" theme made quite an impact on an already awesome environment. The tank is twenty feet long, four feet tall, and four feet wide.
This race track shaped Aquarium has 2,100 gallons of water with over a hundred different species of fish. The fish are so beautiful, making the aquarium an absolute delight. If cool games and exotic fish don't float your boat, then you need to check out the main attraction.
Karts & Racing
Do you have the need for speed? Well, then the Las Vegas Mini Gran Prix is everything you've been dreaming of! With carts for all ages, everyone can have a go around for their fastest lap. If you want to race against your friends, to see who the fastest driver is.
Then come run the biggest track in Las Vegas in the newest, coolest, fastest Go karts around. You will love the constant non-stop action, racing your family and friends down the longest Go-kart track in Nevada.
Food
Once you've gotten your fill of games and racing, you know you are going to be hungry. A Good thing that Las Vegas Mini Gran Prix Family Fun Center offers is some of everyone's favorite foods.
They have a pizzeria where they offer only the freshest ingredients from sauce to crust to the topping Their pizza is made with a crispy crust, a golden blend of bubbly cheese, and a sauce to make the toppings pop.
They even special order a high-quality brand of pepperoni to ensure they have a less greasy pizza. Not to mention, they have a specially designed pizza pan that allows air to rotate around the crust to prevent it from getting soggy.
There is No doubt, this pizza could compete against any New York Pizzeria. Even if you don't like pizza, we bet you'll love the homemade ribs and wings. You can also grab some sandwiches and sides.
There are so many different kinds of food to choose from. If you have a picky eater they will feel right at home.
Rides and Slides
After you get all full from that terrific food don't you feel like riding some cool amusement rides?  Mini Gran Prix has three awesome amusement rides and one giant super fun slide. Every ride is for children of all ages and each one more fun than the next.
Start off with the Dive Bomber Airplanes. This is their newest ride where you can control your flight pattern. Young pilots can take their first dip and glide thru the sky.
Next, hit up the Dragon Roller Coaster where you can ride the fastest dragon in all the land. Maybe you check out the Tornado Twister where you control how fast you spin. You can literally twist as fast as your heart desires.
Oh, and don't forget about the Super Fun Slide where you get to glide down a ninety-foot slide on a potato sack. This Humpty Dumpty bumpy slide is a ton of fun for any super fun birthday party or any other gathering.
Book Your Party Now!
If you're looking for something fun for the whole family, and you live in Las Vegas. Your search is over, Las Vegas Mini Gran Prix is the place for you. They have four Go-kart tracks, three amusement rides, one super slide and tons of arcade games. So go on down to Mini Gran Prix to fill your day with tons of family fun.
More Amusement Parks and Rides