Lori Ballen, the owner of this website, benefits from purchases made through her affiliate links.
If you are looking for a unique way to see the gorgeous desert scenery of the Las Vegas area, then Adrenaline ATV Las Vegas might be the option for you.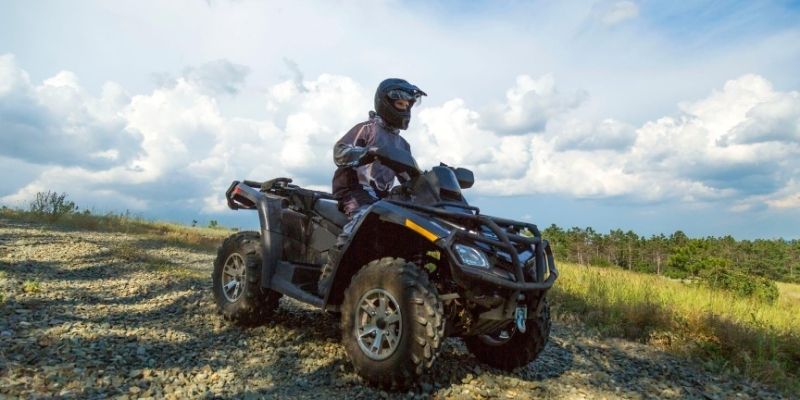 With Adrenaline ATV Las Vegas, users will get the privilege of using rugged, durable, safe four-wheelers to check out some of the local area's high points.
With the help of professional guides, groups of guests will get to take one of the multiple tours, each of which features unique views of the Las Vegas region.
What Guests Get to See with Adrenaline ATV Las Vegas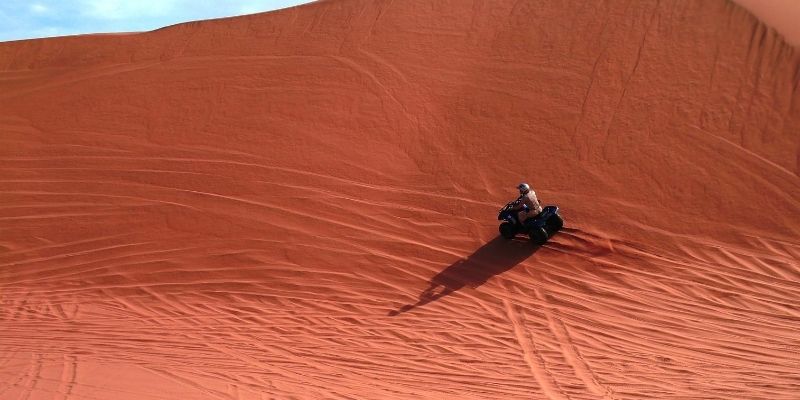 Some of the highlights of the tours offered by Adrenaline ATV Las Vegas include:
The beautiful Nevada sunset as it falls gracefully on the sand in the distance, looking like a ball of fire
The beautiful, rolling sand dunes of the Nevada region that feature unique animals and plants that are difficult to find anywhere else in the country
The Logandale Trail system that rests in the Valley of Fire State Park
The goal of Adrenaline ATV Las Vegas is to provide guests with an exciting way to see everything that the Las Vegas area has to offer.
---
What Comes with a Tour through Adrenaline ATV Las Vegas?
When guests sign up for a tour through Adrenaline ATV Las Vegas, they will receive:
A working, safe ATV built to explore terrain that would otherwise not be accessible to cars
A unique, guided tour that includes desert landscapes, nature trails, and exceptional highlights of the region
A pickup and drop off at the hotel, a lunch included with the price of the tour, cold drinks to keep everyone hydrated, goggles to protect the eyes from the sand and debris, helmets in case of an accident, and gloves to prevent the hands from drying out or overheating
Most visitors at the Adrenaline ATV Las Vegas elect to bring a camera to take pictures of the unique landscapes.
---
Why Do People Choose Adrenaline ATV Las Vegas?
There are several regions why so many people decide to go with Adrenaline ATV Las Vegas. Some of the benefits include:
Adrenaline ATV Las Vegas makes sure that their ATVs are updated with the most recent technology, ensuring guests enjoy a smooth and comfortable ride
There are multiple ATVs from which to choose, allowing everyone to choose an ATV that best meets their needs
All ATVs come with a roll cage that provides exceptional safety
The ATVs are easy and intuitive to ride when compared to traditional motor vehicles
The tour guides double as teachers and ensure that everyone has an enjoyable experience that hits some of the high points of the Las Vegas area
These are just a few of the many reasons individuals and families go with Adrenaline ATV Las Vegas to see the Las Vegas area.
---
Alternatives to Adrenaline ATV Las Vegas
While Adrenaline ATV Las Vegas is one of the most popular options for tours of the unique Las Vegas landscape, some alternatives include:
Vegas ATV Adventures
Vegas ATV Adventures is known for providing guests with a unique view of some of the top trails in the Las Vegas area. Vegas ATV Adventures provides 60-minute rides on a powerful 2018 Kawasaki 300 as the trip winds through miles of turns, jumps, and desert washes.
---
Las Vegas UTV Tours
Las Vegas UTV Tours provides both guided and individual experiences on UTVs that fit anywhere from two to six people. Each trip is two hours long and stars at the Las Vegas strip. The thrills from Las Vegas UTV Tours can be tailored to meet the individual skill level of each guest.
---
SunBuggy Fun Rentals
SunBuggy Fun Rentals features experiences that center in the Las Vegas Valley of Fire. With unique views, towering rock formations, and awe-inspiring landscapes, this trip is one of the most popular ways to see everything this area has to offer.
Designed for guests 18 years of age or older, this thrilling expedition includes lunch and a souvenir gift package.
---
Zero1 Desert Adventures: Zero1 Desert Adventures provides everyone with a tour that hits some of the top destinations in Las Vegas, including desert tortoises, wild horses, old mines, and a local pioneer saloon. The tours can be tailored to match all ages, comfort levels, and desires.
Las Vegas Elite Offroad: Las Vegas Elite Offroad features experienced tour guides that provide tailored experiences to meet each party's needs. They also feature unique packages for groups of all ages and sizes.
American Adventure Tours: American Adventure Tours provides groups with an opportunity to see the Las Vegas area's remarkable and varied terrain. They have a wide array of ATVs that are regularly upgraded to improve their safety and power.
Las Vegas Rock Crawlers: Las Vegas Rock Crawlers is a different tour experience that allows individuals to drive jeeps that crawl the deserts of Las Vegas. Their tours are weather-dependent and are more popular when the temperatures drop during the fall and winter.
These are numerous options available, allowing guests to tailor their visit to the local area to meet their needs.