Lori Ballen, the owner of this website, benefits from purchases made through her affiliate links.
The Lion Habitat Ranch in Henderson Nevada, offers several unique opportunities for visitors to interact with their big cats and their resident giraffe, Ozzie.
The Lion Habitat Ranch in Henderson, Nevada, is a Non-Profit sanctuary dedicated to providing a lifetime of support for every animal in their care.
The Ranch gives the caliber of care that their animals deserve and offers interactive experiences to the public and unique souvenirs to guests.
About the Sanctuary
Since 1989, The Lion Habitat Ranch, located at 382 Bruner Avenue in Henderson, Nevada, has advocated for African lions living in the wild through local educational programs.
These programs raise awareness about the many threats that these big cats currently face in their natural habitat.
In addition to community education projects, The Lion Habitat Ranch supports Conservation International in Kenya, The Campaign Against Canned Hunting, and SanWild.
Conservation International in Kenya is a conservation group dedicated to protecting African lions and the natural habitats in which they live.
The Campaign Against Canned Hunting is a wildlife charity that brings people together to campaign for a ban on breeding captive lions for the sole purpose of canned hunting.
SanWild is an organization that offers assistance to wild animals in need, regardless of whether or not they are an endangered species.
Lion Habitat Ranch Experiences
The Lion Habitat Ranch is funded by donations as well as through general admission fees and experience opportunities.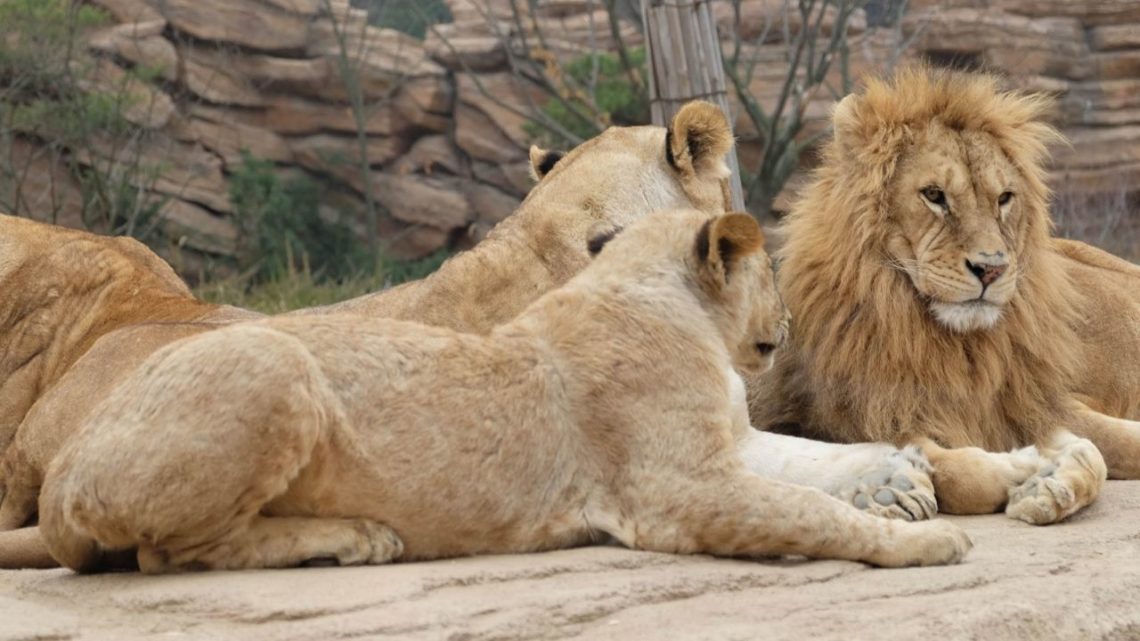 Just being at the Ranch is a thrilling experience, but if you are looking for a more interactive trip, there are a few experiences that you can try.
Feast with the Beasts
"Feast with the Beasts" is a dining experience that no one could forget. For $300 an hour (with a 2-hour minimum) plus the cost of food, up to twenty guests can enjoy lunch while getting up close and personal with the lions!
A large table set in the center of an even larger habitat area lets guests get closer to lions than they ever thought possible! Meanwhile, the Ranch staff will serve up a meal of your choosing, be it a picnic or something more formal.
Behind the Scenes Tour
If you do not feel like grabbing lunch with the lions, why not take a behind the scenes tour of the Lion Habitat Ranch?
For $150 per person (for up to ten people,) or for $100 per person (for eleven to twenty people,) guests can take a 90-minute guided tour of the Ranch and get a good look at what goes on behind the scenes!
The Ranch encourages guests on tour to ask questions and to take as many pictures as possible!
Feed The Animals
"Feed the animals" is another opportunity that is truly a once in a lifetime experience. For $10 per person, guests can hand-feed the Ranch's resident giraffe, Ozzie. Ozzie is also very well known as the Ranch's resident, artist, and plenty of his masterpieces for sale in the gift shop!
If you prefer to feed the lions, guests can do so for a cost of $100 per pound of food or $150 if two people split the food between them.
Host Your Own Event
The Ranch also allows guests to host their large courtyard events (lion-free, of course!). The courtyard can seat up to 600 people, catering options and a tent are also made available.
The fee for hosting your next event at the Ranch is $600 per hour for the venue with a two-hour minimum booking.
The Ranch Virtual Tour
The Lion Safari Ranch also offers a virtual tour for guests who are too far away to visit in person or for guests who are otherwise limited in their ability to visit.
The virtual tour of the Ranch takes forty-five minutes and costs $75. This tour also has the added benefit of watching from anywhere that you can get an internet signal, so you get the insider's look around the Ranch without having to leave the comfort of your home!
Ranch Fundraisers
Throughout the year, the Ranch holds various fundraising events that help with the cost of upkeeping the Ranch while also allowing adults to try unique experiences.
More recently, the Ranch held an event entitled "Lion's Breath of Yoga."
This allowed guests to pay for the chance to take part in a seventy-five- to eighty-minute-long yoga session while surrounded by the animals of the Ranch.
To check for any upcoming fundraisers, monitor the Ranch's online calendar!
The Ranch Gift Shop
In addition to experiences, visitors to the Ranch also have the opportunity to take something special home with them to remind them of the day. The most popular item being a custom painting by Ozzie – the resident giraffe!
Ozzie paints canvases and clothing and then graciously allows staff to resell his works to help fund the many treats he and his lion counterparts enjoy eating!
Ozzie's canvas art sells between $40 and $60, and clothing like the t-shirt and scarf costs around $60.
General Admittance
If you prefer to stroll around and take your time, you can always get a general admission ticket to the Ranch.
Adult tickets are $20 for local visitors and $25 for out of state visitors.
All seniors pay $20.
Military, fire, and police tickets are $18.
College students' tickets are $18
Hotel employees receive various discounts based on their hotel of employment.
Children ages three and under get free entry.
For the purchase of everyone adult ticket, one child between the ages of 4 and 14 will get free entry.
To add an extra child to an adult and child ticket purchase, the additional ticket is $10.
To add an extra child to an adult and child ticket purchase for local residents, the ticket cost is $8.
A family group rate of $60 is available for two adults and two children under fourteen years old.
A local family group rate of $50 is available for two adults and two children under fourteen.
Wounded Warrior Project members and their family and or caregivers all receive free entry to the Ranch.