Lori Ballen, the owner of this website, benefits from purchases made through her affiliate links.
1. Romantic Picnic For Two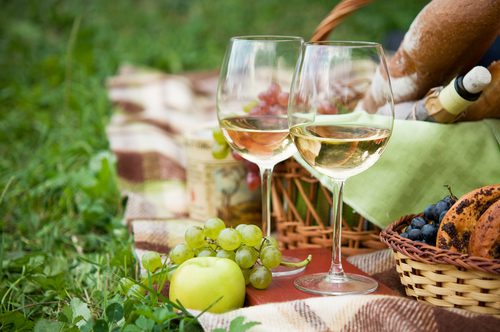 If you are searching for the best places to go on a date in Las Vegas, but you don't want to plan an evening date, you might want to visit Floyd Lamb State Park. Previously known as Tule Springs Ranch, is the perfect spot for a romantic picnic for two. The park consists of 2040 acres, which includes several secluded picnic areas, stocked ponds and scenic walking trails. A picnic is the perfect plan for a first-time date that is scheduled for Valentines Day. Go pack a light lunch, a bottle of wine and some music and spend the day getting to know each other.
2. Horseback Riding, Dinner & S'mores
There is nothing more romantic than horseback riding through the mountains. Cowboy Trail Rides definitely makes the list as one of the best places to go on a date for Valentines Day, and they offer a Valentines Day special. Even those on a budget can plan a unique and romantic date. One of the best packages available includes horseback riding along a trail through the canyon. This horseback ride will end at camp where you will enjoy a steak dinner and sitting around a campfire, eating s'mores under the stars.
You might also like: Best Sushi Restaurants in Summerlin

3. A Night to Remember
If you are ready to escape the hustle and bustle of daily life, the best place to plan a date for Valentines Day is at the JW Marriott Las Vegas Resort & Spa. This will be the date to remember, especially when you arrive at the resort early enough to visit the Aquae Spa for one their fabulous couple spa packages. You can unwind in the hydrotherapy circuit pool, have a couples stone therapy massage and relax before dinner in the sauna. Following the relaxing time at the spa, you can enjoy a romantic dinner for two in one of the resorts restaurants and finish the night sipping cocktails near the waterfall.
Check out: Locals Choose the Best Shows in Las Vegas
4. Love is in the Air Ballooning
Love is definitely in the air when you plan your Valentines date to include a hot air balloon ride. Love is in the air ballooning offers a range of packages, including wheelchair accessible flights. Whether you want to make a check mark on bucket list or are looking for a way to truly impress your date, flying through the clouds is sure way to show your love this Valentines Day.
Others have read: Best Las Vegas Steakhouses, Many Open as Early as 4PM
5. Paris Inspired
Can you think of anything more romantic than a Valentines Day kiss while on the top of the Eiffel Tower? The Eiffel Tower is undoubtedly one of the best places to go on a date for Valentines Day, unfortunately, not many people can take the time off to fly to Paris for the day. Fortunately, you can have the Paris experience just a hop and a skip away from Summerlin, in Paris Las Vegas. The Eiffel Tower in Las Vegas is a half-scale replica of the original and famous landmark in Paris, France. Enjoy a romantic dinner in the Eiffel Tower restaurant before riding the elevator to the top of the Eiffel Tower, where you can share a kiss and take in the spectacular view of the Las Vegas strip.
Related: The Mac King Comedy Show
6. Old World Romance Getaway
If you are searching for a romantic, unusual and memorable way to spend Valentines Day, the Venetian is an ideal choice. The date can begin with a romantic gondola ride along the Grand Canal and end with a romantic candle-lit dinner. If you prefer to extend the date for more than a few hours, the Venetian, in Las Vegas and just a short drive from the Summerlin community, offers a romantic getaway package for Valentines Day. The package includes a luxurious suite with a view, breakfast for two in your suite, a private gondola ride and a discount on select bottles of champagne.
And there's also: Best places to go on a date for Valentines Day in Las Vegas
Although Summerlin is a tight, family oriented community, it is also an amazing place to spend a romantic Valentines Day. If you prefer to spend the date over a wonderful, relaxing dinner, there is a range of options available in the community as well as several gorgeously landscaped parks that are perfect for a hand-holding romantic walk.
Click on the price or feature of the Real Estate You would like to see. You'll be taken to a page of MLS listings just as you requested. When you see something you like, Call 1-800-805-8354.