Lori Ballen, the owner of this website, benefits from purchases made through her affiliate links.
Ready to add a greenhouse to your home or business? Enjoy this list of the best selling greenhouses.
Gardman R687 4-Tier Mini Greenhouse
What is a Greenhouse?
People grow crops in a greenhouse because it's a protective environment. It can be weather and temperature controlled allowing for better growth of flowers, fruits, plants, and vegetables.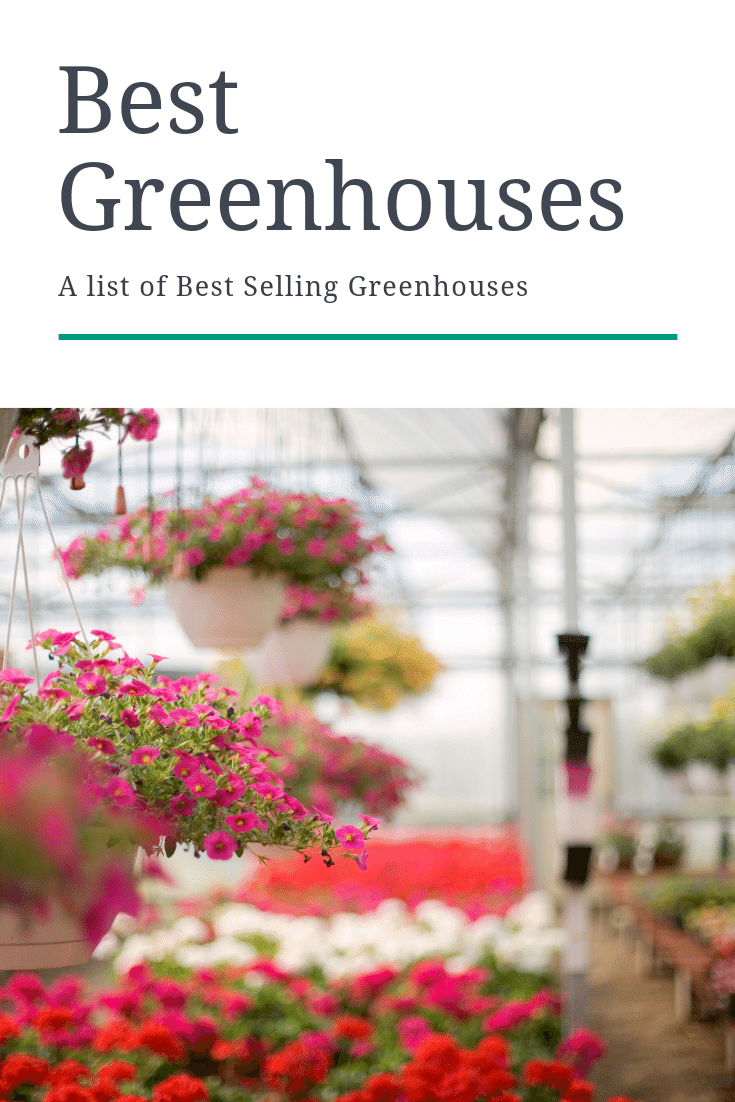 Ohuhu Greenhouse 3 Tiers
What Does a Greenhouse Need?
While you may start with a small, basic greenhouse, you may expand to a larger greenhouse with an improved workstation, temperature control, ventilation, even a workstation with a sink.
A Variety of Pots
Trays for Seed-Starting
Fertilizer, Soil, Potting Mixture
Gardening Tools
Marking Tools
Sprays
Shelves
Benches
Work Station
Air
Temperature Control
Sink
Homewell Mini Walk-In Greenhouse 3 Tiers 6 Shelves
What is the best shape for a greenhouse?
You'll actually find greenhouses in a few very popular shapes. You'll find the shape offers a gable roof or a gothic or Quonset hoop, gothic being the most popular in winter climates.
Quictent Portable Walk-In Greenhouse, Hot House
How Do You Keep A Greenhouse Warm During the Winter
The key to keeping a greenhouse warm during the winter is by keeping the cold air out.
Wrap the Greenhouse in Bubbletape
Place plastic sheets in the outside and interior of the structure
Seal all openings
Use heaters
Palram HG5005PH Mythos Greenhouse, 6×4, Silver
Rion Grand Gardener 2 Clear Greenhouse
What is the Best Greenhouse Kit?
We scoured the web and found others using or recommending the following greenhouse kits or brands.
Monticello Greenhouse Premium Package Green House Kit
OK, Cutest Greenhouse Award goes to: Flower House FHCV900 Conservatory Greenhouse
How to Choose a Greenhouse Kit
If you want to grow plants year-round or extend your gardening season, then you might be interested in a greenhouse gardening kit. There are many types of kits — there kits that are fixed in your front or back yard that provide a stable and warm environment where plants can grow all year round. They can be used to jump-start the growing season, grow specialty plants, and plant seasonal vegetables whenever you want to.
Whatever the reason as to why you want a greenhouse, the backyard variety gives ample space to do so. Then there is the standalone kit that is mobile and transportation-friendly. These are ideal for smaller living spaces, or if you do not have access to a front or backyard.
Attached Greenhouses. These are designed as a feature that integrates into your home or property. These are more costly and require more labor to set up, but they are ideal if you are serious about growing crops year-round. When compared to freestanding greenhouse kits, attached greenhouses will have one weight bearing wall, which will usually be your home or garage. Attached greenhouses are ideal when space is at a premium.
Keep in mind that when it comes to light, you will be limited to receiving natural sunlight from only 3 sides – there will be a shadier spot at least for part of the day. This is something to be cognizant about if you are going to be growing photo-sensitive plants.
Freestanding greenhouse kits. These are standalone and are not attached to your home or any particular structure.
While more expensive than almost any type of greenhouse kit, they provide lower costs per plant, since many different types of plants can be grown in them. Depending on your location, a freestanding greenhouse will enable you to grow plants much earlier in the growing season.
In-home kits. There are also smaller, mobile greenhouse kits that can be built indoors. These are ideal for apartments, and for growing small, fast-growing plants like basil, rosemary, parsley, heirloom tomatoes, and string beans. While more affordable, these will usually grow enough food for a single person, or a couple who harvest occasionally.
They can also be used to jump-start the growing season, so you can transplant them into your garden once the danger of frost has passed.
Regardless of the type of greenhouse, you will need to be wary of its location. While you can control some of the lights that your plants will receive with growing light bulbs, the sun is going to be the main source of light, as well as what's going to initiate the incubating process within the greenhouse to ensure that the plants are grown in a warm environment.
Before you select a greenhouse kit, you need to select the best location for it. The best location for kits depends largely on how you plant. For example, if the goal is to grow plants to maturity or to continue to grow them year-round, then you will need a location that will offer you maximum sun exposure. Minimally, you want your greenhouse to have six hours of direct sunlight.
While this might be straightforward, it's actually a lot more complicated than how it sounds.
Your first choice is placing your kit at the south or southeast corner of your home as it will provide the most amount of sunlight. Location to the east of any structure is also your next best choice because it will have access to sunlight from November to February — for those located in zones with inclement weather, your greenhouse will appreciate the warm sun rays during the cold winter months.
The north side of your property or home is the least desirable. Your plants will not have ample access to sunlight and you'll need an additional source of light and heat, especially during the colder months.
Not only do you need to be cognizant of the location of a greenhouse, but also take the position of the sun into consideration. The sun is much lower in the sky in the winter.
A full sun location in the summer may actually have partial shade in the winter due to long shadows coming from adjacent trees. Ideally, your greenhouse kit will be located in a position where there aren't any tall structures that can obstruct the sun.
Is There Such a Thing As Too Much Sun? If you are looking for a greenhouse kit, and you're well aware as to how plants function and their energy requirements for growth, development, and photosynthesis. The greenhouse is designed to capture convection — when solar radiation passes the transparent structures of the greenhouse, the contents within it warm up.
Since it is an enclosed environment, the warm air does not escape via convection, so the temperature steadily rises. You need to be wary of this temperature increase for small, develop plants, as well as how much light they are receiving.
Young plants need less light than older plants, with most seedlings being successful even in low level natural or artificial light settings. Immediately after germination, that's when the first true leaves appear, and the plant actively response to available light levels.
So if you are first starting plants, then it is okay to place them in the more shadier spot of the greenhouse, then placing them in high-light areas as they start growing.
What's in a Greenhouse Kit?
When you have selected the right location for your greenhouse, you will need to be aware of the contents within a kit. Being familiar with the equipment with a greenhouse kit will allow you to be prepared for some of the technical aspects of building and maintaining your greenhouse.
Most detached greenhouse kits come with rustproof aluminum frames and coverings that consist of a single layer of polycarbonate, glass, or acrylic panels or sheets. Most of these materials work by insulating the area, ensuring that the heat does not have space to escape. This will eventually heat up the greenhouse and cause it to be several degrees warmer than outside ambient temperature.
Most kits will come with glass panels, which are noted for being the true and traditional greenhouse covering material. Keep in mind that glass can be costly, but they can be sturdy and durable, lasting for several decades. If you're looking for a greenhouse kit with glass, be sure that the frame uses either triple or double panes since the glass itself is a poor insulator.
Polycarbonate is strong and lightweight, and are designed for outdoor use with UV treatments to help prevent yellowing and solar deterioration. Acrylic is then the third most common greenhouse covering, with most acrylics being called plexiglass. They are adorable and can withstand snow, winds, and even hail impacts.
But they require specialty insulation since acrylic expands and constricts due to ambient temperatures. Even though usually rigid, acrylic can be somewhat flexible enough to mold over shallow arcs. Fiberglass offers superior clarity and is not as reflective as glass, allowing more light to enter the greenhouse.
Many greenhouse kits do not come with any particular flooring, with most kit preferring concrete, gravel, or dirt. While most people tend to fixate on the structure and the materials, the flooring also affects how efficient the greenhouse is. Gravel or dirt, for instance, do not retain heat or protect your plants from outside pests.
Porous concrete allows water to drain and will retain heat a lot better. It also creates a barrier, protecting your plants from outside insects.
When it comes to conserving heat, you need to be aware of the climate patterns in your area. For example, if you live in an area that experiences several inches of snow, you need to be aware that the additional weight of the snow can potentially crack panels on the roof of the greenhouse kit. This isn't a worry if your greenhouse kit is small and designed for indoor use.
Choosing the Right Greenhouse Kit
1. Look for a kit that provides the right amount of light for the plants that you want to grow. Everyone is well aware that sunlight is one of the most important factors when it comes to growth — however, the natural sunlight is not always the best light for plants.
The light can actually damage some sensitive plants, with harsh rays causing foliage burn. Surprisingly a lot of common plants are sensitive to burning and do well with more diffused lighting.
The diffused lighting can reach the plant from all angles and produce fewer shape spots. Polycarbonate, for example, provides a bit more diffusion when compared to glass.
2. A greenhouse that can be customized and modified to your liking. As your greenhouse hobby develops, so should your greenhouse kit. You want a kit that allows you to add on or take away features whenever you want.
A greenhouse should offer versatility and some custom options to fit your desires as the climate changes, as the type of plants that you want to grow changes, and as the weather changes.
Whether it's adding additional accessories like indoor lighting or a heating element, or adding an extension kit, you want a greenhouse that can grow with you. With the right kit, the greenhouse can be modified to your liking and enable you to grow succulents, herbs, fruits, and vegetables.
3. Look for features that extend your growing season. A greenhouse kit allows you to grow throughout the year, with installation and adequate ventilation. While the greenhouse covering should hold in heat, it allows you to also dissipate heat easily during the hotter months.
A greenhouse design that possesses exhaust fans, or even openings and vents that allowed for convection, will prevent your greenhouse from overheating during the summer months and potentially destroying the sensitive seedlings.
4. Pick a greenhouse kit that has durability. The proper greenhouse kit can last several years and can be deconstructed and rebuilt on a whim without having its structural integrity compromised.
It will also be protected from outside elements like falling branches, the occasional hail season, or stray baseballs. These all can completely destroy a greenhouse.
Additionally, look for greenhouses that have frames that are low maintenance. Rust free beams are ideal and will be durable year-round. You have more leeway when it comes to the durability of your greenhouse kit if it is designed for indoor use.
Since they won't be exposed to the outside elements, then the structure of the greenhouse will not matter as much. However, on the side of strength, choose a kit that has steel beams and will able to accommodate a heavy load.
When shopping for a greenhouse kit, especially for those are going to be attached or installed on your poverty, be wary of local regulations. Depending on your location, you may be required to have a certain permit and other requirements. Some localities demand a certain type of foundation.
A freestanding greenhouse that will be installed on your back or front yard usually face less regulation. Some might classify as a storage shed. Consider the size of your greenhouse carefully, as you may be able to avoid regulations by settling for a more compact greenhouse.