Lori Ballen, the owner of this website, benefits from purchases made through her affiliate links.
A small space or a tiny home is a popular alternative to a regular sized house. With less space to clean and more reasons to gather with your family, what's not to love?
For all its joys, decorating a tiny home can be a challenge. Here are 12 tips for decorating your tiny house or small living quarters.
Buy decorative, functional items.

When shopping for an everyday item like a toaster or a lamp, look carefully for pieces that will double as décor. You simply don't have room in your space for items that are purely decorative, so personalize your space with things you're going to need and use anyway.
That might mean buying purple kitchen appliances or creating your own lamp using your seashell collection.
Go low with seating.
Choose seating that is low to the ground, especially when it comes to a sofa or plush chair. This will make your space look bigger.
Separate spaces with rugs.
Most tiny houses don't have individual rooms because doors and walls just take up too much precious floor space. However, you can use rugs to separate different parts of your home.
It will also add some color and a chance for you to pick out an item that will liven up your living areas and express your personality.
Choose furniture with storage.
Storage is a huge issue when it comes to living tiny. You can help alleviate this problem by choosing furniture that has storage included.
Many coffee tables, chairs, and even sofas have a lid that lifts up to reveal storage inside. You can also buy tables and beds with shelving underneath. Creating these little storage spaces will go a long way in finding a place for your things.
Hang eye-catching light fixtures.
Save space on the floor by hanging light fixtures from the ceiling. Make sure these are creative and fun so they can double as décor.
Install floors in light colors.
Light colors will typically make a space look bigger, and your floors are a major component of your interior design. Blonde wood is beautiful in a tiny home. You can also choose tiles with pale tones.
Wallpaper your ceiling.
This is a fun way to add a unique element to your space without making your walls appear to close in. Choose wallpaper in a light color that will spread light, and adhere it to your ceiling. This is a decorative trick that will also help your space appear larger.
Select oversized art.
It may seem counter-intuitive to put a large piece of artwork in a small space, but it will actually pull your living area together and make the room appear bigger.
Instead of hanging several small pictures or photographs, find one oversized piece that will nearly cover an entire wall above your sofa or another seating arrangement.
Like a rug on the floor, this will help define your space and create the illusion of separate areas in your home.
Invest in acrylic furniture.
One current trend in home décor is clear, acrylic furniture. This movement is perfect in a small or tiny home because it causes your furniture to practically disappear into the rest of the room.
Acrylic accent tables, chairs, and stools will keep visitors' eyes focuses on your decorative pieces instead of on the furniture.
Bring the outdoors inside.
Natural details make an indoor space seem more expansive because they create a link between the interior of a home and what is outside the front door.
You can take advantage of this trick by choosing wood, stones, and other natural materials in your small space.
You can also bring in some greenery with plants suspended from the ceiling or placed on a shelf.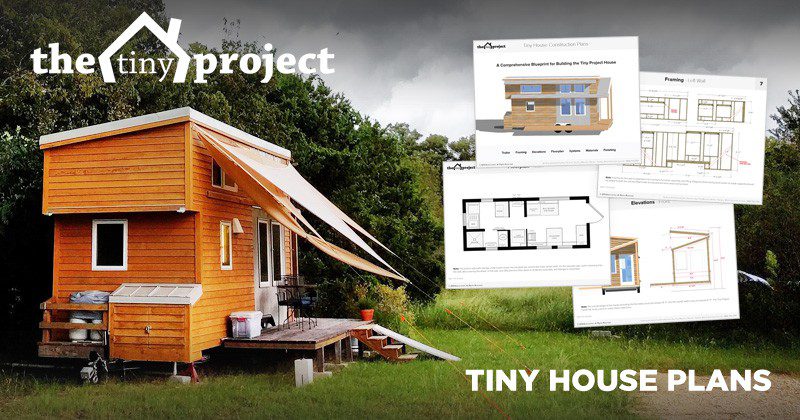 Go white with a pop of color.
White is the right choice for making a small room appear larger. You can use this to your advantage while making a dramatic decorative statement by painting all of your walls, cabinets and trim a clean white.
Add white furniture, appliances, and fixtures. Then take that blank canvas and add a pop of bright color here and there in the form of a lamp, a single chair, or even a boldly colored coffee pot.
Focus on a few pieces.
In a small space, it's a mistake to include a lot that catches the eye. Decide on what you want people to notice about your space, and place the focus on that. It might be a stunning piece of artwork, your grandmother's antique table, or a fish tank. Whatever it is, choose just a few focal items to keep front and center.
Living in a tiny space can take a lot of stress out of your life. Give yourself an even bigger benefit by creating an environment that you love and a place where you can relax without feeling cramped or overwhelmed by your décor. Try these 12 tips for decorating your tiny home, and you are sure to make a huge impression with your small space.
Tiny Home Living