Lori Ballen, the owner of this website, benefits from purchases made through her affiliate links.
Lake Mead is one of the largest reservoirs in the United States. Connected by the Colorado River and stemming off of the Hoover Dam, Lake Mead is more than 112 miles long when full, with almost 800 miles of shoreline and more than 500 feet at its greatest depth.
However, Lake Mead hasn't reached full capacity since 1983 due to increased water demand and a local drought that has only become more of a problem as time went on. Due to the current low levels of the lake, Lake Sakakawea tends to hold the title as being the largest reservoir in America.
Click to See Just Listed Homes with a Map!
Click Here to see the Current Water Level.
Where Is Lake Mead?
39 min (31.7 mi) via I-515 S and US-93 S
The History and Formation of the Lake Mead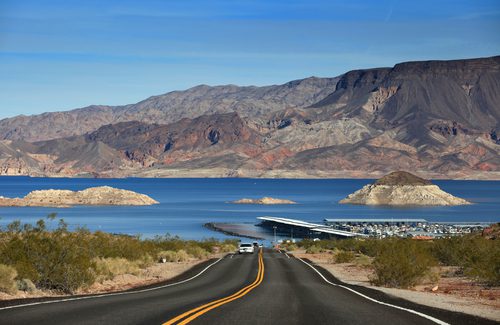 Elwood Mead is the mastermind behind Lake Mead. The former commissioner of the United States Bureau of Reclamation, Elwood Mead planned the Boulder Canyon Project that ultimately created the lake. Lake Mead was officiated in 1936, with it being regulated by the National Park Service.
The geography of Lake Mead is unique, as it has nine access points with points of entry along Las Vegas, Interstate 15, and the Valley of Fire State Park. Because it is so large, Lake Mead tends to be categorized into several sections.
The largest segment is near the Hoover Dam, which feeds the lake. There are several basins in and around Lake Mead, however, as of February 2015, most of these basins have remained try.
The river itself is beautiful, but it is also appointed with jagged mountain ranges and a scenic backdrop, especially around sunset. Within one of its basins, visitors gain access to the Boulder Basin, the River Mountains, and the Muddy Mountains. These rock formations give Lake Mead an almost ethereal feel. Lake Mead may be experiencing one of its more drastic droughts, but it is still a very active tourist attraction.
Activities in Lake Mead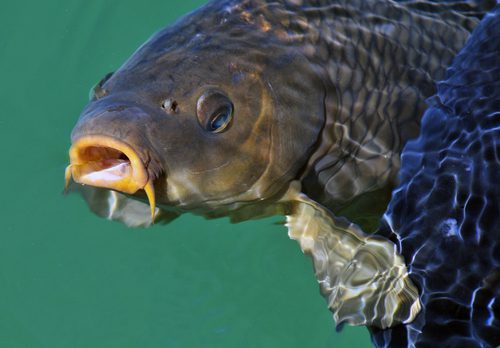 The Lake Mead National Recreation area has a number of water recreation activities in a picturesque setting. It is a perfect place for those who want to take out the kayak, or simply take a hike to experience the beauty of the lake and its surrounding areas.
There are also several picnic areas that are intentionally shaded with trees, with fire grills, tables, and restrooms located throughout the park. Lake Mead is surrounded by a desert, with paved roads winding through the desert scenery.
Hiking in the backcountry. Even though Lake Mead and the surrounding desert is large and expansive, civilization is never too far away as the park is covered with a network of backcountry roads that have been developed to provide easy access to the Lake's shoreline as well as different points of interest throughout the park.
Yellow signs stand throughout the roads, signaling their presence.
Since there are hundreds of miles of backcountry, it is impossible for rangers to be cognizant of the condition of each road. Make sure that you carry the appropriate communication devices and a spare change of tire. If driving to the lake, make sure that you do not go off-road. This is to preserve the delicate ecosystem and the desert's topsoil.
If you want to go camping, then make sure that it is done in approved sites. Your campsite must be about half a mile off of any designated routes and about 100 feet from any source of water.
Lake Mead attracts novice and expert campers, with campers being able to stay in the same campsite for a maximum of 15 days.
Boating at Lake Mead
Boating is one of the most popular activities that occur on Lake Mead. With almost 300 square miles of waterway, Lake Mead creates a relaxing boating experience in open waters.
Since it is so large, different boats of different sizes sail through Lake Mead.
If you want privacy, you can always pull up into a private cove. For boaters, it is important that you are cognizant of rules and conditions set forth by park rangers.
You need to have one life jacket per person on the boat, as well as a fire extinguisher if your boat is powered by combustion.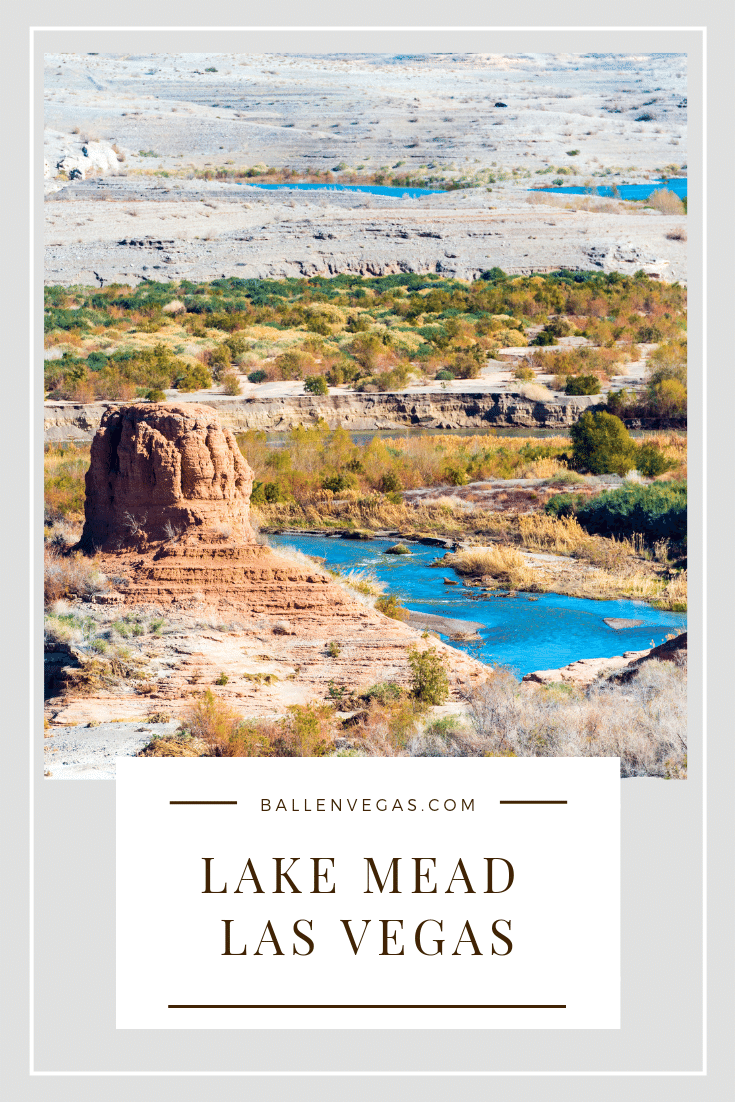 Camping at Lake Mead
There is a $20 camping fee per site upon occupying a campsite. You are allowed single site camping as well as group camping with 15 people maximum, per site. To make your experience more enjoyable, you can rent an RV with water, electric, and full sewage.
You are able to camp in more desolate, backcountry camping sites, as long as there are no "No Camping" signs. It's important that you tell a friend or a relative where you will be staying in Lake Mead if you are going to camp in the backcountry. Horseback riding is also allowed in the park and along the shoreline.
Lake Mead Boating Companies
On a mobile device? Turn your phone on it's sized (horizontal position) and see the list in a wide view.
Kayaking and canoeing at Lake Mead
For A more personal approach to Lake Mead, take a kayak through it. You can discover many of Lake Mead's hidden coves and rock formations that jut out of the receding shoreline. Black Canyon is a popular spot for those who are traversing through on the canoe.
The Official National Water Trail Is a distinctive national network of waterways, that offers a scenic view of Lake Mead's wildlife, rock features, and streams.
It's important to note that Lake Mead has recently been infected with an invasive mussel species. To ensure that you do not spread the mussels to other waters, make sure that you drain water from your motor, inspect your vessels or trailers for any visible muscles, and wash your equipment that has a rough or gritty surface.
If the underside of your kayak feels like there are shingles or tiny needles, then wash it with soapy water or a five percent bleach solution. This could be juvenile mussels that have adhered themselves to your boat. Do your part to ensure the health of Lake Mead.
Pets are welcome at Lake Mead
Just follow these rules. Make sure that your dog is on a leash at all times, ensuring that the leash does not exceed more than six feet in length. Yapping dogs are a nuisance and may be asked to be removed from the campgrounds.
Also, make sure that you do not leave your dog in a car. Summer temperatures in Lake Mead can be extremely high, with heat being concentrated by the enclosed car.
See All Homes for Sale in Boulder City, NV Today
Things to Do Around Lake Mead
Railroad Tunnels Trail.
There are remnants of a leftover railroad tunnel that is part of the River Mountain Trail. The 3.7-mile trail begins at Boulder Beach and will end up at the mouth of the Hoover Dam parking garage.
It is a relatively unassuming and flat tunnel. Walkthrough it and you will feel like you are walking into the past, into the age of steam locomotion.
Gold Strike Hot Springs.
Witness thermodynamics by visiting the hot springs around Lake Mead. There are a series of Hot Springs and hot pools near the National Recreation Area, just a bit south on US 93.
Anniversary Narrows
Running adjacent to Lake Mead, this six-mile hike allows you to traverse through the canyons fixed with steep walls on either side. You will be able to observe the different layers of sediment, enabling you to walk on a layer of soil and sediment that hasn't been exposed in millennia.
Floatels
The Echo Bay Marina houses several floatels – or hotels that float. They are intended for temporary stays right on the lake. If you are not built for outdoor camping and want to experience the outdoors with a bit of extravagance, then a floatel will offer all of the comforts of home, including a kitchen and air-conditioning.
Interesting Facts about Lake Mead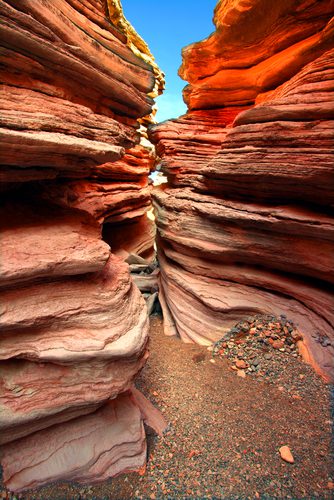 Near the Nevada and Arizona border. Lake Mead has the distinction of being one of the largest man-made lakes and reservoirs. Located just 20 miles from Los Angeles, Lake Mead cradles the border between Arizona and Nevada.
The Water and Sea World Comes from Lake Mead.
The water that is at the Disneyland in Anaheim California, as well as the Sea World in San Diego, all uses water from Lake Mead.
There is a heavy bomber at the bottom of the lake. In 1946, a four-engine bomber crashed into the lake. The plane remained unseen by human eyes for more than 50 years, with the plane being too deep for any salvage operation.
Enjoy Lake Mead While It Still Here.
Water Levels at Lake Mead
The water levels at Lake Mead are at the lowest since the 1930s. Years of drastic droughts have evaporated large areas of the lake, with whole basins completely disappearing. The water level has dropped more than 120 feet in the past 15 years. The northern area of Lake Mead, Overton Arm, has noticeably shrunk.
It is projected that the lake is in danger of completely drying up by 2021 – so visit Lake Mead while is still around.
More Things To Do in Las Vegas