Lori Ballen, the owner of this website, benefits from purchases made through her affiliate links.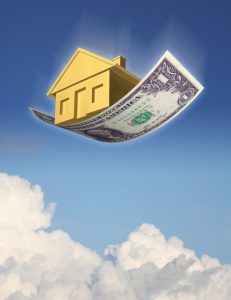 The Las Vegas real estate market shows a recent considerable decrease in the cash sale of homes. Yet, even with less cash buyers this is still a great time to sell or to buy a home in the area, according to current Las Vegas real estate trends.
The good news is that fewer cash purchases may be representative of the fact that of the homes purchased, fewer are being purchased by "flippers." This is likely helping with balancing the market, as many flippers and investors have left town, likely due to rising home prices and competition. What this means is that more homes are being purchased by those who actually live in the Las Vegas home they purchase, as owner-occupants.
It was just a few years ago that more than fifty percent of all homes purchased in the Vegas market were purchased by cash buyers, making purchasing a home in the Las Vegas area difficult for many buyers looking to actually live in the home, such as first-time buyers or families. While the number of cash buyers is decreasing, they still exist, with sellers often tempted by the offer of cash dangling in front of them. Cash has great appeal of course, but if the buyer is looking to use your home as an investment, to "flip" it, that cash offer may come at a deep discount over your asking price. Investors looking to rid themselves of your cherished home not long after purchasing it from you may not be as concerned as you are that your treasured home be given the same care you have given it. Weigh your options carefully before considering a cash offer. Selling your home now, to someone with a mortgage gives the seller the opportunity to get out of the property at a better price.
Higher home prices may seem like it is bad news to prospective buyers, but rising Las Vegas home prices is actually good for buyers. As Las Vegas real estate continues on its trend towards a balanced market, increased prices for homes in the area means that with fewer cash buyers, families and others who intend to reside in the home as owner-occupants will have more options available to them. The opportunity to purchase a Las Vegas home after obtaining a mortgage means that buyers will have more say in where they want to live, now that there are fewer investors grabbing up homes in the area.
This right amount of balance is a great win-win situation for sellers and for buyers. With less cash sales to investors or flippers, fewer foreclosures, higher prices and an increase in the number of buyers who really want to live in the home they purchase, the future only looks bright for the Las Vegas real estate market.
Click on the price or feature of the Real Estate You would like to see. You'll be taken to a page of MLS listings just as you requested. When you see something you like, Call 1-800-805-8354.
Check out these great Las Vegas Properties that were Just listed in the Homes For Sale Database.

Call 702.604.7739 to Buy or Sell Real Estate in Las Vegas, Henderson, North Las Vegas, or Reno, Nevada. We also have real estate parters around the globe! Let us know what you need and where, and we can make the connection.
Wondering how much Your Home Value is? Use our 15 Second House Value Estimator!