Lori Ballen, the owner of this website, benefits from purchases made through her affiliate links.
If you are wondering where or how to get married in Las Vegas, this website is for you. We have many wedding chapels to choose from including drive-through chapels, hotel chapels, off the strip and on strip chapels like Little Vegas Wedding Chapel.
Video Tour
Location
The chapel is on the Las Vegas Strip on Las Vegas Blvd. and Sahara.
2207 Las Vegas Blvd South
Las Vegas, NV 89104
Phone: 702-757-4530
Packages
You can book directly with the wedding chapel, through Groupon, Viator packages or other offers. You can spend as low as a few hundred to the $777 package offered by the chapel.
Little Vegas Wedding
Here's your opportunity to tie the knot or renew your vows with this Little Vegas Wedding package. [Buy this package through Viator and save plus add Rakuten (formally Ebates) and get 5% Cash Back!
With this package, you'll get:
A Wedding Photographer with photo opportunities before, during and after the ceremony with 5 digital images of your choice
Silk Boutonniere [Shop for Silk Boutonniere's on Amazon]
Officiated Marriage License
Ceremony for marriage or renewing your vows
Wedding Music
Silk Bridal Boquet
If requested, a witness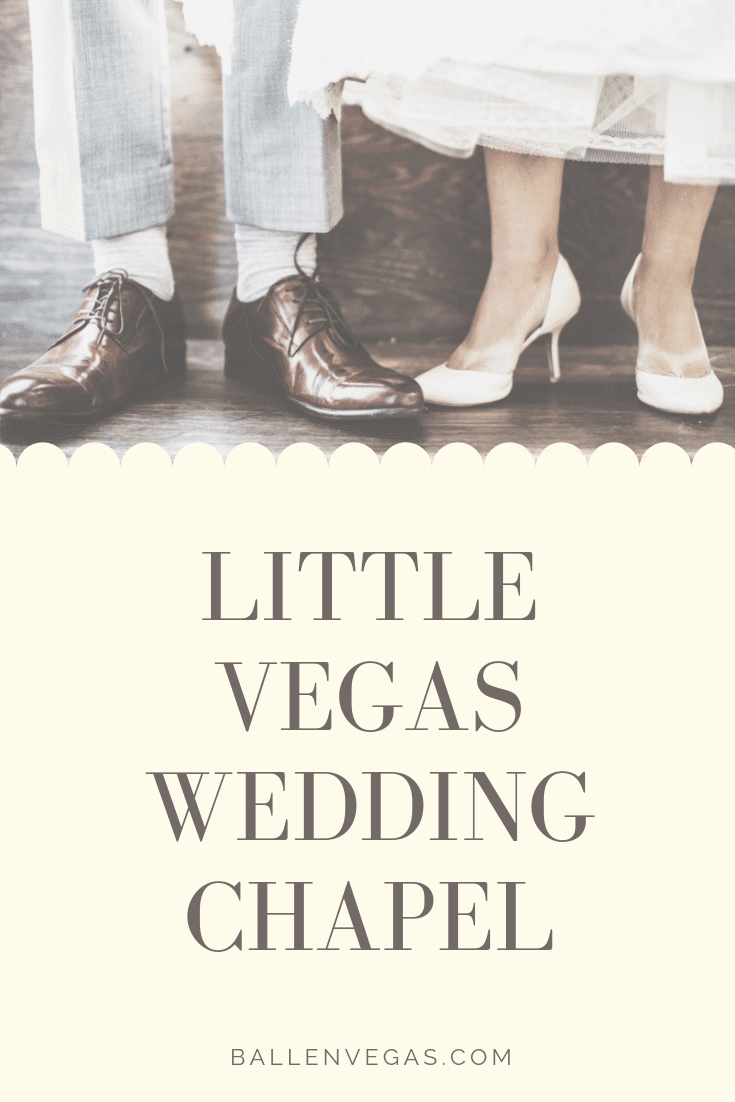 The Little Vegas Chapel including Limousine Transportation
This package includes a limousine pick up at your hotel, trip to the Little Vegas wedding chapel and then back to your hotel.
You'll receive a fresh 6 rose bridal bouquet and fresh rose groom's boutonniere as well as a photo shoot.
You'll take home your choice of 15 digital prints as well as a wedding video.
Receive your officiated wedding license.
Enjoy a Unity Candle ceremony with traditional wedding music.
Elvis Weddings at The Little Vegas Chapel
If you are craving a traditional Elvis wedding, this package is for you. Enjoy Elvis music, and Elvis Impersenator, as well as Elvis themed vows.
Includes:
A grooms silk boutenierre
Your officiated marriage license or certificate of ceremony
Silk bridal boquet
Elvis performed vows
Professional photography including 5 digital images.
Songs by Elvis Impersonator
Witness if needed
Elvis Wedding + Limousine Transportation
Combine Las Vegas, your wedding ceremony, limosouine service, and Elvis with this Little Vegas Chapel package from Viator.
Includes:
Photo shoot with 15 digital images
Fresh 6 Rose bridal Bouqet
Elvis performed ceremony
Songs sung by Elvis impersonator
Fresh rose groom's boutonniere
Officiated marriage license
Video
Limosouine Pick up from Hotel and Drop off after ceremony
Witness if needed
?You might appreciate offers by Groupon for Little Vegas Wedding Chapel. You can add your Rakuten cash backs as well.