Lori Ballen, the owner of this website, benefits from purchases made through her affiliate links.
Cowabunga Bay Water Park in Nevada attracts thousands of people at any given time, drawing kids and adults from all over. Like any vacation, a bit of planning will ensure a positive experience. And if you are local, be sure to grab the Groupon too!
Planning A Visit
The park is open during the summer months, with season passes being an affordable option. All admissions include access to the slides and other water parks within Cowabunga.
A season pass will provide you with unlimited admission to the park every day of the posted season. You'll have the option to save even more since discounts and specials are run regularly for season pass holders.
Children under the age of 2 are admitted to the water park for free. Children do not need a season pass as well to be admitted.
Those under the age of 12 are required to be transported by an adult at all times.
Cowabunga Bay Water Park wants everyone to have a good time, and that means proper attire. Attire rules apply to anyone admitted to the park, regardless of age or type of admittance ticket
Appropriate swimwear is required, including no provocative clothing, denim, or cut-off shorts. If you are going to use one of the mat or tube rides, then it is essential that your clothing is free from dangling jewelry or baggy garments.
For those interested in lodging in Cowabunga Bay Water Park, then one of our three lodging facilities offer the customer service that you expect from a premier water park. Sunset Station, Fiesta, and Green Valley Ranch are the official lodging areas of the park, providing rooms for those who are staying in the park for an extended stay.
Tickets and Passes
You'll be able to secure tickets and season passes via an online portal. Season passes are viable for those who live in Nevada and are planning to visit several times throughout operating months, while tickets are viable for visitors to the state.
*Prices subject to change
Season passes range from $300 for a family of 3, to $705 for a family of 8. Pricing is subject to change; for the latest pricing, check Cowabunga Water Park's pricing page.
Things To Do In Cowabunga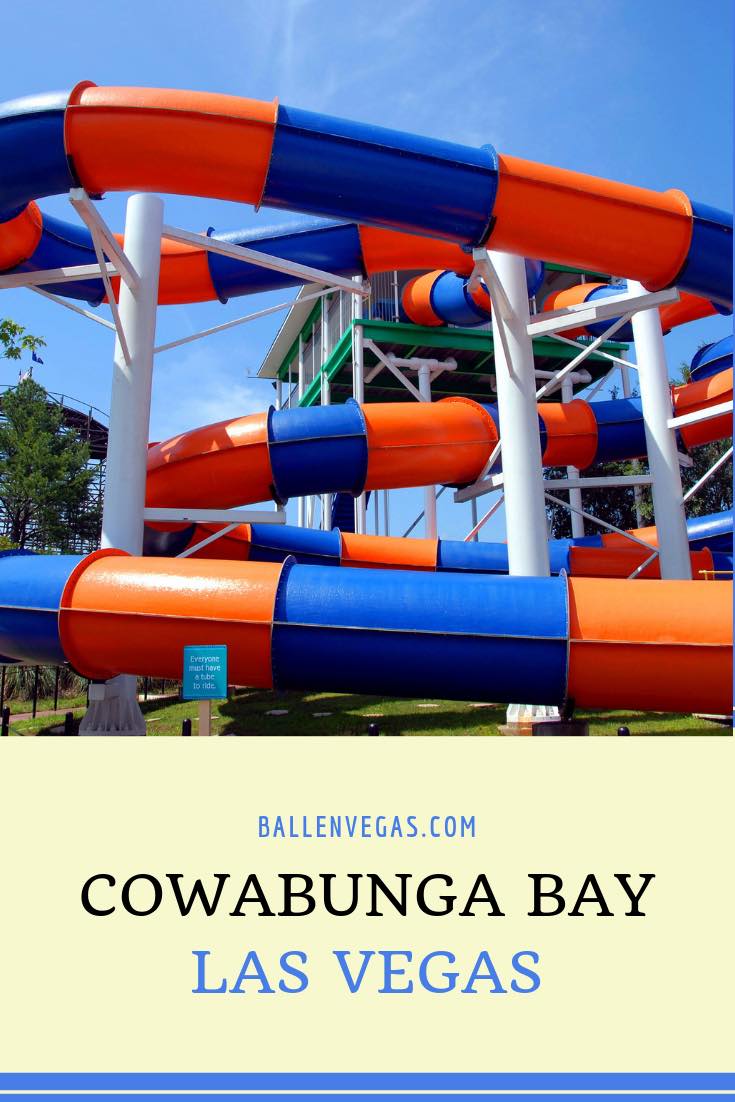 Cowabunga Water Park is heralded for its water slides, children's attractions, food, and shopping opportunities. There is a bit of everything for everyone – as long as you're okay getting a bit wet during the process.
Cowabunga Water Park provides one of the best water parks in the Nevada region, including the popular Beach Blanket Banzai, Breaker 1-9, Point Panic, and many more. These water slides and parks have their own unique feature and overall theme.
Thankfully, with a season pass, you'll be able to enjoy each of the eight water parks in their entirety.
Cabanas
For adults and family looking for a bit of respite, then you'll be glad to use one of Cowabunga's cabanas. VIP cabanas allow you to momentarily disconnect from the daily activities, events, and water parks, giving you the opportunity to relax.
Caban-A-Ram provides deluxe 10′ x 10′ shaded cabanas, fixed with fans, comfortable patio chairs, and a mini-fridge. Lounge Cabana's are a bit more casual, with all cabanas having access to a leisure pool.
Things To Do in Vegas