Lori Ballen, the owner of this website, benefits from purchases made through her affiliate links.
House hunting can indeed be a daunting experience. In this day and age, some buyers prefer to take matters into their own hands in order to retain control in the buying process, and this usually means looking at homes only available from the sellers with no broker involved, also known as "FSBOs".
This type of purchase, as with everything else, has its pros and cons. Whether you are a first-time buyer or an experienced multi-property purchaser, there are still points to be considered when thinking about FSBOs (For Sale By Owner).
Most homeowners who choose to sell their own home are doing it solely to save the commission for less closing costs and not get tied to one agency for a contract period. This means the home should be less expensive than if a broker had the listing to sell it.
But that is not always the case.
Comps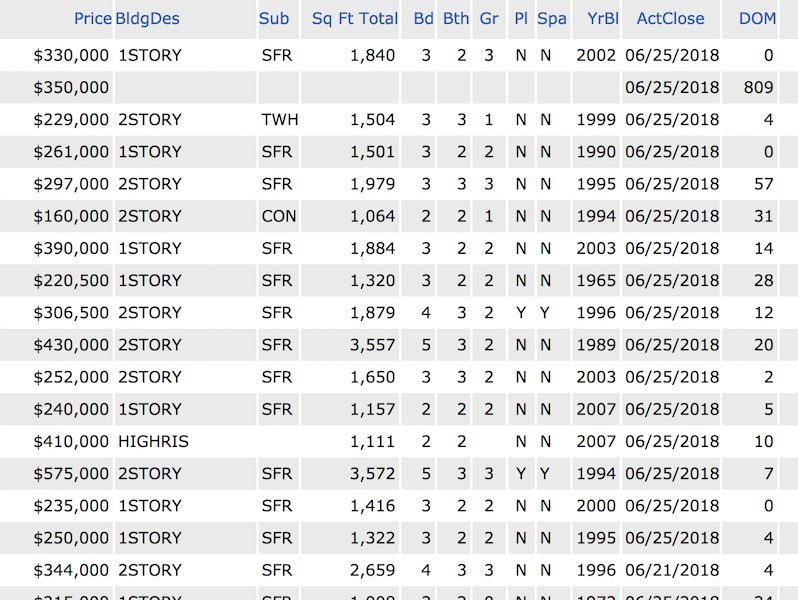 The homeowner has no way of doing proper "comps" (comparable sales in the area).
Their suggested sale price might be way out of wack – and you, the buyer, might not even realize it.
A real estate agent can help pull current listings and recently sold properties to help dictate the true market value of the home.
Click here to view the current Las Vegas Real Estate Market report.
Showings
Unlike having an agent schedule a showing while the owners are out, the homeowners will be there to show you around and hover over you. The home most likely will not be properly staged or de-cluttered.
It is quite difficult to ignore all these distractions, not to mention that all this clutter could be hiding some significant damage or imperfections.
Ugly furniture, strange odors and dirty dishes in the sink can easily deter most buyers away from seriously considering what could be the perfect home, if it had been properly staged for presentation.
Disclosure Statement
Most states have a requirement that the seller fill out a Disclosure Statement (real property disclosure), listing all known defects or factors that might affect the sale.
(Some states even have laws that force you to
disclose deaths in the house,
murders in the neighborhood, and even ghosts on the property – Not Nevada though).
The problem is that most FSBO sellers don't realize this, and most first time buyers don't know it either. Without this information up front, you could easily be stuck purchasing a property you never would have even considered.
Purchase Agreement
It is up to the seller to have these agreements ready to present to the prospective buyer. Unfortunately, for many first time sellers, they don't realize this. What to do? Bring your own!
They are readily available online and in major office supply stores.
Don't be pressured into signing anything until you completely understand and agree to what you are signing. It's a good idea to review it, make revisions as necessary (yes, you can make changes), and then bring it back to the sellers to further discuss.
Remember – if they sign first, you can't make any edits after that.
Deposits
This is not your down payment to the bank. This is a check that holds the property during negotiations. Some sellers want this, others don't. If you are asked for a deposit, make certain you know where the money will be held.
The sellers cannot deposit this money until the P&S has been fully executed.
Final Walk Through
This is critical. Most likely you fell in love with a house that was still cluttered with furniture and wall hangings. Once the sellers clean out the house as they move, it is vital that you get to see the house empty.
Make sure that you have previously stipulated in the P&S that the deal needs to be revisited if you find issues with the house such as wall damage, badly soiled carpeting, leaky plumbing, etc..
Inspection
Always schedule a complete home inspection. This should include everything from a roof inspection to mold, to pests. A licensed home inspector will check everything to make sure it's up to code as well.
At this point in the purchase process, you have the right to either back out of the deal or negotiate repair costs before proceeding.
Keep in mind that standard wording in the purchase agreement always states the house is being sold "as is".
That doesn't mean you are forced to buy it "as is"!
Appraisal
A savvy seller will have already had an appraisal done by a licensed appraiser, but this is rare. This shows that the house has been priced in accordance with the appraisal. It's usually very similar to whatever comps a real estate agent would provide to you.
It also helps the seller from wasting time by taking the house off the market for the wrong buyer.
What does this mean?
It means that once an offer is accepted and the buyer has his mortgage company perform their own mandatory appraisal, it could easily come back below the sale price agreed to.
For instance, if your Purchase contract has an agreed upon price of $200,00, but the appraisal comes back at $185,000, that means that's all the bank will lend you (minus your down payment).
In other words, you need to come up with the difference if you want to proceed with the purchase. However, when the seller has already done the appraisal, you know exactly what to expect once you apply for your mortgage. No surprises for you or the seller!
Is It Worth It?
Is it worth dealing with FSBOs to find your dream home? It could be – as long as you know exactly what you're getting into. If you are prepared, do your research, learn the ins and outs of doing the deal, and follow all the advice above, you should be fine.
Lori Ballen Team
When you choose Lori Ballen Team to represent you in your purchase, there is typically no real estate agent fee to you. Provided you choose a home with the seller (even new construction) offers a full commission to the buyer's agent.
This allows you to have an agent that is representing your interests, expanding your selection of properties, and helping educate you on appropriate market value to make an educated decision on price.
Lori Ballen Team managers the offer, counter-offers, contracts to close, inspections, negotiations for repairs, and is present for the final walk through and closing.
Call 702-604-7739 to speak with a specialist today.