Lori Ballen, the owner of this website, benefits from purchases made through her affiliate links.
The Big Apple Coaster at the New York-New York Hotel & Casino has towered above the Las Vegas Strip since the late 1990s. After strapping into one of the coaster's four cars, riders are sent on a three-minute escapade of 67-mph twists, loops and drops. In fact, the coaster's biggest drop sends riders on a 144-foot plunge back towards the strip.
Click to See Just Listed Homes with a Map!
The coaster was already popular among tourists, but recent renovations are expected to allure thrill-seekers who appreciate a more technical marvel. Now using virtual reality, the Big Apple Coaster puts riders in the middle of a digital alien chase through the desert.
For an additional $5, riders can experience a 3D desert vista populated by spaceships, helicopters and an animated alien. With the most advanced technology in virtual reality today, each rider's viewpoint is based on the direction of their own headset.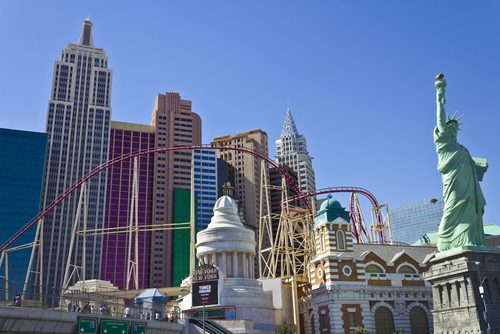 The headset boasts a "Hybrid VR" graphics system that outputs 4K resolution at 60 frames per second. These are the maximum graphics that high-end personal VR headsets are capable of today. Enjoying visuals of this quality through a headset, while on a roller coaster, is impressive in itself.
After soaring through the Nevada desert, riders wearing VR headsets will chase the alien through a digital version of the Las Vegas Strip. Even in its neon glory, the real strip pales in comparison to this VR re-imagining.
The traditional riding experience is still available for those looking to avoid the virtual reality experience, but early riders are touting the renovated Big Apple as a trailblazer for roller coasters across the country. Adding VR to the coaster's loops and drops has proven a major success for New York-New York, and other coasters are expected to follow suit.
As always, the Big Apple Coaster is open to those who are at least 54-inches tall. On the other hand, virtual reality headsets are available to riders who are at least 13-years old. The ride's VR experience puts riders in the perspective of a scientist chasing an escaped experiment, and the content is deemed PG-13.
When combined, roller coasters and virtual reality create a "mega" thrill that can't be replicated anywhere else. The turbulence of a 67-mph coaster was already thrilling enough, but the glorious 4K alien chase adds new meaning to the thrills. The Big Apple Coaster at the New York-New York Hotel & Casino is one of the first of its kind, and it certainly won't be the last.
Posts not found