Lori Ballen, the owner of this website, benefits from purchases made through her affiliate links.
Selling your home takes a lot of time and hard work, especially if you want to make sure you get the absolute best value for your home. Oftentimes, homeowners end up doing a bunch of repairs in the hopes of increasing the appraisal amount on their property.
Appraisals are more important than you might even realize. The appraisal amount can determine whether a bank will finance a loan or not. Because of this, you want to do everything you can to boost the value of your home so you don't lose out on a sale because the property didn't appraise for enough.

People often have different ideas in terms of what they think is going to boost the appraisal amount for their property. While some things are more obvious such as upgrading the siding or cleaning up the yard, other things remain a mystery to some. One of those things is whether upgrading the carpet is going to increase the appraisal value or not. In reality, the answer isn't as simple as you might think.
For example, you have to think about what type of flooring was in the home already. If you are thinking about tearing out hardwood floors and putting in new carpeting, you could end up costing yourself money. Hardwood floors are viewed as a luxury item and often cost more to install. As such, that means that you should do whatever you can to try to preserve the hardwood and spruce it up a bit. While new carpeting might look nice, hardwood floors will always do more for your resale value than what carpeting will.
Popular on this topic as well is: Are your Neighbors Affecting your Home Sale?
In the event that your existing carpeting is worn, tattered and stained, you might want to consider going with new carpeting. When an appraiser walks into the home and takes a look around, they are looking for things like decent carpeting, clean walls, well-kept yard and so on.
Even though you might be moving soon, you are far better off investing in new carpeting than you are letting the carpeting stay in its current state. Not only does it give off the impression that you care about your home, but it also appeals to potential buyers.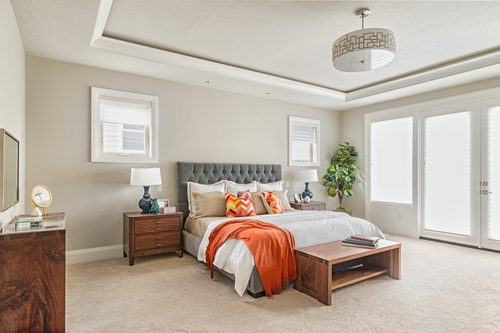 You might also like: What is an Appraisal?

When a buyer walks into the home and sees everything neat and tidy, they are going to be more interested in putting in an offer than what they would if your home was disheveled and the carpeting was torn and stained everywhere. However, you want to make sure that you are choosing a neutral color that is going to look nice with almost everything in the house and for those looking to purchase.
On average, some report that for every $1 you spend, about 20-25 cents goes into the actual upgrade, while the other 75-80 cents comes back as an increase to your home's value. To help make sure your home gets the maximum return and yields the highest appraisal amount, consider some of the following flooring options:
Others have read: A Seller's Guide to Negotiations and Counter Offers when Selling a House
54 percent of all buyers said they were willing to pay more for a home with hardwood floors than one with carpeting, not to mention the price point for both options is fairly comparable.
Tile floors are often the preferred alternative to laminate flooring. By going with a tile flooring, you could boost the value of your home by $5-10k easily.
While new carpeting might not be the best way to boost the appraisal value of your home, it can definitely help under the right circumstances. Take a step back and think about what the state of the current flooring is before making the decision to replace it with new carpeting. In doing so, you can make an informed decision and make sure you get the maximum appraisal amount for your property.
Wondering what your home might sell for today?
Get an Instant Home Value Estimate Online now using our home value calculator.