Click here to get a map of the ALL our best locations for holiday light displays and shows in Las Vegas & Henderson, NV!

One of the best ways to brighten up the holiday season is to attend one of the best holiday light shows in Las Vegas or Henderson. Las Vegas is a city of lights every day of the year, but residents pull out all the stops when it comes to celebrating the winter holidays.
NOTE: Click each of the location titles to see a video of their show or display, get contact information, and more details!
Can you imagine how long it takes to string up over three million holiday lights? The people at Las Vegas Motor Speedway do this every year along a 2.5 mile length of road. The incredible lights display is produced by Winterland, Inc., a company with over twenty years of experience building holiday decorations.
People are already counting down the days for this event to begin! The gates will open on November 13, 2015. The drive-thru light show will remain active until January 3, 2016. They plan to be open Sunday – Thursday from 5:30 PM – 9 PM and Friday, Saturday, and Holidays from 5:30 PM – 10 PM.
What's different about this holiday light event is that you walk through it at your own pace. This creates an enchanting experience for people of all ages. There's just something so magical about seeing the colorful lights that makes your heart a bit lighter.
The regular, nightly light events begin on November 11th and go on until January 1st. They are open nightly from 5 PM – 10 PM most nights. Special hours include Thanksgiving from 4 PM – 10 PM; Christmas Eve from 8:30 AM – 8:30 PM; New Year's Eve from 8:30 AM – 6 PM. Please note that the event is closed on Christmas Day.
You will love this wonderful Christmas wonderland that is filled with endless entertainment and cheer ensuring you celebrate the holiday season in style. Immerse yourself in the festive fun by strolling the grounds and watching the dazzling light displays.
The Magical Forest opens on November 20, 2015 and remains open until January 3, 2016. They are open Sunday – Thursday from 5:30 PM – 9 PM and Friday – Saturday from 5:30 PM – 10 PM. The Magical Forest is located at 6300 W. Oakey Blvd. in Las Vegas, NV. This address is in the 89146 zip code area.
The holiday spirit is set in motion once you see the magical House on Robindale where the owner, Marc Savard and his family go all out to celebrate with their own amazing lights event.
The enchanting music is synchronized to the spectacular Christmas light show. The 85,000 twinkling lights on the home fit the theme of the music, and you can watch from the comfort of your car while listening to a local radio station playing holiday tunes. The simple yet incredible Christmas light spectacular display has caught the public's attention in the past years and is a favorite for many.
If you're seeking a stunning, indoor Christmas light display, you'll want to add this one to your calendar. Bellagio's winter display is a must see event each year. They feature a giant holiday tree that is brilliantly lit with 7,000 white LED lights and 2,500 ornaments. It provides the perfect opportunity to indulge in one of the most captivating moments of the holiday season.
They are located at 3600 S. Las Vegas Blvd. in Las Vegas, NV. This address is in the 89109 zip code area. Admission to the Winter Holiday event is free to the general public. The display opens December 3, 2015 and continues until January 2, 2016.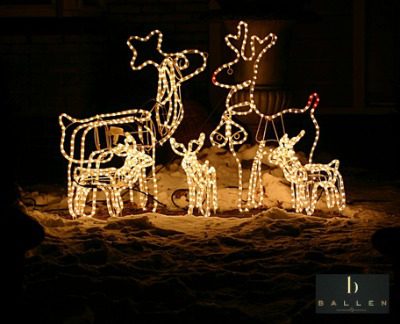 The Ballen Group is looking forward to adding even more incredible holiday lights events to this page for the 2015 season. We wish you a safe and joy filled holiday season that is full of laughter and many magical adventures. Remember us for all your real estate needs. Give us a call at 800-805-8354.