Lori Ballen, the owner of this website, benefits from purchases made through her affiliate links.
Whether you are a first-time home buyer, a homeowner thinking about selling, or a would-be investor, the health of the real estate market matters. Here are 6 Key Real Estate Market Numbers to Watch For.
If you are a first-time home buyer, a sudden tip in the Las Vegas real estate market could push more properties into your price range and help you get more for your down payment.
If you are a seller, an increase in the number of buyers could drive up the price of your own home. And if you are a real estate investor, a sudden shift in the real estate market could cause the value of your investment portfolio to balloon – or to plummet.
So how do you gauge the relative strength of the real estate market, and what are the key factors you should be looking for? You do not have to be an economist to untangle the various metrics, just a keen observer.
Here are six key real estate market trends you need to be aware of.
#1. Trends in Interest Rates
Changes in the level of interest rates will obviously have an impact on the real estate market. The number of cash buyers may be on the rise, but it is still only a tiny portion of those who purchase a property.
For most people, buying a home will mean taking on a mortgage, a multi-decade commitment that will be greatly impacted by the prevailing level of interest rates.
When interest rates rise, the real estate market is negatively impacted, with many would-be buyers holding off for a better time to buy.
Falling rates means more affordable mortgages, and that is good news for both first-time and repeat home buyers.
#2. The Number of Building Permits
The first step on the road to a new home sale is the building permit, and that makes this a key metric to watch.
A sudden drop in the number of building permits could spell trouble for the housing market, while a fast rise could mean a boom is just over the horizon.
It is important to note that the building permit number can be impacted by factors outside the real estate market, things like weather conditions and local regulations.
It is important to weigh the building permit number as part of an overall package of indicators, instead of as a standalone factor.
NEW HOME PERMITS:
926 Feb 2018
819 Jan 2018
680 Dec 2017
738 Nov 2017
735 Oct 2017
653 Sep 2017
853 Aug 2017
842 Jul 2017
1005 Jun 2017
968 May 2017
828 Apr 2017
911 Mar 2017
#3. Existing Home Sales
The vast majority of home sales are existing properties, so the existing home sales figure is a key number to watch. While the number of newly constructed homes is important as well, it is important to understand the smaller size of this figure.
A sudden spike in the number of existing home sales in a given month could indicate real strength for the real estate market, while a sudden drop could mean trouble ahead.
To gauge the relative strength of the market, economists and others also look at the year-over-year trends, comparing, for instance, existing home sales in March 2018 to those of March 2017 and so on.
Total Number of Single Family Residential Sales in Clark County, NV
| Month | Sales, Number of |
| --- | --- |
| Jan | 2,266 |
| Feb | 2,134 |
| Mar | 3,166 |
| Apr | 2,882 |
| May | 3,146 |
#4. Average Selling Prices
If you are planning to put your home on the market, you want to get the best price you can. If you are looking to buy, you want to pay as little as possible. Either way, the average selling price of homes in your area is a key metric to watch.
An increase in average selling prices typically means the local
housing market
is strengthening, while a lower average selling price could mean a deterioration, at least in the local marketplace.
All real estate is local, but this metric has a greater local bias than others.
Clark County Single Family Residential Sales | Median Home Prices Jan 1 – June 13, 2018
| Month | Sale Price, Median |
| --- | --- |
| Jan | $265,000 |
| Feb | $275,000 |
| Mar | $280,000 |
| Apr | $289,560 |
| May | $295,000 |
| Jun | $290,000 |
#5. Time on Market
Average time on market is an often underappreciated real estate metric, but it is an important one nonetheless.
For home sellers, a rise in the average time on the market could mean trouble ahead, causing disruptions in their lives and forcing them to delay their moving plans.
For first-time and repeat home buyers, a rise in the time on market number could be good news.
Sellers whose homes have sat on the market for months on end may be more willing to negotiate, offering help with closing costs, slashing asking prices and providing would-be buyers with other important incentives. Either way, this is a key metric and one that definitely bears watching.
#6. Foreclosure Rates
The foreclosure rate tends to be a leading indicator, one that forecasts future trends in the real estate market. A rise in the number of delinquent homeowners and foreclosure rates could signal a recession ahead, and that could mean a collapse in the housing market.
A rising number of foreclosures also has a dampening effect on home prices generally, even for properties that are current in their payments.
That could spell trouble for homeowners planning to sell, but it is generally good news for buyers.
The real estate market can be a complicated place, with lots of moving parts and shifting statistics at every turn. Even so, knowing what to look for, and what the trend lines mean, is critically important.
By taking the long view, buyers, sellers and investors can educate themselves, get the most for their money and make wise choices in a sometimes difficult environment.
Contact Lori Ballen Team, Las Vegas Real Estate Agents for help navigating the market.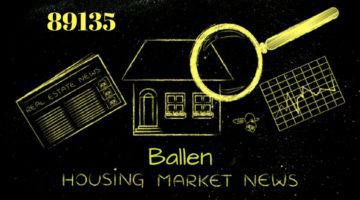 89135 is a zip code in Las Vegas primarily inside the master-planned community known as Summerlin. Here's what's happening in regards to 89135 home values and real estate.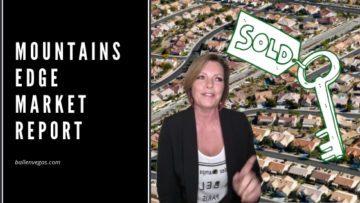 In April 2019, the average price per square foot of a home listed in the MLS in Mountains Edge was $129. For a quick "do it yourself" market value, take your square footage and multiply it by $129. The rest of the Las Vegas real estate market had an average of $133 per square foot for April.