Movie Theaters in Las Vegas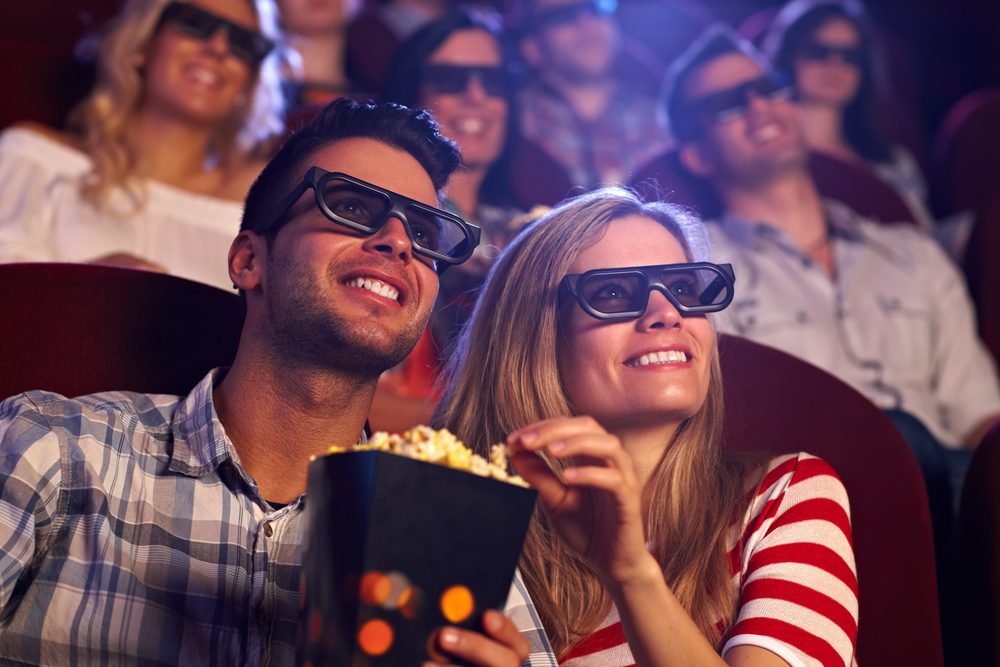 There is a vast array of entertainment options in Las Vegas. Going to the movies can be a good change of pace. A relaxing getaway from the gaming and slot machines at casinos, or just a break from sight seeing or everyday life. Not to mention the air conditioning in movies theaters can be a relief especially on those extremely hot summer days. There are many cinemas right downtown and most have easy access.
Movie theaters are popular with locals and tourists alike. There's just something about the bright lights and billboards that brings its own brand of excitement. Not to mention the enticing smell of fresh popcorn! There are several movie theaters in Las Vegas. They have come a long way from the first time a moving picture was shown at the Overland Hotel in 1911(that hotel was destroyed later that year in a fire). Some theaters boast stadium seating and game rooms, many have digital projection. You are able to purchase your tickets online, or on the phone in some locations. Almost all are wheelchair accessible. And Galaxy Green valley among others serves beer and wine. Some casinos have movie theaters on site but if you want to avoid that scene, especially with the kids there are many other options.
Here are a few of the most popular movie theaters:
1, Galaxy Green Valley Luxury Theater; 4500E Sunset Rd. Unit 10 Henderson NV 89014, 1-702-442-0244, www.galaxytheatres.com/galaxygreenvalley
2, AMC Rainbow Promenade 10; 2321 North Rainbow Boulevard, Las Vegas, NV 8908, 1- 888-262-4386, Reserved seating, www.amctheatres.com
3, Brendan Theatres and Imax at The Palms; 4321 Flamingo Rd. Las Vegas, NV 89103, 1-702-507-4849. www.brendantheatres.com
4, Century Orleans 18 Movie Theater @ Orleans Casino; 4500 Tropicana Ave. Las Vegas NV 89103, 1-702- 365-7111, www.orleanscasino.com
5, Regal Village Square Station 18; 9400 W. Sahara Ave. Las Vegas NV 89117, 1-702-8380490, www.regmovies.com
6, United Artists Showcase Theatre; 9 Las Vegas NV 89109, 1-702-740-4511, www.regmovies.com
7, West Wind Las Vegas Drive-in; 4150 W. Carey Ave. North Las Vegas, NV 89032, 1-702-646-3565, www.westwinddriveins.com
8, Galaxy Cannery 16; 2121 E Craig Rd. North Las Vegas NV 8903, 1-702-639-0363, www.galaxytheatres.com
9, Century 16 Santa Fe Station; 4949 N Ranch Dr. Las Vegas NV 89130, 1-702-655-8178, www.cinemark.com
10, Regal Red Rock Stadium 16 and IMax; 1101 West Charleston Blvd. ( 215 & Charleston ), Las Vegas NV 89135, 1-702-233-6948, www.regmovies.com
11, Regal Colonade Stadium 14; 8880 Eastern Ave. Las Vegas NV 89123, 1-702-948-2903, www.regmovies.com
12, Century 16 Suncoast; 9090 Alta Dr. Las Vegas NV 89144, 1-702-869-1880. www.suncoastcasino.com
13, Regal Aliante Stadium 16 & Imax; 7300 Aliante PWY North, Las Vega NV, 1-844-462-7342, www.regmovies.com
14, AMC Town Square 18; 6587 Las Vegas Blvd S LasVegas NV 89119, 1-888-262-4386, www.amctheatres.com
15, South Point Movie Theatre, South Point Casino; 9777 Las Vegas Blvd. Las Vegas NV 89183, 1-702-260-4061, www.cinemark.com
16, Tropicana Cinemas; 3330 E Tropicana Ave. Las Vegas NV. 1-702-438-3456, www.regencymovies.com For a more economical movie experience, showing second run movies. With discounts on Tuesdays.
17, Downtown Summerlin 5 Theater; 2070 Park Center Dr. Las Vegas NV 89135, 1-844-462-7342 www.regmovies.com. reserve online