Lori Ballen, the owner of this website, benefits from purchases made through her affiliate links.
About Green Valley
Green Valley is located in the Henderson, Nevada. It is an exclusive neighborhood and the first master-planned community of its type in the Southern Nevada. Green Valley Master Community covers an acreage of 8,400 which is approximately 34km squared. In 2013, statistics showed Green Valley with a populace 4, 830 per square mile.
Green Valley experiences an average of 292 sunny days per annum, and the snowfall is recorded at one inch. In this beautiful place, the temperature ranges from a high of 104 degrees in July and a low of 31 degrees in January. The humidity is recorded at a comfortable 59 out of 100.
Green Valley Ranch started construction in 1994. Also, it is an enclave integrated into upscale Green Valley Master Community. Green Valley Ranch is noted for its numerous amenities.
Homes for Sale in Green Valley
Green Valley Schools
Green Valley neighborhood has a well-developed school system. Clark County School District, the 5th largest school district in U.S.A, upholds Green Valley High School as a recognized high school serving the community.
Besides this, Green Valley neighborhood prides itself as the home of Greenspun Junior High School, Thurman White Middle School, Bob Miller Middle School and Cowan Behavior Junior/ Senior High School.  Green Valley hosts a large number of elementary schools.
Residents of Green Valley Ranch, have Coronado High School in Henderson and impressive elementary schools.
The District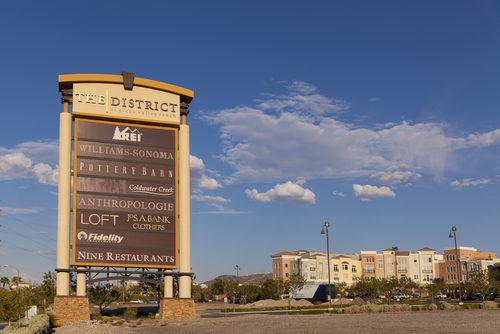 At Green Valley Ranch, which is strategically located in the core of Green Valley, is the heartbeat for numerous activities. Here the community is metropolitan; everybody fits in. Green Valley Ranch is well known for its fabulous shopping facilities, and numerous shops are spotting the latest trends in fashions.
That's not all; some stores specialize in home furniture and accessories while others provide residents with fascinating art and all kind of jewelry.
The main street in The District has beautiful trees lining its length. More so, residents enjoy walking among the trees or reading a book under the shade or even a picnic–an ideal place for adults and children alike. Apart from this, The District has a beautiful central park crowning its peaceful ambiance, and it isn't the only park.
The District is the one place that brings the community together. Not to mention the wide range of restaurants offering different cuisines for dining or a cup of coffee. The District provides Green Valley residents with entertainment spots and hosts special events. Great concerts and never-ending shows.
The District's urban environment has also contributed to its standing out as a place for residential occupancy as well as being ideal for office space.
Green Valley Transportation
In Green Valley, most of the residents opt for self-drive. However, there is the carpooling which many people use. Further, there is the option of walking or use of public transportation. There are shuttles, double decker buses, and monorails.
In regards to commuting to work the range of time spent ranks from 5 to 20 minutes depending on location and preferred mode of transportation. Also, a percentage of residents work from home.
The bottom line is the transportation system works.
Green Valley is a great place to live. Besides, there is no shortage of social amenities. Also, the weather is pleasant, and the livability of an area such as Green Valley Ranch is ranked at number one in Henderson, NV.