Lori Ballen, the owner of this website, benefits from purchases made through her affiliate links.
Our hearts are so saddened by Las Vegas shooting near the Mandalay Bay on October 1, 2017. It's reported to be the worst mass shooting in modern American history.
The President in Vegas
The President at UMC

President Trump at LVMPD

As we update this blog, we welcome all requests for help and additional information to post. Please email us directly.
Flags are flying at half-staff at City Hall ?? #lasvegasshooting pic.twitter.com/gIVQVxV9T0

— City of Las Vegas (@CityOfLasVegas) October 2, 2017
It happened as Jason Aldean performed at the Route 91 Harvest Festival. As country music fans were watching the performance, a gunman opened fire killing a reported 58 dead (+ himself) and injuring 489.
A gunman had taken position in a room in the Mandalay bay and opened fire. Reports say he had dozens of rifles, shotguns and pistols.
Although we don't feel his name or picture should be made more famous than it already is, we will say he was a Mesquite resident with unknown motives as of last report.
News channels report that the man killed himself before they entered the hotel room.
?Latest Updates
10-4: 5:00 PM
Update from the Las Vegas Metropolitan Police Department.
->There were 489 Injuries, 317 discharged.
->Deaths 59 including the shooter.
-> Shooter spent decades acquiring weapons. Reasons Unknown. Video has been recovered and will be reviewed. More interviews to be held.
-> Timeline: 1st shot was at 10:05PM, 10:15 last shots fired. 10:17.
Get help from the Family Assistance Center
Personal items not distitubed at the Family Assitant Center.
1-866-535-5654
?Abandoned Vehicle Pickup
Meet Offices at Reno and Koval. Officers are now assigned.
??‍⚕️Crisis Counseling
Crisis counseling now being offered at several locations http://bit.ly/2fFPJau
?Hotel Rooms
? Blood Donation:
www.BloodHero.com – They are asking that we ONLY donate blood with United Blood Services. Vegas has shown up today in a huge way, and it is suggested that you schedule an appointment to give blood.
It's 6:40 am, and there is a line out the door and around the block. People waiting to donate blood at United Blood Services. #RJ pic.twitter.com/sGRMpUOHXc

— Bridget Bennett (@bridgetkbennett) October 2, 2017
✈️Flights Out of Vegas

☎️FBI Hotline
@FBILasVegas is asking anyone with videos or photos from the 10/1/17 Las Vegas shooting to please call 1-800-CALLFBI (255-5324)

— FBI Las Vegas (@FBILasVegas) October 2, 2017
??How we can Help
?Lost and Found
?News on Victims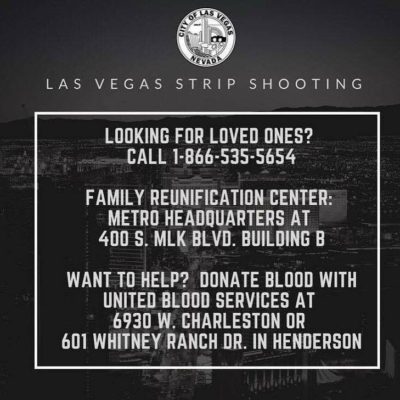 For families looking to locate missing loved ones, please call 1-866-535-5654.

Due to the mass shooting incident last night, our Records & Fingerprint Bureau, at our Headquarters campus, is closed for business today.

— LVMPD (@LVMPD) October 2, 2017
Sonny Melton
USA Today reports first Victim as Sonny Melton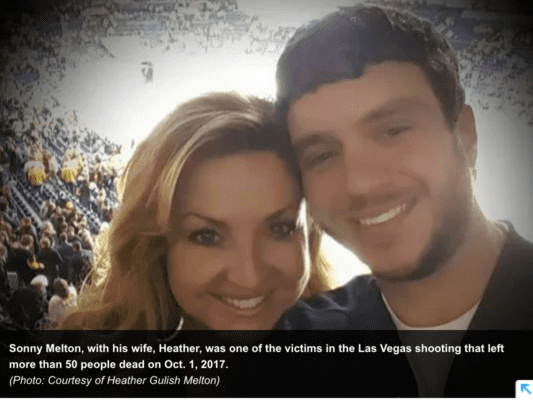 John Phippen
John Phippen of Santa Clarita reported to be killed in the Las Vegas shooting Sunday night.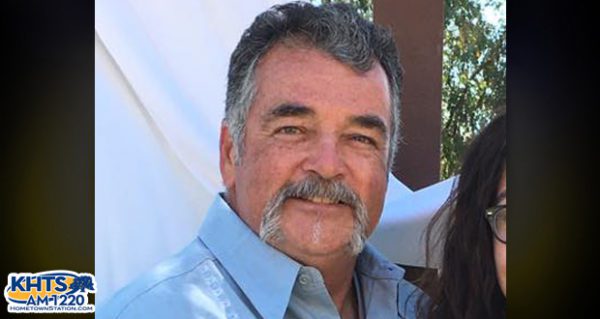 Jordan Mclldoon,
According to reports, 23, from Canada was also killed in the Las Vegas shooting.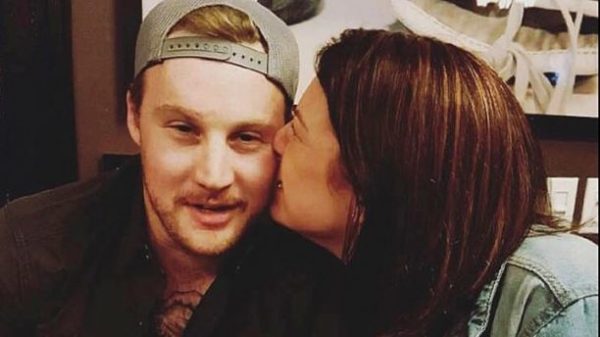 Quinton Robbins
The 20 year old resident of Henderson was a student at UNLV.
Jessica Klymchuk
A mother visiting with her fiance.
Adrian Murfitt
A 35 year old from Anchorage, Alaska
Sandy Casey
Special Education teacher from California
Rachael Parker
A police records tech from Manhattan Beach, CA

3 Police Officers
2 were off duty and attending the concert
The Washington Post Also has a list of victims.
Heavy.com has also released a list with additional names of those killed in the Las Vegas Shooting.
?Donations and Fundraisers:
Sherrif's Gofundme: https://t.co/UMcQtZLgmr
?Social Updates
One of the hospitals along with @UMCSN & Spring Valley Hospital that handled victims of the #LasVegasShooting #PrayForVegas https://t.co/nt3AjUUjDs

— Clark County Nevada (@ClarkCountyNV) October 2, 2017
Las Vegas shooting witness called her dad and told him: "Everyone's dying around me. Everyone's dying." https://t.co/vPCUftL6dc pic.twitter.com/jgdZTuZZS5

— CNN (@CNN) October 2, 2017
Today I saw humanity. I saw our community come together. #NevadaStrong #PrayForVegas pic.twitter.com/vMkT42GNd2

— Rep. Ruben J. Kihuen (@RepKihuen) October 2, 2017
?Candelight Vigils and Prayers
There are several candlight prayers and services popping up all over Las Vegas. Here's a link to Facebook postings for these.
?Location of Shooting