Lori Ballen, the owner of this website, benefits from purchases made through her affiliate links.
If you're a poker player, then you love Las Vegas. Vegas is the epicenter of the poker universe.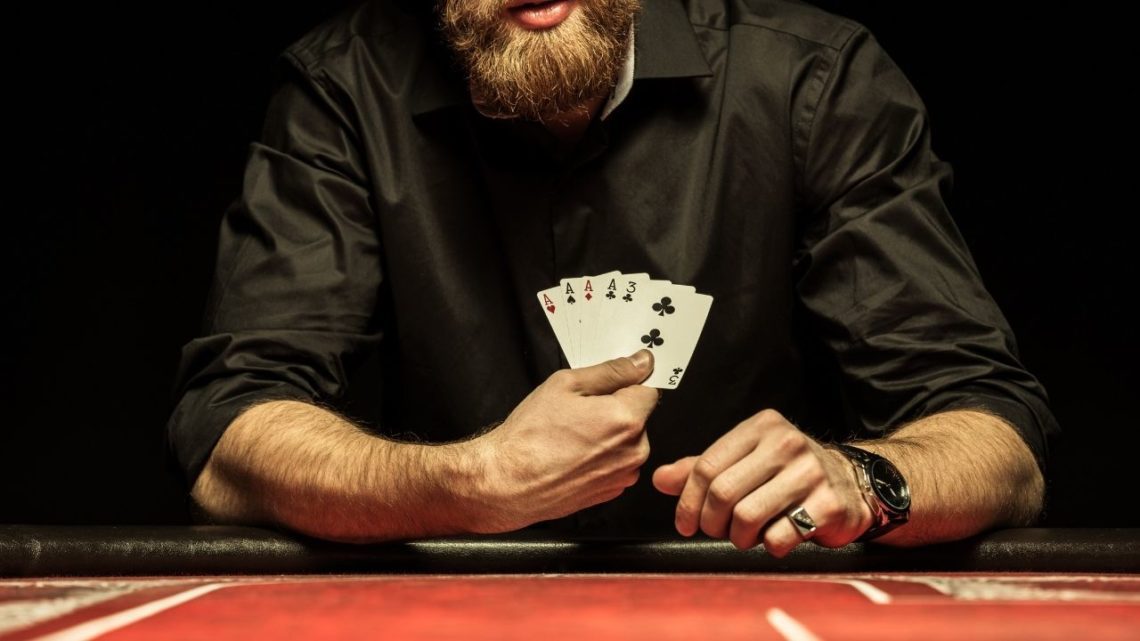 During non-Covid times, it's where players from around the world flock to the Rio for the World Series of Poker, where some take their shot at millions of dollars.
Most players go to the WSOP for smaller stakes, play with the best of the best, and be a part of the scene, often referred to as 'Summer Camp for Poker Players.'
Las Vegas is in such high demand for poker players in the summer that other tournament series have popped up around town, including at the Wynn, Venetian, and Planet Hollywood.
However, while it's easy to find action during the summer, a true poker player needs to know what's going on during the off-season.
And truth be told, there is no real off-season for poker in Las Vegas. You just need to know where to go. But let's start with where not to go and save the best for last.
Bad Las Vegas Poker Options
Do you remember when Mike McDermott referred to The Mirage poker room in Rounders? If you're not familiar with the movie, Mike McDermott is a skilled underground poker player who must repay a debt for his friend (Worm) because he's is in trouble with a Russian gangster.
It's a highly recommended watch if you love poker. In the movie, McDermott makes it sound like The Mirage is the top choice in Vegas for poker.
At one time, that was the case, but things change. Rounders was released in 1998. At that time, The Mirage poker room was out in the open, which would attract tourists.
Management eventually decided to move the poker room to the back, where it was somewhat hidden. That room had four walls with nothing on them but paint.
In short, The Mirage poker room had no character. It would attract NITs (extremely tight players), and it had low energy. As expected, The Mirage poker room closed. They didn't put in the effort to keep up with the competition.
This was also one year after the Treasure Island poker room closed.
Other poker rooms that recently closed include Mandalay Bay and Excalibur. The Mirage, Mandalay Bay, and Excalibur are all owned by MGM.
These closings might lead you to think that MGM would close its MGM Grand poker room. This room would undoubtedly be one of the next to go since it's set off to the side in the dark and doesn't draw a big crowd.
Any poker room created only as a convenience for those staying at the property will eventually fail in today's market.
For a poker room to succeed in Las Vegas, it must cater to poker players. Don't be surprised if the MGM Grand closes its poker room within a couple of years. In the meantime, it draws a lot of fish.
Therefore, if you play poker and want to pick up a few hundred dollars at a small-stakes game, it's a quality option.
MGM does own and operate two Vegas poker rooms that aren't going anywhere.
One of those rooms will be covered below.
The other is Bellagio. Most of you reading this will wonder why the Bellagio poker room could be on the 'Bad' list.
However, anyone familiar with the poker scene, including players and those working in the industry in Sin City, knows that Bellagio isn't where you want to be. There is a simple reason for that.
The Bellagio poker room offers high-stakes mixed games. These are the biggest games in town. Since the stakes are so high when someone loses, they will sometimes take it out on the dealer and treat them disrespectfully.
While this doesn't happen all the time, it's a daily occurrence. Those dealers then take that negativity to the lower-stakes games. They don't complain or act rude to players, but they're not exactly bright and cheery.
With such big money flying around, this negativity spreads throughout the entire operation. You know it from the instant you walk into the Bellagio poker room because you're never going to be greeted with a smile.
Everything in this room is serious. It's not where you go for a good time.
Before switching to the positive, there is one other poker room you might want to avoid, which is The Orleans.
The Orleans Poker Room is off-strip, and the action is going to be relatively soft. The problem is that The Orleans attracts many down-on-their-luck locals, who aren't the happiest people in town.
Just like at Bellagio, the employees feed off this negativity. That said, some high-quality people are running this room, they run some pretty good tournaments, and the cash games can be juicy.
It's more of a hit-or-miss poker room, but it's not worth traveling off-strip for a hit-or-miss situation. Outside of the poker room, the restaurants are good, and there is a bowling alley and movie theater, but the employees outside the poker room are far from happy.
Now let's get to the best poker room options in Las Vegas. They will be broken down into two categories: 'Soft Poker Rooms In Las Vegas and 'The Nicest Poker Rooms In Las Vegas.' It depends on what you're seeking.
Soft Poker Rooms In Las Vegas
As mentioned above, MGM Grand falls on this list. Other soft poker rooms in Las Vegas include Bally's, Flamingo, Golden Nugget, Sahara, and Planet Hollywood. Let's quickly run through these one by one.
Bally's isn't the softest room on this list, but it's still soft. This room is tucked away in the corner of the gaming floor but is run very well.
The Nightly tournaments are appealing despite a high rake, and you're never going to find crushers at the cash games. You might find a grinder looking to pick up some money off the tourists and home-gamers, but that's about it.
The Bally's poker room is a place to go if you're stuck and you need a change of scenery. A few sessions here can get you back on track.
Flamingo is a whole other animal.
The Flamingo Poker Room is a small and unappealing room from an aesthetic standpoint, but you're going to find plenty of fish.
You must understand this room because most people don't fold, especially on the weekends.
These are people in town to have a good time. If they know how to play poker, they're going to down a few drinks while playing and call your bets most of the time. This is where your real poker skills come into play.
If you're an aggressive player, then you need to change speeds and slow down because you will not be able to move most players off hands.
Wait for your spots, then attack.
Golden Nugget is in downtown Las Vegas and is a much different experience because it's a nicer property, and there are unlimited buy-ins on the cash games.
For example, most 1/2 No-Limit games have a $200 maximum buy-in. In this game, you can buy in for $50,000 if you want.
If you play during the day, you're unlikely to see that and can steamroll what is usually a passive game. If you play at night, you might end up at a table where someone buys into the game for thousands.
If you really want that money, your best shot is to trap. An added bonus if you stay at GN is the pool, ranked as one of the best in the world.
Sahara recently opened its poker room, and it's the best-kept secret in town. Since it's at the end of the strip, it doesn't attract any local grinders.
Better yet, since this poker room is right on the casino floor, it attracts tourists who have no clue what they're doing. The chairs are comfortable, the flat-screen TV mounted on the wall is the biggest for any poker room in Las Vegas, and the staff is top-notch.
If you're in Vegas and you want to play poker, you should give it a shot.
Planet Hollywood is probably the softest game in town, especially if you play on a Friday or Saturday night. PH is a big party, including loud music and women dancing in cages.
Some people play poker here for those two reasons, and that isn't an exaggeration. They are there for the scene, not the poker.
This presents a golden opportunity for someone who knows what they're doing on the felt.
The Nicest Poker Rooms In Las Vegas
If you desire beauty, comfort, service, and to be part of the poker scene, then you're going to want to play at Caesars, Venetian, Wynn, and Aria.
Caesars only just makes this list. It's a nice room, but it's nowhere near the other three in regards to beauty, comfort, and being part of the poker scene. However, the service is usually excellent.
As far as the poker goes, there are some small Nightly tourneys, but nothing that will draw big interest.
If you play at the Caesars poker room, it should be to play cash.
You're going to find a mix of tourists and local grinders. This room is too small to draw the big crushers, so don't worry about that.
A neat and often overlooked aspect of playing here is that you're right in the middle of the casino action.
If you like to people-watch, this would be a good option for you.
Venetian is an enormous and beautiful poker room. This is also where you will find the best poker tournaments in Las Vegas.
If you want a shot at $100,000 for $400, go to Venetian. Plain and simple. The cash games can be tough here, so use caution.
If you're going to risk $400, you might as well risk it for a shot at big money.
A bonus for playing here is that you will have easy access to high-quality restaurants and bars.
Wynn is regarded by many as the best poker room in town, but it's debatable. More on that in a minute.
As far as the Wynn poker room goes, it's actually located in Encore, which is connected to Wynn.
If you like bright lighting, palm trees, marble floors, massage therapists, superb wait service, and watching people go to the pool in their bathing suits while playing poker, this might be the best spot for you.
On the other hand, Wynn attracts some of the best poker players in town because of the atmosphere. Unless you have skills and a big bankroll, stick to the lower stakes. Wynn also runs great tournaments.
They don't attract as many people as Venetian due to the rooms' size difference, but as far as rake goes, nobody beats Wynn.
In other words, Wynn takes less money for the house than anywhere else in town with tournaments, which leaves more money in the prize pool.
This means good value.
Then we have Aria. If you prefer more earthly tones, dimmer lighting, and a poker room that attracts more average players with a lot of money, this is where you want to be.
Many will say that Aria is the best poker room in town.
It's close to 50/50 with Wynn. While Aria runs tournaments, this is more of a cash game room. If you ever want a shot at a few thousand dollars in one night, go here on a Friday or Saturday.
An honorable mention goes to South Point as one of the nicest poker rooms in Las Vegas. The problem with South Point is that it's nowhere near any other action and is a hassle to get to unless you have your own car.
Conclusion
Now you're more informed about the current Las Vegas poker scene than any other breathing human being on the planet, including those that live in Las Vegas. Use this knowledge to your advantage when you plan your next Las Vegas poker trip.
If you play it right, keep your ego at bay, and avoid all house games, you likely leave with more money than which you arrived. And if you play in a Venetian tournament and run good, that could end up being life-changing money.