Lori Ballen, the owner of this website, benefits from purchases made through her affiliate links.
The Only-in-Vegas vibe has progressively lost its enthusiasm as many exciting events known in Sin City becoming harder to get. For instance, the MGM Grand roars have become a purr (no pun intended); the bowling craze at the Mirage has since lost its glamor. However, the Senor Frog's Drag Brunch is here to give a reason to want to visit Las Vegas.
The Drag Brunch at the Senor Frogs brings you a weekend of fun and entertainment from the best local and nationally acclaimed drag queens. Guests can catch up with Ru Paul and her bevy of beauty queens from Drag Race, who deliver the best-choreographed dance and comic performances.
Lori Ballen is a member of the Amazon Associates Program and benefits from purchases made via Amazon Links and other links throughout this website. [See Affiliate Disclosure]
The event brings you an excellent dining experience with a delicious Mexican menu and unlimited mimosas. The Senor Frogs also an adjoining bar where you can relax and enjoy brunch cocktails and wines.
The show is divided into two sessions. The first features the choreographed dance numbers, where each diva gets a chance for a solo performance. The second set features an ensemble performance from all the casts. Here, you may see the best form of lip syncing as they [drag queens] tend to impersonate your favorite female celebrities.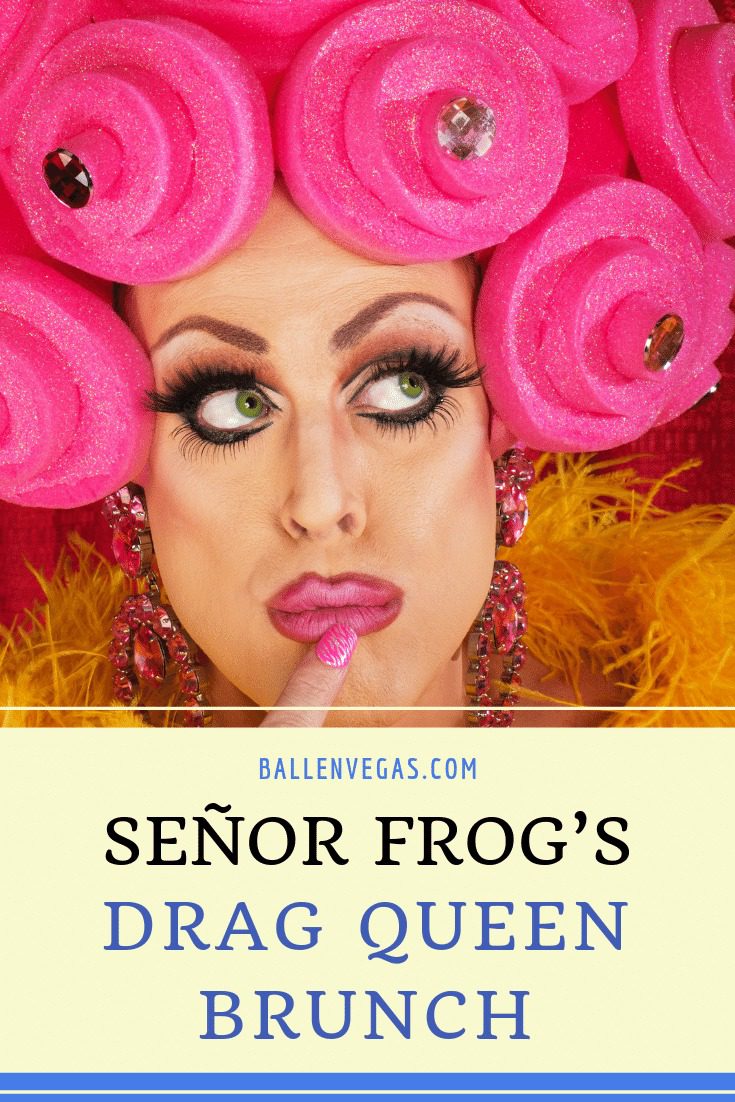 Senor Frog Drag Brunch Locations
The show, which brings you a mixed-crowd night-out in a wacky atmosphere, seems to hold a lot of prospects for the avid reveler. Brandon Voss, the founder of Voss Events and the Drag Brunch planner, collaborated with the Senor Frogs hotel chain to take the concept to several locations.
It began in New York, and has since taken off in several locations, including Las Vegas, Miami, Toronto, Montreal, and Fire Island.
The Voss Events' flagship party provides an upscale occasion where the whos-who in the showbiz industry can kick it and adorn their balloon hats fearlessly.
You may rub shoulders with celebrities such as Lady Gaga, Caitlyn Jenner, and many more. The Drag Brunch began in April 2016 and has become a to-go destination for both travelers and locals. Voss hopes to replicate the same diverse mix of fun and comedy in the new locations.
Ticket Costs
The ticket costs for the Drag Brunch depends on the location of the Senor Frogs hotel. You may get a price ticket of between $20-$50. However, most of the tickets on issue do not include the brunch menu and cocktails. Guests purchase these vouchers upon entry into the venue.
Therefore, you will be charged an additional $30 to cater for the different cuisines on the menu, with a full array of mimosa cocktails, sangrias, and bloody marys. Nonetheless, brunch prices are subject to taxes and gratuity costs. For example, a 20% gratuity may be calculated on the ticket cost among other purchases to parties comprising of six members.
While you may consider making purchases from the official Drag Brunch website, you can as well get a Groupon offer. That provides the same experience: live entertainment with the queens, unlimited cocktails, and a buffet at a lower cost. Besides, it grants you access to the VIP options on offer.
How to Get Drag Brunch Groupons
The Senor Frog Drag Brunch Groupon allows people to discover and save money on the on live events and excellent things to do and see. Unlike other online ticket vendors like Ticketmaster and AXS, Groupon lets you enjoy the Drag Brunch experience at only $39.
You may get the coupons from the official Groupon website or from the reception at the venue.
There is a deal that gets you access to Premier VIP stage-side seating to one show of your preference.
It also includes an open bar and a photo session with the celebrated casts. Therefore, you have the opportunity to witness choreographed dances and comedy from witty celebrity impersonators, including Ru Paul's Drag Race casts.
With this offer, guests can soak up in endless mimosas as they laugh to funny jokes.
Make a Reservation
To have a table reserved for you at the Senor Frogs hotel within your destination of choice, you can call the hotel's front desk and avail your details. Instead, you may also use online tools such as opentable.com or VossEvents, where you can fill the reservation form.
Some of the details that require your attention include the number of people, date, time, and other personal information.
By reserving a table, you can enjoy the best of American and Mexican cuisines in a family-style buffet and a wide selection of drinks and bottomless mimosas.
You're not limited to one payment option as guests may decide to use AMEX, MasterCard, Discover, and Visa to settle the bill.