Who Doesn't Love Las Vegas Shopping Malls During Winter Holidays!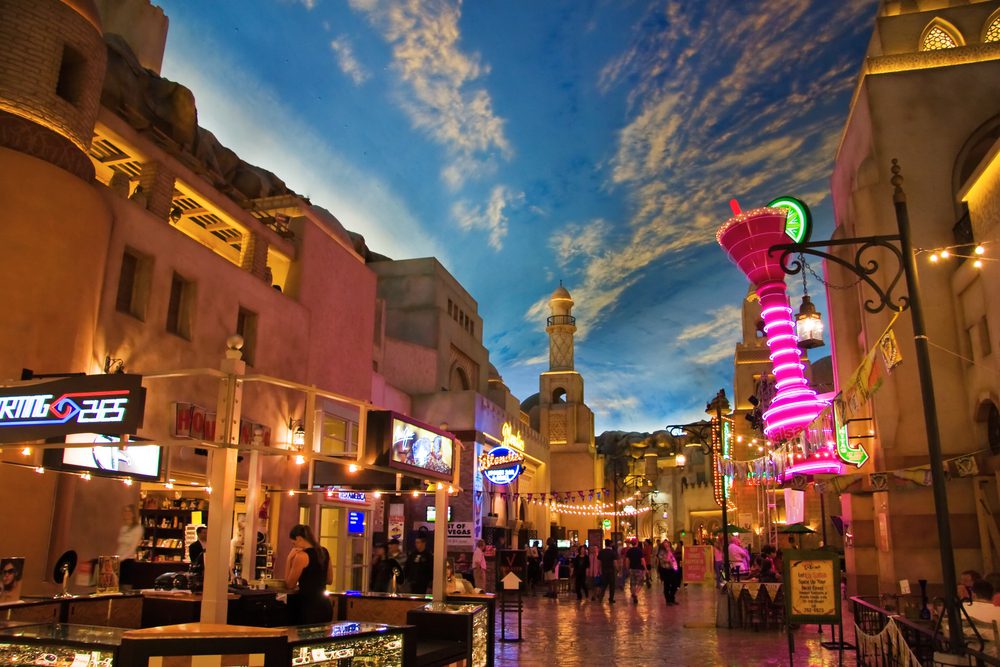 Even grumpy shoppers, people who hate malls at other times, have to chuckle at the exuberance of energy at Las Vegas shopping centers at this time of the year! The glitter, the sparkle, the deals, and the bustle of the people is not to be missed. The communication of cultures and individuals that takes place more during winter holidays than any other time of the year. The music and the skip in the step of neighbors and strangers as they hurry by. This is the time of year for noting the extraordinary deals, those free treats and free entertainment opportunities offered by vendors at different times by every Las Vegas shopping center! And there are quite a few to keep you active, cheerful and entertained throughout the winter season and all year round! Some of the best Las Vegas shopping centers also offer full accessibility, including scooter rental; locker rental; movie theaters; salons and even child care.
Don't Forget to Check Local Notices for Invitations to Enjoy Free Treats and Free Entertainment at Las Vegas Shopping Malls!
A penny saved is surely a penny earned! There really are an endless stream of notices about opportunities to enjoy free treats and free musical and other educational entertainment shows at Las Vegas shopping centers! Every week, at least one mall is offering a free coffee to all visitors, often an exquisite specialty coffee, best enjoyed with friends or family. Several stores send notices about days and times when children can enjoy a brief learning workshop and create something wonderful to bring home with them. Several stores offer times when children can 'test drive' the toys! Very exciting fun for children, and a delightful reason to explore one of our many Las Vegas shopping malls.
So Many Other Free Opportunities Waiting to Welcome Adults to Las Vegas Shopping Centers!
Free gift wrapping is available at many Las Vegas shopping centers, and those gift wrapping experts can really do an outrageous job of beautifying your purchase! Be on the alert for notices for free massage, and opportunities to sample spa products. A fine way to spend an afternoon by yourself, or with a friend. Watch for notices about the many free musical concerts, and art gallery displays. A visit to any of our Las Vegas malls can create a memory to to delight for years. Have your next adventure with family and friends at a Las Vegas shopping mall!
Don't Miss These Top Las Vegas Shopping Centers:
5 Awesome Indoor Las Vegas Shopping Experiences!
1. New Downtown Summerlin Mall: The new and much anticipated Downtown Summerlin Mall has opened for business! Over 50 stores and almost 30 restaurants have opened their doors to invite you to an astonishing retail entertainment complex. With at least double the amount of retailers opening soon. Phase 1 of the Summerlin complex is already the shopping of choice for deals, luxury items, gustatory delights and a unique shopping experience in an entertainment environment. Location: 1980 Park Centre Dr. Contact: (702) 832-1000
2. Fashion Show: An astonishing 2 million square feet of runway elegance and dazzle! Shops for every budget and every personal style. Featuring live runway shows every weekend on their outrageous 80 foot retractable runway! Boutiques, a 3 story Nordstrum's, an outdoor patio area, escalators and bridges to avoid traffic- Fashion Show really has it all! Location: 3200 S. Las Vegas Blvd. Contact: (702) 369-8382

3. Encore Esplanade: A gorgeous indoor shopping experience featuring clothing and home decor boutiques and much more. Located between two of Las Vegas' most exceptional dining and entertainment experiences and connecting two Las Vegas resorts. Location: 3131 S. Las Vegas Blvd. Contact: (702) 770-8000

4. Crystals: An extravagant day trip all on its own, Crystals offers an eclectic blend of fine shops and a variety of restaurants. The extraordinary beauty of Crystals is a must see, especially the elaborate water displays. Location: 3720 S. Las Vegas Blvd. Contact: (702) 590-9299, (866) 754-2489.
5.The Forum Shops at Caesar's Palace: Sophistication, progressive creativity and a vast array of shops and restaurants are waiting at The Forum! See the spiral escalator, and the fire and water extravaganza of the Atlantis Fountain Show. 3500 S. Las Vegas Blvd., inside Caesar's Palace. Contact: (702) 893-4800, (800) CAESARS
5 Fabulous Outdoor Las Vegas Shopping Centers!
1. Tivoli Village: A phenomenal and elegant outdoor shopping experience! Includes shopping, dining, spa services and one of the best gym facilities in Las Vegas. Some areas are dog friendly! Location: Located in Summerlin on the corner of Rampart Boulevard and Alta Drive. Contact: (702) 570-7400
2. Town Square: 1.5 million square feet of outdoor shopping and an architectural icon. The cobblestone streets and creative design blend the best of the old with the hyper new. You'll find delicious meals, a range of unique boutiques and popular stores. Also features a playground and a movie theater. Location: 6605 S. Las Vegas Blvd. Contact: (702) 269-5001
3. Las Vegas Premium Outlets- North: A bargain shoppers paradise! Features over 150 outlet stores and all the brands you love! Be sure to stop in at the Visitor's Information Center and pick up a VIP booklet that includes helpful shopping information and valuable coupons for many shops. Location: 875 S. Grand Central Parkway. Contact: (702) 474-7500
4. The District at Green Valley Ranch: The District offers a refreshing outdoor shopping experience just 15 minutes from downtown Las Vegas. A quieter atmosphere with a distinctive European look, The District offers the best in boutique shopping and delicious foods. Location: 2240 Village Walk Drive, Henderson. Contact: (702) 564-8595
5. Hawaiian Marketplace: Say 'Aloha!' to this outdoor oasis that celebrates all things Hawaiian! Featuring 80,000 square feet of bold and tropical shops and restaurants. This Hawaiian marketplace is not to be missed! Location: 3743 S. Las Vegas Blvd. Contact: (702) 795-2247
Specialty Shops in Las Vegas to Surprise and Delight You!
The eclectic variety of specialty shops in and around Las Vegas is unmatched! Be sure to visit at least one of the many antique shops, and the delightful and active Farmer's Markets. Just a few specialty store fiestas to not miss on your Las Vegas shopping adventures include:
Bass Pro Shops Outdoor World: 165,00-square-feet of outdoor enthusiasm on display for sale or to try. Adventure shopping for the whole family! Try the store's archery range, rock climbing wall, two live pistol and rifle ranges and visit their huge aquarium filled with fish to practice your casting skills on! An unbelievable shopping experience! Location: Silverton Casino Hotel Lodge, 3333 Blue Diamond Rd. Contact: (702) 730-5200
Refinery Celebrity Resale Boutique: This boutique offers high end fashion for resale, including celebrity worn clothing at affordable prices. Own a piece of Hollywood! Both women and men's wear available. Location: 3827 E. Sunset Rd. Contact: (702) 384-1340
Rainbow Feather Company: Feathers, feathers and more feathers! Perfect for showgirl costumes, and beautiful feather fanciful delights for everyone else! Feather artwork, feather jewelry, feather fans and so much more! Location: 1036 S. Main St. Contact: (702) 598-0988