Go West… to Mount Charleston Wilderness Area!
Go West… to Mount Charleston Wilderness Area!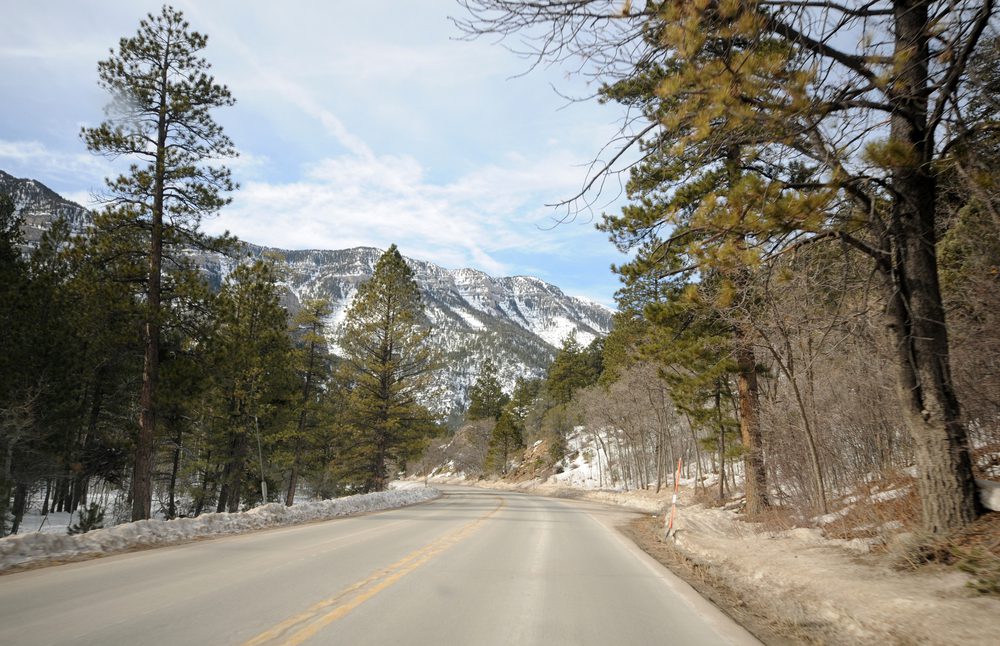 If you have visited the Strip in Las Vegas, Nevada, you may have seen the mountains while looking westward into the distance. The town and mountain of Mount Charleston is, almost unbelievably, just 35 miles northwest of Vegas. "Almost unbelievably," because once you are there, it is hard to believe that you are in in the same world. The quiet, the stillness, and the country air of the mountain and nearby Lee and Kyle Canyons show you another side of the Vegas area. Spend the day. You may find waterfalls, caves, tight ravines, and cliffs of grey limestone.
Getting There
Take 95 North and turn left at the exit for Mount Charleston. Your destination is only 45 minutes from Vegas. Alternately, drive the Mount Charleston Scenic Byway, along State Routes 156, 157 and 158. These are also known by the names Lee Canyon Road, Deer Creek Road, and Kyle Canyon Road. The drive itself is a pleasure.
Observe the natural scenery when you are driving. While turning on the highways, the surroundings change. You will pass through five different climactic zones, ranging from 3,000 to 9,000 feet above sea level. Living here are forty different known plant and animal species that cannot be found elsewhere in the world.
Mount Charleston: Real Estate

Mount Charleston: Hiking
Mount Charleston was named after Charleston, South Carolina by an early surveyor in the area. The mountain is one of the highest of the Spring Mountains in Nevada, at almost 12K feet. Two trails covering a 4K gain in elevation take you to the summit. South Loop Trail extends over 8 miles and may be the most strenuous. Commit to spend the day if you decide to undertake one of these trails, and go in the spring, summer, or early autumn to avoid the snow. The town of Mount Charleston rests to the east of the mountain peak, at the bottom.
Lee Canyon: Winter Sports
If snowboarding or skiing is what you are looking for, Lee Canyon in Mount Charleston Wilderness Area is the place to be. The resort found here is generally open from the end of November through Spring Break. The Las Vegas Ski & Snowboard Resort in Lee Canyon is small, but it boasts a ski run of 2,000 feet. Ride up on one of four chair lifts, and then fly down the face of Charleston Peak! The skiing is generally at an easy level.
Take Lee Canyon Road or take Highway 95. Lee Canyon Road is not as crowded at Kyle Canyon Road, allowing you more freedom to stop and shoot pictures. Should you stop to hike during your drive, be aware that the hiking trails in this area are more rustic.
Kyle Canyon: Dining
Kyle Canyon in Mount Charleston Wilderness Area is quite popular. The Mount Charleston hotel and lodge can be found here. After a day of enjoying nature or exerting yourself, drop in to the dining room at the Mount Charleston Hotel. The wood in the room makes it feel warm. Large windows provide a sightline to the mountains. The service is friendly and the quesadillas are recommended. Later in the evening, enjoy a drink or music. Check out the Cliffhanger Lounge at the Mount Charleston Hotel. Call first to verify the hours; the town closes down early. The dress code is casual. Kyle Canyon is also the place to go if you love to take nature walks. Many trails begin in this area.
Who Lives in the Area?
Mount Charleston is famous for its approximately 18K acres of very old bristlecone pine trees, which may be the oldest living thing on the earth. The oldest known tree is suspected to be 3K years old. In addition, Joshua, oak, banana yucca, white fir, Utah juniper, quaking aspen, Manzanita, shrub live oak, mountain mahogany, limber pine, ponderosa and pinyon pine, and cedar trees can be found around the region at varying altitudes. Creosote bushes, horsebrush, blackbrush, and sagebrush also grow here. Based on the season, Indian Paintbrush, Scarlet Gilia, Yellow Primroses, and Rough Angelica are some of the blooms you may enjoy during your visit.
The Mount Charleston area has its own animal life specific to it. As of October 2013, the Mount Charleston blue butterfly has been designated an endangered species. Palmer's chipmunks inhabit the region; they can be found only in the Spring Mountains. Rocky Mountain elk – not found outside this herd – also live near Cold Creek. The white tailed antelope squirrel, golden mantle ground squirrel, black tailed jackrabbit, mule deer, wild horses and burros, kit fox, desert tortoise, rattlesnake, bighorn sheep, coyote, bobcat, gray fox, and mountain lion also call this place home. Bird watchers will want to keep an eye out for roadrunners, wild turkeys, red tailed hawks, ravens and rock wrens that build their communities here.
Of Nearby Interest
Fossils are not typical here, but if you travel to Griffith Peak, you may see many. People have lived in this mountainous area for some10K years, beginning in approximately 11,000 BC with nomadic tribes. The Anasazi people also inhabited the area until 1150 AD. Pioneers supplied themselves with wood from the Mount Charleston area. The mountains are still important to native people. Currently, less than 1K people live in the Mount Charleston area.
Weather Alert
Be aware that it is considerably colder at these altitudes. For this reason, Mount Charleston is a great place to cool off in summer. If you go in spring, however, you may run into piles of snow that have not yet melted when the rest of the Vegas area has not one snowflake remaining. Snow can be found on Mount Charleston for more than six months of the year. Trails may be closed due to snow. Dress in layers for warmth and do not judge the temperatures by what you experienced in Vegas.
The Basics
Mount Charleston is part of the Mount Charleston Wilderness Area, Humboldt-Toiyabe National Forest, and the Spring Mountains National Recreation Area. People visit Mount Charleston all year because the area provides opportunities for walking in nature, hiking, mountaineering, golfing, horseback riding, skiing, and snowboarding. Mount Charleston offers many camp sites and picnic areas, as well; RVs are allowed in some.
The USDA Forest Service office f or the Humboldt-Toiyabe National Forest (phone: 775-331-6444) may be able to provide more information before your journey.
Wishing you safe and fascinating travels!