Lori Ballen, the owner of this website, benefits from purchases made through her affiliate links.
The Crossing and the subdivisions located in this village in Summerlin have a lot to boast of. One of the assets that The Crossings has to offer is a large business center measuring 110 acres containing approximately 1.2 million square feet of office space. Another advantage of living at The Crossings is the access to many parks.
"I live in the Crossing and I love being close to so many parks where I can walk to and take my fur babies run around. Also my daughter plays lacrosse and it's nice that having her high school lacrosse games at the Crossing Park. Summerlin is zoned for the best public schools and close to amazing magnet schools as well!" ~ Carrie Vance, Summerlin Resident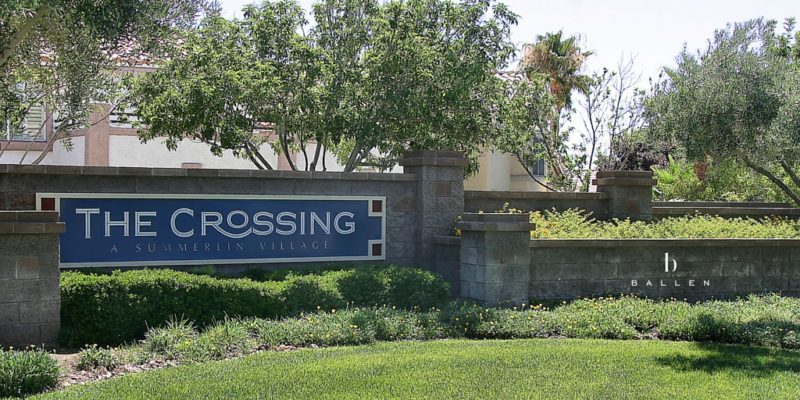 The Crossing park is the main park in this village, measuring 10.1 acres and contains 2 full size soccer fields, a children's play area and picnic areas. The second largest park at The Crossing is Oxford Park, which measures 7.3 acres and has a baseball field and a multi-use area.
Fire Station No. 7 is located at The Crossing and services the surrounding Summerlin villages. The Summerlin Hospital Medical Center which features 281 licensed beds with private rooms, more than 1,200 physicians on staff, outpatient surgery, laboratory and radiology services, and a 24-hour emergency room.
"We live in The Crossings. I will never forget after viewing so many homes in different neighborhoods across the Las Vegas Valley, I was driving down the Far Hills Parkway from the 215 exit, the feeling of home just washed over me. I hadn't yet seen the house, but I audibly said to no one "this is home." My kids are so blessed by the elementary and middle and high school experience. I don't know how I ended up in this gem of a community because it was completely unplanned. I only know, daily, I appreciate what we have. I work at the Aveda Salon at the District in Green Valley. I happily drive 25 miles each way every day. I love this neighborhood. Wouldn't trade it for the world. ~ Jesi Hilts Summerlin Resident"
Because The Crossing is a part of the Summerlin Community, it includes and has access to many trails which were planned before The Howard Hughes Corporation began building in 1994. The Crossings also has quick access to the Red Rock Canyon Conservation and Red Rock Casino and Resort. Being located near Summerlin Parkway, The Crossings have quick entree to the 215 beltway and the 95 freeway. This helps residents in this area have s uch quick access to Red Rock as well as the rest of Las Vegas. Homes for Sale today in Discovery Hills.
The assigned schools for The Crossing Village are John W. Bonner Elementary School, Sig Rogich Middle School, and Palo Verde High School. All of these schools are highly ranked and Summerlin takes great pride in its great schools.