Things to Do in Las Vegas, Springs Preserve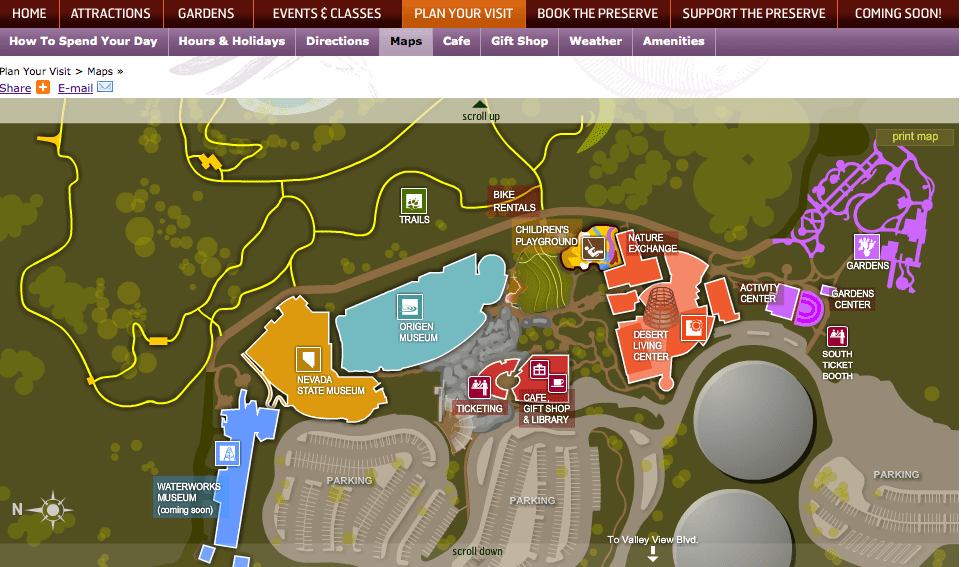 The Las Vegas Springs Preserve is located at 333 S. Valley View Blvd at US Hwy 95, and less than 10 miles north/west of the Las Vegas strip. It is located in the Las Vegas Zip Code 89107. This exquisite family-friendly preserve provides a physical and living record of the history, the natural life forces, and the rainbow of cultures that have contributed to the creation and sustenance of the Las Vegas Valley.
It is the mission of the springs preserve to provide visitors an experience that cultivates a sense of culture and community; that inspires environmental stewardship, and commemorates the vibrant history of the Las Vegas Valley.
The Las Vegas Springs Preserve was named the "Best Place to Take the Kids in Southern Nevada" by Nevada Magazine and the "Best Place to Take Out-of-Town Guests" by the Las Vegas Review-Journal. It was listed on the National Register of Historic Places in 1978, and opened for public viewing and experience in June 2007.
The Las Vegas Springs Reserve encompasses 180 acres that feature museums, galleries, and botanical gardens that literally burst with color in the spring. The Springs Preserve also hosts a year-long calendar of fun and educational outdoor events, and an interpretive system of trails through a scenic wetland habitat.
The preserve is open daily from 10:00 a.m. to 4:00 p.m. and the Nevada State Museum is open Thursday through Monday from 10 a.m. to 6 p.m.
Easily affordable year-long-passes for general admission are offered for a wide range of prices for adults, children, seniors, students, groups, locals, and those with military IDs. Signature events are a separate very reasonable charge. Membership opportunities are also available that provide year-long access to all activities and events along with early parking, discounts, and more. Children four and under are always admitted for free.
Visitors to the Las Vegas Springs Preserves are treated to a plethora of opportunities to learn the history of the valley through complimentary guided trail walks, special and annual signature events, classes, and the wealth of historical artifacts within and surrounding the art exhibitions, galleries, the Origen Museum, and the Nevada State Museum.
Homes For Sale in Las Vegas Today
General Attractions
Botanical Gardens
Home to the largest collection of cacti and succulent plants native to the Mojave Desert, the Springs Preserve Botanical Gardens offers 110 acres of wildlife habitat, natural gardens, and display gardens. The Las Vegas Springs Preserve Botanical Gardens received the 2012 Horticulture Magazine Award for Garden Excellence.
Free guided walking tours are offered every Saturday and Sunday from 11:00 a.m. to 3:00 p.m.
Butterfly Habitat
The newly opened Butterfly Habitat within the Botanical Gardens offers guests the opportunity to observe the interplay between hundreds of butterflies and the plants that sustain them.
Wicked Plants: The Exhibit
Visitors are invited to enter the world of predatory, carnivorous, and poisonous plants and learn about their habitats and properties at the on-site Origen Museum.
Farmers Market
The Springs Preserve hosts The Green Chef's Farmers Market every Thursday from 10:00 a.m. to 3:00 p.m. Guests can purchase fresh local produce and baked goods, flowers, plants, herbs, and more.
Art Exhibits
The current "A Celebration of Souls Day of the Dead in Southern Mexico" exhibit displays a collection of photos and memorabilia commemorating the Mexican Day of the Dead.
Signature Events
The grounds of the Springs Preserve burst into life with a full calendar of special and annual signature events that celebrate holidays, seasons, and a rainbow of cultural commemorations. These events offer tourists and members of the local community an opportunity to come together and enjoy family-friendly activities that are fun and educational with tours, music, art, crafting workshops, great food and drink, and unique vendor concessions.
Día de Muertos
Every November through mid-January, the Springs Preserves commemorates the customs of Mexican heritage with the festive and colorful celebration of the Mexican Dia de Muertos, or The Day of the Dead, with family-friendly live entertainment from mariachi musicians, traditional Mexican food, publically created altars, face painting and sugar skull decorating, an art exhibition, and more.
Black History Month Festival
February brings forth the Springs Preserve commemoration of the contributions of African Americans to the history and culture of Southern Nevada with a family-friendly celebration that incorporates live entertainment, great food, craft workshops, vending, a Black Las Vegas photography exhibit, and more.
Run Away with Cirque du Soleil
Every March, guests are treated to the annual Run Away with Cirque du Soleil show as part of the annual A ONE DROP World Water Day Event. In addition to live entertainment by Cirque du Soleil, guests are invited to partake in a warm up session with the Cirque du Soleil performers. This popular event also features a 5-K fun walk, fun activities for the kids, and massage therapy is offered to sooth and pamper guests as well.
Mardi Gras Vegas
March at the Springs Preserve also sees the wild and colorful celebration of Mardi Gras with tasty Creole and Cajun food, a beer garden, live music, and a bountiful offering of fun activities for adults and children that include unique and intriguing craft projects, palm readers, fortune tellers, and more.
Día del Niño
In April, the Springs Preserve joins the international Día del Niño celebration that honors childhood with magicians, clowns, dancing and singing groups, arts and crafts workshops, interactive games, along with traditional Mexican food and drink.
Ice Cream Festival
In May, the Springs Preserves serves a cool dish of an event with the annual all-you-can-eat Ice Cream Festival. This tasty event spoils guests with offerings of ice cream cones and sundaes, root beer floats and novelty specials, along with carnival games, airbrush tattoos, a photo booth, a bubble play station, and invigorating live music.
Ohana Festival
In May, guests of the Springs Preserve can also partake in the spectacular annual Ohana Festival. This family-friendly event is both fun and educational with live island music complemented with hula dance performances and hula lessons for beginners. Guests also enjoy a large assortment of culturally-based arts and crafts workshops that include lei making and other intriguing skills. There are games to be played and a bountiful variety of savory foods to be enjoyed complemented by tropical drinks and a beer garden for adults.
Brews & Blues Festival
In June, the Springs Preserves presents the Brews and Blues Festival for adults only. Guests are treated to a variety of live blues and rockabilly bands as they enjoy unlimited samples from micro-breweries and hearty, tasty food.
Asian Heritage Celebration
In the beginning of autumn, the Springs Preserve honors Asian heritage with the Asian Heritage Celebration. This family-friendly celebration features dramatic live performances that include The Lion Dance, Taiko drummers, and more along with Asian arts and crafts workshops, a children's lantern parade, vending and concession stands, and much more.
Grapes and Hops Festival
Every October, the Springs Preserves hosts the annual Grapes and Hops Festival. This event is for guests 21 and older. The Grapes and Hops Festival raises money for the breast cancer research non-profit organization Par for The Cure with this wine tasting and beer sampling extravaganza complete with complimentary food and live music.
Haunted Harvest
Weekends in October are filled with spooktacular fun at the Springs Preserves with a haunted hay maze, a petting zoo; carnival games, trick or treat stations, and live music.
Educational Activities
The Las Vegas Springs Preserve maintains an ongoing educational program that includes a library with special activities for young children. Weekly and monthly classes and workshops reflect the seasons, exhibitions, and signature events.
The Springs Preserves hosts free school and class tours throughout the semesters, and offers camping experience for kids during the spring and summer breaks.
Crack a Geode
Guests to the Springs Preserve are provided the tools and guidance to crack open their geodes and discover the often glorious secret inner contents.
Walk With a Doc
Physicians from the nearby University Medical Center host guided nature walks while speaking on various pertinent subjects from childhood obesity to cancer and cardiac care on the third Thursday of every month.
Amenities
The Springs Preserve offers a variety of amenities to enhance the comfort and safety of their guests, including lockers, single and double strollers, standard and electric wheelchairs, an ATM; and even an electric vehicle charging station for those registered with the ChargePoint vehicle charging network.
The Springs Preserve has a very comfortable on-site restaurant that is open every day and a gift shop that was Named "Best Souvenir Shop" by the Las Vegas Review-Journal staff.
Pet owners should note that due to the prevalence of native wildlife, pets are not allowed at the Springs Preserve. Service animals, however, are welcomed to this disability-accessible facility.
With a plethora of changing and rotating activities and events, the Las Vegas Springs Preserve provides ongoing opportunities for tourists and locals to congregate, learn together, and have loads of fun. For more information about the Las Vegas Springs Preserve, please call (702) 822-7700 or visit the Las Vegas Springs Reserve website by following the highlighted link.
See All Homes for Sale in the Las Vegas Zip Code 89107 Today