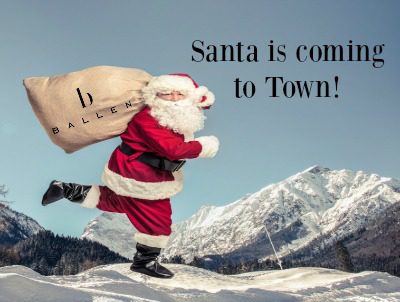 The Magical Forest at Opportunity Village takes visitors out of Las Vegas and into a magical world. The Forest Express Passenger Train travels through hundreds of uniquely decorated trees that line the tracks and walkways. In the midst of the festivities, Santa Claus rests in his workshop.
Santa is eager to spend time with all of the people who visit him and take pictures to memorialize the experience. All the while, friends and family will lose themselves in the small carnival rides, games, and nightly entertainment.
All proceeds go toward helping people with disabilities at Opportunity Village.
The Magical Forest is open from 5:30 p.m. until 9 p.m. on Sunday through Thursday, and 5:30 p.m. to 10 p.m. on Friday and Saturdays.
Opportunity Village is located at 6300 W. Oakey Blvd, Las Vegas, NV 89146. To learn more about the Magical Forest, call (702) 225-9627 or visit their website.
The Ballen Group Las Vegas is pleased to bring you information about coming events and interesting places to visit in Las Vegas and Henderson. Keep us in mind for all of your real estate needs. Interested in buying or selling a home in Las Vegas or Henderson? Give us a call at 800-805-8354. Let us WOW you!
See Homes for Sale in the 89146 Zip Code Area
[wnt_grid keyid="1″ maptype="disabled" ownertype="all" paginated="false" sortoptions="false" maxresults="25″ search_mode="form" primarysearchtype="active" searchtype="zip" state="NV" single_family="y" mixed_use="y" condo_townhouse="y" min_price="75000″ max_price="1000000000″ listing_status="Active" zip_code="89146″ /]