Enjoy this Las Vegas Real Estate Market Report for this month. You can also do a home search and save your favorite properties. Set up a search and be alerted as soon as a matching property hits our database. It's Exclusive.
Click on the price or feature of the Real Estate You would like to see. You'll be taken to a page of MLS listings just as you requested. When you see something you like, Call 1-800-805-8354.
Las Vegas Housing Market Continues to See Low Inventory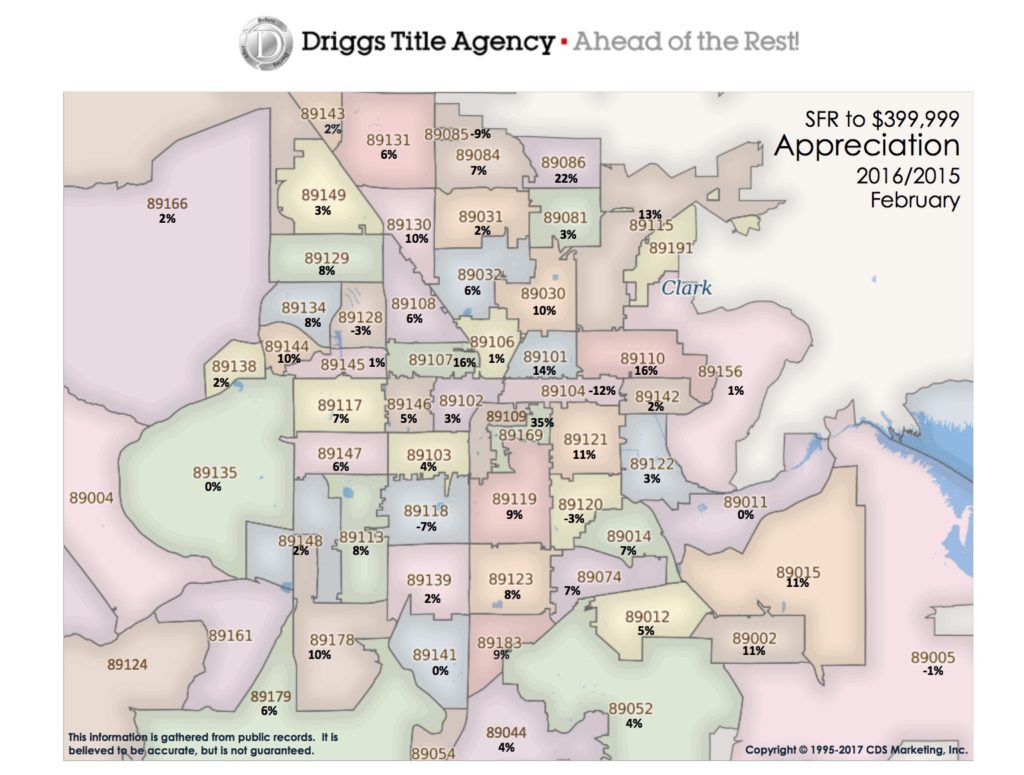 Here's a look at the Las Vegas Real Estate Market for April, 2017. According to a report released on April 7th by the Greater Las Vegas Association of REALTORS® (GLVAR), property prices continue to increase as we move into prime selling time in the Las Vegas real estate industry.
March saw a total of 3,903 condominiums, townhomes, and single family homes sell. The median price range of houses that sold in Las Vegas during the month of March was $242,000. This amount shows an increase of 10 percent from last March and a 0.8 percent from February's median price range of $240,000. At the end of the month, there were 5,488 single-family homes on the market without an offer.  Read More Here!
View Market Reports from 2017
View Market Reports from 2016
Year-to-Year Comparison of Property Types & Prices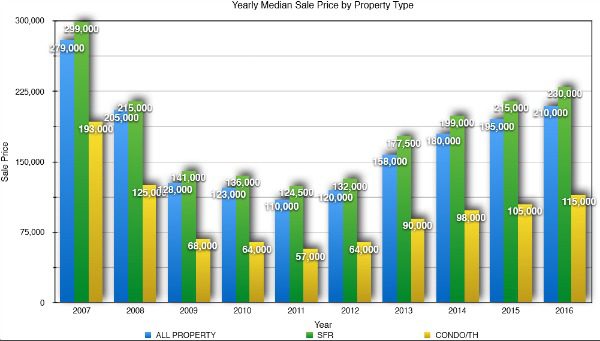 Wondering what your home might be worth? Find out instantly with our 15-second home value calculator.
Here's the most recent home listings just added to the database in the average price range for Las Vegas. All homes here are priced at $242,000 or less.
You might want to browse these previous housing market reports for Southern Nevada:
December 2016
November 2016
October 2016
September 2016
August 2016
July 2016

Neighborhood
Zip Code
Dec 2016 Median Sold (SF)
Aliante
89084
$318,000
Alta Mira
89135
$218,50
Anthem Homes For Sale
89052
$295,000
Anthem Country Club
89052
$1,000,000
Ardiente
89081
$267,277

Arlington Ranch
89178
$254,000

Black Mountain Vistas
89102
$234,450
Canyon Gate Country Club
89117
$1,770,000
Cadence
89011
$284,293

Calico Ridge
89011
$375,500

Canyon Gate
89117
$1,088,000
Centennial Hills
89081
89129
89131
89143
89149
89166
$280,102
Champion Village
89012
$340,000

Coronado Ranch
89139
$228,850

Desert Inn Country Club
89109
$115,000
Desert Shores
89128
$315,000
Eldorado
89031
89084
$247,015

Elkhorn Ranch
89149
$167,000
Elkhorn Springs
89131
89149
$205,000

Foothills at MacDonald Ranch
89012
$1,485,000
Green Valley Homes For Sale
89012
89014
89052
89074
$289,500

Green Valley Ranch
89012
$393,000

Green Valley South
89052
89084
$275,000

Highlands Ranch
89141
$312,000
Hillsboro Homes
89074
$600,000
Inspirada
89044
$377,750

Iron Mountain Ranch
89131
$425,000

Lake Las Vegas
89011
$933,312

Las Vegas Country Club
89109
$297,000

Legacy Golf Community
89074
$170,000

Lone Mountain
89129
$209,500

Lone Mountain West
89129
$329,000

Los Prados
89130
$234,000

Lynbrook
89130
$250,000
MacDonald Highlands
89012
$1,072,000

MacDonald Ranch
89012
$238,000

Madeira Canyon
89044
$437,250

Mcneill
89102
$385,000
Mesa Verde
89032
$142,500
Mira Villa
89144
$194,000
Montecito
89178
$220,000
Mountains Edge
89178
$250,000
Nevada Trails
89113
$342,000

North Shores
89129
$244,500
Painted Desert
89149
$291,495

Paradise Hills
89002
$262,450

Peccole Ranch
89117
$292,000

Providence
89166
$267,450
Queensridge
89145
$520,000

Rancho Las Palmas
89123
$187,000
Red Rock Country Club
89135
$647,540

Rhodes Ranch
89148
$324,950

Scotch 80's
89102
89106
$270,000
Seven Hills
89052
$430,000

Shadow Hills
89129
$276,000
Siena
89135
$441,000
Silver Springs
89074
$310,000

Silverado Ranch
89123
$247,500

Silverstone Ranch
89131
$258,250

Solera
89044
$238,000

South Shore
89128
$280,000

South Valley Ranch
89011
$169,750
Southern Highlands
89141
$314,750

Southern Terrace
89148
$380,000

Southfork Henderson
89052
89074
$397,500
Southwest Ranch
89148
$448,500

Spanish Hill
89148
$1,000,000

Spanish Oaks
89102
$230,000

Spanish Trail
89113
$770,000
Spring Mountain Ranch
89143
$211,000

Spring Valley
89147
$231,500

Stallion Mountain
89122
$210,500
Summerlin
89128
89134
89138
89144
89145
$300,000

Summerlin Hills
89128
89134
89138
89144
89145
$568,250

Summerlin West
Various
$359,750

Sun City Aliante
89084
$199,000
Sun City Anthem
89044
89052
$350,000

Sun City Macdonald Ranch
89012
$222,251

Sun City Summerlin
89134
$300,000
Sunridge at Macdonald Ranch
89052
$222,251

The Bluffs
89014
$261,000
The Lakes
89117
$266,000

The Ridges
89135
$2,200,000
Tierra De Las Palmas
89031
$183,750
Town Center
89149
$160,488
Tuscany
89011
$303,490

Whitney Ranch
89014
$262,500
Woodcrest
89108
$156,500

Check out: How to Buy a property in Las Vegas