🏠 Las Vegas Real Estate Market Report – This Month 2017
Enjoy this Las Vegas Real Estate Market Report for this month. You can also do a home search and save your favorite properties. Set up a search and be alerted as soon as a matching property hits our database. It's Exclusive.
Single Family Prices
Pending Sales: 3,950
Closed Sales: 3,430
Days on Market Until Sale: 38 (May) and 45 Year to Date
Median Sales Price: May $250,000
Average Sales Price 2017: $285,478
Percent of List Price Received: 98.8%
Total Inventory of Homes for Sale: 5,588
Months of Supply: 2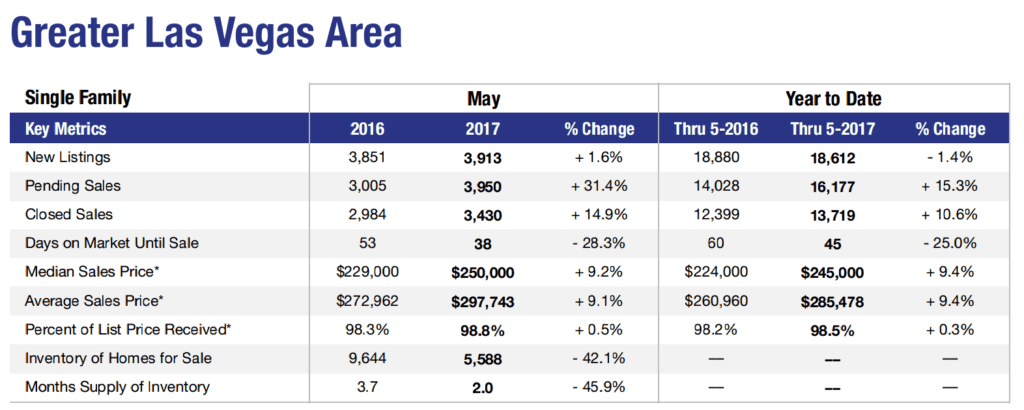 Las Vegas just hit a median sales price of $250,000 and sellers are getting 98.8% of their list price on Average.
Condo Prices

Median Sales Prices in Las Vegas 2017 – Rolling 12 month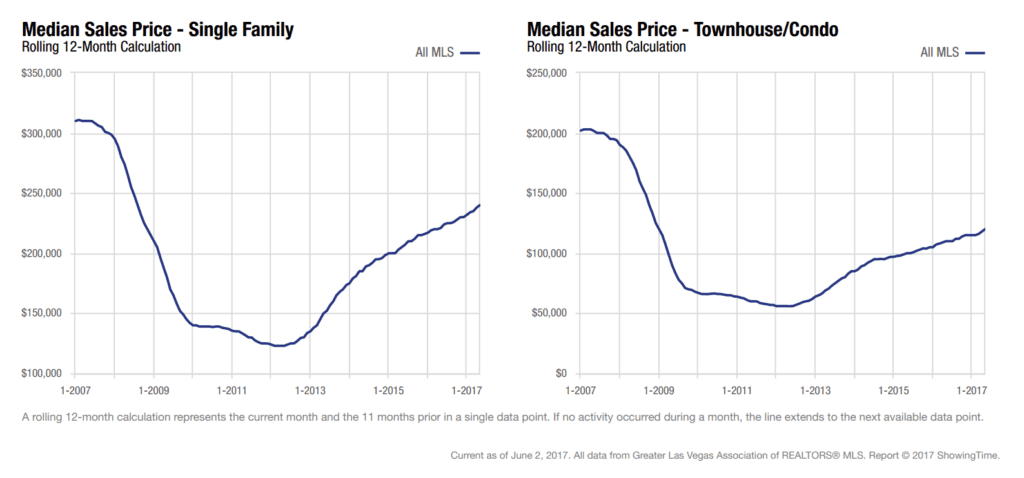 What's Your House Worth?Get an Instant Estimate
Las Vegas Housing Market Continues to See Low Inventory


Here's a look at the Las Vegas Real Estate Market for June, 2017. According to a report released on June 6th by the Greater Las Vegas Association of REALTORS® (GLVAR), property prices continue to increase as Las Vegas moves into a real house shortage.
From May of last year to May of this year, the price of a single-family house in Las Vegas went up by 12.2 percent.
May saw a total of 4,297 condominiums, townhomes, and single family homes sell. The median price range of houses that sold in Las Vegas during the month of May was $250,000. This amount shows an increase of 13.3 percent from last May and a 3.3 percent increase from April's median price range of $249,000. At the end of the month, there were 4,972 single-family homes on the market without an offer.  Read More Here!
The Southern Nevada's real estate sector is now an industry plagued by a crisis as a low home supply and high home prices continue to rock the market.
According to a report by the Greater Las Vegas Association of Realtors, the supply of housing plummeted in May. There were only 4,972 homes without any offer by the end of the month. This shows a 32.4% drop from last year's May.
Click on the price or feature of the Real Estate You would like to see. You'll be taken to a page of MLS listings just as you requested. When you see something you like, Call 1-800-805-8354.
David J. Tina, the president of the Greater Las Vegas Association of Realtors, notes that although Las Vegas has been experiencing a tight housing supply in the last couple of years, it has now come to a point where it is fair to call it a housing shortage.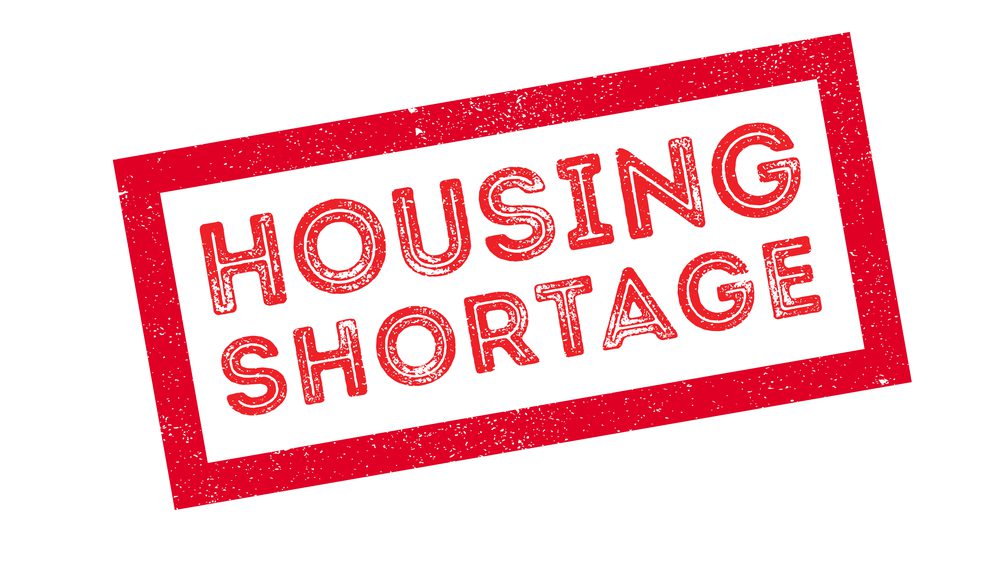 Observers from the National Association of Realtors® have of late been saying that low housing supply and high prices have become major concerns across the United States. However, David J. Tina notes that although most metro areas are experiencing a low housing supply, the problem has mostly been felt in Las Vegas where population and housing demand are growing faster than most places. Surprisingly, the falling supply has been accompanied by rising demand. The high demand is evidenced by the growth in the number of home sold this year. In May, a total of 4,297 homes sold.
The Greater Las Vegas Association of Realtors' report indicates that local home sales in this year are outpacing last year, and that has been the trend since 2014. In a nutshell, it is apparent that the problem of inadequate housing supply is further being aggravated by the rising demand.
The rise in housing demand can be attributed to a number of factors. The first cause has to do with population growth. The population of southern Nevada has been increasing steadily in the recent past. Las Vegas has a population of 2.2 million people and this is certainly putting pressure the limited inventories. Second, although the economic growth of Las Vegas has been slow, the growth has been sure and steady. As a result, the job market has experienced significant improvement adding to the number of people that can afford to own a home. Third, the mortgage rates dropped significantly this year and home buyers have been trying to take advantage of the lower mortgage rates to buy homes even at higher prices.
Experts have identified a number of factors that could be pushing down the supply of housing. Some commentators argue that the inadequate supply could be coming from the demand side of the market. According to Cheryl Young, a senior economist at Trulia Listing Service, The nationwide housing shortage is coming from the excess demand that is driving prices high. As a result of the higher prices, homeowners are unwilling to sell their old homes due to fears of difficulties in finding new affordable homes. Consequently, potential home sellers are being locked into their old homes.
Other experts attribute the low inventories to the soaring number of underwater mortgage borrowers. An underwater mortgage is a home purchase loan characterized by higher balance than the fair market value of a home. The impact of more people buying homes using underwater mortgage is that it reduces the homeowners' appetite to sell because they must pay the loss from their pockets. In a nutshell, underwater borrowing is discouraging homeowners from selling their properties and this has affected the inventories negatively.
In the last couple of years, the Las Vegas real estate industry has also been experiencing an unprecedented rise in home prices. That trend is continuing and this year.
In May of this year, the median price of a single-family house in Southern Nevada was $250,000.
According to a report by the Greater Las Vegas Association of Realtors, this was a 3.3 percent higher compared to the median price of April. From May of last year to May of this year, the price of a single-family house in Las Vegas went up by 13.3 percent.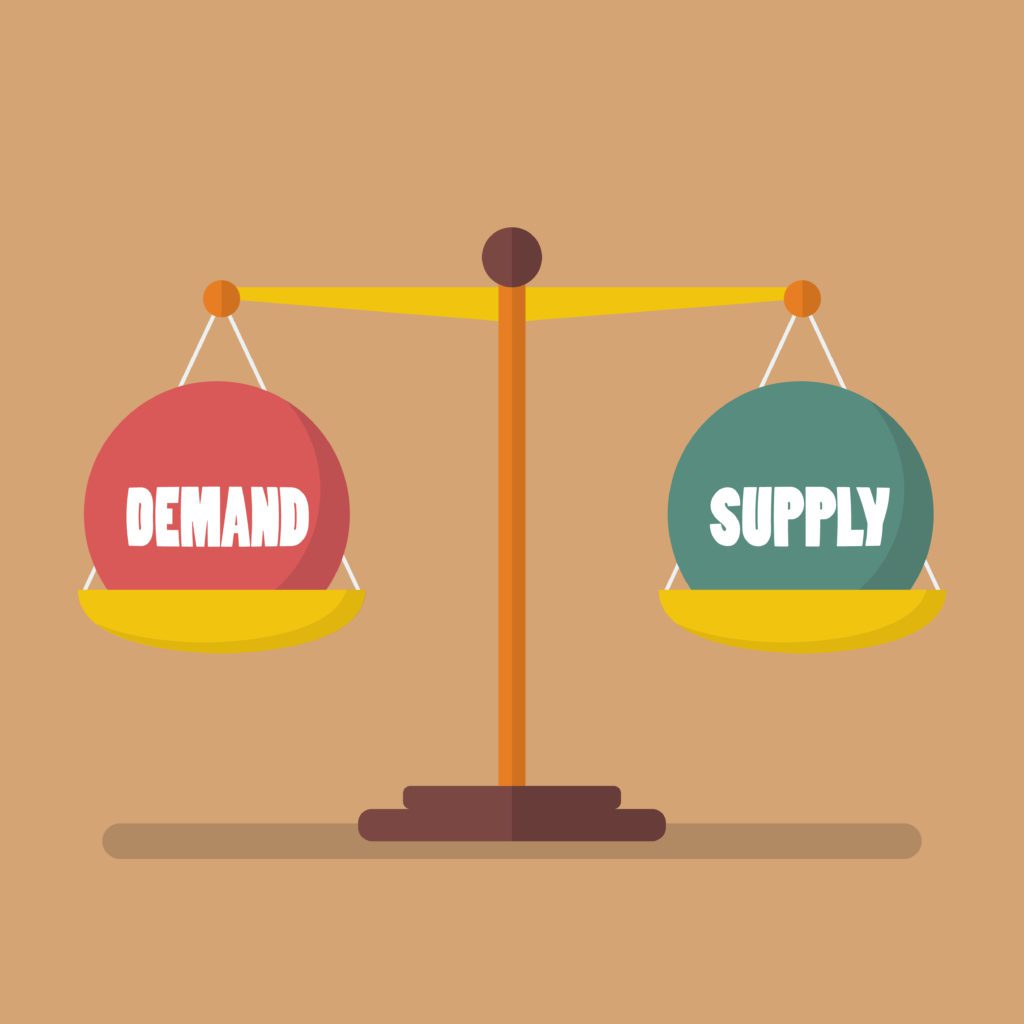 From the foregoing, it is apparent that the rising home prices can be attributed to a multiplicity of factors. Inadequate supply means more aggressive competition among willing buyers leading to higher prices. High levels of home demand give buyers a stronger bargaining power than sellers. To this end, it can be concluded that the skyrocketing prices of homes in Las Vegas are a result high demand and an acute shortage.
The limited inventories, high demand, and skyrocketing prices have had several impacts on the players in the Las Vegas Real Estate Market. High demand and high prices are good for the sellers. Sellers have a stronger bargaining power and they are easily fetching higher prices and making higher profits from house sales. However, the rising prices are also having a negative impact on supply as noted earlier. Buyers who wish to sell their old homes and acquire new ones are now more reluctant to sell and that is leading to low lower inventories. For real estate agents and listing services providers, decreasing supply mean shrinking trading opportunities and therefore, low supply is bad for their businesses.
In a nutshell, these are good times for home sellers because they can make more money from higher prices. However, real estate agents are experiencing a dry spell due to inadequate supply and the slowing level of business in the Las Vegas' real estate industry. As it stands, things are even toughest for buyers because getting a home to purchase has become more difficult, and even after getting one, a buyer has to compete with other potential buyers and pay a higher price to beat competitors.
In conclusion, it is apparent that although there is a housing shortage in most metro areas throughout the United States, the problem is dire in Sothern Nevada particularly in Las Vegas metro area owing to the growing population, stable economic growth, and lower mortgage rates among other factors leading to excess demand. The rising demand and the shrinking supply keeps pumping the prices higher, and in the last 12 months, the prices have gone up by more than 12 percent.
Others Have Asked
If you are thinking of selling and wonder how much your house might sell for in today's Las Vegas Real Estate Market, use this
instant home value estimate
or call 702.482.7739. We serve Henderson, North Las Vegas, and Las Vegas and have partners across the nation as well.
Market Reports from 2017
Market Reports from 2016
Year-to-Year Comparison of Property Types & Prices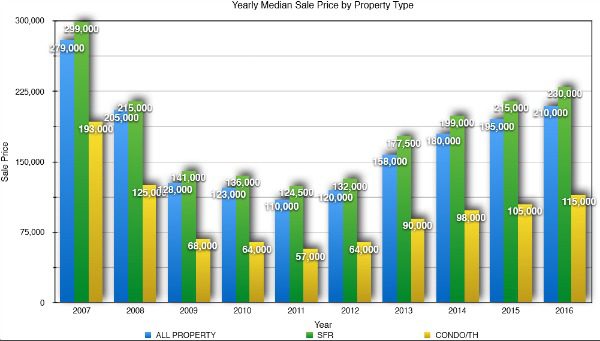 Wondering what your home might be worth? Find out instantly with our 15-second home value calculator.
Here's the most recent home listings just added to the database in the average price range for Las Vegas. All homes here are priced at $250,000 or less.
Homes for Sale by Price
Neighborhood
Zip Code
Median Sold (SF)
Aliante
89084
$305,514
Alta Mira
89135
$234,300
Anthem Homes For Sale
89052
$391,933
Anthem Country Club
89052
$525,000
Ardiente
89081
$250,000

Arlington Ranch
89178
$252,500
Black Mountain Vistas
89102
$280,000
Canyon Gate Country Club
89117
$765,000
Cadence
89011
$333,500
Calico Ridge
89011
$284,233
Canyon Gate
89117
$765,000
Centennial Hills
89081
89129
89131
89143
89149
89166
$295,000
Champion Village
89012
$263,900

Coronado Ranch
89139
$263,500

Desert Inn Country Club
89109
$115,000
Desert Shores
89128
$315,000
Eldorado
89031
89084
$247,015

Elkhorn Ranch
89149
$167,000
Elkhorn Springs
89131
89149
$205,000

Foothills at MacDonald Ranch
89012
$1,485,000
Green Valley Homes For Sale
89012
89014
89052
89074
$289,500

Green Valley Ranch
89012
$393,000

Green Valley South
89052
89084
$275,000

Highlands Ranch
89141
$312,000
Hillsboro Homes
89074
$600,000
Inspirada
89044
$377,750

Iron Mountain Ranch
89131
$425,000

Lake Las Vegas
89011
$933,312

Las Vegas Country Club
89109
$297,000

Legacy Golf Community
89074
$170,000

Lone Mountain
89129
$209,500

Lone Mountain West
89129
$329,000

Los Prados
89130
$234,000

Lynbrook
89130
$250,000
MacDonald Highlands
89012
$1,072,000

MacDonald Ranch
89012
$238,000

Madeira Canyon
89044
$437,250

Mcneill
89102
$385,000
Mesa Verde
89032
$142,500
Mira Villa
89144
$194,000
Montecito
89178
$220,000
Mountains Edge
89178
$250,000
Nevada Trails
89113
$342,000

North Shores
89129
$244,500
Painted Desert
89149
$291,495

Paradise Hills
89002
$262,450

Peccole Ranch
89117
$305,000

Providence
89166
$267,450
Queensridge
89145
$520,000

Rancho Las Palmas
89123
$187,000
Red Rock Country Club
89135
$647,540

Rhodes Ranch
89148
$324,950

Scotch 80's
89102
89106
$270,000
Seven Hills
89052
$430,000

Shadow Hills
89129
$276,000
Siena
89135
$441,000
Silver Springs
89074
$310,000

Silverado Ranch
89123
$247,500

Silverstone Ranch
89131
$258,250

Solera
89044
$238,000

South Shore
89128
$280,000

South Valley Ranch
89011
$169,750
Southern Highlands
89141
$314,750

Southern Terrace
89148
$380,000

Southfork Henderson
89052
89074
$397,500
Southwest Ranch
89148
$448,500

Spanish Hill
89148
$1,000,000

Spanish Oaks
89102
$230,000

Spanish Trail
89113
$770,000
Spring Mountain Ranch
89143
$211,000

Spring Valley
89147
$231,500

Stallion Mountain
89122
$210,500
Summerlin
89128
89134
89138
89144
89145
$300,000

Summerlin Hills
89128
89134
89138
89144
89145
$568,250

Summerlin West
Various
$359,750

Sun City Aliante
89084
$199,000
Sun City Anthem
89044
89052
$350,000

Sun City Macdonald Ranch
89012
$222,251

Sun City Summerlin
89134
$300,000
Sunridge at Macdonald Ranch
89052
$222,251

The Bluffs
89014
$261,000
The Lakes
89117
$266,000

The Ridges
89135
$2,200,000
Tierra De Las Palmas
89031
$183,750
Town Center
89149
$160,488
Tuscany
89011
$303,490

Whitney Ranch
89014
$262,500
Woodcrest
89108
$156,500

Check out: How to Buy a property in Las Vegas