🏠 Las Vegas Real Estate Market Report – This Month 2017
Enjoy this Las Vegas Real Estate Market Report for this month. You can also do a home search and save your favorite properties. Set up a search and be alerted as soon as a matching property hits our database. It's Exclusive.
Other's have favored our Las Vegas Zip Code Map. 
What's Your House Worth?Get an Instant Estimate
Las Vegas Housing Market Continues to See Prices Rise
Here's a look at the Las Vegas Real Estate Market for August, 2017. According to a report released on August 7th by the Greater Las Vegas Association of REALTORS® (GLVAR), property prices are still on the rise as home sales remain high.
From July of last year to July of this year, the median price range for homes in Las Vegas went up by 10.2 percent.
July saw a total of 3,798 condominiums, townhomes, and single family homes sell. The median price range of houses that sold in Las Vegas during the month of July was $260,000. This amount shows an increase of 10.2 percent from last July. You can see the steady increase in prices when you look at May's median price range of $250,000 and June's median price range of $257.373. At the end of the month, there were 4,995 single-family homes on the market without an offer.  Read More Here!
Others Have Asked
If you are thinking of selling and wonder how much your house might sell for in today's Las Vegas Real Estate Market, use this
instant home value estimate
or call 702.482.7739. We serve Henderson, North Las Vegas, and Las Vegas and have partners across the nation as well.
Market Reports from 2017
Market Reports from 2016
Year-to-Year Comparison of Property Types & Prices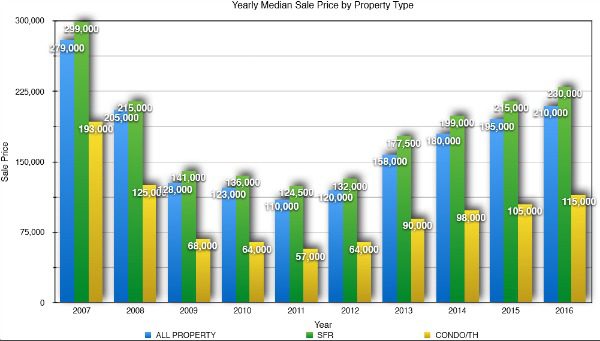 Wondering what your home might be worth? Find out instantly with our 15-second home value calculator.
Here's the most recent home listings just added to the database in the average price range for Las Vegas. All homes here are priced at $260,000 or less.
Check out: How to Buy a property in Las Vegas