🏠 Las Vegas Real Estate Market Report – This Month 2017
Enjoy this Las Vegas Real Estate Market Report for this month. You can also do a home search and save your favorite properties. Set up a search and be alerted as soon as a matching property hits our database. It's Exclusive.
What's Your House Worth?Get an Instant Estimate
Las Vegas Housing Market Continues to See Low Inventory
Here's a look at the Las Vegas Real Estate Market for June, 2017. According to a report released on June 6th by the Greater Las Vegas Association of REALTORS® (GLVAR), property prices continue to increase as Las Vegas moves into a real house shortage.
From May of last year to May of this year, the price of a single-family house in Las Vegas went up by 12.2 percent.
May saw a total of 4,297 condominiums, townhomes, and single family homes sell. The median price range of houses that sold in Las Vegas during the month of May was $250,000. This amount shows an increase of 13.3 percent from last May and a 3.3 percent increase from April's median price range of $249,000. At the end of the month, there were 4,972 single-family homes on the market without an offer.  Read More Here!
Others Have Asked
If you are thinking of selling and wonder how much your house might sell for in today's Las Vegas Real Estate Market, use this
instant home value estimate
or call 702.482.7739. We serve Henderson, North Las Vegas, and Las Vegas and have partners across the nation as well.
Market Reports from 2017
Market Reports from 2016
Year-to-Year Comparison of Property Types & Prices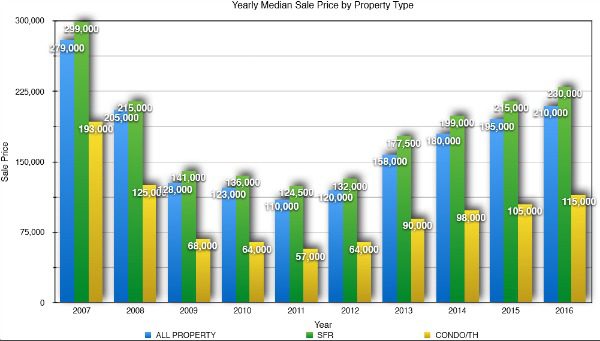 Wondering what your home might be worth? Find out instantly with our 15-second home value calculator.
Here's the most recent home listings just added to the database in the average price range for Las Vegas. All homes here are priced at $250,000 or less.
Homes for Sale by Price
Neighborhood
Zip Code
Median Sold (SF)
Aliante
89084
$305,514
Alta Mira
89135
$234,300
Anthem Homes For Sale
89052
$391,933
Anthem Country Club
89052
$525,000
Ardiente
89081
$250,000

Arlington Ranch
89178
$252,500
Black Mountain Vistas
89102
$280,000
Canyon Gate Country Club
89117
$765,000
Cadence
89011
$333,500
Calico Ridge
89011
$284,233
Canyon Gate
89117
$765,000
Centennial Hills
89081
89129
89131
89143
89149
89166
$295,000
Champion Village
89012
$263,900

Coronado Ranch
89139
$263,500

Desert Inn Country Club
89109
$115,000
Desert Shores
89128
$315,000
Eldorado
89031
89084
$247,015

Elkhorn Ranch
89149
$167,000
Elkhorn Springs
89131
89149
$205,000

Foothills at MacDonald Ranch
89012
$1,485,000
Green Valley Homes For Sale
89012
89014
89052
89074
$289,500

Green Valley Ranch
89012
$393,000

Green Valley South
89052
89084
$275,000

Highlands Ranch
89141
$312,000
Hillsboro Homes
89074
$600,000
Inspirada
89044
$377,750

Iron Mountain Ranch
89131
$425,000

Lake Las Vegas
89011
$933,312

Las Vegas Country Club
89109
$297,000

Legacy Golf Community
89074
$170,000

Lone Mountain
89129
$209,500

Lone Mountain West
89129
$329,000

Los Prados
89130
$234,000

Lynbrook
89130
$250,000
MacDonald Highlands
89012
$1,072,000

MacDonald Ranch
89012
$238,000

Madeira Canyon
89044
$437,250

Mcneill
89102
$385,000
Mesa Verde
89032
$142,500
Mira Villa
89144
$194,000
Montecito
89178
$220,000
Mountains Edge
89178
$250,000
Nevada Trails
89113
$342,000

North Shores
89129
$244,500
Painted Desert
89149
$291,495

Paradise Hills
89002
$262,450

Peccole Ranch
89117
$305,000

Providence
89166
$267,450
Queensridge
89145
$520,000

Rancho Las Palmas
89123
$187,000
Red Rock Country Club
89135
$647,540

Rhodes Ranch
89148
$324,950

Scotch 80's
89102
89106
$270,000
Seven Hills
89052
$430,000

Shadow Hills
89129
$276,000
Siena
89135
$441,000
Silver Springs
89074
$310,000

Silverado Ranch
89123
$247,500

Silverstone Ranch
89131
$258,250

Solera
89044
$238,000

South Shore
89128
$280,000

South Valley Ranch
89011
$169,750
Southern Highlands
89141
$314,750

Southern Terrace
89148
$380,000

Southfork Henderson
89052
89074
$397,500
Southwest Ranch
89148
$448,500

Spanish Hill
89148
$1,000,000

Spanish Oaks
89102
$230,000

Spanish Trail
89113
$770,000
Spring Mountain Ranch
89143
$211,000

Spring Valley
89147
$231,500

Stallion Mountain
89122
$210,500
Summerlin
89128
89134
89138
89144
89145
$300,000

Summerlin Hills
89128
89134
89138
89144
89145
$568,250

Summerlin West
Various
$359,750

Sun City Aliante
89084
$199,000
Sun City Anthem
89044
89052
$350,000

Sun City Macdonald Ranch
89012
$222,251

Sun City Summerlin
89134
$300,000
Sunridge at Macdonald Ranch
89052
$222,251

The Bluffs
89014
$261,000
The Lakes
89117
$266,000

The Ridges
89135
$2,200,000
Tierra De Las Palmas
89031
$183,750
Town Center
89149
$160,488
Tuscany
89011
$303,490

Whitney Ranch
89014
$262,500
Woodcrest
89108
$156,500

Check out: How to Buy a property in Las Vegas