The Las Vegas Strip is only 4.2 miles in length. "The Strip", as it's more commonly known, isn't actually in the city of Las Vegas, Nevada. It's located in the unincorporated towns of Winchester and Paradise, and is located just south of the Las Vegas city limits.
Las Vegas Strip Map with Hotels
Even though the Las Vegas Strip in the United States is relatively small, it's internationally well-known. It boasts fifteen of the world's twenty-five largest hotels (by room count). From 2017 to 2018, the 89109 real estate market appreciated by 23.5%.
Here you can find some of the world's largest casinos, hotels, and resort properties. The lights from The Strip can be seen for miles around, and it is actually considered to be a scenic route at night.
The Strip has evolved into one of the world's most popular destinations for tourists due to entertainment, casinos, hotels and restaurants. It's a large draw for those wanting to live there with its residential high-rises. The first casino was built on The Strip in 1931, and has been constantly evolving ever since.
Be sure the check out the Best Pools in Las Vegas!
Traffic and Transportation
As you can imagine, The Strip is a hustling, bustling place. In order to alleviate some of the obvious traffic problems, and to also make easier for guests to get onto The Strip, there are several modes of transportation available.
Even the modes of transportation can be hectic and confusing. There are monorails that travel only between certain casinos, but other monorails that travel the majority of The Strip itself. Double-decker buses serve as transit to and from The Strip from downtown Las Vegas. The buses stop near every casino on their routes.
There are select buses that stop at hotels and shopping attractions. You will also find trams that offer a free ride, trams that only travel on one side town, or between certain casinos. You'll also find taxi services, but they are only allowed to stop at designated spots, or at hotel entrances. It's best when utilizing the taxis to inquire what destinations they are allowed to stop at. Then there are the shuttles.
The shuttles range in running time from 15 minutes to every 60 minutes. There are shuttles that run every thirty minutes down The Strip. Here again, it depends on which casino you want to visit, which hotel you're staying at, and what side of town everything is on. In order to use some of the shuttles, you must have a room key from certain affiliated casinos.
Here's information on Uber and Lyft
Pedestrian Traffic on The Strip
As expected, pedestrian traffic is just as busy as the roadways. Some casinos have outdoor shows, which causes quite the crowd gathering. The busiest times on the sidewalks are in the early morning and evenings. Weekend nights are especially busy. Because of the high volume of pedestrian traffic, some sidewalks are extra wide. Footbridges have been installed to help lessen the congestion at busy intersections. Some of the footbridges are designed to match the theme of nearby resorts and casinos.
Some people want to know: How do we get Married in Las Vegas?
Strip Attractions
Over the years, The Las Vegas Strip has become more family friendly. The numerous light and fountain shows located outside of the casinos are eye-catching and entertaining for the whole family. You can also find Chocolate Factories, botanical gardens, aquariums, and a number of museums that will be sure to interest your younger family members. There are plenty of wildlife habitats along and near the strip, too.
Many of the casinos have live, daily performances held outside for all to enjoy. For example, at the Circus Circus casino, you'll find the world's largest permanent circus. Shows start daily at 11am. If you stop by the Excalibur Casino, you'll find medieval performers at the Court Jester's Stage.
There's a vast variety of music everywhere you go on The Strip. Some performances are outside for all to enjoy, while others are in club settings that are adult-oriented. Music ranges from jazz to country, so you're sure to find something you and your family will like.
Las Vegas, Nevada, has truly become a family vacation land for both the United States and abroad. There's a little something for everyone – both inside and out of the city limits.
What are the Casino Addresses?
The Las Vegas Strip runs from just South of Russell Road, which is on the outskirts of town. The Northern boundary is Sahara Avenue. There are several side streets on both sides of The Strip. The hotels and resorts listed below are located on The Strip itself. The zip code for the Las Vegas Strip is 89109.
Luxor 3900 S. Las Vegas Blvd.
Venetian 3355 S. Las Vegas Blvd.
Circus Circus 2880 S. Las Vegas Blvd.
Mandalay Bay 3950 S. Las Vegas Blvd.
Aria at CityCenter 3730 S. Las Vegas Blvd.
Monte Carlo Hotel Casino 3770 S. Las Vegas Blvd.
Excalibur 3850 S. Las Vegas Blvd.
Treasure Island 3300 S. Las Vegas Blvd.
Bellagio 3600 S. Las Vegas Blvd.
MGM Grand 3799 S. Las Vegas Blvd
The Cosmopolitan of Las Vegas 3708 S. Las Vegas Blvd.
New York – New York 3790 S. Las Vegas Blvd.
Mirage 3400 S. Las Vegas Blvd.
Flamingo 3555 S. Las Vegas Blvd.
Caesars Palace3570 S. Las Vegas Blvd.
Paris Las Vegas3655 S. Las Vegas Blvd.
Stratosphere 2000 S. Las Vegas Blvd.
Planet Hollywood 3667 S. Las Vegas Blvd.
Bally's 3645 S. Las Vegas Blvd.
Wynn Las Vegas 3131 S. Las Vegas Blvd
Harrah's 3475 S. Las Vegas Blvd.
Palazzo 3325 S. Las Vegas Blvd.
Tropicana Las Vegas 3801 S. Las Vegas Blvd.
The Cromwell 3595 S. Las Vegas Blvd
The LINQ Hotel and Casino3535 S. Las Vegas Blvd.
O'Sheas Las Vegas3555 S. Las Vegas Blvd.
Slots-A-Fun 2890 S. Las Vegas Blvd.
Summary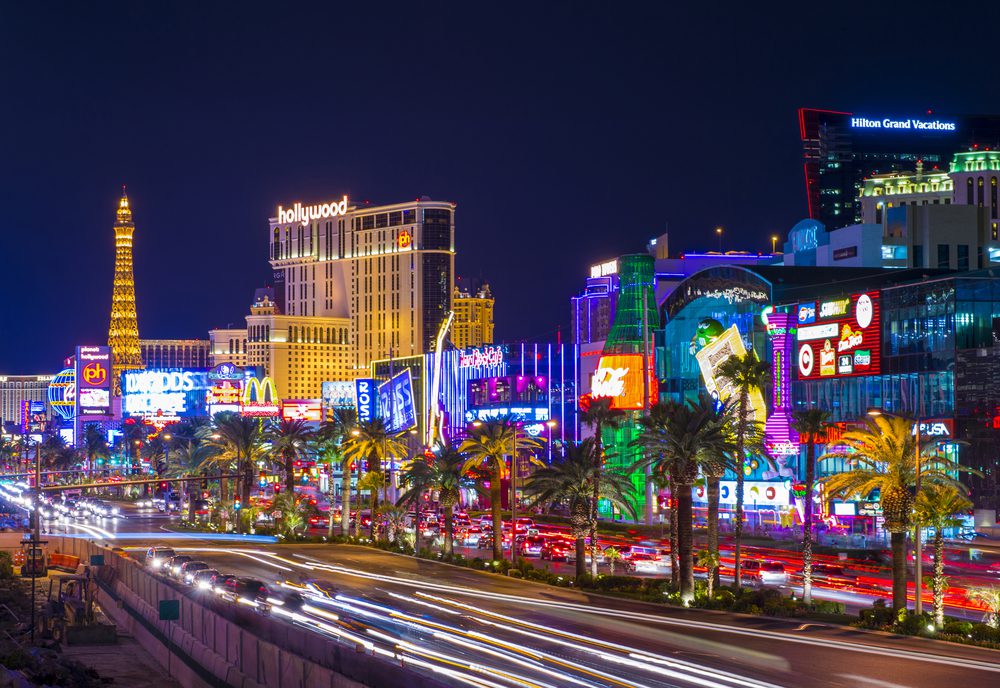 Article Name
Description
See what casinos, hotels and attractions are on the Las Vegas Strip using this Las Vegas Strip Map.
Author