It's Christmas in Vegas! Here's your Holiday Event List [2018]
As the holiday season commences, the City of Lights receives a seasonal makeover. Between light shows, immersive Christmas experiences, and spending New Year's Eve on the Las Vegas Strip, there is no better place to spend the last two weeks of the year.
Get Alerts Directly to Your Email for the Newest Homes Listed for Sale in Las Vegas!
Explore the many activities, sights, and sounds Las Vegas has to offer during this festive time of year. Enjoy this holiday event list of Things to do for Christmas in Las Vegas. And when you are ready, check out this complete list on where to get photos with Santa.
Heritage Holidays at Clark County Museum
The county seat of Clark County, Las Vegas is home to the county's museum, which features multiple historical buildings. During the holiday season, points of interest are illuminated to add to the season's festivities.
Though closed Christmas day, Heritage Holidays offers visitors a unique experience that includes the Candlelight
Wedding Chapel
, activities for children, and carolers. There is plenty of hot cocoa and apple cider to go with the Christmas craft opportunities on December 7th and 8th from 5 PM – 8 PM.
Perfect for history buffs and families alike, Heritage Holidays at the Clark County Museum is an attraction not to be missed. The Clark County Museum is located at 1830 South Boulder Highway in Henderson, Nevada, approximately 20 minutes from Las Vegas' city center in the 89002 zip code area.
Suggested: Christmas Lights – Glittering Lights
Christmas Town Las Vegas
Christmas Town Las Vegas, hosted by Wet N Wild, is an opportunity for you and your family to enjoy the very best of Christmas in an amazing atmosphere, that is guaranteed to be fun for all ages from November 24th through December 31st. The activities pause on Christmas Eve and Christmas Day.
Sights and activities include the Polar Express Train Ride, Santa Claus' Cozy Cottage, Let it Snow Spectacular, and Rudolph's Save Christmas Paintball. You'll also find Tiny Tim's Train Ride, the Merry Magic Tree, and Christmas Characters.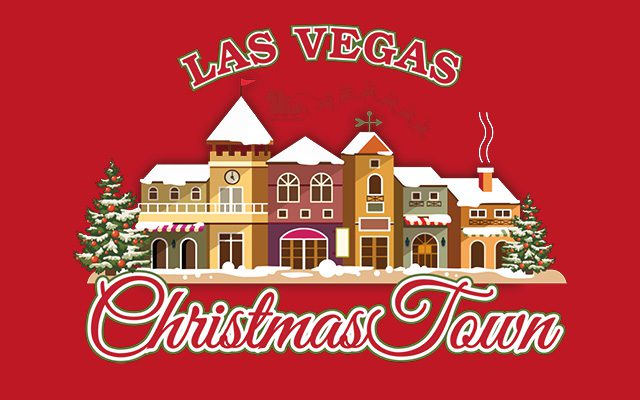 Opening hours Sunday – Friday from 5:30 PM – 9 PM and Saturday from 5 PM – 10 PM. There is a $25 cost of admission that includes all activities except paintball. Children under the age of 2 are admitted for free.
The Nevada Ballet Theater
A perfect way to celebrate the season, attending a live performance of "The Nutcracker" at the Nevada Ballet Theater in Las Vegas can quickly become a tradition. From exquisitely designed costumes to award-winning theatrical feats, "The Nutcracker" is regularly featured throughout the month of December.
The Nutcracker is performed at The Smith Center for the Performing Arts, Reynolds Hall on December 8th – 24th with shows at 2 PM and 7:30 PM depending on the day of the show. Ticket prices vary according to seating.
Cowboy Christmas Gift Show
For cowboys and cowgirls at heart, the Las Vegas Cowboy Christmas Gift Show is a must see. More than 300,000 square feet house the best gifts for western enthusiasts that include boots, spurs, jewelry, and pottery.
If you're a rodeo fan, enjoy free transportation to the evening's rodeo, part of the annual Wrangler National Finals Rodeo. Known simply as "Cowboy Christmas" locally, the gift show is held at the Las Vegas Convention Center and is free to attend from December 6th – December 15th from 9 AM – 5 PM.
Magical Forest at Opportunity Village
A highly awaited event in the Las Vegas area, the Magical Forest lives up to its name. Adorned with millions of dazzling lights, the forest features a carousel, live entertainment, and an enchanted midway.
Favorite activities offering fun for the entire family include the Forest Express ride through an illuminated landscape, photos with Santa Claus and the elves, and the Wondrous Gingerbread House display. Visit the Magical Forest from November 23rd through December 31st with the exception of Christmas Day beginning at 5:30 PM each day.
In operation only during the holiday season, the event and its proceeds benefit Opportunity Village, which provides job skills training and work experience for individuals with intellectual disabilities. Located on Oakley Blvd, the Magical Forest is easily accessible from downtown Las Vegas.
Read More: Christmas Lights – Magical Forest at Opportunity Village
Cactus Garden Lighting
A fun twist on traditional Christmas decorations, Ethel M Chocolates hosts an annual Cactus Garden Lighting, adding thousands of sparkling lights to its cactus garden. Truly uniting western elements with the holiday season, the chocolate company launches the event in November and offers free admission to the public.
Conveniently located in Henderson, Nevada, Ethel M Chocolates' Cactus Garden Lighting is worthy of making a special trip. While you're there, sample the store's vast selection of handmade chocolates. This event runs from November 6th through January 6th.
Read More: Christmas Lights – Ethel M Cactus Garden in Henderson
Glittering Lights at Las Vegas Motor Speedway
If you've ever wondered what a sea of holiday cheer looked like, you'll wonder no more after visiting the Las Vegas Motor Speedway's Glittering Lights. Each year, the racetrack is transformed into a Christmas paradise complete with giveaways, live events, and millions of twinkling lights spanning the track.
An affordable activity everyone can enjoy, driving through the decorated 2.5-mile track is a sight to behold and benefits multiple non-profit organizations. The track is situated on Las Vegas Boulevard North and is a short drive from most of Las Vegas that is open from November 9th through January 6th.
Suggested: Christmas Lights – Glittering Lights
Mystic Falls Park at Sam's Town
Located on Boulder Highway, Mystic Falls Park at Sam's Town becomes an enchanted wonderland during the holiday season. Visitors enjoy strolling through a dazzling forest, complete with 30-foot tall Christmas trees and appearances from Santa from December 2nd through 23rd.
Unlike other local Christmas attractions, Mystic Falls features an evening laser light show set to seasonal music that takes place through January 1st. An ideal stop for couples and families, Mystic Falls is free to visit and has shows at 2 PM, 4 PM, 6 PM, 8 PM, and 10 PM each day.
Majestic Holiday Magic at Bellagio
Though there are many options to enjoy Christmas in Las Vegas, a visit to the Bellagio ranks among the most popular. With a variety of sights and sounds to take in, guests are overwhelmed by the Bellagio Conservatory and Botanical Gardens' ambiance, which is transformed into a festive wonder during December.
Suggested: Christmas Lights – Bellagio Conservatory and Botanical Gardens
If visiting the Bellagio, don't miss the Conservatory and Botanical Gardens with nearly 50,000 fresh flowers, more than 10,000 lights and ornaments, and intricate chocolate houses. Bellagio Fountains invites you to experience lights, Christmas music, and an entertaining water show at Bellagio's Fountains.
You'll find Christmas activities happening from December 1st through January 6th. Want a sneak peek of what you'll see in person? Check out the live cam set up to view the Majestic Holiday Magic.
Santa in the Shipwreck at Shark Reef Aquarium
An aquatic twist on Christmas, Shark Reef Aquarium's annual "Santa in the Shipwreck" event occurs on weekends during the month of December. Learn about more than 2,000 animals while exploring this 1.6 million gallon aquarium before greeting Santa in the shipwreck exhibit.
Perfect for children, Santa in the Shipwreck combines the majesty of the sea with the enchantment of the holidays and offers visitors younger than 12 a free photo with admission. Located at Mandalay Bay, Shark Reef Aquarium is a great place to learn something new while celebrating the season.
Read More: Santa Visits Mandalay Bay
The Ice Rink at The Cosmopolitan
Fond holiday memories are created from hot cocoa, warm sweaters, and ice skating, and there is no better place to strap on your skates than the Ice Rink at The Cosmopolitan. From season-inspired cocktails and fire pits to s'mores and snow, the Ice Rink offers an immersive winter experience.
Situated on the Vegas strip, The Cosmopolitan's Ice Rink is the perfect place to make your newest Christmas memories. (Hint: If you enjoy the Ice Rink, return on New Year's Eve for an unforgettable fireworks show.)
Read More: The Cosmopolitan Ice Rink, Now THIS is Ice Skating!
Las Vegas Springs Preserve
A 180-acre preserve just outside of Las Vegas' city center, the Springs Preserve offers train rides with Santa December 7 – 9, 14 – 16, and 21 – 23. Exciting for children and adults alike, experiencing a Christmas train ride is a fantastic memory.
While visiting, explore the Springs Preserve's exhibits, like the butterfly garden or Wicked Plants exhibit, before participating in holiday activities. Ideal for children, the Springs Preserve offers reindeer art, ornament decorations, and storytime with Christmas cookies.