Interactive Map of Best Christmas Light Displays in Las Vegas & Henderson
Add Your Favorite Holiday House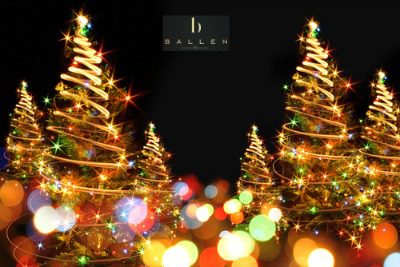 Here's the entire list of the Best Christmas Light Displays in Las Vegas & Henderson WITH your interactive map at the bottom!
1. 400 Huntly Road, Las Vegas, NV 89145
They are famous for their holiday lighting displays on Halloween and Christmas. In fact, they add to their collection each year to make it even bigger and better than the year before. They light up the property at 5 PM each day and leave it lit until 10 PM. On Friday and Saturday, they leave things lit until 11 PM. The music used is mostly Trans Siberian Orchestra, but they do use other tunes that inspire them.
2. 3646 Carol Lark Court, Las Vegas, NV 89074
For years, Mark and Lynda Newman have been using their home to create astonishing animated Christmas light displays, referred to as Light-O-Rama. They use more than 12,000 lights and have a virtual Santa in an upstairs window. Tune in to the Christmas music on 101.1 FM that is a wonderful addition to the festivities.
Add Your Favorite Holiday House
3. 3164 Mclennan Ave., North Las Vegas, NV 89081
Known for its beautiful Christmas lights display that is perfectly straight and accompanied by music, this home, owned by Kelle Enneman also includes plenty of yard decorations. Lights are usually on from 5 pm until 11 pm each evening once they are lit for the season. Check out the video from last year's display here.
4. 1420 E. Robindale Rd., Las Vegas, NV 89123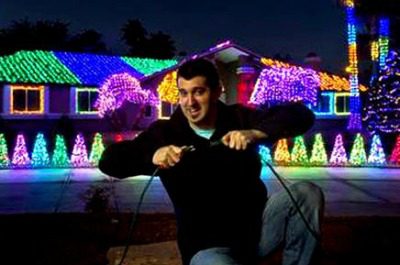 This home, located in the Las Vegas Valley and owned by hypnotist Marc Savard, has a Christmas light display that is often (ironically) referred to as "hypnotic". His amazing, flashing light show mixes Top 40 Hits with Christmas favorites, which sets it apart from the others. The light show begins on Thanksgiving Day and continues through New Years Eve. The lights are activated each day at 6 PM and stay lit until 10 PM. You do not want to miss this incredible display with over 95,000 lights! Don't forget to visit the House on Robindale's official Facebook page.
5. Lighting the Menorah in Downtown Summerlin
Everyone is encouraged to join the Hanukkah celebration that is hosted by Downtown Summerlin on December 27 – December 29. The initial lighting of the Menorah will take place on December 27th at 5:30 PM. The Jewish Community Center is joining in the celebration and plans a Chabad Chanukah lighting, a skating night, and a special Ultimate Challenge event for adults.
6. 8080 W. Red Coach Avenue, Las Vegas, NV 89129
There are more than 46,000 lights bringing joy to the community when they light up this house for the holidays. View from the warmth of your vehicle and turn the radio to 94.9 FM to enjoy a bit of holiday music.
7. 4255 El Cid Way, Las Vegas, NV 89121
Located in southeast Las Vegas, this home first caught the attention of Christmas light fanatics in 2014, thanks to its tons of lights, as well as a mini Christmas village that is viewed at the top of the garage, built up on Styrofoam which has three full trains running throughout the village. According to those who have seen it "it's an elaborate spectacle not to be missed."
We stopped by to see the beautiful lights last year and got this video.
8. 4052 Perfect Lure Street, Las Vegas, NV 89129
When you see the beautifully wrapped door, you'll know right away that they take their decorating seriously. With over 60,000 lights to create a magical show, this house is not to be missed. Joining the thousands of lights to create a joyful mood are angels, woodland animals, polar beers, and a nativity scene.
9. 4088 Mita Way, Las Vegas, NV 89141
The homeowner, Jim Richardson, spends days setting up his outstanding light display, which is obvious when you see it. His computerized vibrant light show is set to traditional Christmas tunes. His YouTube page includes videos of several displays from past years, so you can get an idea of what to expect.
10.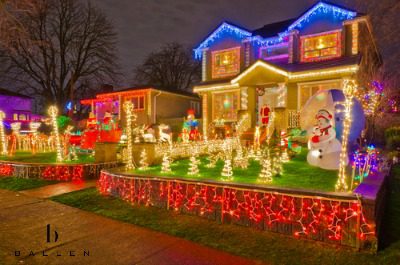 2757 Grande Valley Drive, Las Vegas, NV 89135
This house will appeal to those who readily wish others a happy "Live long and prosper," as they go along their holiday way. All decked out with Star Trek decor with a holiday flare, this house is a must see for those who can't get enough of science fiction adventures.
11. 5529 McLeod Drive, Las Vegas, NV 89120
It was a very proud daughter who let us know about this one. She tells us that her Dad spends over 100 hours putting up lights for your enjoyment. Don't miss this one!
12. 1717 Timber Cove Court, Las Vegas, NV 89144
From the tiny Christmas trees to the amazing light displays set to music, this home aims to please the holiday crowds. Best of all, you don't have to leave the warmth of your vehicle to get in the spirit with some holiday tunes. Turn your dial to 103.9 FM.
13. 3321 Conterra Park Ave., North Las Vegas, NV 89081
Enjoy a brilliant Light O Rama that is set to holiday music. The best part? You don't have to leave the warmth of your car to enjoy the festive light show! Just tune in to 94.9 FM to listen to classic Christmas tunes while you view the display.

14. 4424 Flowerdale Court, Las Vegas, NV 89103
Polar bears, light displays, and a special red nosed reindeer that is quite the celebrity are on hand at this house to wish you a merry holiday season.
15. 7951 Home Light Street, Las Vegas, NV 89139
If the color changing gifts and the amazing candy cane wheel don't impress you enough, there's always the 17-ft. Christmas tree to light up the night.
16. 742 Triple Crown Street, Henderson, NV 89015
Last year, they topped 10,000 lights in their display that is set to Christmas music.
17. 3018 Scenic Valley Way, Henderson 89052
The homeowner, Robert Thomas, let us know last year that they updated just about all of their lights to LED. They have many inflatables, and you can even see Santa! That's right… Santa usually stops by the weekends just before Christmas. They are serving up hot cocoa, hot apple cider tea, and Christmas cookies. They invite everyone to stop by for a visit to see the lights and enjoy the holiday atmosphere!
18. 937 Twilight Peak Avenue, Henderson, NV 89012 
They made their holiday light debut last year. Keep showing your support for their efforts and check out their display this year. They've synced the lights to music!
20. 5219 Masters Avenue, Las Vegas, NV 89142 
This is their 7th year making things happen on Masters Avenue. The lights dance to changing Christmas tunes, so if you open your car window you'll be able to hear. They use mostly LED lights, and they have forest and Christmas creatures that surround the lake of lights.
21. 5785 W. Cheyenne Avenue, Las Vegas, NV 89108
This house has proven that it has what it takes to stand the test of time. Decorated each holiday season for the last 40 years, this is one you won't want to miss when you're taking your Christmas light tour around Las Vegas.
22. 3308 Surfline Drive, Las Vegas, NV 89117
Beautiful music for the holidays, colorful decorations, and twinkling lights welcome you to this home.
23. 4273 Vegas Valley Drive, Las Vegas, NV 89121
They started off just putting a few lights around the roof area, but it's grown each year with the addition of reindeer and even more lights.
24. 4360 Meadowlark Wing Way, Las Vegas, NV 89084
They've been lighting up the neighborhood since 2009 with their professional, color changing LED light display.
25. 4043 E. Reno Avenue, Las Vegas, NV 89120 <—- JUST ADDED
This house has been described as beautiful, exorbitant, bright, and full of Christmas cheer! They light things up at 4:30 PM every day and leave them lit until 10:30 PM. ON Christmas Eve and Christmas day, the lights will be lit at 4:30 PM and remain lit until 5 AM.
26. 862 Teal Avenue, Las Vegas, NV 89123 <— Just Added
Nearly every inch of this house is covered in lights! That's right… back, front, sides… the whole thing! Drive by to see the brightly lit house and enjoy the sight of a bit of snow. This one is sure to bring a smile to your face.
27. 2718 Lockleven Way, Henderson, NV 89044 <— Just Added
This house was so impressive that we had someone contact us to have it added to the list. The creativity used in setting up this display is impressive. You must see this fantastic show of the holiday spirit.
Add Your Favorite Holiday House
Red – Homes in Las Vegas
Green – Homes in Henderson
* Homes added to our list come from public websites, You Tube videos, Facebook pages, and owner suggestions. A big thank you to everyone who is sharing the joy of the holiday season with their community. *