Shop All Northwest Las Vegas Homes For Sale
Neighborhoods of Northwest Las Vegas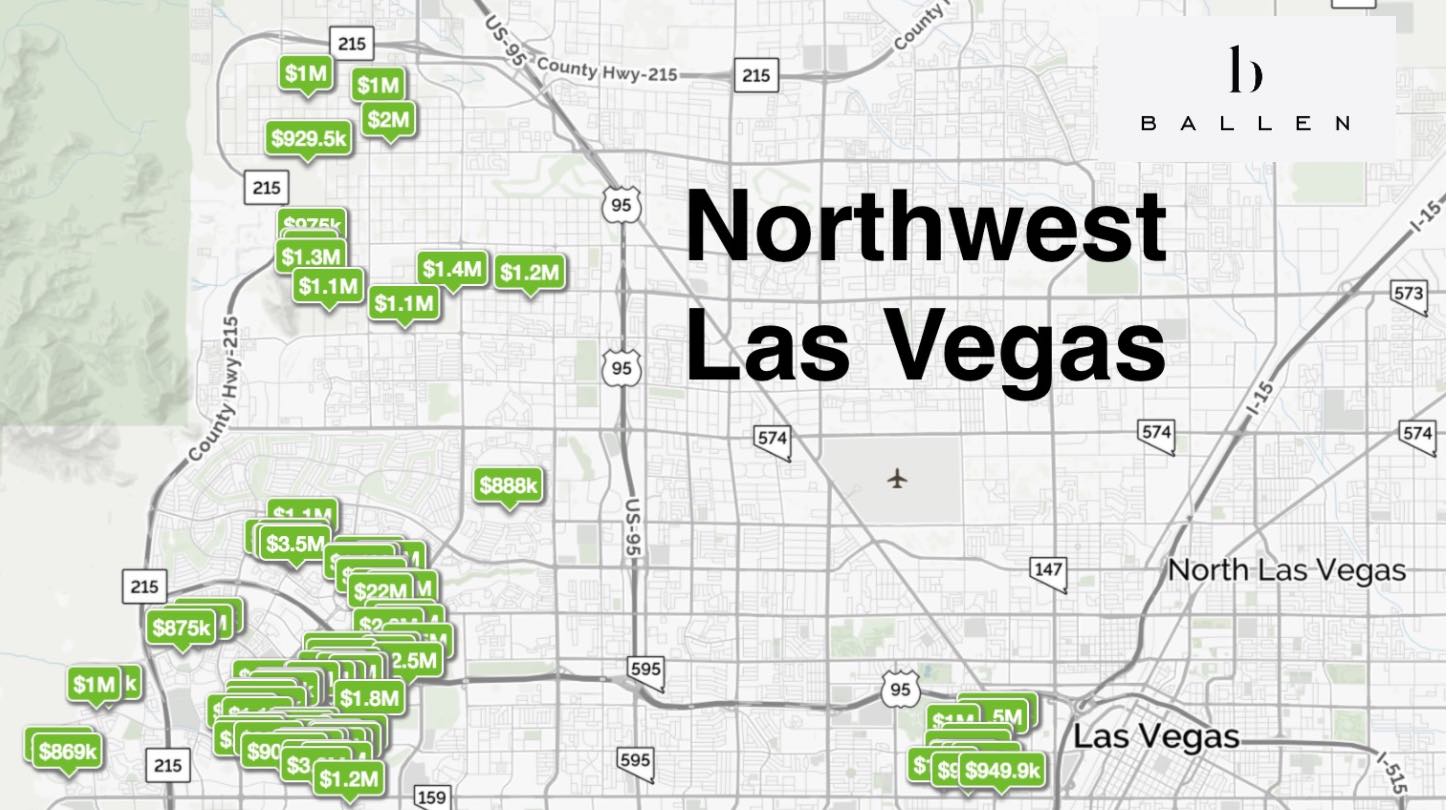 Northwest Las Vegas is in the middle of a Golden Age. With its booming neighborhoods, including gorgeous lakeside condos and custom houses, the communities of northwest Las Vegas offer a respite from the bustle of The Strip. And yet, should the urge arise for some weekend entertainment, a short drive along I-95 puts a homeowner in the middle of The Strip's enchanting energy and lasting memories. Explore Northwest Las Vegas and enjoy a life of luxury at an affordable price. Become a part of something new!

Throughout the world, Las Vegas has evolved into a buzz word for nightlife and bustle. The exotic entertainment industry brings in participants from every country. The now household idiom, "What happens in Vegas stays in Vegas" has become symbolic of a place pleasant to visit but not to live. Fortunately, in recent years, communities surrounding the heartthrob of The Strip have developed unique personalities. In particular, in the past 10-15 years, northwest Las Vegas has witnessed exponential growth and still attracts house-hunters every year.
Northwest Las Vegas escapes the ever-hectic phenomenon that is Las Vegas while still being located within a convenient 40-minute radius. Northwest Las Vegas is considered the area pitted west of Route 95 and north of Cheyenne Avenue. Nuzzled up against the foothills, living in the northwest means large homes with unique identities, plus plenty of outdoor activities to keep you occupied.
Painted Desert Homes 89149
Painted Desert, a gated golf community, sits in central northwest Las Vegas and offers a luxurious retreat from work. Also, the burgeoning, new Town Center runs along both sides of Route 95 and includes stores, shops, restaurants, automobile dealers–businesses of all types. Condos and apartments also continue to sprout up alongside Route 95, rising out of thousands of acres of desert.
Due to the banning of strip malls north of Cheyenne Avenue, the area is predominantly residential–single family homes, both currently under development and previously built by custom home builders. A vast majority of the houses have been constructed within the last 15 years and offer large lots, often spanning across a half acre or more. Less populated than Summerlin to the south, and far enough from The Strip and downtown to feel like a real escape from the city, northwest Las Vegas has become a place of its own.
Several neighborhoods continue to nurture their identities in northwest Las Vegas. Lone Mountain rests on the west side of an isolated peak named Lone Mountain and has many new homes in the development. The homes are production homes and offer smaller lots than the area average. Lone Mountain encircles the 215 Beltway and offers beautiful sights of La Madre Mountain further west.
Part of the far northwest — north of Alexander and west of the 95 freeway — is zoned as horse property. The houses are spacious custom homes, and lots for sale are significantly larger than those in the rest of northwest Las Vegas. A half acre lot is average though more significant land areas are typical. The area also includes riding stables for people who want to keep a horse for riding but not on their property.
Another neighborhood, Desert Shores, has recently been named one of the hottest neighborhoods in America. The Desert Shores community surrounds four man-made lakes and offers affordable lakeside homes, townhouses, and condos. The water is restricted to quiet boats only, jetting off from small docks for a comfortable, getaway experience. The gated Desert Shores Racquet Club also offers lake front properties and a small complex of condos. Sandy beaches are scattered throughout the Desert Shores district, interspersed between endless walking and biking paths. And, should the summer heat become too much, the Mt. Charleston ski resort is a mere half hour drive away.
Centennial Hills is located far north of the strip and yet still offers a surprisingly beautiful view of the city because of its higher elevation. Out here is original horse territory and you will still find roads for horses and land built with horse specifically in mind. Also, no matter what your budget is, there is a home out here for you. Whether you are a millionaire or just starting out in life there is property that you can find and love and call your own in Centennial Hills Real Estate.
Providence is one of many Las Vegas Master Planned Communities.  Recently ranked one of the top 15 selling master planned communities in the United States, as reported  by John Burns Real Estate Consultants and RCLCO, Providence provides work, live and play in the Northwest side of the Las Vegas Valley.
Providence master planned community is located in northwest Las Vegas. Most people prefer calling it- 'The unparalleled settlement phenomenon in the upper west side of the Las Vegas valley that is nestled above the sparkling city lights.' Providence embraces the ideal of American tradition and a sensation of a small town amidst the busy metropolitan area of Las Vegas. It offers its residents the best they deserve from both worlds, miles from Mt. Charleston and minutes away from the heart of Las Vegas. The neighborhoods are connected by tree-lined boulevards while the residents are offered tremendous opportunities for recreation by the flowing parks which also helps them to plan community events that bring neighbors together to enjoy family activities and nurture a tight-knit community. Providence has around 7,500 single and multiple –family units in 39 subdivisions and has so far sold thousands of homes.